2012 USA Pro Challenge — Stage 6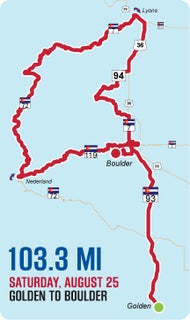 Golden — Boulder (103.3mi)
Saturday 25 August
One of the most anticipated stages of this year's race, stage 6 will take in many of the legendary roads of the Front Range and bring top-level professional racing back to one of the hotbeds of American cycling.
Golden, which hosted some of the race's largest crowds in 2011, will again host the stage start under its iconic arch. After two laps through downtown, the field will head north along the base of the foothills toward Boulder. Spectators will be treated to the first sprint line of the day near the Pearl Street Mall — which will also host the race expo and other activities.
After the sprint, the race will begin the arduous 15-mile climb up Boulder Canyon to the first KOM in Nederland. The gorgeous Peak to Peak Highway will then take the racers past the mountain community of Ward. Descending into Lyons, riders will have one more chance to battle for the sprint; a few flat miles takes the field south along the foothills toward Boulder before turning toward the mountains to climb Left Hand Canyon and Lee Hill Road. Not the longest or steepest climbs, when combined they will provide the perfect springboard for those wanting to win the stage — or possibly the overall race — to make their move. With less than 14 miles to the finish, expect an epic battle as the field fights for position leading back into Boulder.
Another pass through downtown, and the final clash will commence. A gradual climb through "The Hill" neighborhood will take the race to the start of Flagstaff Mountain for the final 3.5-mile, 1,300-foot climb to Sunrise Amphitheater. Well known among local cyclists and professionals who call Boulder home, this final climb of the week should be packed with fans and provide a fitting finale to an epic day of racing.