Preview: 2013 Tour de France — Stage 11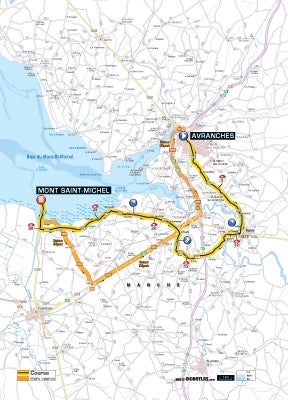 Avranches to Mont Saint-Michel TT (33km)
Wednesday, July 10 3:56 A.M. EDT – 11:30 A.M. EDT
Live Coverage sponsored by Clif Bar
After a relatively quiet day in the saddle for most, it's now time for the GC riders to go full gas again. This 33-kilometer time trial is made for the big specialists and the pure climbers will have a tough time against the clock — and against the wind.
The route starts out a bit hilly, but with a strong tailwind, it won't really favor the climbers much. Real specialists like Tony Martin (Omega Pharma-Quick Step) will be able to keep a high speed at all times and the first check in Ducey should give very fast split times.
From here on, the riders head west and this part of the route will be very difficult, likely with a strong crosswind. There is absolutely no shelter from the wind in these open areas and riders with weaknesses against the clock will be exposed.
The final 3km to Mont Saint Michel roll into a likely headwind and it's important to have something left in the tank for this section. The riders won't like this stage, but for TV viewers it will be another spectacular day on the 100th edition of the Tour.
Without Bradley Wiggins (Sky) and Fabian Cancellara (RadioShack-Leopard) in the race, Martin is the big favorite. The double world champion crashed hard in stage 1, but he's now feeling much better. Martin was one of the important factors in Omega Pharma's great team time trial in stage 4 and he's very determined to improve that second place. On Monday's rest day, the strong German said that it would be a big disappointment if he didn't win this stage, and on paper, nobody in this Tour should even come close to him.
Chris Froome (Sky) will be eager to distance his rivals and extend his overall lead. He may not be able to win this stage, but a podium place is definitely within reach.
Follow Mikkel Condé on Twitter @mrconde and visit C-Cycling to read more about this time trial and see the outsiders.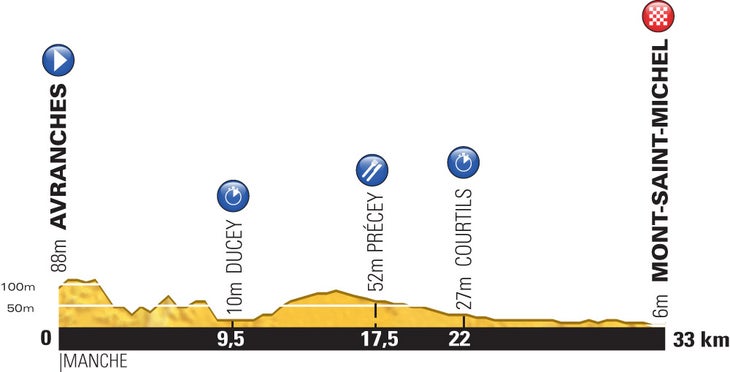 The assault on the abbey
After Coëtquidan and Saint Malo, the Tour visits Mont Saint Michel for another stage that promises to be spectacular. The abbey at Mont Saint Michel is France's second most popular tourist attraction after the Eiffel Tower, and images of the structure perched atop the coastal rocks will be broadcast to two billion viewers across the world. Back on the road, there will be a great duel between the rouleurs, as a short time trial will rage. Winds off the coast could well play a factor throughout the day.