Preview: 2013 Tour de France — Stage 20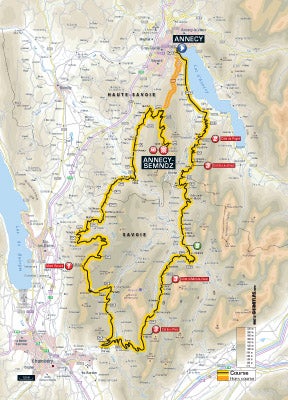 Annecy to Annecy-Semnoz (125km)
Saturday, July 20 7:40 A.M. EDT – 10:52 A.M. EDT
Live coverage sponsored by Clif Bar
This is the last chance to make any changes in the overall classification. There are just 47 seconds between second-place Alberto Contador (Saxo-Tinkoff) and fifth-place Joaquim Rodríguez (Katusha), and we should be in for quite a show on Annecy-Semnoz.
The riders face a short, 125-kilometer day in the saddle, but with six categorized climbs on the menu, it will be an extremely hard stage. Many are already on the edge of their limit after the last two days.
Four of the day's six climbs are located within the first 50km of the stage. They aren't very steep, but that doesn't really matter at this point of the Tour. We can expect Saxo, Movistar, and Katusha to try something right from the beginning of the stage and that should make for another great day for the TV viewers.
With 64km to go, the riders start on Mont Revard. The 15.9km to the top of this Cat. 1 climb have an average gradient of just 5.6 percent, but the climb is very steep in the beginning. The descent is not easy and the last climb of the day starts just 10km after coming down from Mont Revard.
Annecy-Semnoz is very steep and there is only one short section to recover. The 10.7km to the race's final summit finish have an average gradient of 8.5 percent and this is where the final podium — and the KOM jersey — will be settled. There are double points available on the top of the climb and that means 50 points to the winner. Nairo Quintana (Movistar) is only seven points down on Chris Froome (Sky) in that competition and it wouldn't be a surprise to see the Colombian climber win the stage and take the jersey — though at just one point back, Pierre Rolland (Europcar) is certainly hoping to be the one to wear polka dots on the final podium. Quintana is gunning for second overall in his first Tour de France and with the shape he has shown so far, it will be very difficult for Alberto Contador (Saxo) to hold on to his spot. Contador may be able to keep Rodríguez behind him, but it requires a strong performance from the Saxo captain on a short, punchy stage — just the kind suited to "Purito." Who thought we would ever doubt Contador's podium chances on the last mountain stage of the race? —MIKKEL CONDÉ
Follow Mikkel Condé on Twitter @mrconde and visit C-Cycling to read more about the last mountain stage of this year's Tour de France.