The new 2023 Giant Propel aims to be the ultimate full-aero all-rounder
Big improvements in weight, stiffness, comfort, serviceability, tunability, and aesthetics make for an enticing overall package.
Heading out the door? Read this article on the new Outside+ app available now on iOS devices for members! Download the app.
[ct_story_highlights]What it is:Giant's redesigned full-aero road racing machine.||Frame features:Slimmed-down truncated airfoil tube shaping, modular monocoque carbon fiber construction, simplified internal cable routing, BB86 press-fit bottom bracket shell.||Weight:845 g (claimed, medium frame only); 6.86 kg (15.12 lb, small Propel Advanced SL 0, with bottle cages, without pedals)||Price:Varies by model and region.||Highs:Substantially lighter than before, vastly improved aesthetics, big claimed improvements in ride quality, easier to service.||Lows:Integrated seatmast still isn't for everyone, proprietary D-shaped steerer tube and stem, value proposition is still TBD.[/ct_story_highlights]
A dramatic rework
It's been five years almost to the day since Giant introduced the current Propel aero road bike, which clearly means it's time for an update. Giant set out to improve the aerodynamic efficiency of the new 2023 Propel while also making it more of an all-around performer so that aero advantage can be used more often. Even to the casual observer, there are some major changes.
The new bike is still obviously intended to slice efficiently through the air, and it once again makes use of truncated airfoil tube profiles everywhere it matters — namely, the down tube, seat tube, seatstays, head tube, and fork blades. However, the new Propel also now strikes a much more svelte-looking profile that further blurs the lines between the all-out aero machine it's supposed to be and semi-aero lightweights like the latest TCR Advanced SL.
The physical downsizing is especially noticeable in the top tube and the rear end. The seat tube is nearly half the depth of before, ditching the rear wheel cutout of the previous generation entirely in favor of a shallower overall profile. The seatstays aren't quite as dramatically slimmed down, but they're still about a third shallower than the previous-generation Propel while still sporting a truncated ellipse cross-section.
Those seatstays are also slightly dropped relative to the top tube, and while that might seem like another big change, it only appears so because all the tubes are so much smaller in that area. Previously, the configuration was masked by the massiveness of the top tube, seat tube, and seatstays.
As you'd expect, the latest Propel is a good chunk lighter than before. According to Giant's official figures, a medium top-end Propel Advanced SL frame comes in at 845 g — a decrease of 137 g, and an impressive figure for a properly aero machine. But when adding in other small decreases across the matching fork and associated hardware, the complete frameset is 226 g lighter than the previous-generation Propel with a total claimed weight of 1,430 g.
Further weight losses are found in the newly revamped cockpit, which sheds 103 g from the previous Propel.
Putting all of the weight-savings into context, a top-end Propel Advanced SL 0 with a Shimano Dura-Ace Di2 groupset, Cadex 50 Ultra Disc carbon wheels, and a pair of bottle cages (but without pedals) is just 6.86 kg (15.12 lb) in a small size — and that's actual weight, not an official figure.
Cable routing is once again fully internal, but whereas the lines previously ran across the top of the stem and then down the back into the frame, the new Propel adopts a more straightforward path. Control lines run internally through the bar, but then pop out through a central port at the back. From there, they sit inside a shallow channel on the underside of the stem before taking a downward turn into the frame on the front side. That awkward-looking bolt-on stem cover is gone — good riddance — which alone accounts for almost half of the weight savings in the cockpit.
Although the routing is simplified, there are some caveats. Not surprisingly, Giant is continuing to use its trademark 1 1/4-to-1 1/2″ tapered steerer tube. However, the new configuration now uses a D-shaped steerer to make room for the control lines. Giant also says that only its own stems are officially compatible, although that sort of thing is far more common now than it used to be so that may not be a deal-breaker for many prospective buyers.
"All of the Propel range models feature what we are calling OverDrive Aero, which features a unique, D-shaped steerer tube and only accepts our new, D-shaped, aero stem," said Giant senior global product marketing manager Andrew Juskaitis. "We had to do this to accommodate the head tube-routed cables. I can't comment if any other brand of stem will fit our system (because we honestly don't know), so we officially recommend consumers run our componentry."
On the plus side, the handlebar clamp is as normal as can be, and any 31.8 mm-diameter bar will work if the stock offering isn't to your liking. Ideally, that bar will still have internal routing and an exit port located at center rear, but even that's not a hard requirement.
Interestingly, although the tubes have gotten smaller almost everywhere, Giant says the new Propel is nevertheless more rigid than the previous version. More specifically, the frame alone is supposedly 9.9% stiffer in full-frame torsion, or 9.2% when including the matching fork. The improvement in pedaling stiffness is more modest at 7.5%. However, when factoring in the decreased weight, the overall stiffness-to-weight ratio is up a whopping 26.4%, according to Giant's figures.
That sort of increase in chassis rigidity would normally suggest a backbreaking ride quality — these are aero bikes we're talking about, after all — but Giant says major gains have been made there, too.
At least for the top-end Propel Advanced SL (with its trademark integrated seatmast), Giant claims that rear-end compliance has gone up by almost double. In other words, where a hypothetical impact on the previous Propel Advanced SL might have only seen 3 mm of movement at the saddle, a rider on the new Propel Advanced SL will experience almost 6 mm.
That change in rigidity doesn't only benefit rider comfort, either. Giant claims — and rightfully so, in my opinion — the smoother ride also benefits overall handling and cornering since the bike is less likely to feel chattery on coarse tarmac. And if you're after an even-smoother feel, there's officially room for 30 mm-wide tires.
Geometry is slightly modified from the previous Propel. As before, there are six sizes on offer — from XS to XL — and the aggressive stack and reach figures are within a handful of millimeters of before. Giant looks to have toned down the handling ever-so-slightly, however, with very minor increases in trail across the board, and a couple of millimeters of additional bottom bracket drop for extra stability.
Last, but certainly not least, it has to be mentioned that the new Propel looks a lot better than the old one. The shape seems less tortured and more cohesive than before, with a clean layout of mostly straight lines that just comes across as a lot less busy than it used to be. The graphics are refreshingly minimal, too, and all of the color options seem decidedly mature. Solid marks all around there.
About those aero improvements …
Although Giant says the new Propel is more aerodynamically efficient than the previous one, it's a little unclear exactly how big those changes really are.
Using Giant's mechanized mannequin pedaling inside a wind tunnel, the new Propel supposedly saves 6.1 watts at 40 km/h, which Giant says translates to about 27 seconds over 40 km, or 2.6%. As anyone who's put in the training to marginally improve their threshold power can attest, six watts is hardly nothing. However, that comparison doesn't exactly compare apples to apples.
Whereas the new Propel was also tested with the new Cadex 50 Ultra Disc wheels and Cadex Race Aero tires, the previous-generation one was fitted with the old Cadex 42/65 wheels and Cadex Race rubber — and without additional data to isolate the individual effects of each of those three variables, it's hard to say what's what.
That all said, the fact that Giant was able to eke out any gains at all from what was already one of the most aerodynamic options out there is noteworthy.
A family of three
Aero specifics notwithstanding, Giant is offering the new Propel in three tiers.
The top-end Propel Advanced SL gets all the bells and whistles, including Giant's trademark integrated seatmast that supposedly offers the most performance in terms of weight and ride quality.
The frame is produced using the company's "Fusion" process, whereby the top tube and seat tube are joined together using a mix of filament winding, co-molding, and hand weaving to create a more cohesive finished structure. The front triangle is also made of fewer sections overall, which allows for longer and more continuous fibers, and of course, Giant uses its most premium carbon fiber blends here, along with its own proprietary carbon nanotube-infused resins. In critical areas, plies are even laser-cut and placed by robot instead of by hand.
Two Propel Advanced SL models will be offered. The Propel Advanced SL 0 (~US$13,000 / AU$14,000 / £TBC / €TBC) is the flagship of the range with Shimano's latest Dura-Ace Di2 12-speed wiredless electronic groupset (with Shimano power meter), Cadex 50 Ultra Disc carbon clincher aero wheels, and Cadex carbon fiber cockpit components. The Propel Advanced SL 1 is identical, save for a SRAM Force eTap AXS wireless groupset (also with power meter) in place of the Shimano stuff.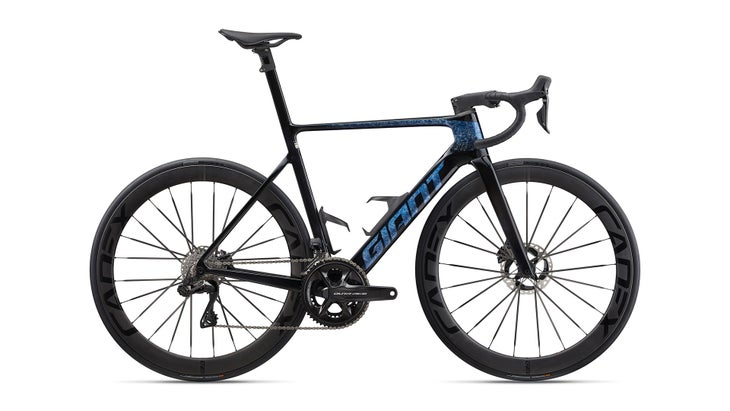 The second-tier Propel Advanced Pro uses the same fork and identical shaping throughout the majority of the frame, but it trades the SL's integrated seatmast for a more conventional telescoping seatpost with a wedge-type binder hidden inside the top tube, and more conventional manufacturing methods are used instead of the more labor-intensive Fusion process and the robotic ply placement. The fancier carbon fiber blend is also traded for Giant's more economical Advanced formula, which will add a few grams. Claimed weight for a medium Propel Advanced Pro frame is 940 g (a decrease of 20 g from the previous generation), while the fork is now 360 g instead of the heftier 430 g of its predecessor. And while the Propel Advanced SL is only compatible with electronic drivetrains, the Propel Advanced Pro works with mechanical ones, too.
There are three models at this level. The Propel Advanced Pro 0 AXS (US$TBC / AU$8,500 / £TBC / €TBC) is equipped with a SRAM Force eTap AXS wireless groupset (with Giant's own Power Halo power meter) and Giant SLR 1 50 Carbon Disc clincher wheels. Those same wheels are also used on the Propel Advanced Pro 0 Di2 (US$TBC / AU$7,800 / £TBC / €TBC), but they're paired with a Shimano Ultegra Di2 groupset with no power meter. And finally, the Propel Advanced Pro 1 is equipped with a SRAM Rival eTap AXS wireless groupset (again, no power meter) and the same wheelset.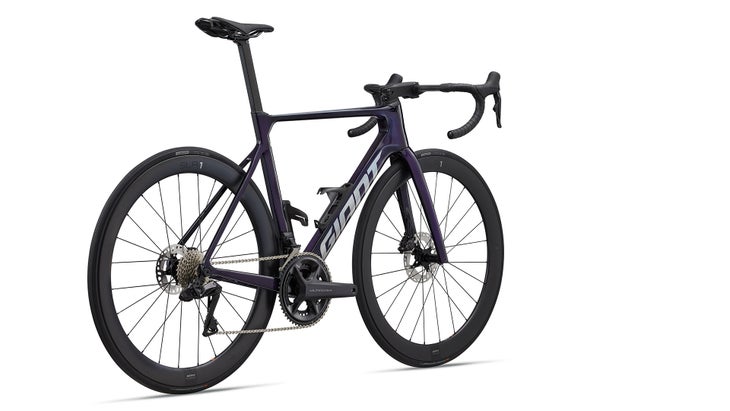 Sitting third in line is the Propel Advanced, which uses the same frame shape as the Propel Advanced Pro, but with Advanced-level carbon composite materials for both the frame and the fork. Frame weight remains unchanged from the previous generation — 960 g for a medium — but the fork is a lot lighter at 420 g thanks to its newly full-carbon construction. The previous generation Propel Advanced fork had a carbon fiber crown and legs, but a bonded-in aluminum steerer, and weighed 580 g.
The Propel Advanced will be available in two models. The Propel Advanced 1 comes with a SRAM Rival eTap AXS wireless groupset, Giant SLR 2 50 Carbon Disc wheels, and an aluminum bar and stem. The Propel Advanced 2 is the lone model with mechanical shifting, outfitted with a Shimano 105 groupset and Giant P-A2 Disc wheels.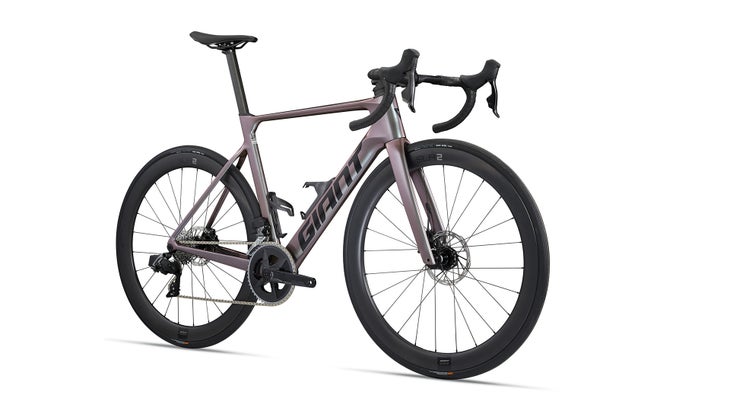 Shared features for all three tiers of the new Propel include BB86 press-fit bottom bracket shells (which Giant historically does quite well), flat-mount disc brake interfaces front and rear (sorry, no rim brakes here, folks), and 12 mm thru-axles with removable handles. All of the bikes are also shipping with a pair of carbon composite water bottle cages that are profiled to match up with the seat tube and down tube. The bosses themselves are in the usual locations and use standard bolt spacing, so any other cage will work, too. 700×25 mm tires are standard across the board.
Notice some prices missing above? That's because Giant hasn't finalized a lot of the figures yet. I'll fill them in as we get them. Either way, global availability is slated for "late fall, 2022."
Outlook good
Giant has supplied me with a sample of the new 2023 Propel Advanced SL 0, which is the bike photographed for this article. However, I haven't yet had a chance to really throw a leg over it, so I can't comment just yet on how it performs.
That said, the cursory inspection — and certainly the bike's impressive showing on the scale — is awfully encouraging. Stay tuned for a comprehensive review in the coming weeks.
More information on the new Propel can be found at www.giant-bicycles.com.