Specialized S-Works Recon shoe review: hidden features included
The new S-Works Recon is more than just an update.
Heading out the door? Read this article on the new Outside+ app available now on iOS devices for members! Download the app.
Let's face it, the cycling world is saturated with footwear. More often than not, brands are looking to sell more, so they segment a shoe into a specific category. And while I think the development of a shoe and its specific features matter, most of the time, because of this "five pairs of shoes are better than one" mentality, there are a lot of compromises. Let me clarify, a lot of this is in the gravel and off-road segments. Road shoes, for the most part, are separated by the quality of the materials and the stiffness of the outer sole.
For me, having one well-rounded shoe that works for most gravel and mountain bike riding is key. On the road shoe side, I have two default shoes, the S-Works 7 and the Shimano RC903. When it comes to off-road, things are not so easy. I have lots of time on the S-Works Vent EVO but also the DMT KM1. I have loads of shoes, but those two always seem to fit the need unless I'm riding a long-travel trail bike.
I'm not a huge fan of laces, as I always seem to have to tie them multiple times. Plus, my foot is wide, and the laces are almost always too short to reach the retaining band. This means the laces flow all over the place, and the risk of getting caught in the chain is much higher. Long story short, when the new Specialized S-Works Recon shoe arrived, I was instantly in a love-hate relationship.
The love is that they fit like a glove. The hate is they are white, and I only own one other pair of white shoes (that are no longer white.) I love the idea of white shoes but lack the commitment to keep them white. With dirty LA streets and my riding style, white shoes never remain white. Then again, I hate washing my car but own three white vehicles that also always seem to be dirty. Back to the shoes, and if they are really worth $450.
Also read: Your questions about the space-age Uno-X time trial helmet, answered
Specialized S-Works Recon Details
The new top-tier Recon looks almost identical to the S-Works Torch road shoe. With two alloy BOA dials and the cable retention guide that conveniently allows you to remove the cable for easier on and off of the shoe. Where they differ is the new molded carbon sole. Specialized is touting this combination offers pavement-bred performance to the gravel and XC discipline.
Gone is the toe box strap, as well as the two threaded toe cleats. Overall the upper material feels supportive but not as stiff as the previous version. Specialized says the fit was guided by more than 100,000 foot scans from their Retul fit data. Retul data also influenced the overall design since they are a major contact point while riding. This means your feet stay in their most optimal position when pedaling.
Overall the shoes look like road shoes. This might not seem like a big deal, but roadies making the jump to off-road can have their two-bolt style cleat and pedal system without losing their style. For me, I liked that there is still a bit of rubber on the arch of the carbon sole. Too many shoes in this same category remove it, but more on that later.
Specialized is also touting the new high-density pontoons (the lugs next to the cleat that interface with the pedal) and new shims that allow riders to tune their pedal interface for maximum efficiency. Additional 3mm, 6mm, and 9mm pontoon shims for leg length discrepancy and cleat stacker available through Specialized Rider Care. Specialized currently offers five colorways, but two are white. They come in full sizes ranging from 36-49 and half sizes from 38.5-46.5.
Riding Impressions
The timing for these shoes was perfectly aligned with the local LA Tourist Race #2. For those not familiar, it is a make-your-own-route, checkpoint-style race through the local Los Angeles mountains. Normally the routes will be 50-75% dirt and almost always will require some amount of hike a bike. So between the race and a few rides before, I have about 150 miles (240 km) on a mix of everything you can imagine.
The first and most impactful detail I noticed was the new toe area seems to have more flex. Maybe it is the redesigned traction lugs, but walking in general or hiking up steep trails is much improved. The shoe doesn't feel like it is forcing my heel to lift out of place. While I don't normally go on bike rides planning on walking or hiking, it is nice to have a stiff performance shoe that doesn't destroy your feet if bad route decisions are made, or walking is inevitable.
The fit of Specialized shoes hasn't always been my favorite, but over the past 4-5 years, it seems like they have been updating the last with the Retul data. Fortunately for me, they just keep getting better for the most part, and the fit on this Recon shoe might be the best yet. For reference, I wasn't a fan of the Exos or Ares road shoes at all, and the S-Works Torch fit a bit narrow. So it hasn't been a universal fit across all their shoes. The SW7, SW7 Lace, and previous SW Recon all fit very well.
As far as durability, it seems like these, like the shoes of the past, will last, but only more miles and time will tell. The shoes hit the scale at 285 grams each, for a total of 570 grams. This brings us back to the added rubber on the arch of the carbon. While I wish it were a bit larger, it has become a mandatory feature for any gravel or off-road shoe for me. This is because there will be that time when you are tired or in a hurry and don't get clipped in. The rubber gives you just enough traction to stay on the small pedal until you can get realigned. Without it, your shins or calf will pay the price, and that is never a good time.
For those not familiar with off-road pedals, the traction lugs, or as Specialized calls them, pontoons on either side of the cleat, are designed to contact the pedal body. This offers support, and if the gap between the pedal and shoe is too large will affect knee and hip alignment, thus reducing performance and power. With this new Recon, it is now adjustable. This might be the most underrated hidden feature. In reality, this has been an issue for many years, and Crankbrothers pedals were one of the only off-road pedals to address the issue with an adjustable pedal contact spacer. Lucky for us, the stock offering worked perfectly, but this will also be a great feature for those with leg length discrepancies.
Conclusion
There's no way around it, $450 for a pair of shoes is a lot of money. Especially for a shoe that you know is going to get thrashed, wet, and dirty. In just my first few rides, my shoes already look like they have been to battle with significant marks from my pedals and rocks. However, since shoes and feet are major touch-points for cycling, they are worth investing in.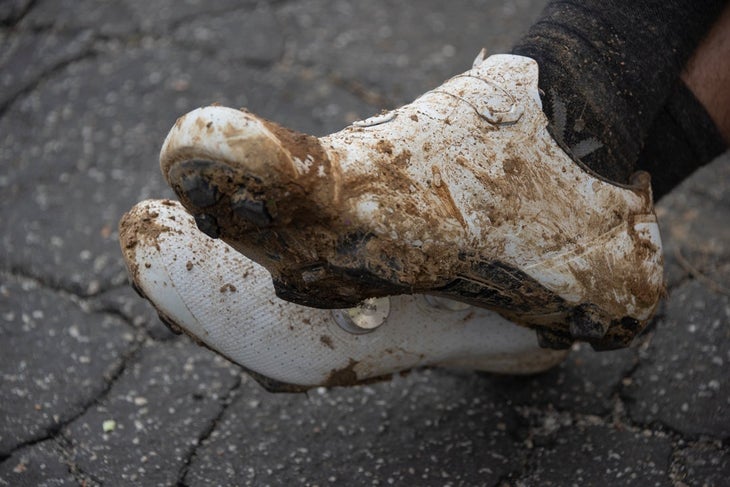 Do I think there are less expensive shoes that give you nearly the same performance? Sure. Are there shoes that are more durable? Absolutely. There are even handmade shoes that are marginally more expensive, but there is one thing that seems to set Specialized shoes apart. They have and leverage their Retul data to evolve the fit. In my opinion, the fit is still the most important part of any shoe, not the heritage.
Sure, they could have a better insole for this price. The stock insoles pretty much went straight to the trash with only one ride. However, Specialized knows that if you are willing to purchase a $450 shoe, you will probably invest in a pair of custom-molded insoles too. As luck has it, they also make and sell those too.
Are they worth the investment? Only you can answer that, but a good pair of shoes is far more valuable to me than upgrading from Shimano Ultegra to Dura-Ace or SRAM Force to Red. I'd even put shoes as a priority over switching to disc brakes, and I love my disc brakes. Comfort and performance are far more related than most realize, and happy feet will keep the power transferring no matter what bike you are riding.
Price: $450 / £385 / €400 / $625 AUD
Also Read: Specialized Recon ADV review