Arnold Schwarzenegger says "Hasta la vista, baby" to potholes, and more – Urbanist Update
The former Governor of California does a solid for cyclists, examples of tactical urbanism, and the longest purpose-built cycling tunnel opens in Norway.
Heading out the door? Read this article on the new Outside+ app available now on iOS devices for members! Download the app.
Welcome to the Urbanist Update. My job here might be as tech editor, but I've also spent tons of time studying transportation, city planning, and engineering. Here are some of the things I've found interesting over the past week related to biking in cities, cycling infrastructure, and urbanism.
What is urbanism? In short, it is the study of how the inhabitants of an urban area interact with their towns and cities. If you care about building sustainable communities that let you live a happy and healthy life, then this is the spot for you. See previous Updates here.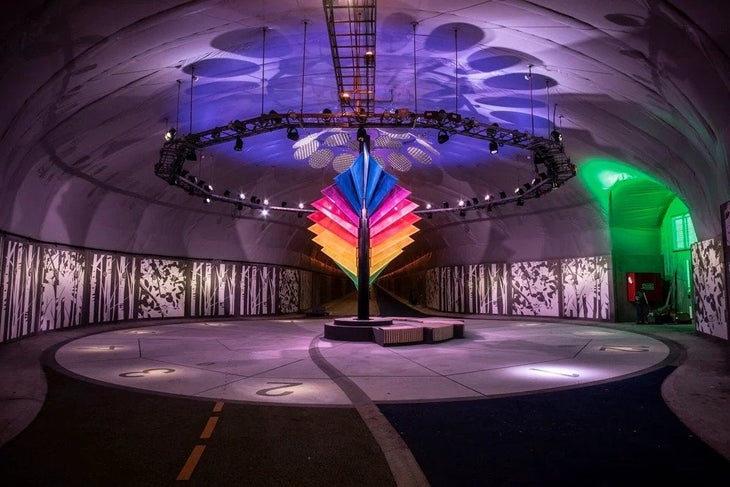 'World's longest' purpose-built cycling tunnel opens in Norway
The Fyllingsdalstunnelen underground cycling and pedestrian tunnel in Norway is open. It isn't just any tunnel, however; it is a 1.8-mile-long tunnel full of a variety of art installations, tons of lighting, and a whole "sundial" installation to show pedestrians and cyclists the time of day. 
This latest tunnel acts as a byproduct of a recent tram line tunnel, where this walking and biking tunnel also provides an evacuation area should the tram have issues. Officials say it is big enough to offer separate 3.5 meter (11.5 feet) and 2.5 meter (8 feet) paths for biking and walking respectively. Better still, the tunnel features rubber flooring to make each step just a bit softer.
If you're a Washington resident yelling at your screen saying, "This is old hat, Snoqualmie Tunnel just east of Seattle is longer!" then you'd be right. Norway calls this the world's longest "purpose-built cycle tunnel," as opposed to the Snoqualmie Tunnel which was a converted train tunnel.
I feel like I can't go until I can repeat the name five times fast, but I also hold myself to an incredibly high standard of operation. No need for you to do the same.
When Waiting For the Bus In a Wheelchair Becomes an Act of Protest
Steven Hardy-Braz, a 56-year-old wheelchair user in Farmville, N.C. was on his way to get booked at the local jail. Why was that? He was cited for "willfully impeding traffic," which a police officer gave Hardy-Braz a ticket for when he had no choice but to sit in a driving lane in his wheelchair to wait for the bus.
In his trying to get to his local jail, Hardy-Braz found the sidewalk wasn't accessible for him to wait at the bus stop, much less go from the bus stop to the bus itself. The story from Streetsblog USA notes that the lack of ADA-accessible infrastructure where he lives has meant that bus drivers have passed him up due to bus ramps not working with existing streets. He's also had to use high-speed roads to get around in his wheelchair. 
Let's tie this to cycling: this man, Steven Hardy-Braz uses a wheelchair for assistance because he was struck by a car while riding his bike on a road with no bike lane.
Sometimes the Urbanist Update sounds like I'm attacking car-centric infrastructure rather than uplifting cool examples of cycling infrastructure and news. Make no mistake here: in this section, I am absolutely attacking car-centric infrastructure. It destroys the ability of folks who don't drive to get around safely, and in the case of Hardy-Braz, it takes a toll on folks physically and mentally.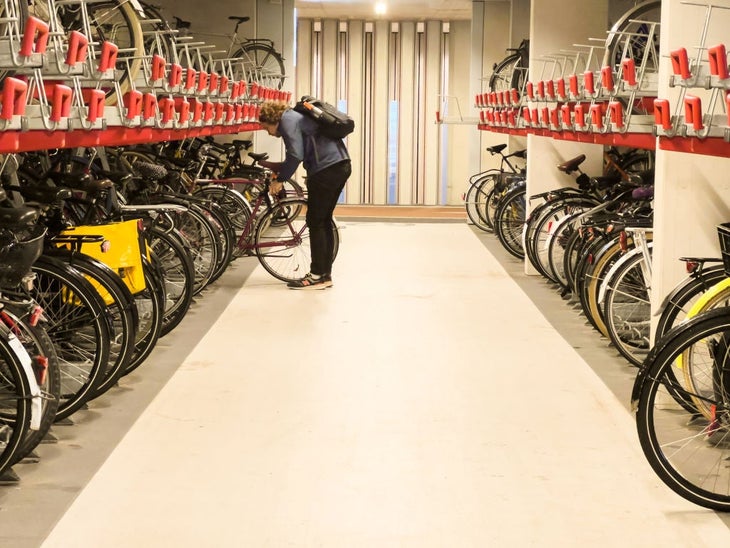 How the Dutch Mastered Bike Parking at Train Stations
I am sure that at one point or another you, dear reader, have fawned over the bike infrastructure found in the Netherlands. Safe, intuitive bike paths and a culture to take advantage of that infrastructure are what every fledgling urbanist dreams of when they want more bicycle infrastructure. I mean I even geeked out a bike parking garage in a previous Update. 
A recent story from CityLab shares a brief history of how the Netherlands have built out its network of bicycle parking garages and how the country has further encouraged cycling. According to Dutch Railways, passengers are more than twice as likely to arrive by bike as they were two decades ago because of extended bike parking. Further, land normally left to park swaths of parked bikes now feature parks and mixed-use development.
The battle to get more people out of their cars and into other modes of transportation isn't just about getting some painted bike lanes down; it's about feeling safe using a bike. I'm not going to commute to the grocery store if I know my bike is liable to be stolen, and I certainly don't need an on-site bicycle repair shop or security guard to feel safe enough to park my bike either. 
Really, just make bike parking safe and accessible. Well-lit bike parking in open, high-traffic areas discourages theft. Solid long-term lockers at transit hubs do quite a bit to ease the last-mile problem Silicon Valley has been trying to solve with scooters and dockless bikes. Simple as that.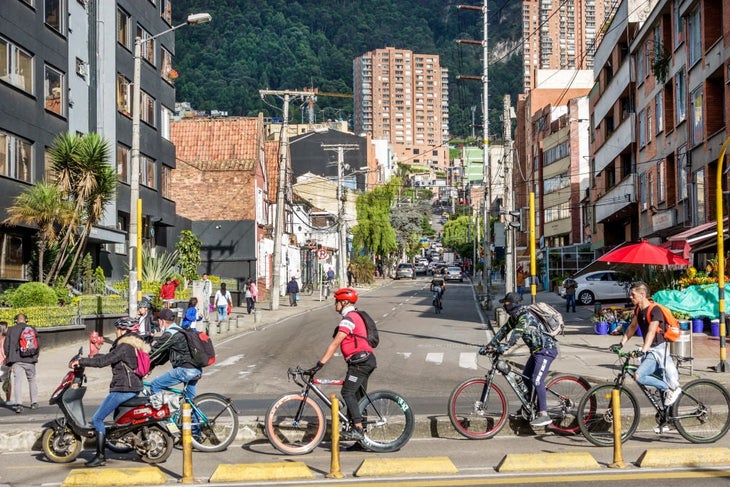 Tactical urbanism project putting homemade bollards between traffic and bikes
Painted bike lanes bring some necessary comfort to those hoping to get around their community by bike. And while lane striping adds a bit of visual separation and designated space between drivers and cyclists, there is nothing preventing a car from switching lanes. What's one to do about it? How about this example of tactical urbanism in Indiana?
Tactical urbanism is based on the idea of communities investing in infrastructure at the street, block, or building level to make their city a better place to live. It usually consists of a deliberate approach with low-cost, semi-temporary infrastructure that is low-risk and small-scale in nature. 
More recently, acts of tactical urbanism are often supported by a city but carried out by individuals. That is not the case here. Rather, it was carried out by the Indy Bike Lane Defense in hopes of helping the city understand the need for long-term protection for people biking down that road.
This story from Fox59/CBS4 in Indiana is a great example of tactical urbanism. There, three buckets filled with concrete to stabilize a taller wooden post were placed just after an intersection between a bike path and the street. These are low-consequence bollards that provide more safety than just some painted stripes on the ground.
While this example wasn't immediately supported by the city, a tweet by @indybikelanes shows that drivers still found their way into the bike lane, showing the importance of long-term, city-supported bollards and dividers on that corridor. 
Yea this is what drivers do when they drive thru space not meant for them. Protected bike lanes now please, before this happens to a person. pic.twitter.com/iNgpWA2jRv

— Indy Bike Lane Defense🚲🛡 (@IndyBikeLanes) April 10, 2023

The best part about tactical urbanism is that just about anyone can do it. Get with a group, make a plan, and with a bit of gumption (and probably some five-gallon buckets for this example) you too can demonstrate how your built environment can be improved.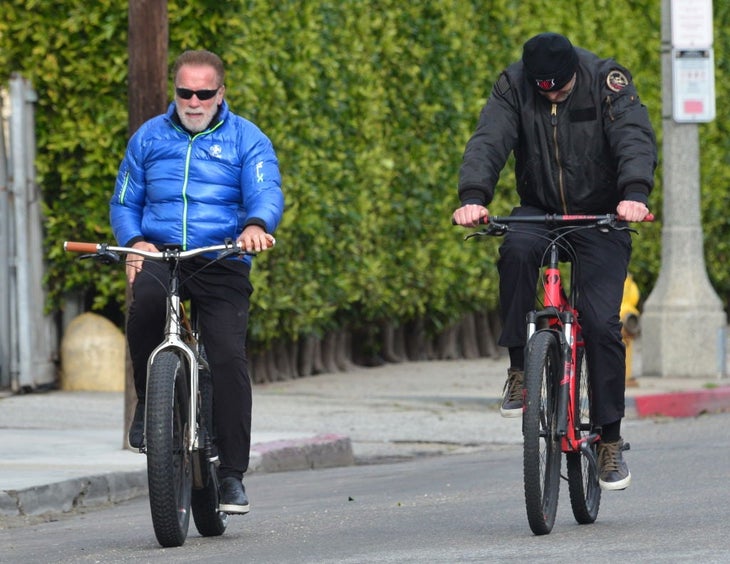 Shocking! Arnold Schwarzenegger and cyclists agree on something
California is good at many things but general road quality is not a forte for the state. Former governor and Jingle All the Way star Arnold Schwarzenegger is sick of the potholes in his wealthy LA neighborhood, and so he's doing something about it: he's terminating those potholes.
Today, after the whole neighborhood has been upset about this giant pothole that's been screwing up cars and bicycles for weeks, I went out with my team and fixed it. I always say, let's not complain, let's do something about it. Here you go. pic.twitter.com/aslhkUShvT

— Arnold (@Schwarzenegger) April 11, 2023
It isn't like California is sitting on its hands and not fixing potholes. California's Department of Transportation, or Caltrans, says they've repaired over 85,000 potholes in just the first four months of the year. That number only scratches the surface of how poor the roads can be in California, which means that folks like Schwarzenegger go out and say, "Hasta la vista, baby" to their potholes.
Unfortunately, that pothole wasn't just a pothole. Here's what a City of Los Angeles spokesperson told NBC:
"This location is not a pothole," the spokesperson said. "It's a service trench that relates to active, permitted work being performed at the location by SoCal Gas, who expects the work to be completed by the end of May."
Ok cool, so now we're getting into the semantics of what a pothole means. Thanks, City of LA! Poor construction etiquette happens all the time, with travel lanes regularly blocked off, sidewalks closed with no alternatives, and a whole lot more. But there's no way that the best solution is to leave whatever it is out there that prevents safe, reasonable travel for people walking, biking, or driving.
Leave it to Schwarzenegger to fix it, I suppose. And based on how warmly received his video was, one can rest assured that if there are more potholes, he'll be the first to say, "I'll be back."