Introducing: Mareille Meijering
From club team to WorldTour in one season, all whilst balancing a university teaching career
Heading out the door? Read this article on the new Outside+ app available now on iOS devices for members! Download the app.
Those watching last Wednesday's 1.Pro Navarra Women's Elite Classic may have wondered about the new Movistar rider in the breakaway of fourteen that went away with around 100km to go who, alongside Ella Harris, nearly hung on until the end. 
The rider in question was 28-year-old Dutchwoman Mareille Meijering, who joined the Spanish WorldTour squad at the beginning of this month having previously been a part of the disastrous Zaaf team. 
Meijering's story is one that is becoming increasingly rare as the women's side of the sport continues to professionalise. She has always cycled – she is, after all, Dutch – but it wasn't until relatively recently that she decided to turn her attention to racing in a serious way. 
"I started racing very early. But just for fun, it was always fun, there was never pressure or anything from my parents," she told me over Zoom before her debut race with Movistar. 
Read more: Where rim brakes thrive: Itzulia Women tech 2023
Meijering continued to race throughout her youth before heading to university when she turned 18 to study Economics and Finance where she says she found it hard to combine her cycling ambitions with her academic career. 
"It was never place number one for me," she explained. "I always loved doing it. And I spent a lot of time doing it as well. So my friends, they do not really see me a lot because every weekend I was gone, racing or training or anything. In my youth period up until, let's say, 14, I was doing okay. But then when I went into more juniors, I was very average."
It took a six-month break from the sport while she completed a study abroad programme for Meijering to realise how much she loved cycling. 
"I started missing it so much that I only wanted to do more when I came back. And I think from that point onwards it only went better and better. Still combining it with studying," she explained.
Although she found herself improving, Meijering continued to see cycling as something she did for fun rather than pursuing a career. "And then at one point, I started working, so building my life outside of cycling, and then at one point I just thought well, 'am I going to regret it if I never pursue anything more than being an amateur cyclist?'" she recalls. 
It was during the Covid-19 pandemic and subsequent lockdown that the desire to fully pursue a career in the sport solidified for her, though. "That got more into my head around the Covid period when it actually went towards the end and professional cyclists could go racing again, but the amateur cyclists could not do that. At that point I resolved 'Okay, if I want to do it, I'm now at an age that is now or never,'" she says. 
"I never really wanted it. I always said, when people asked me, 'Do you want to become a professional cyclist?' I always said, 'No, I don't want that.' Because at that point, I was not really training with the coach, I was just having fun, doing whatever I want. And at that point for me, I thought it would feel a little bit more forced, if you had to do the training on training plan, and you have to do it and not want to do it," she explained.
"But at the point that I started working with a coach, I only got more motivated. There was just something in my head that I thought I did not like it. But when I started doing it, I really liked it. And that was a little bit of the turning point for me."
The then-26-year-old raced successfully at the national level before joining the now-defunct Multum Accountants Ladies Cycling Team, giving her starts in races like the Tour of Flanders and Brabantse Pijl. 
"The programme was a little bit limited, maybe, but I didn't know what my strengths were. I was only racing in the Netherlands and maybe a little bit in the south where you have some small climbing but not a lot of climbing. So I didn't really know what my specialty was. So that was mainly the spring classics and I could keep up with usually the first big group. So I was really surprised that I could do that," she says of her time at Multum Accountants. 
"And then at the end of the year, the team stopped. So I had to look for another team. So I went talking with Aschwin [Kruders, Meijering's manager] and then he found Zaaf and that gave me even more opportunities to also try a little bit more real climbing races, because I always thought, well, during a training camp in Spain, I could do pretty okay, up hills. So that was something I wanted to discover as well. And I got the opportunity at Zaaf to do that. And I could show myself in those races as well." 
Meijering placed 10th at the 1.1 Vuelta CV Feminas and 12th on the Jebel Hafeet stage of the UAE Tour Women before going on to other WorldTour races such as Nokere Koerse and Trofeo Alfredo Binda whilst racing for Zaaf. She was, understandably, reluctant to go into detail about her time at the shambolic and now-defunct team: "We all know how that went. Close that chapter," she says. 
But, she added, "I'm also just very grateful for all the races that I've been doing with them and it might not have been the perfect team where everything was fixed for us. But I still got the opportunity to race in Spain, to race UAE Tour and if I did not join this team, and I would find, I don't know, maybe a smaller Belgian or Dutch team that would not go there. I would not be at Movistar right now. So it's also thanks to Zaaf that I'm here today." 
Now with Movistar, Meijering can benefit from an even better calendar and support structure, plus the added benefit of being teammates with the world champion. Although she has yet to race with Van Vleuten, Meijering spent some time on a team training camp with her. 
"They were in Maastricht, between Amstel and Liège. And they said, 'well, just come here. So you can meet some of the girls meet some of the staff.' And it was really a very warm welcome. Everyone was It was super nice. And they showed me around and explained how things work. And I joined the meetings before the race on the strategy. So it was really good to immediately dive into it and see how it works in a pro team like that and I've never seen that before. So it was all new to me. But everyone was really nice and willing to explain everything to me. So it was really nice to be there," she says. 
Van Vleuten, says Meijering "was very nice from the beginning. I never thought I would ever be in a team with Annemiek so that was a big surprise to me. But when I was there, and Maastricht, she immediately told me, 'if there's anything you want to know, any questions that you have, just let me know, I want to help you with everything. I'm still here for this season so use it in your advantage.' So I think I'm definitely going to do that."
In her debut race with Movistar on Wednesday, Meijering didn't waste time in showing off the climbing talent she suspected that she had. One of the few surviving riders in the breakaway towards the end of the race, she attacked on one of the final climbs with Kiwi climber Ella Harris of LifePlus Wahoo. Although the move did not make it to the finish – she and Harris were caught with 12 km to go before Riejanne Markus went on to take a solo victory – it showed some serious potential from Meijering.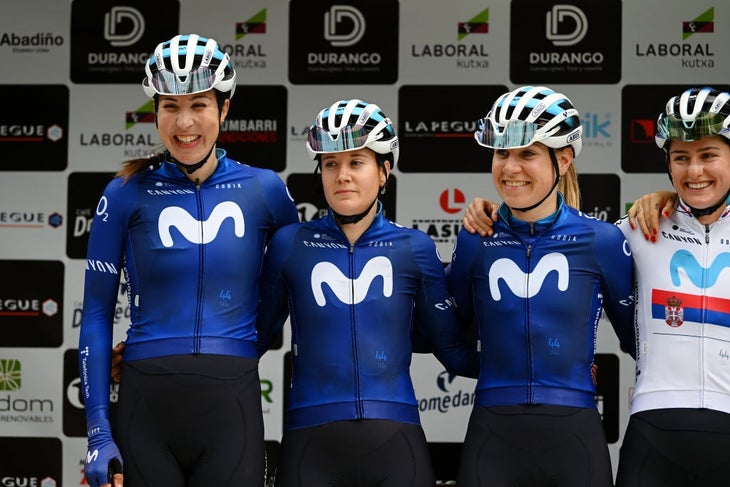 Although Meijering has prioritised her cycling career, she has continued teaching at the University of Utrecht part-time. From September, however, she will stop teaching and turn her full attention to cycling. 
"I don't know what it will feel like because now it's still part-time. And I just want to get my teaching qualification and I'm almost finishing that. So I still have something next to it at this moment. But I don't know what it will be like, from September onwards. But I do think it's good to have something besides cycling," she says. 
"I think it's good to have something next to it. But it's difficult to find a job that allows you to do that. So maybe I need to find a new hobby, and I need to learn Spanish."
With a chance to dedicate herself fully to the sport, Meijering has a lot of room for growth. What are her objectives? 
"Yeah, I think for now, it's just seeing how much more progress I can make. I think there's still a lot of progress I can do if I quit working and train more, rest more, focus on nutrition. So all of these aspects, I think on all parts there is something that I can improve in. And for this year, I think [I will] just see how I will do in the next couple of races. And from those races. Think of realistic goals towards the end of the season, and what kind of races I will be doing there," she says.  
"But before I joined Movistar, I already had a big red circle on the Dutch championships. I think that's in the hilly part of the Netherlands. So I always think it's something special the Dutch championships. So I was like to be in my best shape there."
Crucially, though, she says: "It still feels like fun."