The 2023 Specialized Allez Sport squeezes even more performance out of entry level alloy
The venerable road model bids farewell to rim brakes, and proves there's plenty of life and performance yet to be gleaned from alloy.
Heading out the door? Read this article on the new Outside+ app available now on iOS devices for members! Download the app.
The Specialized Allez would like a word.
The 42-year-old model is not done yet. Not if the 2023 update, more of a complete reboot, has anything to say for it. 
The 2023 Allez, not to be confused with the Allez Sprint aimed at crit racers and riders with a little more cash to throw around, continues to be Specialized's entry point into road cycling, and it has been updated to reflect the trends of modern road bikes.
Perhaps most noticeably, the new Allez does away with rim brakes. That's right, it's now disc-only. And then there's increased tire clearance of 35mm. There's plenty more going on under the hood so to speak as well in the frame itself. And Specialized has taken additional steps to ensure that this alloy frame is one that an entry level road rider can grow with over the years.
It's very much a road bike in an era where the entry level version of that increasingly seems like an endangered species, and gravel bikes and other "n+1 killer" builds increasingly predominate. 
So what does an alloy road bike in this day and age look like?
Also read: The new Vitus Venon Evo further blurs the line between gravel and road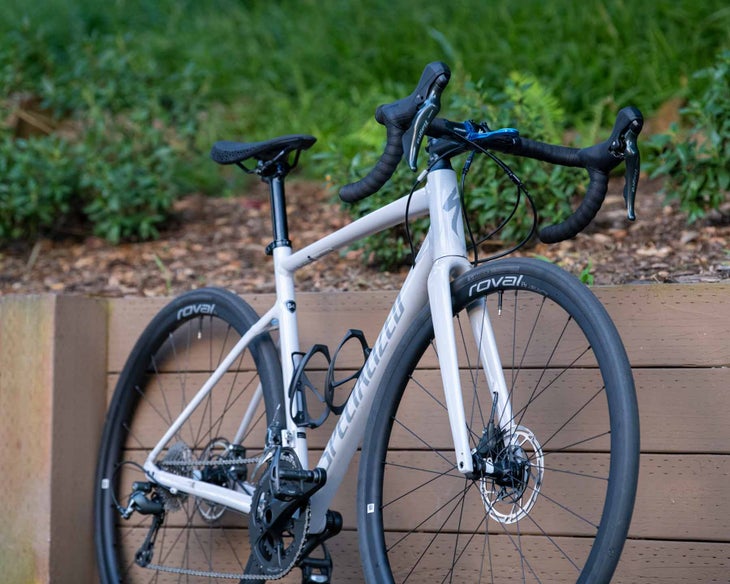 The frame
Specialized has put some effort into designing the frame itself. Rather than using straight gauge alloy tubing and calling it a day, the brand opted for double butted tubing. 
Butting means decreasing the amount of material in the center of the tube to save weight, while keeping more near the ends for stronger tube junctions where more force is exerted on the bike by the rider. It's a more expensive way to build, but helps result in a better ride quality, and a lighter frame.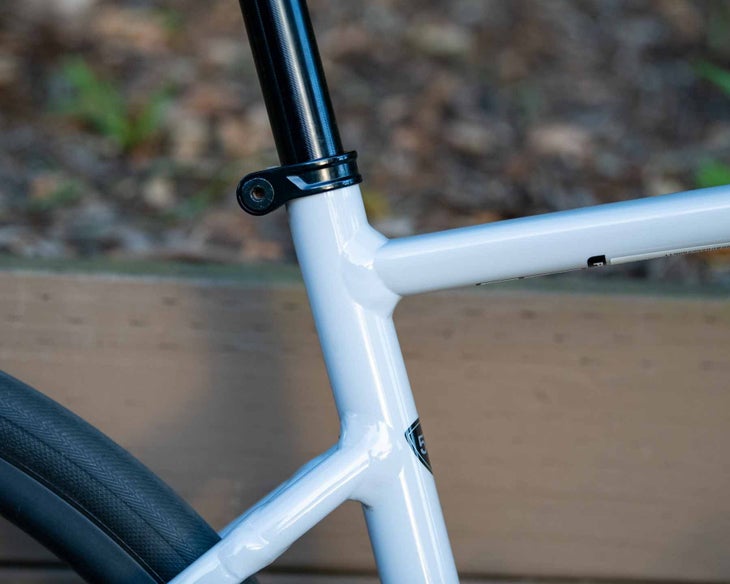 Specialized claims a frame weight of 1,375 grams, which isn't bad for a metal frame. It's then paired with a full carbon fork which also helps keep the weight in check.
Other design choices of the frame have been made with ease of service and future proofing in mind. The bike features a BSA threaded bottom bracket with a road standard 68mm shell [Editor's note: this review previously incorrectly listed the bottom bracket as T47]. It uses a standard round 27.2mm seatpost, as well as a standard stem and handlebar. That makes finding upgrade or replacement components simpler, and routine adjustments to fit or the headset easier.
Specialized has gone ahead and internally routed the cables as well, because, well, it looks good. Who doesn't want that? That question is only slightly rhetorical. The answer would be riders who rightly point out that it makes replacing cables harder. Luckily Specialized hasn't gone overboard with it and only internally routes cables through the front triangle. The cables spit out under the bottom bracket, and then are externally guided into the derailleurs and rear brake. 
There's other small details too, like the braze on front derailleur rather than clamp on. It makes a world of difference if you want to upgrade your groupset down the line, and looks a little better too.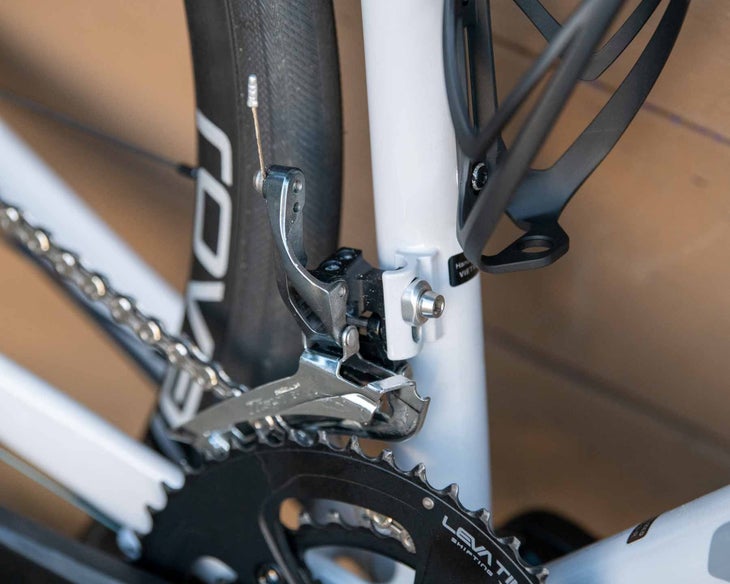 It's not a complete performance at all costs frame either. Specialized has included rack and fender mounts so riders can make this a commuter that sacrifices little, and that can get you to the office on a rainy day without a Rorschach Test splatter pattern up your back.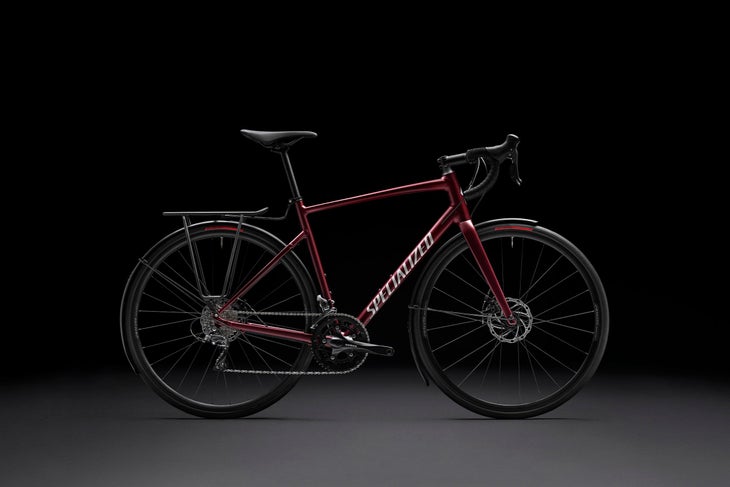 Geometry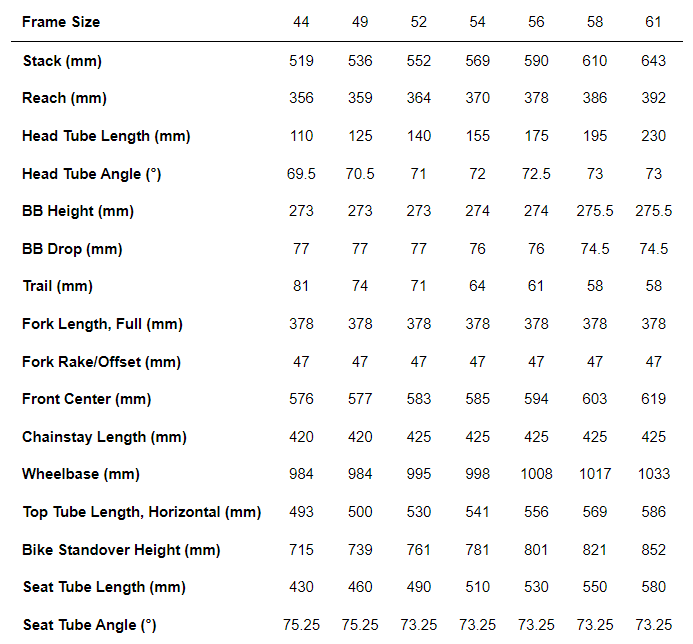 The Allez is an endurance frame. Specialized calls the model's geometry "Roubaix inspired," which is to say it's not a vis-à-vis remake of the Specialized Roubaix — not simply an alloy reboot of that endurance racer for the spring classics — but gets riders into a similar fit by using a taller head tube and a slacker head tube angle. 
For comparison, the size 54cm Allez has a stack and reach of 569 mm and 370 mm, while the Roubaix is taller at 585 mm stack and a touch longer at 376 mm reach. The race oriented Allez Sprint, on the other hand, keeps things lower and longer with 538 mm stack and 385 mm reach.
Specialized has worked in 35mm of tire clearance to the new Allez. That's enough for some all-road or dirt roads, without sacrificing the endurance road geometry in an effort to make the bike something (a gravel bike) it should't try to be. 
Also read: Pro bike check: Mads Pedersen's Trek Madone SLR 9
The build
When Specialized dropped off my test bike, a few details caught my eye. First of all, it came with a Specialized S-Works Romin Evo Mirror saddle, one of the brand's top-end 3D-printed saddles, one which I have come to enjoy quite a lot. 
Then there's the tires. My test bike featured the brand new S-Works Mondo endurance tire Specialized just released this spring and that was raced by the brand's WorldTour level teams in the cobbled classics. "Endurance" is slightly misleading here; it's endurance in the way the Roubaix bike is technically endurance, but still super fast. It's a tire meant for increased puncture protection and longevity, without sacrificing too much in the way of speed.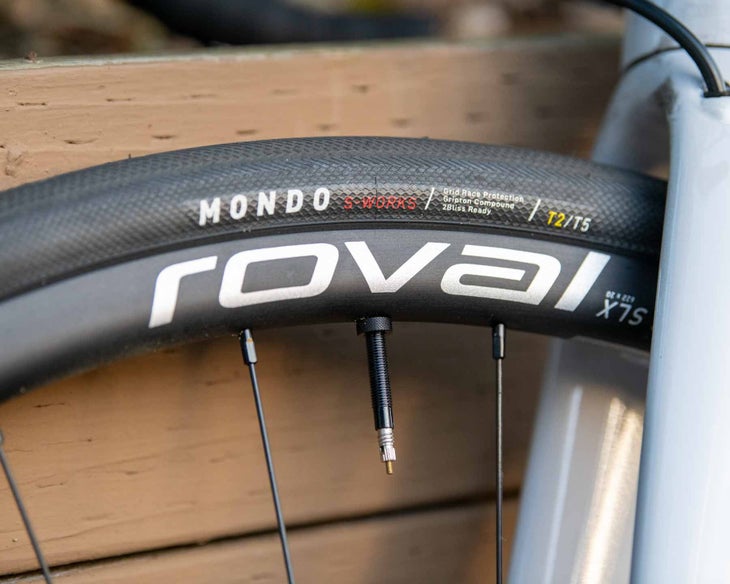 "No way they're speccing all this on a sub-$2,000 bike?" I thought to myself.
As it turns out, they're not.
Specialized had taken the liberty of making a few choice upgrades to my 54cm test bike. So this review is not exactly of an entry level sub-$2,000 USD bike. Rather, it's of a $1,800 bike with $1,285 worth of upgrades.
Roval Alpinist SLX wheels: $800
S-Works Mondo tires (32mm): $160/pair
S-Works Romin Evo Mirror saddle: $325
Total upgrades: $1,285
Bike total: $3,085
This review, then, is also a demonstration of how much simple upgrades can benefit a bike at this price point. 
One of the biggest bang for your buck performance upgrade will come in going from stock wheels to a competitively priced alloy set with great hubs. Carbon is not needed to yield impressive results. In fact, for around $1,000 or less, it's probably best to steer clear of carbon. 
The Roval Alpinist SLX wheels are a worthwhile upgrade if you can swing it.
The Roval Alpinist SLX alloy wheels Specialized upgraded my bike with weigh 1,485 grams for the set and come laced to DT Swiss 350 hubs, a reliably high quality set of hubs a step below the brand's top-notch 240s.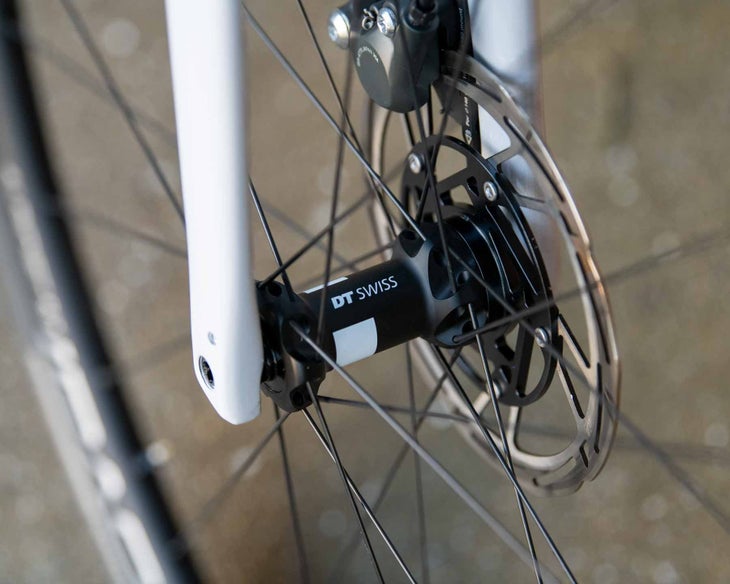 Comfort, it can be argued, is the greatest upgrade you can make. Do a proper bike fit, and find the touch points that work for you. Changing to a saddle you know works for you makes a world of difference in jumping on a bike and immediately feeling at home.
The only other major upgrade I would make to this bike at this stage would be to the handlebar tape. The basic cork tape that comes with the bike gets the job done, but something a little more grippy would go a long way in making this bike feel exactly like a top-end build. Personally, I'm a fan of Lizard Skins, but there are plenty of brands out there with quality bar tape — and colors to match your personality.
Fresh bar tape is also a trick that just about any bike benefits from. Your hands are quite good at discerning the feel of different materials — not to mention they go through a lot of abuse out on the road — so why not give them the best in a rare cycling upgrade that can be had for under $50?
Getting tubelesss 32mm tires that offer a supple ride quality makes for smooth, comfortable miles as well. The S-Works Mondo creates an impressively supple ride quality for an endurance tire and I wouldn't mind having it as my daily driver tire.  
But enough about the upgrades. I haven't yet mentioned what $1,800 gets you in these times of inflation and generally pricey bicycles. 
Also read: This diamond and gold covered Colnago just sold for $133,000
Specification
Shimano Tiagra hydraulic disc groupset 10 speed (11-32T Sunrace cassette; Praxis 54/30T crankset), Roval Alpinist SLX wheels; 32mm S-Works Mondo tires; S-Works Romin Evo Mirror saddle; Specialized alloy handlebar, stem, and seatpost.
To start, the groupset is Shimano Tiagra, a model which, sitting below the marquee road groups of Dura-Ace, Ultegra, and 105 in the Shimano lineup, admittedly I hadn't touched, nay, laid eyes on, in years. It's also one of the few mechanical shifting experiences I've had of late given that electronic shifting now occupies the top three tiers of both Shimano and Sram.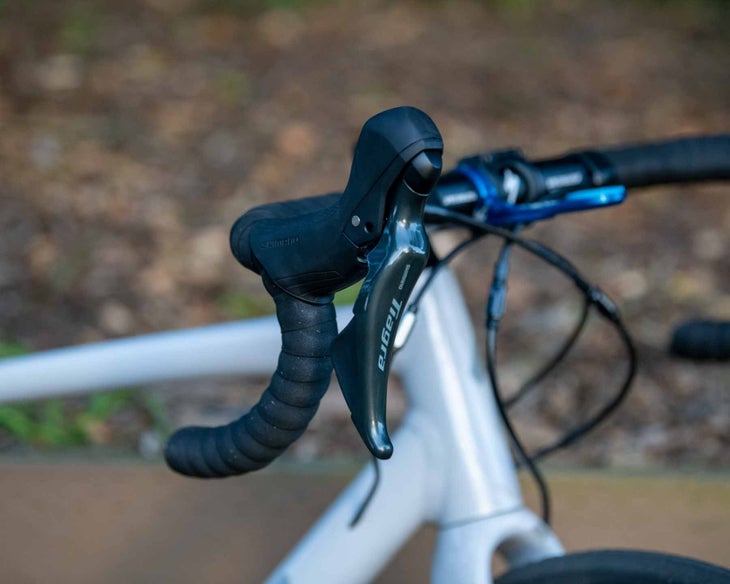 There's nothing wrong with Tiagra, but in my mind an $1,800 bike should be able to be equipped with 105. That goes to show how much bike components have increased in price in recent years.   
But don't roll your eyes yet, bike snobs (why are you even reading an entry level bike review then anyway?). All that being said, Tiagra is pretty good stuff.
The shifting is surprisingly quick and crisp for low-end mechanical, and it only gets noisy when you stray into near-cross chained territory. Of course, keeping it maintained with proper cable tension coupled with keeping the drivetrain itself clean goes a long way in keeping the shifting this way.
There's a few things that would be nice for Tiagra to have, namely more gears than its 10-speed cassette can muster. But it's far from the end of the world, just something that you really only notice as a seasoned rider or on long rides when the jump between two adjacent gears seems just a touch too high for your cooked legs.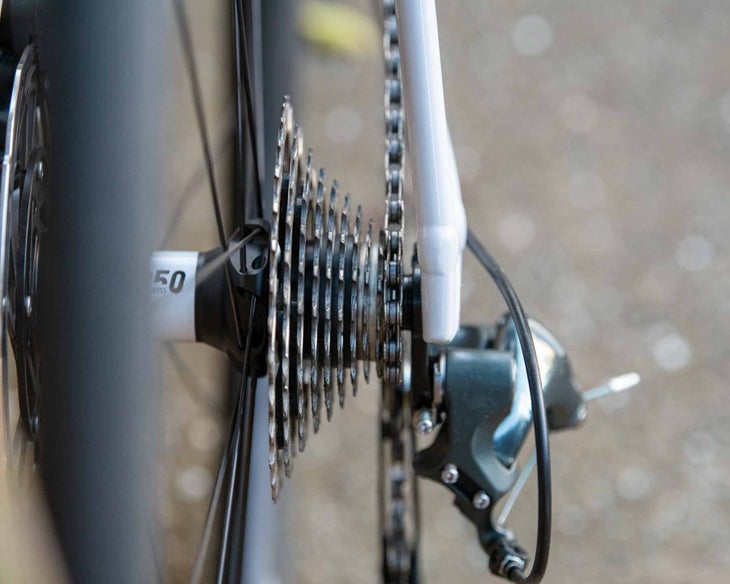 And I would appreciate thinner brake hoods like the higher end Shimano groupsets come with. It's something I only notice when I actively think about it; it's not distracting enough to ruin a ride, but it's something I notice having spent plenty of time on higher end Shimano hoods. 
On the other hand, bigger brake hoods give more to hold onto, something a novice rider might feel more secure with. 
An 11-32T cassette paired with a 50/34T compact crankset means this bike is perfectly at home on climbs, and has enough range for just about any road ride.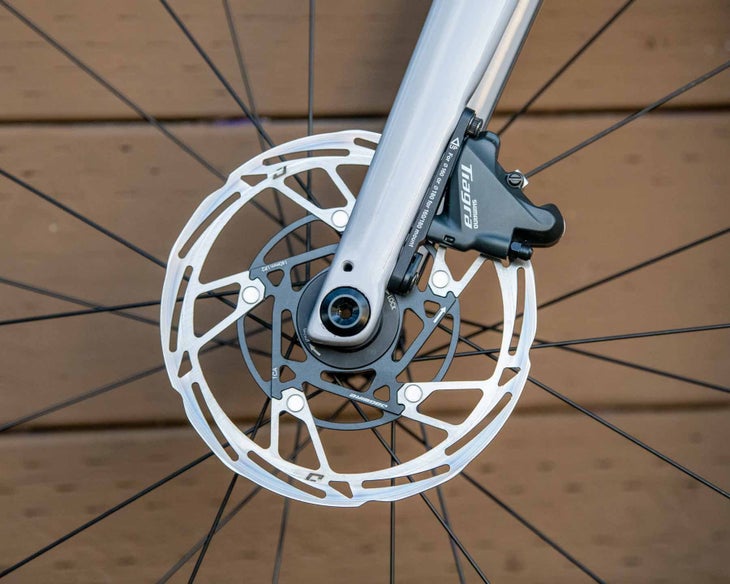 Otherwise, the alloy handlebar, stem, and seatpost get the job done, offering easy adjustability of the saddle and cockpit, then disappearing out of the way completely during rides.
The ride
So the Allez shifts surprisingly well, and has a solid spec that gets the job done. How does it ride?
The short answer is: super well. Specialized has eked out even more performance from alloy, and caught the Allez up to speed on what it means to be a road bike in 2023.
New riders will appreciate the fit of the Allez. It is certainly more upright than performance race bikes, but at the same time isn't a commuter bike with drop bars. The fit is aggressive enough to introduce new riders to a performance oriented position, and for plenty of riders is about as stretched out as they'll ever want or need. You can put in a TT effort on flat roads and not feel that your effort is being wasted, while still feeling pretty comfortable too. 
The Allez offers a super smooth ride too thanks in part to the generous tire clearance and the tubeless 32mm tires I tried it out with.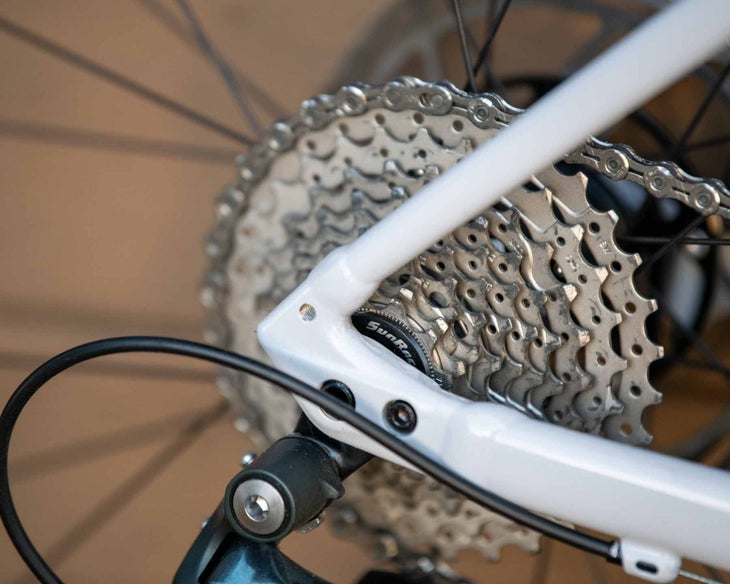 The geometry makes for a bike that will track a line well through a descent, but not fly off in another direction at the slightest input at the handlebars. It's a far tamer bike than say a Tarmac in this regard, but still a blast to descend on.
Braking is also excellent as is to be expected from hydraulic disc brakes. That alone is a reason to steer clear of the lower priced $1,200 USD build of the Allez which has cable disc brakes.
The only place I can fault this bike? (It's not much of a fault either). Hovering around the 20-pound mark, it can start to feel a little heavy after a lot of climbing, but that's coming from someone who regularly has access to bikes 4 or 5 pounds lighter. The Allez actually manages to feel light for an alloy bike with disc brakes under $2,000 (ok, more like $3,000 as tested with wheels that shave about a pound of weight from the stock build).
But that brings me to another point. This bike is worthy of upgrading. Carbon components like handlebars or seat posts wouldn't be out of place on this frame. Nor would it be unreasonable for this to be sold as a frameset, although that seems unlikely due to the more performance oriented Allez Sprint attracting the crowd looking to build a bike from scratch.
If you can swing it, the $800 upgrade for the Roval Alpinist SLX wheels is money well spent, as are many alloy wheelsets on the market in this price range. Whatever you get, they should provide a similar boost in performance that makes the bike spin up to speed faster and roll along smoother.
The Allez is future proofed with easy to find and service parts and has an upgrade worthy frame, while keeping rack and fender mounts that entry level road riders looking for a bike to serve multiple roles will appreciate. 
How popular an entry level road bike that sticks unapologetically to paved roads will be in a time when gravel bikes are the hot item is hard to say. But I'm glad to see the Allez, a bike that has been a stepping stone for so many riders I've known, myself included, still have a place in this world. 
Pricing and availability
The Allez comes in two builds: the Allez and Allez Sport. It's the same frame, just with different build specs.
The base level Allez costs $1,200 USD / €1,200 Euros / £1,100 GBP / $1,800 AUD
The Allez Sport costs $1,800 USD / €1,750 Euros / £1,600 GBP / $2,500 AUD
The models should be immediately available at Specialized dealers.