Amgen Tour of California — Stage 3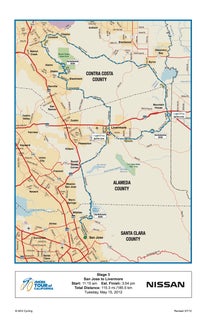 Start: 11:15 a.m. PST
San Jose — Livermore (115.3 miles/185.5 km)
Tuesday, May 15
Earliest Estimated Finish: 3:24 p.m. PST
"Finally."
That's what California cycling fans will be saying about day three, which sees the peloton tackle the revered Mount Diablo, a pyramid-like peak visible from the Bay Area and a benchmark climb for cyclists.
San Jose again plays host to the race — the only city to do so in all seven years of the Amgen Tour's history. This year, riders will depart from the northern part of the city, rather than downtown. This could be a windy, painful day in the saddle for the peloton, as the Diablo comes at mile 50, with another climb, the stair-stepping Patterson Pass, coming toward the end of the stage. From the base of the climb, it's 3,249 feet of up, coming over 10.8 miles. The record ascent (on record, at least) is 43:33, set in a hill climb by Nate English, whose Kenda-5-hour Energy squad is absent from this year's race.
The route doesn't ask the peloton climb the entire peak, but it will be interesting to see how, or if, the peloton attacks the climb, since it comes in the middle of the stage and should not determine the overall winner.
Fred Rogriguez (Team Exergy) rides the Diablo often, as it's out his backdoor. "It's definitely tough," he said. "It's going to tire down the riders, but at the same time, it should come back together for the Patterson pass climb, which is a stair-stepping climb."
The race could see a breakaway winner launch a bold attack from Patterson Pass, though it's likely the stage will be won by someone from a sprint field culled by the day's climbs.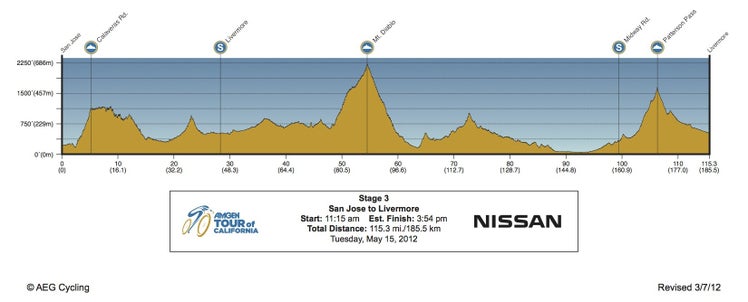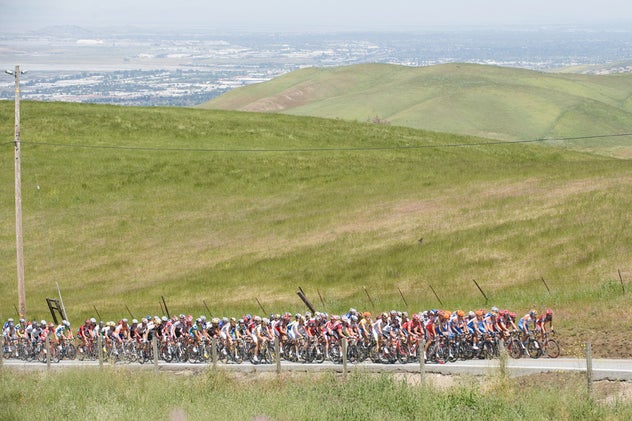 The peloton rolls through the Sierra foothills east of San Jose. Photo: Photo: Casey B. Gibson | www.cbgphoto.com