Amgen Tour of California — Stage 4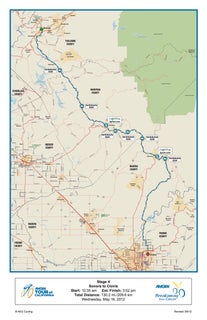 Sonora — Clovis (130.2 miles/209.6 km)
Wednesday, May 16
Start: 10:35 a.m. PST
Earliest Estimated Finish: 3:39 p.m. PST
At 130 miles, stage 4 is the Amgen Tour's longest endeavor in 2012, and perhaps its most difficult, with a combination of length, climbing, sharp corners and technical descending.
For the first time, the race starts in Sonora, an historic Gold Rush town that's largely intact from its heyday. From Sonora, the pack will head south toward Mariposa and Oakhurst, both sprint cities. From there it's onto Highway 49, an historic and challenging piece of pavement skirting Yosemite National Park.
The day is littered with climbs like the Bagby, Bootjack and Crane Valley, which should begin to show the racers with true ambitions in this year's Tour of California. The race tilts downward after the 3,750-foot summit of Crane Valley, setting the pack up for a sprint.
Hanson is from California and trains out of Santa Barbara, and he's one of the few Americans with a shot at the sprints. "It's got quite a bit of climbing," he said of the early going in stage 4. "It's decidedly hard, but the last 30, 35 kilometers are pan-flat."
Stages 6 and 7 should decide the general classification, on the heels of the Bakersfield time trial, but this stage's final four KOM climbs should see the cream rise near the top.
In 2009, Mark Cavendish edged out Tom Boonen in Clovis to win stage 4.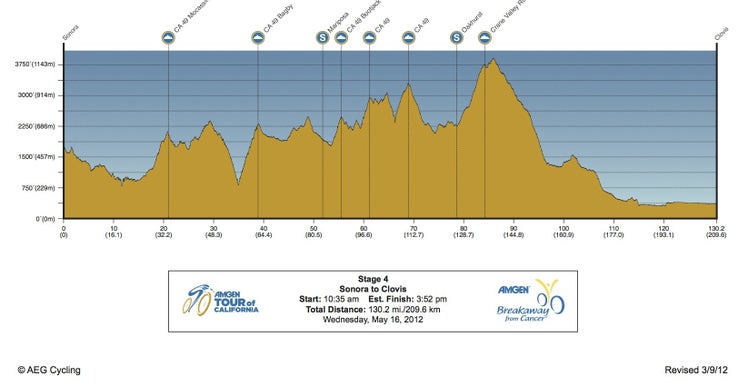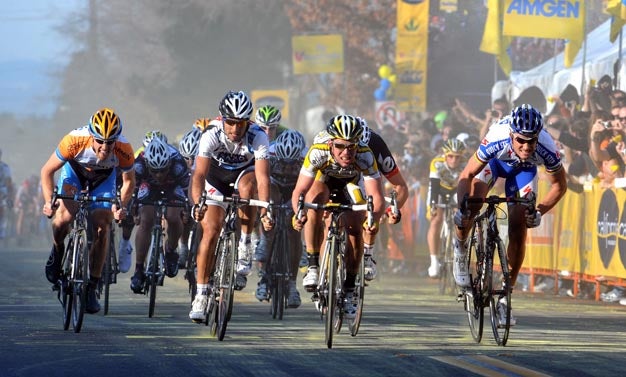 Cavendish wins in the chalk cloud at Clovis. Photo: Graham Watson | www.grahamwatson.com