Orucase Airport Ninja
This airplane bike case is disguised to help you avoid extra baggage fees — and it also does a good job of keeping your bike safe and secure.
Weight
12 pounds
Price
$499
Brand
Orucase
---
Heading out the door? Read this article on the new Outside+ app available now on iOS devices for members! Download the app.
Cycling vacations are supposed to be relaxing, fun, and carefree. The trouble is, a lot of trips start with an anxiety-inducing stop at the check-in kiosk at the airport. There, you'll be summarily fleeced for traveling with a bicycle. At the very least, it costs $75 each way to fly with a bike (on Southwest).
You could try to come up with a lie about what is inside your case. (It better be more creative than "tradeshow booth" though!) Or, you could find a way to make your bike case look less like a bike case.
Orucase's Airport Ninja is far smaller than most cases, and the company is confident that its product will help you avoid fees. You'll have to put in a bit of extra work to save that money, though.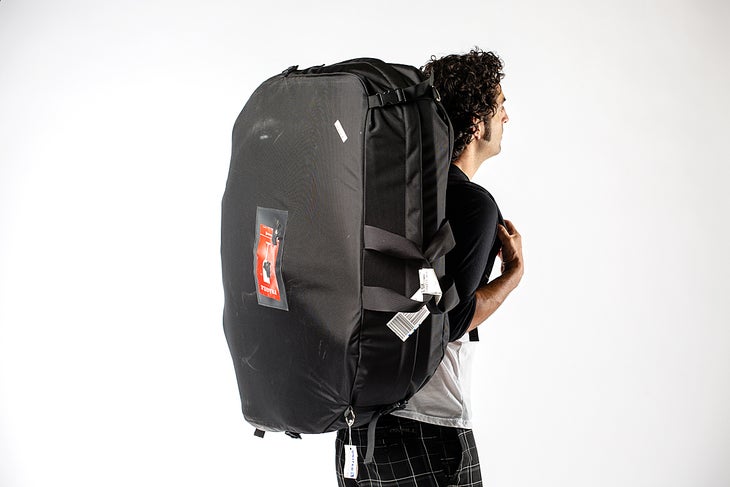 Airlines use two key criteria when charging extra for baggage: dimensional size and weight. The Airport Ninja addresses both of these concerns. Measuring approximately 27x32x12 inches, it is within most airlines' parameters (but don't expect this to fit in the overhead compartment). Weighing 12 pounds, the case also doesn't risk going over the weight limit of about 50-60 pounds, depending on the airline. Even with a lightweight road bike, some heavy plastic cases quickly exceed those weight limits.
Like most bike cases, you have to remove the wheels, seatpost/saddle, pedals, and rear derailleur to get started with the Airport Ninja. The wheels slide neatly into two side pockets. (If you have quick releases, those also come out, and there is a pocket to store them in transit.) You then take the derailleur off to avoid damage.
The key to the Airport Ninja's compact size is that you also remove your fork when packing the bike up. On a rim-brake bike, this means removing the stem/handlebars, detaching the front brake, and slipping the fork into one of the case's interior pockets. If your bike has disc brakes, you still remove the fork, but not entirely. The brake caliper stays on and Orucase recommends padding the fork and then fixing it to the bike's down tube.
None of that requires more than a few Allen wrenches or perhaps a Torx T25 wrench. Experienced mechanics won't be troubled by this extra step. But if you've never removed or installed a fork, you'll want to practice ahead of time to avoid any stress (and get out to ride as soon as you arrive!).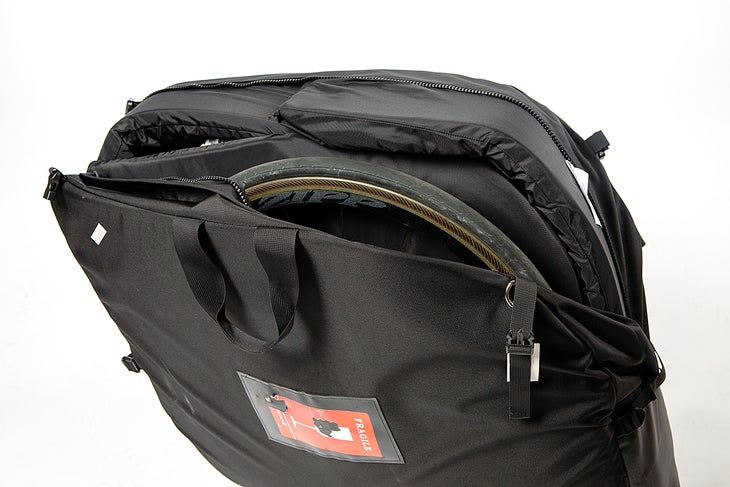 In practice, it took us about 10 minutes longer to build our bike compared with our traveling companion, who had a more conventional case. She paid about $400 in fees to fly to France and back with her bike. Our Airport Ninja slipped by unnoticed.
While we succeeded in saving money on airline fees, the Airport Ninja required a bit more planning and organization than some bike cases. In addition to the extra wrenching, we supplemented the minimalist case with more padding and straps to ensure our bike stayed safe en route.
With its ballistic nylon exterior, foam padding, and strategically placed plastic panels, the Airport Ninja protected our bike from external damage. However, sometimes the greatest risk is parts rattling against each other inside a bike case.
For instance, Orucase's instructional video doesn't make any mention of securing the handlebars or seatpost when packing. While the case has a snug fit that may prevent stuff from moving around, we opted to strap down the bars and post with padding on the contact points to avoid damaging our frame. We also weren't comfortable just letting the chain and derailleur sit in the bottom of the case, so we bagged that up and tied it down as well.
As is true with any bike case, you learn its quirks and come up with a system to reliably pack it whenever you travel.
If you're a capable mechanic who can think proactively about how to pack a bike to avoid damage, you'll have no trouble with the Airport Ninja. You'll probably be pretty excited to save money on fees and to have a light case that's easy to carry or pack down in a rental car when its empty.
Maybe you're not sure if you can handle that extra effort and planning. Fortunately, Orucase offers rental Airport Ninja cases, so you can try before you buy. A three-week rental costs $150 (the price of a one-way domestic bike bag fee on United) with free shipping. If you end up buying an Airport Ninja case after trying it out, you'll get a $75 credit toward the $499 purchase price.
Are you a handy, tech-savvy DIYer who hates getting nickel and dimed? Definitely give the Airport Ninja a try — you'll probably end up using that $75 credit.