Wiggins' move to Sky confirmed
Britain's Bradley Wiggins will spearhead Sky's efforts at the Tour de France after signing a four-year contract with the British ProTour team.
Heading out the door? Read this article on the new Outside+ app available now on iOS devices for members! Download the app.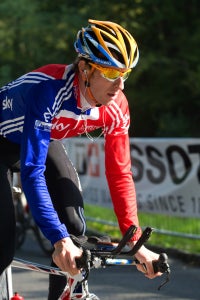 After months of speculation, Bradley Wiggins confirmed Thursday that he will join Britain's Team Sky for the 2010 season, after his new sponsors bought-out the remaining year of his contract with Garmin-Transitions.
Wiggins, who finished a surprising fourth overall in this year's Tour de France, held a press conference at Sky TV studios in London on Thursday to announce that he had inked a four-year deal with Britain's first ProTour team.
"It has been an amazing year for me and my ride at the Tour has given me the drive to aim even higher," Wiggins said. "I know I can continue to develop and Team Sky is the perfect place to make that happen."
Wiggins, who first made his mark in cycling as one of the world's best pursuit riders, turned in a remarkable performance in the 2009 Tour, finishing fourth overall and battling American Lance Armstrong for the final spot in the podium in Paris.
Wiggins' performance equaled the previous best-ever Tour by a British rider, matching the 1984 fourth-place finish of Scotsman Robert Millar.
The 29-year-old Wiggins had one year remaining on his contract with the U.S.-based Garmin-Transitions team, but the heavily financed Sky team – sponsored by Rupert Murdoch's British satellite TV network – was able to negotiate a buy-out.
Garmin-Transitions manager Jonathan Vaughters said his team would continue to be competitive, despite the departure of a key player.
"Although we understand his strong desire to be a part of the UK's first-ever Pro Tour team, we would have loved to continue with him through 2010," Vaughters said. "His departure is not the outcome we hoped for.
"That said, Team Garmin-Transitions has an incredible group of riders assembled for the season. As always, we have worked hard to build a team that will be competitive throughout the year. The team features Christian Vande Velde who was 8th overall in the 2009 Tour after significant injuries – including five broken vertebrae – sprint sensation Tyler Farrar, David Zabriskie, David Millar, Dan Martin and other outstanding athletes that we're fortunate to work with."
In announcing the signing, Dave Brailsford, manager of Team Sky, said that Wiggins was an ideal recruit for Britain's first ProTour team.
"Brad will be at home in Team Sky. It is the perfect fit and he will be a marquee rider for us," Brailsford said. "Brad was a real revelation at this year's Tour de France, has been hugely successful for British Cycling and his Olympic success (on the track) has brought wide recognition."
Wiggins said that his transition will be an easy one, as most of the staff and coaches at Sky also got their start in the British Track program.
"It's a natural move for me to come home," Wiggins added. "I'm joining a team where I've had all my Olympic success with and now trying to do something else, which is the Tour de France. It's an ideal scenario, especially with a backer like Sky behind us and everything that comes with that."
"These guys have done great things on the track," Wiggins added. "Just look back to 1996, when British riders were pretty much paying their own way to the Olympics and now it's one of the world's most dominant programs."
"We'd like to bring that same level of commitment to the Tour de France," he added.
The team has publicly set a goal of winning the Tour in coming years.
Brailsford was clearly pleased with his newest recruit, noting that Wiggins' involvement in the team represents "that final piece" of Sky's plans for 2010.
"He is an exceptional athlete – a great performer at a great age," Brailsford said. "And he will get better still. At Team Sky he can continue to develop, surrounded by some of the coaches and performance experts who have worked with him for years as part of the British Cycling set-up."
Wiggins said Team Sky has to be considered to be "one of the strongest forces in Pro cycling right now. The team is made up of hand-picked personnel and the riders are exceptional; a mixture of young talent, some older experienced guys and the bulk of the team is focused on the Tour, because that's what this is all about."
Wiggins said he would never make an outright prediction of victory in a race like the Tour de France, noting that "there are just too many variables."
"It's a massive task," he said. "We're going to go back next year and try to be as good as we can be in July, but there is so much that has to happen to win a Tour de France. It's three weeks of racing day-in and day-out; there are crashes, mechanical problems and anything like that can hamper your chance of winning ….
"It certainly won't be for the want of trying," he added.