Designing your own training plan for 2011
Frank Overton gives guidelines for developing your own annual training program
Heading out the door? Read this article on the new Outside+ app available now on iOS devices for members! Download the app.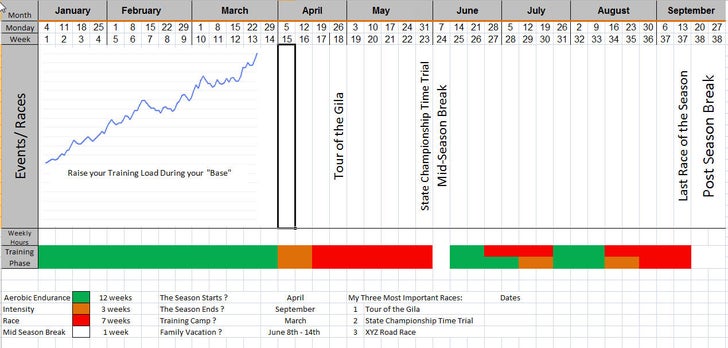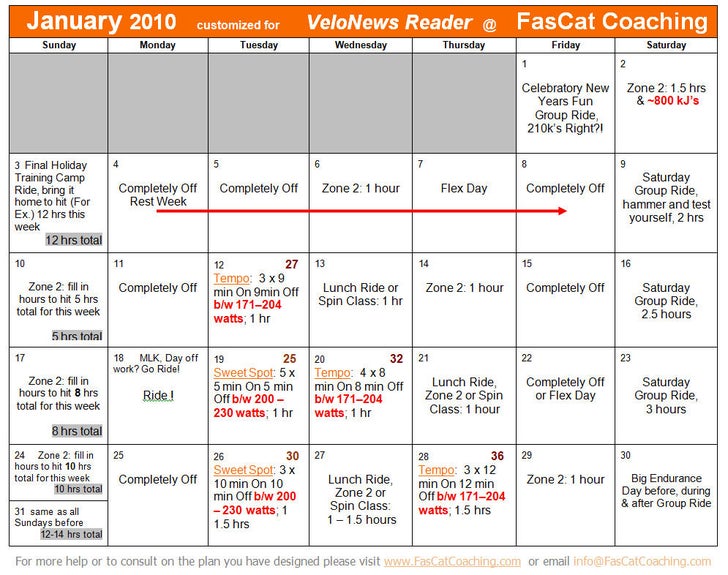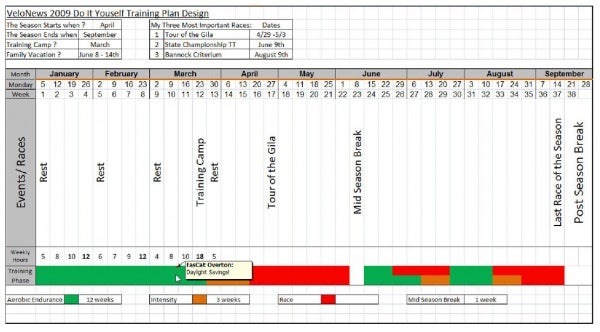 Editor's Note: Today we are re-running one of our most popular training columns, on designing your annual training plan. If you enjoy this, be sure to check out Frank Overton's second most-popular column: What to do with your new power meter.
These days, there's something to be said for designing your own training program. Athletes that are willing to put some thought and dedicate some time into designing a personal training strategy can be quite successful, more so than just riding around and hoping your form comes around.
It is also helpful to have your own game plan on paper even if you plan to take advantage of the help of an expert.
For those of you who like to do it yourself (DIY), here are four steps and two documents to use for designing a great 2009 training and racing season.
Step 1: Get Organized
The first step in designing your plan is to have everything written down and organized on one sheet of paper like the one pictured. To download this worksheet visit FasCatCoaching.com.
In one view, this worksheet breaks down the entire 2010 calendar into 37 weeks. Start by figuring out when you are going to start (and stop) racing. If you are lucky enough to attend a training camp write that down, too. Even knowing in advance when you'll be taking a vacation away from the bike is helpful.
Step 2: What are you training for?
The next step is to identify precisely what you are training for. Having a tangible goal to work for will give you the motivation to get on the bike each day with a purpose. For starters, write down your three most important races. Then enter those races into the calendar. Define how many weeks you have from now until your first "A" race.
Having the big picture — the 30,000-foot aerial view, if you will — of how your races are setting up this spring and summer will give you the ability to zoom in your training week-to-week.
Step 3: Advanced Planning
Now that you are organized, and your goals are defined, begin to fill in your plan with more detail. Remember, designing your own training plan is a not a one-time exercise; it's a work in progress. In January concentrate on the number of weeks you have before your race season begins.
January
Write down how many hours you can train each week between now and when your season begins. Weigh the possibility for a late winter or early spring warmer weather training camp to wrap up your "base." Conversely, plan around potential business trips and other limitations (we all have to work, right?) Perhaps most importantly, plan on riding after work beginning March 8th with daylight savings.
As you know, the more training the better, but keep it realistic. By having weekly hours written down, you automatically give yourself the motivation to achieve those goals and ride those hours.
February and March
By the time February and March roll around, most local racing associations have posted their 2009 racing calendars. Begin to review and chose which you want to race before and in-between your major A races. Also use this advanced planning opportunity to look at what races aren't going to work for whatever reason. You do not and should not race every weekend from April through September. Schedule a healthy dose of non-competitive weekends during which you ride for fun in a productive way.
I also recommend a mid-season break for all athletes (one week of no riding and racing to recharge mentally and physically). Mid-season breaks are a great time to balance your life outside of cycling for work and family.
Revisit this worksheet in February and March and adjust your weekly hours based on how easy or hard they have been to achieve so far. Once your racing is underway and you have seen how successful you are, and are going to be, revisit your race program and your goals based on your successes so far.
Now that you have your big picture training plan taken care of, you are ready to zoom down to the day-to-day design. I like to use a calendar like the one pictured and you can see that January is planned out as an example. You can download this calendar to use for your design by visiting FasCatCoaching.com.
Take the weekly hours from your big picture plan and pencil them in for the week ending each Sunday. Say, for example, that you planned out eight hours for the week, January 12th – 18th. Working off of those hours, you could do three one-hour mid-week workouts and two 2.5-hour rides over the weekend. Alternatively, you could do one three-hour ride on Saturday and a two-hour ride on Sunday. The benefit of designing your own training plan is that you know the limitations of your schedule and how each week/weekend shapes up against basketball games, business trips, carpools and if you are gonna be able to hit the Saturday morning group ride throw down.
Every two or three weeks plan a recovery week with fewer hours than you normally would ride. Give yourself more complete off days during the work week and ride once on the weekend. Try to train especially hard in the week and the days before your planned rest.
Repeat your day-to-day training plan design once-a-month using a monthly calendar. Always plan ahead based on what has happened with your previous training.
Finally, print out both of these documents. Use them to write down what you did each day. Post them on your refrigerator, desk, garage – wherever you are going to glance at daily so that you already know what you need to do for training the next day. Show your family. Share it with your cycling club and teammates. Rally for as much support as you can find. Oh and honey, can you watch the kids on Saturday morning so I can go hammer with the group ride?
Frank Overton is the head Cycling Coach at FasCatCoaching.com, a cycling coaching company in Boulder, Colorado. If you would like to receive the Training Plan Design Worksheet and the monthly FasCalendar (with an example January Training Plan) referenced above please, email info@fascatcoaching.com.