Cannondale on Teide: A day in the life at high-altitude training camp
TEIDE, Tenerife (VN) — Ever wonder what happens at a high-altitude training camp? Just ask Matti Breschel, who's been parked on the crater of the Teide volcano high in Spain's Tenerife mountains with some of his Cannondale teammates for nearly two weeks.
"It's just like any training camp, except we sleep on top of a volcano," Breschel said with a laugh. "You ride your bike all day, you rest, and you sleep. Then you wake up, and do it all again."
Routine, repetition, intense workouts, and altitude are the friends of professional cyclists in January and February, ahead of the demands of the racing season. Things are pretty laid-back at the top of the world. After a long, seven-hour day in the saddle, riders shower, have a massage, eat dinner, and scan the Internet. Not much else to distract their attention.
"It's pretty quiet up here, that's for sure," said Cannondale teammate Rigoberto Urán. "We rode down to the beach the other day, just to change things up a little bit. Otherwise you slit your wrist. The training is great, however, and we all hope it will pay off."
A group of 10 Cannondale racers, with a mix of riders heading to the spring classics and the Giro d'Italia, arrived February 13 at Teide and leave this weekend. Most will be back for more elevation camps as their major season goals come closer.
Altitude training has become an essential part of modern cycling, with Tenerife emerging as the preferred destination of top pros seeking the benefits of altitude. Why here? Easy. It's the only place in Europe that mixes mild weather and good roads at high altitude in the grip of winter. Other favorite altitude training areas, such as Sierra Nevada, Andorra, northern Italy, and Switzerland, are typically buried in snow this time of year.
Perched high on the Teide crater at 2,164 meters (7,100 feet) is Las Cañadas del Teide, the government-run hotel that is the temporary home of altitude-seeking professional cyclists. Top teams and riders file through the hotel throughout the winter. When VeloNews visited Teide this week to link up with Cannondale, riders from Astana, Katusha, and Movistar were also training there. Others from Sky, BMC Racing, and Tinkoff haunt the heights of Teide regularly throughout the winter.
Here's a typical day on Tenerife: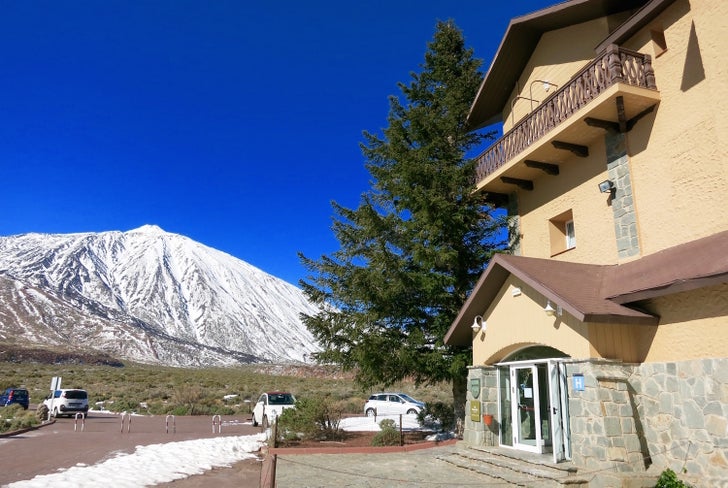 8 a.m.: Rise and shine. Riders shuffle down to the "comedor" at Las Cañadas del Teide, with the snow-covered Teide shimming in the horizon. A cold front blew in this week, leaving the 3,803-meter summit buried in snow. Cannondale's new nutritionist Nigel Mitchell was on hand to make sure riders were eating the right foods for a cold morning and a long day in the saddle. Some familiar faces popped in, including riders from Astana, Joaquim Rodríguez (Katusha), and Dani Moreno (Movistar).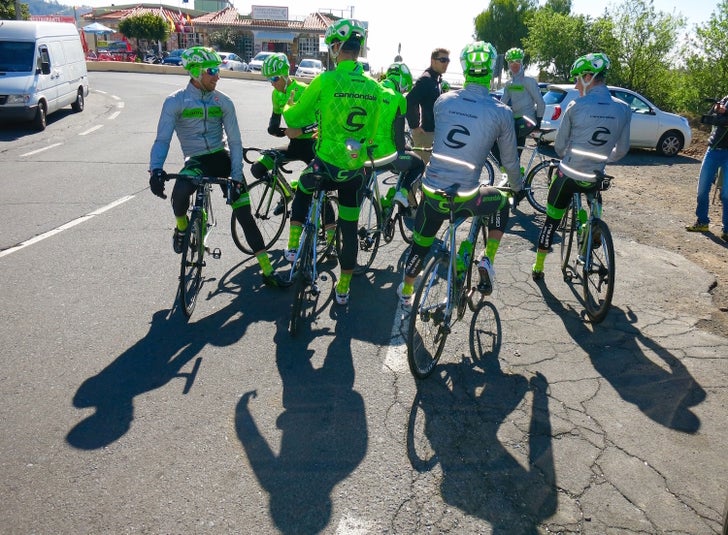 10:10: Roll out. It's cold at 2,134 meters, even on Tenerife. Riders bundle up with full winter gear, so it's neck and leg warmers, gloves, and hats for everyone. When you sleep on top of a volcano, there's only one way to go — down.
10:45: Riders descend about 30km to the staging area at Vilaflor, where some additional staffers are waiting.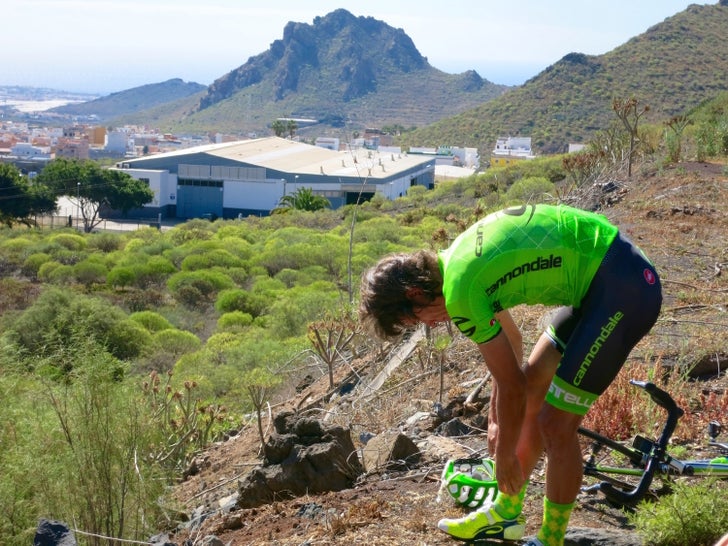 11:30: The group descends even lower. Against southern exposure, things are warming up and everyone stops to shed layers. Time for the day's serious work to begin: interval training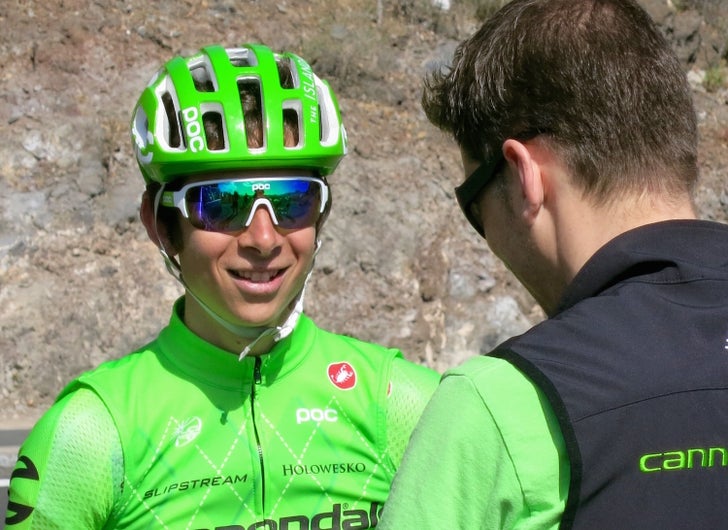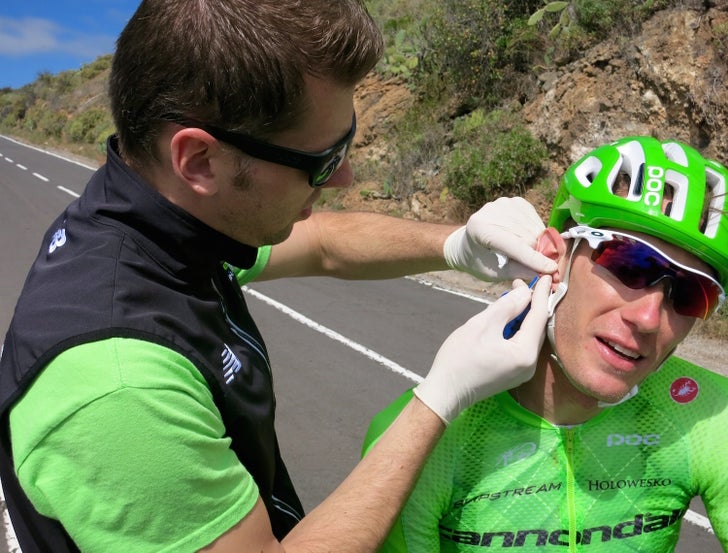 11:55: Trainer Sebastian Webber outlines the drill: six climbing intervals, including three at threshold power. Webber drives up the climb about 6km and waits. It doesn't take long before the first wave of riders comes through, with Davide Formolo, Pierre Rolland, and Rigoberto Urán leading the way.
11:56: Webber pricks each rider's ear to take blood samples to gauge the lactate levels, a valuable measuring stick to calculate a rider's fitness. Urán leans in, and Webber clucks like a happy school teacher as he jots down the numbers, "Good, very good!"
12:05 p.m.: The Giro-bound climbers are already heading down when some of the bulkier classics riders roll in, including newcomer Matti Breschel. The cobble-bashers are on a different workload, 40/20 drills all the way up. "We won't see climbs like this in Flanders," he said with a smile, and turns around for another lap.
12:40: Webber tests Urán's lactate levels again after he finishes his final threshold lap. "Perfect! Excellent!" Rolland rolls up a few moments later. Feeling the burn, the Frenchman says, "One more, full gas." Webber: "You sure?" Rolland: "Oui, one more."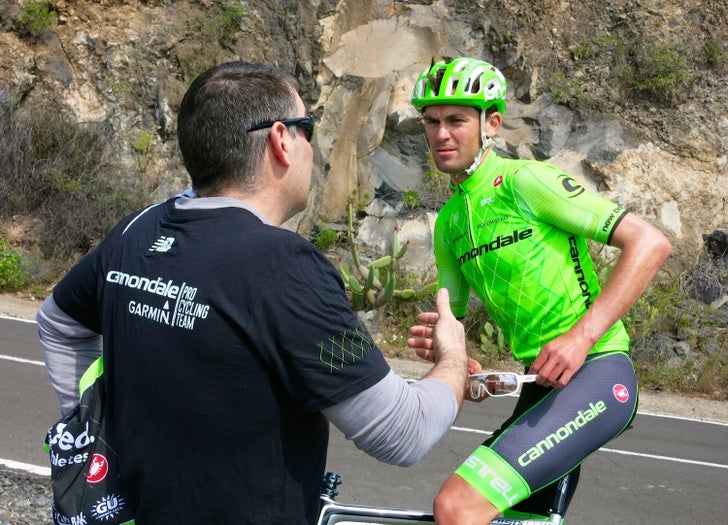 12:55: Riders trickle in one at a time, each breathing heavy from the efforts. Jack Bauer, another classics-bound rider, chats with Mitchell about a new energy bar the team is trying out. Rolland pedals back up, his chest heaving under the hard effort at more than 1,219 meters. Webber takes three more pricks in the ear, three more lactate readings. "500" Rolland said of his watts, before correcting himself. "500 and one."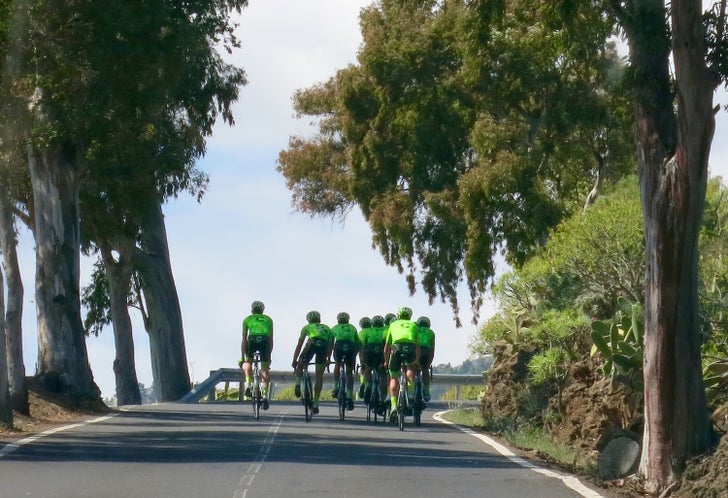 13:05: The team regroups at the base of the climb, tops up water bottles, eats some energy bars, and prepares for the long, 45km push back to the Teide crater. That's the other part of the equation that comes with sleeping at the top of a volcano – the only way back home is uphill.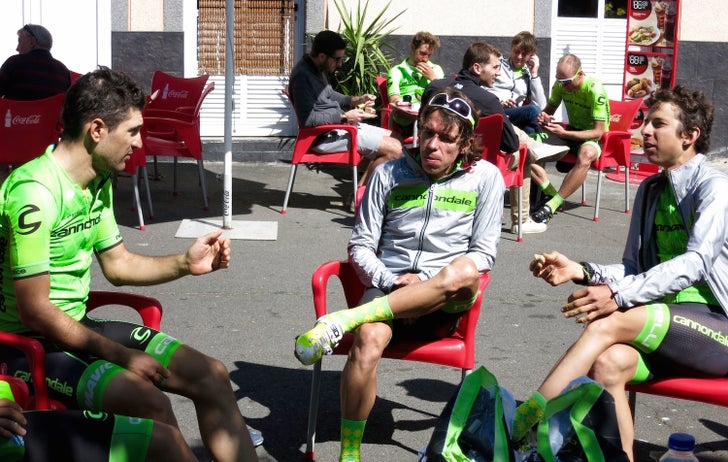 14:30: After steady pushing, the dry scrub gives way to deep pine forests higher on the volcano. The team stops a little more than halfway up for a coffee break. Alan Marangoni digs into a piece of cake and a café con leche. "This is the best part of the day," he says.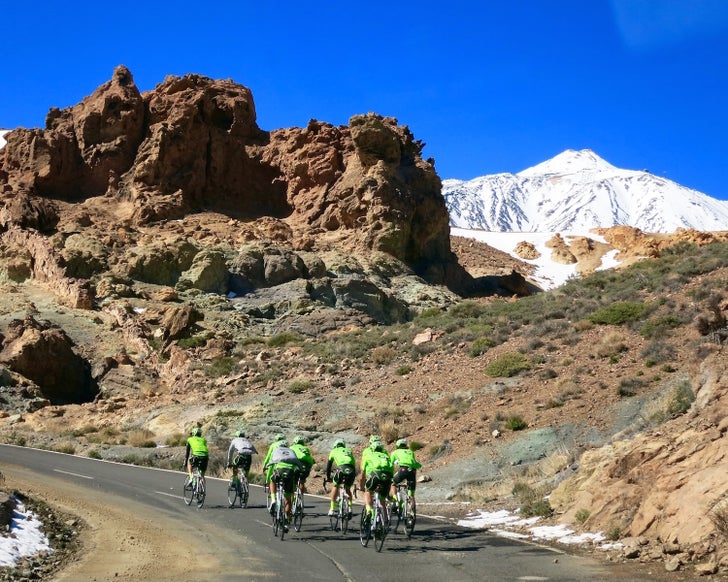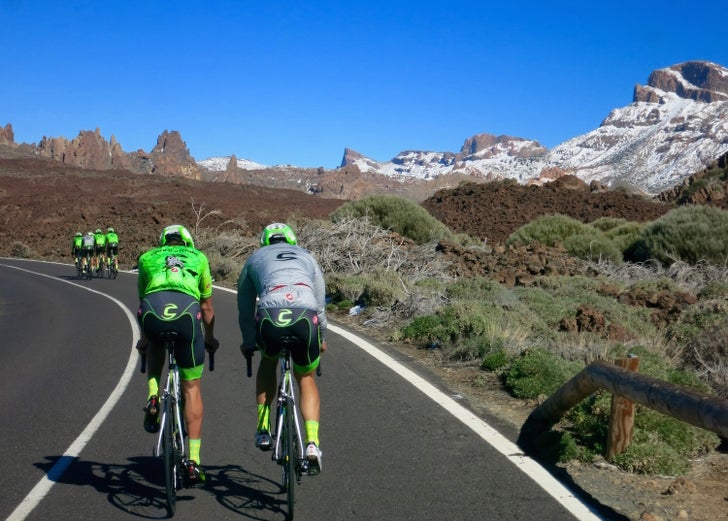 14:55: Back on the bike, the road climbs steadily up switchbacks through deep pine forests on the flank of the mighty, snow-draped Teide. It's only when riders are heading back up the ridgeline that the enormity of the Teide reveals itself and dwarfs the group.
15:35: The Cannondale vans pull over, waiting for the riders to trail past. One of the staffers sets up a drone, recording breathtaking images of the team riding on closed roads on the upper flanks of the volcano draped in snow against blue skies. German hikers come past. They know their cycling: "Cannondale, ya? Das ist gut."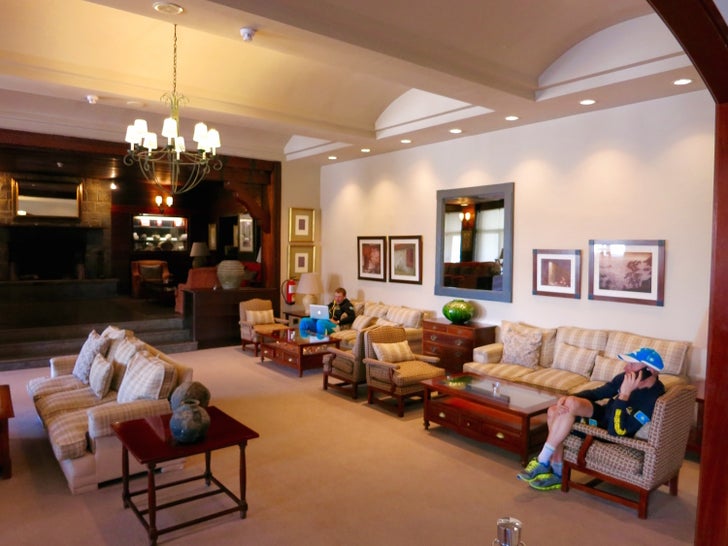 15:50: The team pedals onto the upper crater of Teide, and pine forests give way to deep gashes of ancient lava flows, stuck in motion like petrified waves. It's nearing the end of a long but productive day. Massage, dinner, and phone calls await, just like any other night on the crater.