Amber Neben diary: From underwear to skinsuits in the security line.
Random memories…
Heading out the door? Read this article on the new Outside+ app available now on iOS devices for members! Download the app.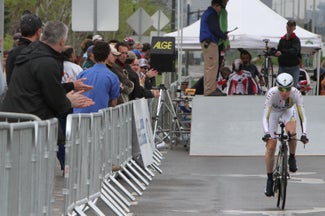 Random memories…
Over the course of my cycling career, from the rookie, clueless beginnings until now, I have actually seen or done some pretty crazy stuff. A few hours ago, I stopped in to see my favorite PT at RauschPT, and I ran into an old friend whom I haven't seen in years. Carol was with me when I first started riding my bike. In fact she may have actually been the one to tell me that you really don't need to wear underwear under your bike shorts! How was I supposed to know that?! There were no instructions on the tag when I bought them. Why wouldn't you wear underwear? Well, I took her words to heart, and I changed my ways. And, I have to say… ever since, I have actually been a lot more comfortable on the bike!
She also made me think of the time some local master pro boys dragged me along on their dirty dawn mountain bike ride on some secret (AKA illegal) mountain bike trails in the Newport Coast area. The ride had been going fantastic until I managed to fall into a prickly pear cactus! Yes. I landed ON it. The good news was that I was only walking distance to the pavement and my road home. The bad news was that I had these four guys picking spines out of my rear end while I stood on the side of the road with the morning traffic cruising by.
Then, from there, I rode without sitting directly to the campus health center where a nurse spent another two hours picking spines out of my backside, legs, and arms. Every once in a while, I think I still ooze cactus spines out of my body, and I am reminded to never crash into or onto a cactus again.
The most recent bit of craziness was on my way to the Tour of California time trial. I decided that it was possible to race both the Gatineau Chrono (outside of Ottawa, Canada,) and the Tour of Cali TT the next day in Solvang, California. The original thought process involved having a start time between 11 and 12, thus making a 3pm flight doable.
Well, it turned out that the Gatineau course was laps, and the promoter wanted to do three waves of starters, and my start time became 1:06 pm. (That would be 1 hour and 54min before my scheduled departure time!) Hmmmm. Guess I'd better ride fast!
I rode fast enough to make the podium, but not fast enough to beat the Canadian red rocket (Clara Hughes.) I literally finished my race, did a 5-minute cool down, walked to the podium for a (thankfully) quick ceremony, and then RAN straight to my get-away car! In the backseat, I was buried under two suitcases which left me absolutely zero room to move or even to change out of my skinsuit. Another Hmmmm.
We arrived at the airport at 2:31, and with an on-time departure and security to get through, there was seriously no extra time to change. So YES … I went through security in my skinsuit bottoms with a jacket on top to try to look a little normal. I guess I should have gone all in and pulled the suit up and put my helmet on, but I just couldn't do it. The best question, though, was from the security guy who wanted to know if I had a sweater tied around my waist. Yeah … I think I always wear a pair of white HTC-Highroad logoed spandex with a number pinned on with a sweater. That's a really good look for walking through airports! He finally put 2 and 2 together and let me get to the gate. I made it on, and the airplane door was closed!
Prior to that adventure, I was in Colombia for the Pan American Championships. But I was not just in some random country town; I was in the heart of Medellin … home to 3.5 million people. Riding outside was really not an option. Safety was one concern, but the bigger issue was there really was NO place to go! There was, however, one day where we (Evie, Lawson, Jacob, and I,) scored. We got a motorcycle police escort from our hotel to the little, inner city cycling track. This was awesome as it involved the four of us riding through the middle of the city, in the middle of the day with two guys wearing camouflage, neon yellow vests labeled policia, and automatic weapons on a dirt bike leading us to the 1.5km outdoor cycle track! Unbelievable. Definitely worth the price of admission and definitely something we will never forget.
That little experience was topped off by the local kitted out guy that jumped on my wheel while riding 100-watt laps on this little 1.5km track! SUPER FUNNY. I wish I had a picture, but the mental image is probably better. I can still hear Evie's laugh when she saw me. Eventually, the guy gave up on me and jumped onto the speedier wheels of Lawson and Jacob, but it was funny while it lasted.
In between the oldest and most recent, I remember winning my first race in a t-shirt, bike shorts (yes, with underwear) running shoes, and toe clip pedals turned upside down. I remember riding an epic stage in the Women's Tour de Feminine that took us up and down the Madeleine, the Glandon, and then finished on the Vaujenay, all in a light rain and 40 degree temps. I remember a meeting with Jean Paul van Poppel back in 2002 where I told him what my racing goals were. ☺. I remember "raising the roof" with Kim Anderson in the Czech Republic at the Grazie Tour. I also remember our guest rider winning the secret sprint in that same race! Uh oh.
I remember meeting Bob Stapleton back before anyone in cycling knew how big of a passion he had for the sport. OH, and then there was the garlic episode in the Tour de l'Aude cabin. Perhaps you should NOT chop garlic for later in the day, leave it in an open container, and hide it in a microwave in an enclosed camping cabin. Oooohhh … the odor! Mirjam and Loes, (my roommates) I am soooooooo sorry, but I still laugh about that one! At least we won the Tour!
There are so many memories. These barely touch the surface. There are good times and bad times. The journey is loaded. It has been, and it is a fun thing.
I am truly blessed to have experienced and achieved everything I have. And every once in awhile, I like to remember some of the "episodes" that have been written onto my heart and brain. They make me smile. And it is also fun when you reconnect with some of the people who helped you out back in the beginning. (It takes a true friend to make fun of the underwear under your bike shorts!)


Amber Neben is a former world champion, Olympian, and seasoned international vet. She is in her ninth year of full-time racing, racing for HTC-Highroad. She hopes to give readers a different perspective on cycling, life as a cyclist, and the women's pro peloton. You can follow Amber at www.amberneben.com or www.twitter.com/amberneben.