Amber Neben diary: Seriously … no, seriously …
Sometimes I laugh so hard I cry. Last week during the behind-the-scenes moments of the Redlands Bicycle Classic, my teammates did a good job of helping me with my core training through laughter.
Heading out the door? Read this article on the new Outside+ app available now on iOS devices for members! Download the app.
Sometimes I laugh so hard I cry.   Last week during the behind-the-scenes moments of the Redlands Bicycle Classic, my teammates did a good job of helping me with my core training through laughter.  I haven't laughed that hard in a long time. In fact, it has been a couple years. Not since I have laughed, but since I was crying at a bike race because of the laughter and not because of having smacked the pavement!!! And, it felt really good.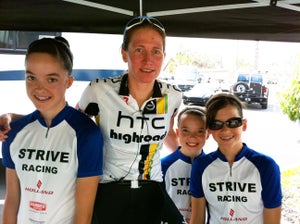 I know it is important not to take anything for granted.  Laughter, health, and success are on that list.  Life is volatile and ever changing, so for me, it is important to remember that every day I can get up and ride my bike is a fantastic day!  There are great rewards that come as a result of the work and the day-to-day grind.  Winning is only the obvious!  And it was definitely big to win Redlands with HTC-Highroad last week!  Just as cool for me, though, are the people I meet along the way and the relationships that are built.   Those times to laugh and care and those moments that come as a result of me being able to ride my bike are also very rewarding.
Don't get me wrong.  Winning is important.  Winning as a team, and winning when I have the opportunity are HUGE goals, and I am still very focused on achieving these goals.   However, the podium ceremonies and the celebrations are quick to be forgotten.  It is always on to the next goal … the next race.  However, those moments I have with my teammates, the people in the sport, and the fans of the sport are the memories that continue to stay with me over the years.
One of those "moments" happened before the criterium on Saturday of the Redlands.  There was a father who had driven his daughters up from east San Diego (maybe 2 hours) to watch me in yellow.  They sought me out before the race for a photo and an autograph.  They found me hiding under a tent on a trainer warming up with my teammates.   I wasn't warming up for a time trial, so it was easy enough to stop what I was doing and interact.  I wrote each of them a note, and we took a photo.  (BTW I still think it is cool that people are interested in what I do.)   A few days later, I received a thank you email from the father.  It was actually very powerful and very humbling.  It reminded me of the impact potential that we each can have in our daily lives … just doing what we do, using what God has given us.
I tell the story to share that simple idea.  I believe that it really doesn't matter what our occupations are, or where we live, or how many people are in our local worlds, there are always possibilities to make an impact.   Sometimes it is the smallest detail.  Something we may not think twice about, but it has a major effect on that other person.   You never know what can happen.
I am certainly striving to achieve big things within the sport, and to continue to help HTC-Highroad reach our goals.   In the process of striving, though, I like to remind myself to enjoy the little things, to care about my teammates, to laugh so hard that I cry, and to maybe, if I am lucky, have the chance to interact with some little girl or boy who has yet to dream big.
To steal a line from Tony Dungy: "Opportunities to make a difference — to have an impact — may come when least expected.  Be ready for them." (from "The Mentor Leader.")
Seriously… that is a good thing to remember.
On the bike racing front, as I write this, I am on a plane flying to Holland for my first European trip of the year.  (I really should be sleeping!)  I will be doing two fast, flat Dutch races that I am very familiar with, (aka 200 girls going really fast with lots of road furniture… giddyup. )
Then after Holland, I will hit Fleche and Roselere in Belgium, before we go to Luxembourg for a TTT and a RR.   I will be home briefly before going to Colombia for the Pan American Championships.
Amber Neben is a former world champion, Olympian, and seasoned international vet. She is in her ninth year of full-time racing, racing for HTC-Highroad. She hopes to give readers a different perspective on cycling, life as a cyclist, and the women's pro peloton. You can follow Amber at www.amberneben.com or www.twitter.com/amberneben.