Amber Neben Diary: The Coach-Athlete Relationship
Neben looks at the coach-athlete relationship
Heading out the door? Read this article on the new Outside+ app available now on iOS devices for members! Download the app.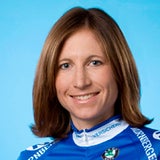 A few days ago, John Wooden, one of the greatest coaches in basketball history, and probably just plain one of the greatest coaches ever, passed away. His championships and his winning record are confirmation of his genius within the sport, while his athletes speak evidence of his influence as "Coach."
I listen to sport talk radio a lot while I am riding. I am an athlete in all senses of the word, and I love to follow other sports and also to listen to other athletes talk about their trades. This last week, I heard many of Coach Wooden's athletes speak about how he had affected their lives. Basketball was simply Wooden's way to gain access to helping them become winners in life. Some of them knew immediately, and some of them did not recognize his influence until many years later. Even now, Coach Wooden's "Pyramid of Success" continues to inspire both on and off the court.
All of that made me think about the coach-athlete relationship from my own perspective. One of the greatest parts of being an athlete is developing a relationship with a coach. An athlete and a coach are two distinct people with two distinct sets of talents focusing on a common goal. There is something that happens in the process of striving for the goal that is unique. A relationship develops that stands alone in its description: Coach–Athlete.
Along my athletic journey, I have been blessed with really solid people to call coach. My junior high coach, Mrs. Young, my high school coach, Mr. Z, and then in college there was Coach Jay, and over the entire course of my cycling career — from clueless to world champion — Coach Dave.
I have always poured my heart and soul into my task as an athlete. As a result, it has been very important for me to have someone involved who was not only tactically or technically sufficient, but also a trustworthy and a solid human being. If I am going to put my life on the line and let you see the rawest side of me, if I am going to journey through valleys, up mountains, occasionally touch the top both in sport and faith, then I must be able to trust you. And I definitely want to be able to share it with you. I cannot be afraid to give you a sweaty, stinky hug, blow a giant snot rocket in front of you, or even tell you what God is doing in my life. I also want someone there who is as determined and driven as I am … someone who can match my passion with their own. As you can see there is a depth to a coach-athlete relationship that certainly brings its own definition. And as I said, I have been blessed (and still am) with great coaches, in every sense of the word, a fact that has added victories and tons of joy to "the ride"
One of the most common questions I get is how do you choose a coach? I always answer by sharing how important it is to find someone you communicate with and trust. Since everyone is unique in how they will respond to training, what their lives involve, and what they want to accomplish, they need to be able to connect with their coach in way that helps that individual with the artful side of things. They also need to trust the individual, because there is no reason to hire a coach if you are not going to sell out and follow a plan. Growth and improvement take patience, discipline, time and effort on both sides. If you are doing your own thing while your coach is on a separate page, then there will be limits to the improvement. Of course, there are different approaches to designing a training plan as well, and your physiology may respond better to one way versus another; however, you have to give the plan and the coach a chance. With that as the foundation, then you also need to consider the level you are trying to reach, and whether or not the coach is qualified to take you there.
Coaches are definitely a special breed of people. They have to wear many hats, they are super valuable at helping an athlete reach their goals, and yet they are often only in the background. I certainly would not be where I am without my coach, and I am very grateful for his help along the way. I am also extremely thankful to all of the coaches who have helped me grow and develop as a regular person and an athlete. Fun stuff. Valuable stuff.
Amber Neben is a former world champion, Olympian, and seasoned international vet. She is about to start her ninth year of full-time racing. She hopes to give readers a different perspective on cycling, life as a cyclist, and the women's pro peloton. You can follow Amber at www.amberneben.com or www.twitter.com/amberneben.