Amber Neben Diary: What if Phil and Paul commentated on our daily lives?
A recovering Amber Neben spends some time on the stationary trainer, watching the Tour and imagining what if...
Heading out the door? Read this article on the new Outside+ app available now on iOS devices for members! Download the app.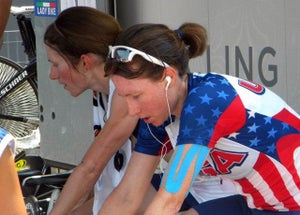 What if Phil and Paul commentated on our daily lives?
"She's wearing the mask of pain!" "Shut your eyes, shut your mind to the pain!"
I am back in my embrace-adversity, pick-myself-up, and get-after-it mode. During ninth of the 10 stages of the Giro d'Italia Feminine, where I was supporting the USA National team in its epic attempt to win with Mara (Abbott), I found myself in the wrong place at the wrong time … again. OH. Could it really be? No.Yes. Really? We were descending a fast, non-technical downhill … sitting 10-15th spot … going about 80 kph … no reason for anything to happen … when in a split second the girl in front of me is crashing … HARD. OH. UGGHHHH. Not again. There is nowhere to go … not even up and over. Her bike flew out into the road along side of her and in front of me. No time to go around or behind, though I tried, and too far off the ground to bunny hop (And yes that option crossed my mind in the split second that felt like 20). Uggh. Sawed off my fork and slammed into the pavement. Broken collarbone and cracked helmet. Ouch.
BUT…"The suitcase of courage is (NOT) empty!"
Since that moment, I have spent time in two Italian hospitals, flown from Italy to LAX to drop equipment, and then back to Park City where my sister lives and my orthopedic surgeons practice, had surgery to plate and screw the four pieces of shattered collarbone together, recovered a few days and then flew home. Of course, I am riding the trainer, and I have been riding the trainer. I am very excited to have that option. There is a big difference in active recovery versus being planted on the couch unable to do anything that might aggravate the healing process. Yes, the trainer is boring, but it is riding, and I am motivated. And, I have to say … I am positive. I know it sounds crazy, but I know the Lord has got me, and I cannot complain. I have tons to be thankful for, and I am certainly still motivated to try to get a huge result at the end of the year. "Do you believe in miracles?!!!!!!!" (That's actually an Al Michaels quote.)
"Dancing on the pedals" (but only in my imagination, Dr. Heiden, I promise!)
In the midst of being cooped up inside for the last two weeks, turning into a prune on the trainer, or simply enjoying my breakfast, I have had plenty of opportunities to watch and listen to the Versus Tour de France coverage. And today, it got me thinking in a fun way. What if Phil and Paul commentated on our daily lives? Often, I listen and laugh at some of the descriptions, exaggerations, or speculations describing the race, the riders or the action. They can be entertaining, but they do often make it seem like every moment is the greatest, rarest, most heart-wrenching moment in the history of the race. And, they also seem to find a way to talk about Lance Armstrong every few minutes.
So today, as I watched the last stage of the Tour "firing my pistons" while drowning in sweat, I started to apply some of the most famous Phil/Paul quotes to a real-life scenario like Thanksgiving dinner. It may require some of your own imagination, but give it a try. I added some of my own commentary based on personal experience to help. Also, be sure to read the quotes with the same screaming passion the Ligg-wins would speak them.
"He's done, he's cooked, he's fried!! It's been a long day in the sun but I hate to be the bringer of doom." They could easily be speaking of the turkey, but I would also apply this one to my uncle Jim.
"AND all the heads of state have come to the front of the" line … Are they on the road to stardom or are they lambs for the slaughter?" (Dinner is served. And if some of them only knew that Aunt Sue, who spent the entire day in the kitchen preparing the meal, really did want to slaughter all of them.)
"Once again, they have stretched the elastic!" (The experienced gluttonous ones always wear elastic to the meal. They at least joke about it. This is definitely a detail that the Ligg-win team would not overlook.)
"AND the elastic has snapped!!!" And "he is suffering like he has never suffered before!!" (This is a common scene after dinner, or after the third or fourth plate of food, especially with my husband and his brother, Leon.)
That last scene is always before dessert is served, so maybe it is a good thing the elastic actually does snap as it does help to give each of them time to "get on terms!" Now, how they choose to do that is different. But it is very probable that … "LOOK at that, it's as though someone dropped a bomb in the" latrine. Meanwhile, "the grimace is turning to a smile now."
Of course, after such a large, bountiful meal, there is the cleanup process. Decisions about leftovers must be made, the china must be hand washed, and someone will inevitably put something (or too much) down the disposal creating "utter and massive chaos." Knowing this, Phil says after dinner, "There's no reason to rush into hell."
Of course, someone is always brave enough to clean things up. Is it … could it be… "And Armstrong is coming down the straight like a grand prix motorcar!" (Phil and Paul would definitely find a way to work him in … even if it is for the Thanksgiving dinner clean up.)
I'll get back to the regularly scheduled channel in a couple weeks with the next article.
Amber Neben is a former world champion, Olympian, and seasoned international vet. She is in her ninth year of full-time racing, racing for Webcor Builders and the U.S. national team. She hopes to give readers a different perspective on cycling, life as a cyclist, and the women's pro peloton. You can follow Amber at www.amberneben.com or www.twitter.com/amberneben.