Amber Neben Diary: Working to rebuild
Coming back from an injury or a layoff is a very challenging task.
Heading out the door? Read this article on the new Outside+ app available now on iOS devices for members! Download the app.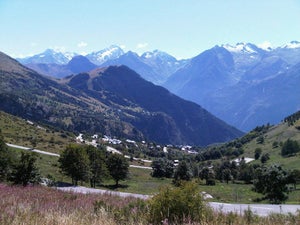 Since breaking my collarbone, I have been in full recovery, refocus, rebuild, and train mode. Coming back from an injury or a layoff is a very challenging task. It is both physically and mentally draining. First the body has to heal itself, and then it must go through the entire rebuilding process. Form and fitness go when you don't use it! Getting your legs and lungs back takes time and work. And of course it never feels good, but it is part of the process.
Since there is no way around that, the head is critical. It must be both strong and patient. It is the mental side of things that gets you through the first stages of the physical recovery process while your body is weak. It is also your head that helps you move beyond the coulda-woulda-shoulda's and cannots and instead keeps you focused on the daily 'cans.' The need for patience comes in because it is also your head that remembers how your plumbing system should feel, how your legs should work, and how your form should be, while your body is sending completely opposite signals.
Unfortunately for me, this is the fourth time I have gone through this process in the last 14 months. However, there was and is still fight left in me, and I have made it back to a level where I can be WORKING and training hard. AND… it feels really good to have arrived back to that point!
So WORKING … let me tell you about this last week. I have been "working" in the Italian and French Alps! I say "working" because it is my job, but it is also my passion, and I am truly blessed to be able to do what I do. My plan was to create a hard week of long climbs that was bookended by time trial races. I flew in to Italy two days before the Davide Fardelli Memorial, went to Sestriere for the week to train, spent all day in the car driving to Reims on Saturday, raced the Chrono Champenois on Sunday, and then jetted home. It was an unbelievable week in many aspects.
Things started a little bit sketchy. Although I arrived into Milan-Linate (specified in three different forms of communication to the team I was guest riding with) my pick-up went to Milan-Malpensa. Two hours later, we actually did find each other, and I eventually made it to my first race! And despite the jet lag, I had a really solid ride and won the race! It felt good to get back on the podium. It was encouraging for me to know that my build was moving in the right direction.
After the race, I went back to the team apartment for one night. It turned out to be ok, because it gave me a chance to meet up with fellow Americans Andrea Dvorak and Kelly Benjamin, who were also guest riding for the same team. We had some good laughs over their recent experiences within the Italian cycling culture, their desperation that lead them to eat raw meat and lard, and of course the language barrier issues. You can only imagine how the conversations go when neither side understands the other. My favorite was their story about a giant mushroom in a safe in the refrigerator … or at least that was their interpretation! The situation makes for good stories, but it also adds some light stress when you have no idea what is going on!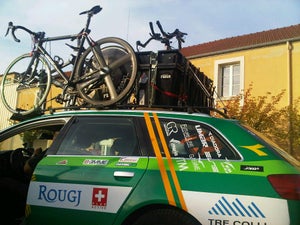 Thankfully, I was back in solo operation mode (ie in control of my own logistics and schedule) the following day. I moved to a hotel base in Sestriere that had incredible views and nice rooms. While Andrea was off to tough it out in a camping cabin at Ardeche probably sleeping in a drawer eating soggy race pasta, Kelly and I scored with two huge rooms and solid dinners for the week.
The set up in Sestriere was awesome! The introvert that I am really enjoyed the peace, quiet, and magnificence of the mountain surrounding. The focused trainer that I am loved the chance to do exactly what I needed to do, when I needed to do it. The weather was choppy the first two days, but the last three were good… beautiful actually. I was able to get good training in every day, either directly from my hotel or after a drive across the border to the French ALPS. It made for a heavy week, which was exactly what I needed in this unique situation of late season rebuilding.
The most memorable day was the adventure that Kelly and I took over to the Alp d'Huez. We started early. The day was crystal clear. The rain was gone, the air was fresh, and the views were majestic. The drive was two hours on a small road through, up, over, and through an incredible backdrop. I did some intervals on the "classic climb" with multiple large groups of people which made for a special experience and a great workout. After my training, I spoke with one of the groups and found out that it was a company from Holland. They had brought all 50 employees down to "race" the climb. How cool!?
After my training was finished, the epicness did not end. Usually, I am a good navigator, however, this time I erred greatly in route selection! I thought it would be faster to go back the opposite direction and over to the highway instead of taking the small roads for 2 hours. Well, after climbing up and over three legendary HC climbs in our car, we finally found the autostrada. We saw some beautiful stuff, I made some mental notes for future training adventures, and we even found a taxi driver in the middle of nowhere to verify the way back to the highway. I will never forget that day.
The next day, the team picked me up for our 800km drive to Reims… with my hard double bike case strapped to the roof…and my TT bike in it!!! I have seen a lot of stuff tied to roofs in Europe, but this was a first… and this was on a team car!!! SERIOUSLY. I guess it was the only way, and that's what I get for trying to save some money on bike fees. Thankfully, everything and everyone made it to Bethany-Reims nine hours later.
The Chrono was the next day. I raced hard, but I was not good enough to find the top five. The others were better than me on the day. However, I was encouraged with the ride considering the legs I started with. I battled and finished off my week with everything I had left.
Immediately after the race, I packed my bikes and TT wheels into my super special bike case and went directly to the Reims train station. One transfer, one TGV ride, one shuttle, and three (YES three) nice French guys along the way, and I was at my airport hotel.
Aaaahhhh … Home the next day.
Amber Neben is a former world champion, Olympian, and seasoned international vet. She is in her ninth year of full-time racing, racing for Webcor Builders and the U.S. national team. She hopes to give readers a different perspective on cycling, life as a cyclist, and the women's pro peloton. You can follow Amber at www.amberneben.com or www.twitter.com/amberneben.