Amber Neben: San Dimas the second time: Have I been racing for that long?
"I am surrounded by both the very best in the sport and the up and coming "next bests." Being somewhere in between, I am in a place where I can continue to learn, while I'm also able to share what I have learned. And, I will always be ready to do either."
Heading out the door? Read this article on the new Outside+ app available now on iOS devices for members! Download the app.
Editor's note: Mea culpa. The web editor took vacation last week and is just now emerging from the depths of a bulging in-box. Sadly, Amber Neben's diary that she wrote after her win at the San Dimas stage race got lost in the shuffle, and we are forced to publish it now, somewhat awkwardly, after her win at Redlands this past weekend. Apologies to Amber and her fans. We're excited that Amber will be getting back to a regular schedule of columns this year. And the web editor has no more vacations planned.
I just finished a great weekend of racing with my HTC-Highroad team at the San Dimas Stage Race. We were able to bring home the yellow jersey, the green jersey, the polka dot jersey, and two stage wins. It was a great three days of all around teamwork!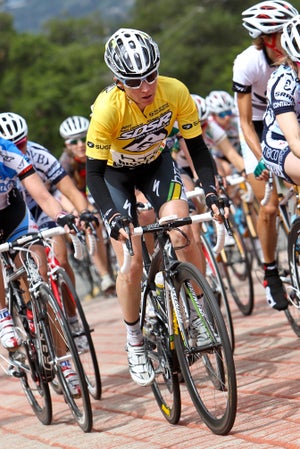 Winning any race always takes a group effort. From the riders on the team to the support staff, everyone contributes. This weekend was no different. It started with the simple airport pickups. And thankfully, it ended with a bunch of success. In between, the equipment was dialed in, the race numbers were laminated, the team cars were washed, the bottles were made, the breakfast box prepared, pre-race/post-race food was made, legs were rubbed out, our clothes washed, race meetings about strategy and hang out meetings about everything from nothing to life were had … everyday. From the outside, it looked like just a bike race. But behind the scenes, there was (and always is) a lot that goes into the team's success.
We kicked off the weekend with a short uphill time trial. I had a good ride, and I was able to win the stage and take the yellow jersey. My teammate, Amanda Miller, also had a great ride finishing in second. These results set us up well to win the overall GC, and during the next two days, Ally, Katie, Chloe, and Amanda were awesome. They made my life easy, and we sealed the deal for the overall win. We raced very well as a unit, continuing to build on our early season successes. For me, it was also special to win my first race with HTC-Highroad and to have the honor of wearing a leader's jersey on the team's behalf.
Then, while we were waiting for the final podium, I was reminded that I had won this race back in 2000. I thought… "Whoa, have I been racing that long?" Back in 2000, it was just a little local race, and I was a wannabe mountain biker dabbling on the road. This weekend, it was a bigger race, and I was 11 years wiser, more experienced, and officially a road racer.
However, I still remember those early years racing. How I felt, how raw and new to the sport I was, and how focused I was from the beginning. It is also crazy to think about every step, every victory, every obstacle, every person, teammate, staff member, and team that has played a part in the process and in the details between then and now. It has been a long, steady and sometimes unpredictable journey. And to be honest, I actually think I will remember the relationships, the experiences, and the challenges more than the victories. Of course, I will remember and cherish the wins, but the journey has been and still is a very special part, a very rewarding part of my career. And thankfully, it is not over yet! There are new challenges and opportunities ahead, and I am still motivated to see what can be done.
Right now, I am actually in a very cool place with HTC-Highroad. I am surrounded by both the very best in the sport and the up and coming "next bests." Being somewhere in between, I am in a place where I can continue to learn, while I'm also able to share what I have learned. And, I will always be ready to do either. I will never know everything, and I am always willing to share from my own racing and life experiences. Similarly, on the bike, I will also find myself playing different roles. Sometimes, I will have a chance to win, and sometimes I will have a chance to work hard behind the scenes.
So … this past weekend was fun! It was fun to see everyone paying attention to the details and performing well. It was also fun to take a step back and recall some of the highlights of my journey from my local racing days to being on the international race scene.
And of course, it is always fun to win.
Amber Neben is a former world champion, Olympian, and seasoned international vet. She is in her ninth year of full-time racing, racing for HTC-Highroad. She hopes to give readers a different perspective on cycling, life as a cyclist, and the women's pro peloton. You can follow Amber at www.amberneben.com or www.twitter.com/amberneben.