Another Day with JHK: Racin' at the Ranch
Despite the fact that the barbecue wine was Silver Oak and the bonfire was stoked with old art crates, a weekend at Lance Armstrong's ranch was still just a bunch of great folks enjoying the mountain bike lifestyle.
Heading out the door? Read this article on the new Outside+ app available now on iOS devices for members! Download the app.
First off, welcome everyone to my new column at Singletrack.com. I've been writing for VeloNews magazine for several years. Now I'm adding an online column to the mix. You'll be able to find me here periodically writing about all things mountain biking: The travels, experiences and the sometimes-glamorous, sometimes-not lifestyle of a professional mountain bike racer.
Down on the Ranch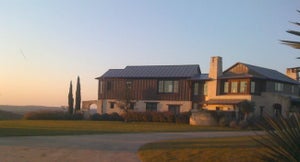 On that note, this past weekend provided just about the perfect occasion to launch such a column. I flew down to Austin, Texas to compete in the first-ever Mellow Johnny's Classic, the end-of-the-year MTB race at Lance Armstrong's Juan Pelota Ranch.
The weekend was as you'd imagine one to be at Lance's: Full of cyclists, great food, wicked wine and sweet Texas singletrack.
The trails on the 445-acre spread are absolutely awesome. There's a completely World Cup-worthy race course out there full of technical limestone ledges, sweeping bermed corners and short punchy climbs. It's a great mix.
By the standards of an international calendar, the Mellow Johnny's Classic was a last-minute affair – one that really did evolve out of some late night conversation over a few beers. In any case, my wife Heather Irmiger and I were early invites, which is how we found ourselves still racing our mountain bikes at the end of November.
Floodin' Down in Texas
We arrived in Austin a couple days early and got a chance to soak up a bit of the town before the race. "Soak" being an appropriate word as it was pouring rain when we made it in. We met up with the crew at Mellow Johnny's bike shop, who gave us tips on restaurants with great food and wine. And we also had a chance to see the town on a good urban assault MTB ride as well.
The weekend really kicked off with a launch party at Six Lounge, which marked just the first of several nights of getting to bed late.
Since it was raining so hard we skipped the first day of riding at the ranch, hoping for better weather the day before the race. It was not to be however, and we drove out to Juan Pelota through a downpour on Saturday anyway.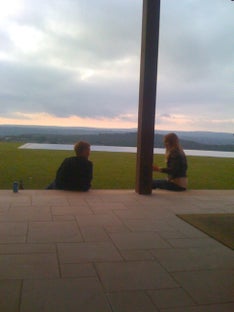 We were welcomed to Lance's house at the ranch and spent the morning in the garage tinkering with bikes and getting ready to ride in the mud. Lance rode out from Austin, which takes about four hours. I killed some time with Dave Wiens watching football and catching up since our days on the RLX Ralph Lauren team.
Eventually a small group of us set off on the course where I ended up following Lance around with Dave in tow for most of the time. The course was ultra-slick and really muddy, and Lance's MTB skills are no joke.
We made quick work of the eight-mile lap, at which point Lance hit the showers and Dave and I went out for another tour in the mud.
Kickin' it at Juan's
The skies cleared just enough to enjoy a late afternoon outside at the ranch. I emerged from the shower to see everyone building a huge bonfire out of old art crates behind the house.
We kicked back with a couple beers, threw the football around and just generally enjoyed what was turning out to be an awesome day. I kept trying to lead Taylor Phinney into Lance's infinity pool with a throw of the football just out of arm's reach – but he never quite took the bait. For Lance's part, he has a pretty good one-handed catch, as he usually had his youngest, Max, slung over his other arm.
The afternoon was a lot of fun in that in addition to Dave, there were a few other people from earlier in my career who were over for dinner as well. It was great to catch up and see where all of our various careers had taken us.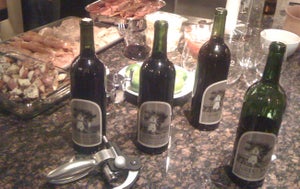 For dinner we grilled up local steaks and veggies and paired it all with several bottles of 2002 and '03 Silver Oak Cabernet – apparently the "table wine" at the Lance Armstrong household.
I'm no stranger to good vino, but I think this is the first time I kicked back a few glasses of something that good at a barbecue.
After dinner, I particularly enjoyed checking out some of Lance's killer collection of unique and cool artwork – and getting some background from him on several of the pieces.
Did someone say race?
It ended up being a pretty late night and I was exhausted when I finally got back to my room downtown at the Omni. The sun ended up coming out the following day and it turned into a picture perfect day for a bike race.
I had a blast on the course. The trails dried out just enough to be fast and tacky. My high-octane mix of the previous evening's Silver Oak cab and Juan Pelota espresso turned out to be decent race fuel as well.
Lance ended up getting a flat though – and with no car full of wheels behind him had to hang it up on the first lap. Flat tires suck, and it was a bummer to see him felled by a mechanical after being such a great host. Maybe it was just an illustration that no matter who you are you're never immune to a simple flat tire.
Lance was out on the course by the end of the race though, chasing me around in a four-wheeler taking pictures and throwing out some good cheers. Awesome.
Following the conclusion of the event Heather and I met up with the amazing crew from SRAM – one of my best and longest-running sponsors throughout my career. We devoured a phenomenal amount of culinary delights at Uchi, which is probably one of the best sushi restaurants I've ever been to. The obligatory sake made for another late night in Austin – kind of the theme on this trip.
A Good Ride in the Mud
In the end the weekend ended up being a perfect example of why mountain biking is such a great sport. We've all had a pre-race barbecue with friends, had a few beers around the fire or just enjoyed hanging out after a good ride in the mud.
Despite the fact that the barbecue wine was Silver Oak and the fire was made out of old art crates – it was still just a bunch of people enjoying the mountain bike lifestyle.
As we all know, that lifestyle can be addictive. The parting words of the weekend were: "Let's do this again sometime…"
Tune back in for more of JHK's writings here at Singletrack.com. For those that are interested in just more than the occasional VeloNews or singletrack.com column, JHK will be twittering his experiences MTB'ing around the globe @jeremyhk. He will be launching a new web site as well heading into 2010 – stay tuned for more details.