Another Day with JHK: SoCal, Guatemala, Monterey and London
With the domestic pro cross-country season openers under his belt in California, Subaru-Gary Fisher's Jeremy Horgan-Kobelski has a few more trips ahead of him this spring.
Heading out the door? Read this article on the new Outside+ app available now on iOS devices for members! Download the app.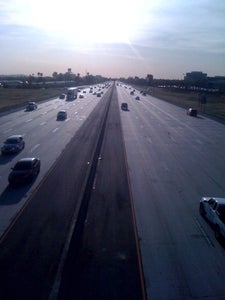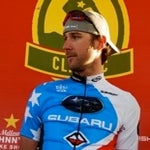 I've made three trips to Denver International Airport in the last three weeks, which can only mean one thing: The 2010 racing season is underway.
Following a much-needed and successful training trip to Hawaii I kicked off the season by taking part in the inaugural events of both the U.S. Cup Triple Crown and Pro XCT in California.
I know that I've written these exact words in columns past, but I'll say it again: No matter how many seasons of racing and training you've got under your belt, that first race effort of a new year is always a shock to the system. This was particularly so this year as I tackled the first Triple Crown race in Bonelli Park immediately following a hard week of training and an overnight flight from Hawaii.
Playing Catch-up
My heavy legs were not remotely happy about the sharp accelerations I subjected them to over and over again on the first few laps of the race. And soon I found myself in no-man's land dangling just behind the front group. With the leaders alternating between attacking and slowing down, I found myself either catching up or getting dropped for most of the day as I forged along at as hard a pace as I could steadily manage.
With that first painful effort out of the way, I turned in solid performances in the following day's STXC and Super D, taking third and fourth in close races. The Bonelli Park event was a great race, and I hope that it continues to grow in stature on the national calendar. The course and trails were great, and it was a perfect example of a legitimate urban venue that is so sought after in the MTB world.
The urban venue is perhaps the theme for the early season this year. Following the kick-off in Bonelli Park, only a week went by before I found myself back at the Ontario airport on the way to another cross-country race in Southern California's urban jungle — Fontana. Fontana has hosted a national level event for five years now and has become a mainstay on the domestic MTB calendar. It's a unique event with fun, legitimate trails tucked right in the industrial heart of the Inland Empire. Riding to the venue entails navigating around semi-trucks on broad traffic-choked streets and there's always a healthy amount of broken glass all over the race course.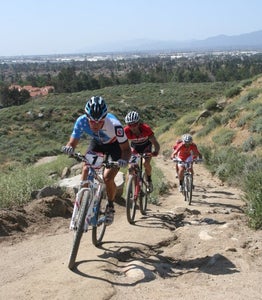 Adding to the urban flair of this race, the Subaru-Gary Fisher team has always stayed at the same extended-stay airport hotel throughout the five-year tenure of this event. I've had the same room almost every year, and I think that I might be the only person who has actually cooked in the small kitchenette. Despite providing the amenities to prepare food, whoever is on duty at the front desk of the hotel always stares questioningly at the large bags of groceries we inevitably bring to the room for a weekend of racing.
I'm obviously not totally in the routine of traveling and racing yet this year, as I forgot both my coffee filters and my Wüsthof chef's knife – two things I always travel with.
As for the bike racing, Fontana ended up being a mixed bag for me. I felt good in the XC and was riding in the front group when I snapped a chain midway through the race. It was pilot error of sorts, as my chain had fallen off on a particularly rough downhill and I attempted to pedal it back on over a steep roll in the trail at max effort. Sometimes that works fine, but it was wrapped up badly and I ended up with a nice long run to the tech zone for my efforts.
I thus got my first tech zone stop of the year out of the way and then spent the rest of the race chasing my way back towards the front.
Shorter Short-Track
The STXC went well for our whole team with Willow Koerber and Heather Irmiger (who won the Bonelli STXC) going 1-2 in the women's event while I took fifth in the men's race. The organizers have been experimenting with a slightly different format for the STXC this year, shortening it from 20 minutes-plus-three-laps to 15 minutes-plus-one-lap. This change has made this already full-gas event even more so, and neither of the races thus far has settled in even slightly. It's been an all-out sprint to close small gaps and eke out tiny advantages cornering and descending. I never thought that I'd wish for a longer short track, but I could've actually used a couple more laps to move up a spot or two in the Fontana event.
That said, I like the shortened format, and the constant attacking and high pace makes for an exciting race to watch. For many though it makes an already tough race even harder as it's now just about impossible to have a remotely decent race unless you start in the first or second row. I'll be interested to see how it goes the rest of the year.
On the Road
With the first few races in the books, I'm feeling good having blown the off-season cobwebs out of the system. Just in time too, as there are a lot more trips to DIA in the near future. I'm off to Guatemala this weekend for the Pan-American Championships, then back to California for Sea Otter, and finally on to Europe.
The World Cup opener is just outside London this year, which is a new venue that I'm excited to check out. I'll be posting updates of these travels throughout the MTB world here at singletrack.com all season long – so stay tuned – and thanks for checking in.
Jeremy Horgan-Kobelski races for the Subaru/Gary Fisher professional MTB team and and writes a regular column for Singletrack.com during the racing season. Look for more of his writings, photos, and video at www.jeremyhorgan-kobelski.com and www.jhkandheather.com.