Bahati Foundation: Seeking the next level
Rahsaan Bahati discusses his eponymous non-profit that changes the lives of underprivileged kids through bikes.
Heading out the door? Read this article on the new Outside+ app available now on iOS devices for members! Download the app.
Founded more than a decade ago by multi-time national road and track champion Rahsaan Bahati, who is ably assisted by his father Rashid Bahati and other family members, the Bahati Foundation is ready to step up to a new level.
It has already progressed toward its mission, to "provide inner-city youth access to noncompetitive and competitive cycling with resources and support, allowing success on and off the bike." But as Rahsaan told us in a recent interview: "I do hope we get bigger. I don't like to compare our foundation with others but as you know there's organizations out there that raise millions of dollars. I would love for the foundation to be that. I would love to be able to pay myself to work for the foundation. It's been 11 years, going on 12, and I've never taken a dime from the foundation, because in my opinion we haven't reached that threshold to where I deserve to pay myself. So, I would love for it to get bigger, a nonprofit business that I could give 100 percent to."
To find out how the foundation began, how it functions and what are some of its achievements, we first spoke with Rashid Bahati, who is the executive director in addition to running a film production business.
"I was around when the foundation got started, but not directly involved," Rashid said. He explained that when his son launched a professional cycling team in 2010, "Rahsaan did have the vision to say, hey, I'd like to have this foundation. So, his financial backers at that time put aside enough money to say we'll get a lawyer and you can get a 501(c)(3)."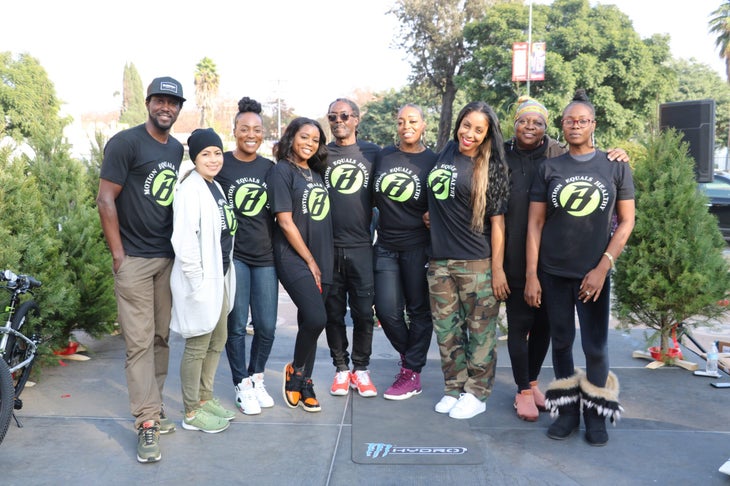 The Bahati team disbanded after six months when team leader Floyd Landis admitted to having used doping products at the 2006 Tour de France.
"So, the team went away but the foundation was still there," Rashid continued. "Two years later my wife Queen and I said we shouldn't let the foundation go away — plus I could tell Rahsaan had a passion for wanting to do something for inner-city youth as it related to cycling. I had some experience in working with not-for-profits, so I put my hat in the ring and the next thing he was calling me executive director … and I'm wearing several hats at this point. What I'd like you to understand about the Bahati Foundation is, we have been in existence a little over 11 years, but the ball didn't get rolling until I said let's do something with this. We were constantly trying to form a board, making sure we were compliant, things like that…. What I'm saying is, it's been a challenge for a small nonprofit like this one to just get on its feet."
Also read: Introducing the Orange Seal Academy
The foundation is a true family affair. It has benefited from Rashid and his wife having previously worked with the Compton Unified School District—he taught TV production and film technology to high school students and she ran a program for teen mothers.
"She's my community liaison person," he said. "I depend on her to open up some doors with the education community and give ideas on how we can get parental involvement. We don't have paid staff. My daughter Iman, Rahsaan's sister, who's right under him, she's been a tremendous help as she works in the software space for a living, so she's been able to help us mainstream what we do in terms of donations, tracking and thanking people in a timely manner. And we've brought on a couple of granddaughters that have graduated from university as assistants working on social media, websites, that kind of stuff. I wish we had more involvement with other people to grow the organization, but I think we're doing fairly well right now."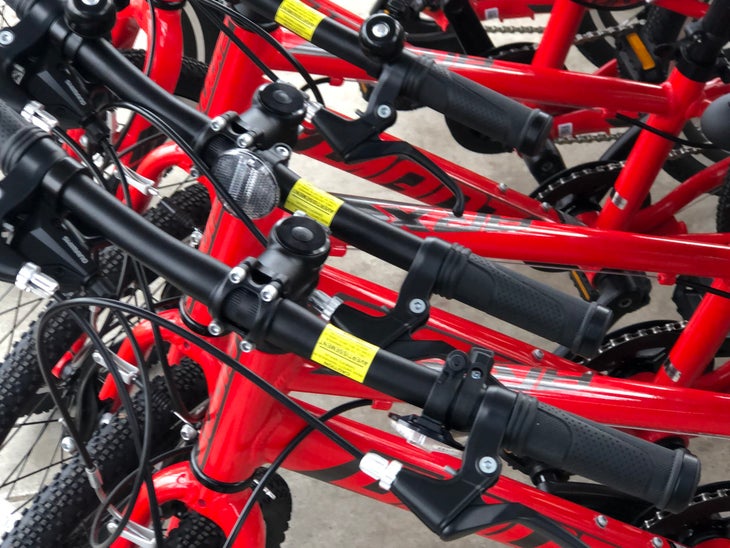 It was a busy day when we called Rashid at his company office in Compton, South Central Los Angeles.
"We got so much going on, it's crazy, man. We got a bike giveaway going on — 200 bikes, 200 students. We have to give Giant all the names today. We work with three school districts, a parks and recreation department, and a couple other educational partners. That's how we generate young people for our outreach programs and bike giveaways …
"This is our fifth annual Motion Equals Healthy Bike Giveaway. It's part of our advocacy to encourage young people to stay healthy with activity, movement, getting on a bike, riding to school, to the store, to the park…. We're proud of that terminology because a lot of young people—and it's a little more challenging for inner-city youth—like to sit in front of a screen all day and play games, and we're encouraging them to create some motion. Being able to ride your bike to school and feel safe, feel their bike is not gonna get stolen…. Part of our adopt-a-school program is to get young people to that level of mobility."
Also read: Find your good
We asked Rashid how the foundation determines which students get new bikes.
"Elementary and middle schools are our target audience," he said. "We pitch the principal on, say, how about getting your students involved with the Bahati Foundation…. We make sure we're advocating health, advocating safety, and so most of these principals are excited, because it's an extracurricular activity that young people can get involved in. From there we get specific grades involved, just one or two classes, not the whole school…. For all the kids that receive bikes we create some type of sustainability where those children are involved in other programs that we do. So it's not random. We just depend on the school site administrators, the principals and so forth, to give us some of their better students. They don't have to be straight-A students."
As for the bikes, Rashid's son Rahsaan said, "They're really nice Giant or Liv bikes for kids from 8 years old. I was really adamant about working with someone like Giant, because the bikes have better quality and will last a little longer. Giant has a bike called STP. It's like a hybrid but has bigger tires, sloping downtube; the way they're designed it could fit someone that's 3 feet tall all the way up to someone 5 feet tall. Most of those bikes are the STPs and they come in 24, 26 or 700c tires. Most of them have front suspension and rear suspension, so if you're just introducing them to mountain bikes it's perfect."
The most recent giveaway needed 50 volunteers to help set up the bikes and teach first-timers how to ride safely.
"We've had kids in tears because they're so excited to get their first bike. The joy on their faces when they line up and we call their name is just indescribable."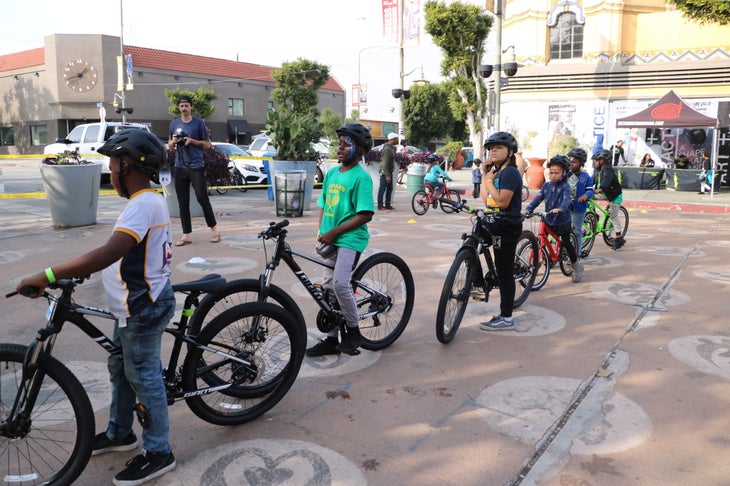 As for a next step, Rashid said, "We had some ideas a few years ago when we were working with a couple of high-profile schools here in Los Angeles. One was called Verbum Dei; it's a Jesuit Catholic school, a high-achieving school in Watts. It's been in Watts since the Watts Riots [of 1965]. So we did a pilot program of what we're doing now…back in 2016–17. That was really our first outreach program. We had a very good success rate with that school but found that that demographic — seniors and juniors in high school — didn't really work because they have a lot of competing things they're already doing: basketball, baseball, running track.
"Today, we are just starting the Bahati Student Cycling Clubs. Each school will have a cycling club that we are affiliated with…and we certainly see getting young people involved in the competitive aspect once they have the fundamentals of riding on the track. This summer we were able to run an eight-week program sponsored by Rapha Foundation. Along with some of our educational partners we identified some students, got them out to the track — probably had 25-plus young people involved. We had two coaches and staff because we had a budget to pay them. And we have a relationship with the indoor track in Carson, the VELO Sport Center, one of our alliance partners in everything we do."
Besides working with the velodrome and the schools and organizing the bike giveaway that week, Rashid said he was also "in the midst of Giving Tuesday, which as a not-for-profit is very important for us. We're getting a sort of late start on our Giving Tuesday, so we shifted the language a bit to make this the start of the giving season, pushing our people to donate to the Bahati Foundation."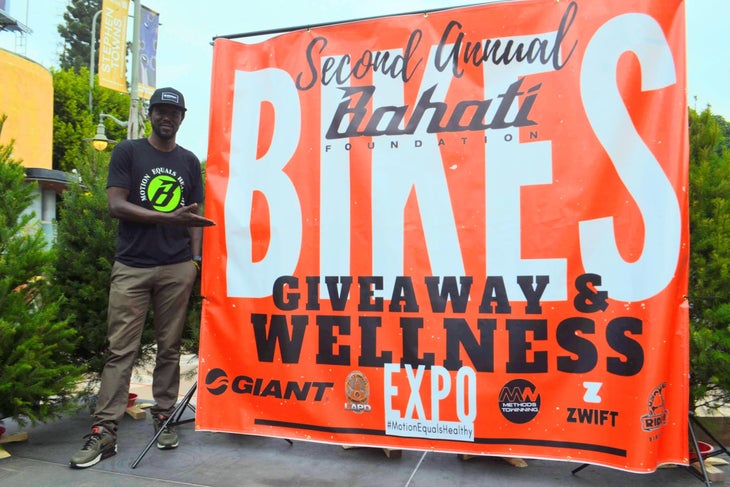 The foundation also raised money at El Tour de Tucson in November. Rashid explained: "One of our board members, Richard D. Bernardis, started El Tour more than 35 years ago. It has been a really beautiful thing for our foundation. This year we came up with the idea, which is not original, Ride With Rahsaan, to raise money for our foundation. We also came up with what would be a nice support factor called The Giveback Experience. This allowed us to have a meet-and-greet, picture-taking event, a little reception where people could be with Rahsaan the day before the ride. That was really successful; we had support from Giant and other partners, and they are pretty excited about us expanding it next year. With my background in film and marketing, I was involved in helping produce and make sure we pulled off the giveback experience.
Next up for the foundation, Rahsaan said, is "an event we call the New Year's Gala on January 28. It started the first year we'd been through the Covid pandemic. We wanted to get people to a setting, kind of like the Oscars, where you dress up, there's plated dinners, there's speakers. We gave away a few awards along with bikes, had a deejay and a silent auction — it was a huge hit. To put it into context, this started about five years ago when I had an idea to have a softball game amongst other cycling clubs. We realized how uncoordinated cyclists are off the bike. So, we had this softball tournament at a park in Long Beach, and six or seven clubs came out. The idea was to bring all the clubs together from all the different parts of LA off the bike, to get to know each other better. And that has just morphed into events like the upcoming Gala.
"We had 160 people at our first event and this year we sold out in two weeks with 300 people. The first one was at Torrance in a hotel, and this year we're moving it just down the road to Long Beach, a block off the ocean. People are coming from all across the country—a huge contingent from the East Coast. The event kicks off on a Thursday [January 26] with a ride and a social. Friday, we do another ride and a panel. The gala itself is on Saturday and for those sticking around Sunday we're trying to figure out some other event, certainly some riding.
"I just think people that can support a charity like ours ought to on a massive scale, like huge corporations. For someone like Nike or a company in the sport, they could write a check for 20, 30, 50 thousand dollars — and, yes, that's a lot of money — but in order for us to really scale up we need 20 or 100 companies writing $50,000 checks. And I think they have to come where we are, and actually feel it and see it, because kids that are underserved don't really affect them as a kid with cancer, or a woman with breast cancer, or someone with leukemia, because that's closer to home."
Learn more about the Bahati Foundation.