Ben King Diary: Wrapping up July
I write from Salt Lake City, Utah, a place I once tried to forget.
Heading out the door? Read this article on the new Outside+ app available now on iOS devices for members! Download the app.
Editor's note: Ben King is a first year professional with Team RadioShack (Related: Ben's previous VeloNews diaries)

To a professional cyclist February means fresh enthusiasm, training long miles, and gritty racing. October means vacations, hiking, and an extra beer.
July, however, looks different to each rider. Some have raced 80 times this year — 36 for me. Some are racing the Tour de France, while others are coming off a mid-season break. My last race evidenced this contrast as Tour de France rejects brought that level of fitness to the Tour of Austria. Early-season crash victims attack with delayed aggression. January's Tour Down Under stars trudge into their eighth straight month of competition. Looking to renew contracts, some fight with desperation for results. Team sponsors, management, and alliances shift. I find myself right in the middle.
Team RadioShack announced that it will continue through 2013, good news for us neo-pros who signed for the obligatory two years. Having graduated from RadioShack's development team, Trek-Livestrong U23, it excites me to continue in the same trajectory and with some of the same people. As a first year rider on one of the best teams in the world, I am grateful for the experiences that the team granted me in the first half of the season including Paris-Roubaix, Tour of California domination, beautiful Giro del Trentino, and more.
I write from Salt Lake City, Utah, a place I once tried to forget. The 2009 Tour of Utah conjures memories of the most extreme misery I ever felt on a bike. Stage 4, Park City to Snowbird Ski Resort, the stage won by my friend, Alex Howes, crippled me. Dehydrated, saddle like a pincushion, arthritic back pain, cramped sore feet, pounding headache, and with another 45 miles to the summit of the hardest climb. The impression of that race raised my mental pain barrier. This year Andy Guptill of Team Jamis-Sutter Home and I arrived with enough time to start acclimating to altitude, preview a few stages, and plan redemption with Team RadioShack.
Other news:
Connor O'Leary, a Salt Lake City resident diagnosed with testicular cancer in the spring of 2010 after a stint with the national team where we met, has recovered and is returning to form.
Climbing a brutal burg approaching the finale of the Espoir Liege-Bastogne-Liege, a domestique swung off the front, having emptied himself for his team leader. As I passed by him, I heard, "Gah! I'm finished."
Turning to applaud his effort I saw Connor swing back and forth, head dropped in defeat.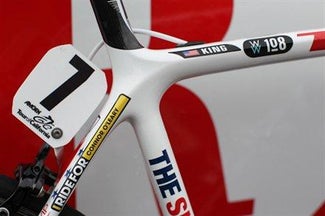 "Connor, not now, buddy! Two more minutes! You can't quit now!" I shouted. Crosswinds on the climb beat us into the gutter. The tempo climbing became a sprint over the summit. Of almost 200 starters, 40 battered riders remained in the chasing peloton. On the descent I slunk to the back of the group. Connor had made it. "That dude is a fighter," I thought.
A few months later I called to check on him. "This is way harder than I thought," he said. Connor is known for his determined optimism. For him to acknowledge the struggle meant real suffering.
Lance Armstrong, one of Connor's inspirations to pick up cycling, called periodically to support the O'Leary family. I ride with a LiveSTRONG sticker on my bike that says, "I Ride For Connor O'Leary." It's supposed to encourage the people for whom we ride. When I'm racing, however, the sticker reminds me of Connor's cheeky grin at the back of the shrinking Liege peloton saying, "I made it, Bro."
Connor is currently training in Europe with the USA national team and hopes to return to the top level.