Epic Bloggin': In Her Own Words from Breck
A knot of pro men are vying for the lead in the six-day, lung-busting event known as the Breck Epic in Colorado. Read some of the mental wanderings of Sarah Uhl, someone not vying for the lead but busting butt nonetheless at the Epic.
Heading out the door? Read this article on the new Outside+ app available now on iOS devices for members! Download the app.
By Singletrack.com
The Breck Epic mountain bike stage race kicked off its third of six days on Aug. 24. Racers are tackling 240 miles on six different courses, all of which start and finish in Breckenridge, Colorado.
Along with the elite riders at the front of the race are hundreds of other mountain bikers tackling the daily Breck Epic offerings, all of which take place at between 10,000 and 12,500 feet. That's not mentioning the many thousands of feet in climbing — between 5,500 and 9,000 — riders are suffering each day on stages ranging from 30 to 45 miles.
One rider taking on this year's Breck Epic is Sarah Uhl, who, along with grinding out the climbs, is blogging her experiences. Enjoy:
Breck Bloggin'
Breck Epic Stage 1, Aug. 22: 42 miles, 6,100ft of climbing
By Sarah Uhl
Make Bike Love.  That's my campaign.  Check out my jersey.  I made it on my sewing machine.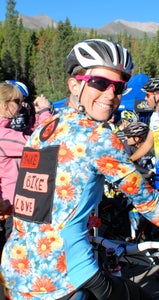 "Is this what you call making bike love?" a fellow competitor yelled at me in a hot mess while we scrambled together up a climb called little french.  I later re-named that climb big motherfucking french monsieur.
The big motherfucking french monsieur was a ways into the race, and honestly I didn't remember it to be as challenging when I encountered it the first time about a month ago at the Breck 68.  That's okay though.  We are only one day into this thing and there is no point in getting too caught up in memories aligning with reality.
The race started with a fury.  It faintly reminded me to the start of a criterium except we are headed straight uphill on a road for multiple miles and we were on mountain bikes.  By the time we hit the dirt, I think I completely forgot everything I knew about off-road cycling.  Sketchy!  Luckily, the skills returned and I got some legs under me.  Good thing.  The first half of this stage was much harder than the second (and thats even including the big motherfucking french monsieur in the second half).
By the time I got to the first aid station I had a legitimate argument with the innocent volunteer trying to hand me my aid station bag.  Apparently I was convinced the bag was green even though the orange one he was handing me clearly had my number on it.  I saw lots of wild mushrooms growing out there on the trail, but I don't remember eating any.  True fact: pushing your limits and creating a hypoxic physical state leads to mental failure and hallucinations in a similar way as mushrooms.  Well, not too similar, but kinda similar.
Between Aid Station #2 and #3 I was feeling kind of slow.  I was trying to figure out if my pace was more reminiscent to a snail, a slug…. or more optimistically, the tortoise that beats the hare.  This race is 6 days long and all, so I figured being somewhat conservative could play out well in the long run.  But then the hypoxic state (or the mushrooms) had me so focused on figuring out whether a snail or a slug would move more slowly.  Apparently I could not come to any consensus so I decided I was the tortoise.
With about 10 miles to go in the race I got a great pick me up.  Right next to the trail was a tiny groove of wild california poppies, bright orange in color.  It re-focused me on the mission: make bike love.  Bike love is complex, just like any good relationship.  There are moments of obvious passion: like the final descent down moonstone trail  (think middle-of-the-night sex.)  Bike love can be scary- like the rest of the descents in today's stage: rocky gnar-diddly rutted out double track.  It certainly takes work- um, 6,100 feet of climbing above 9,500 feet elevation.  But most present for me this week is that bike love evolves.  From racer to rider; from road to mountain; from sprint to endurance class… we find our pathways via bike, each with deep pockets of salt, sweat, love, and lust.
I came out 6th in the solo Women's open class.  I'll take it.  Tomorrow: 7300 feet of climbing in 41 miles.  ouch!
Breck Epic, Stage 2, Aug. 23: 42 miles, 7,800ft of climbing
By Sarah Uhl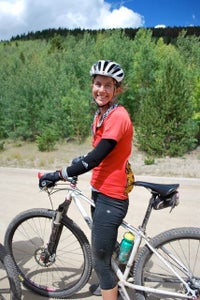 Today, three things stood out: more wild mushrooms, dead trees that looked like bears and that mountain bikers dream state of flow, which came in abundance today.
If I had to re-name the stage, I'd call it "the gift."  I say this because even though we managed to squeeze 7,800ft of climbing in, the payback was seriously outrageous; the good kind of outrageous.  I've ridden parts of the Colorado Trail before, but today's sections were glorious at race pace.  Imagine gliding through a canopied forest on a magic carpet of pine needles and tacky dirt.
The skies were ominous at the start.  You can't argue with the weather in the Colorado mountains; You take what you get and you don't ask questions.  The storms can roll in as quickly as they can roll out, but you don't always get that lucky.  Today, we got lucky.  Just about 5 minuets after everyone put on their rain jackets in anticipation for a wet ride, we could see beautiful blue sky behind the storm clouds.  Lucky.
I started off at a more relaxed pace then yesterday and continued to feel strong into the first climb.  I committed myself to riding everything I could today instead of getting off in frustration and hike-a-biking, even if everyone else around me was.  This is why I'm here, I kept saying to myself, to get to know that oh-so-uncomfortable feeling even more intimately.  It pays off in big grins the more times you go there, but not necessarily in the exact same moment…
After climbing up, over, and down the other side of Westridge on the Colorado trail, I found myself in a beautiful meadow where fellow Breck Epic race blogger Thom Parsons was dealing with a flat tire.  Later he caught up to me and explained that it was his THIRD flat.  Very unlucky.   It gave me more gratitude for the good fortune I'm enjoying thus far and hope to continue to surf throughout the race.  This is the unexplainable, sometimes magical, sometimes completely downright annoying part of the sport that I love.  Sometimes all the stars align, sometimes they don't.
Wild mushrooms, wildflowers and dead trees that looked like bears made great company today while riding alone for most of the race.  I enjoyed the solitude and the mystical surroundings.  By the time the mushrooms started turning purple, red with white stripes, and bright orange I though, just for a moment, that I had been eating them again.  But, before I could get lost in another bit of hallucinating on the side of the trail, I realized that Mirelle Montiminy and Jill Damman were breathing down my neck.  I was no longer alone.  These girls caught up to me and I didn't like it.  So I found some extra gears and powered away with the slight enough gap to keep them out of sight for the final 15 miles of the race.   With a minuet to spare, I slid into the finish for 4th place, moving me to 4th overall in GC due to a few of the other top gals dropping out of the race.  Lucky, I guess.
Breck Epic, Stage 3, Aug. 24:  44 miles, 9,800ft of climbing
By Sarah Uhl
Lets start at the end and work backwards.
The night before today's stage we all got a map of the course and a brief description of the stage.  It said that after we cross the continental divide for the second time in the race, we would make our way down a rocky-gnar descent on the Colorado Trail that would bring us to the base of yet another climb, American Gulch.  It was said that American Gulch would crush our souls, just in case the double wammy, above tree line climbs over French and Georgia pass didn't.
So when I got to this soul crushing aspect of the course I decided to play a little mental tick on myself.  Because I was demoralized at this point already, completely spent and angry at the idea of yet another hill in this completely grueling stage… It seemed like a good idea to convince myself of the following; pretend you just drove up here for a few days of exploring the forest.  Someone you trust told you American Gulch is a great road to explore.  There are great views at the top and it will be a nice short ride.    Yeah… that sort of worked for like 10 minuets.  I got to the wall-like steep sections that went on for miles of this road and decided that if my idealized scenario of a fun afternoon ride in the forest were true, I sure the hell would not have continued to go up this god damn road.  Where are the mushrooms and wildflowers today?!!!
I did of course, make it.  Even after consider the deep questions of "why am I here?" and "what is the meaning of life?" and "what is the benefit of feeling my soul get crushed?" in the final 10 miles, I decided it was all well worth it.  It made me angry to consider after all the evil curveballs this course threw out at us, I was willing to admit I liked it.  I did.  I climbed well up into the belly of a rain cloud at 12,000 feet, rode over the other side without being able to feel my hands and then repeated it…  All while watching 4th place, 5th place, 6th place, and 7th place pass me by like I was standing still.  I ate 6 oreos, 4 fig newtons, 27 ruffle chips, 3 bananas and two bottles of chocolate recovery drink at the finish, took a shower, and reminded myself: this is why I'm here.  To do epic shit, to  make bike love, and to figure out the benefit of feeling your soul get crushed.
Somehow, I am still holding onto 5th place overall after three days.  Three more to go…
Breck Epic, Stage 4, Aug. 25: 42 miles, 6,500 or 7,500ft of climbing (its all becoming a blur)
Okay guys. Time to come clean with all of you about a few things: The Breck Epic is only my third mountain bike race. So, after completing the fourth stage today, I have tripled the number of times I've raced a mountain bike. Kinda cool. But, I won't lie to you… I've have plenty of experience with the whole two-wheeled eye of the tiger bike racing thing. It was just on skinny tired bicycles.
Once, about 10 years ago, I even won me some rainbows in the jr. worlds for match sprinting. That was cool too. This Breck Epic thing seemed like a great way to dust off the cobwebs from a 3 year hiatus from any sort of racing at all.
What really stood out to me today is that the competitor inside of you never dies. I did come to the Breck Epic with my own personal agenda (you know, the whole "make bike love" thing) but I didn't really know which way my competitive spirits would take me. Would it be a dull distant calling or a fierce vengeful whip, screaming at me for not training enough. It turns out the voice is still pretty loud, clamoring around in my head. I wasn't okay with my performance yesterday, 3rd mountain bike race ever or not. It was time to make a comeback and assert myself.
So today, I dug in deep. I oozed the love of competition. I decided at the start that nothing today's course threw at me could phase me. I was so personally offended by every inch of elevation gain yesterday it made me so angry and disconnected to the task at hand: get to the finish as fast as possible. I rode strong, and hard. I got to each aid station so invigorated by my renewed spirits I announced to everyone there "I feel STRONG today!!" Somehow, that reinforced the positive attitude and helped me ride into a 5th place finish which put me in fourth overall. Right where I want to be.
The promotor called this stage a "queen" stage and suggested it reminded him of a rabid dog that just kept coming at you. It was hard, no doubt, but it was also my favorite course thus far. With long, low gradient sections to power along I actually felt fast for once… Views were killer and the tree canopied singletrack sections were yeehaw worthy.
I have been meaning to spend a little blog-time to painting a picture of our sweet accommodations at race central, so here is a brief photo essay for you: