Decker goes acoustic in Sea Otter e-bike race
Carl Decker's instinctive aversion to e-bikes compels him to try his hand at Sea Otter's e-bike race — but without a motor assist.
Heading out the door? Read this article on the new Outside+ app available now on iOS devices for members! Download the app.
Editor's note: This is an excerpt from Carl Decker's recent blog about racing "acoustic" in the e-bike race at the Sea Otter Classic.
I was hoping one would short out and cause a grass fire. I'd capture it on my GoPro and the resulting YouTube video would go viral. The whole conflagration would set the Electric Mountain Bike Movement back a decade. A small, but shameful part of me even had the notion that a person — okay, an arsonist — might light a fire somewhere on the Sea Otter e-bike race course during the event. It wouldn't even have to be traced back to an e-bike. The fact that it "might have been caused by an e-bike" in the closely watched crucible of the First E-bike Race in America might have been enough. It would have been risky. Some people might have been hurt. But would it have been for the greater good?
Such was my disdain for eMTBs.
Loathing. Irrational and deep.
And, like many of my "Serious Mountain Biker" friends who feel similarly, I couldn't really tell you why.
At the Sea Otter Classic this year, I stiffened like a Mennonite in a Best Buy when I was walking through the expo area. It was there that I saw a guy in an e-bike booth handing a six-foot check for $5,000 over to a trail advocacy group. A sizable crowd was applauding. My Spidey sense tingled. I walked away wide-eyed. What the hell is wrong with them? What the hell is wrong with me?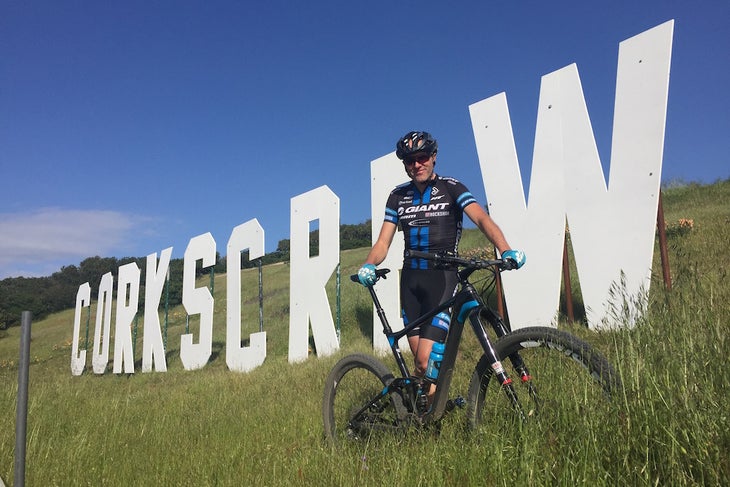 I love bicycles. I love motorcycles. If this is the silent, smokeless love-child of these two wondrous instruments of fun and adventure, why do they roust the curmudgeon in me? If an e-bike looks like a bike, goes the same speed as a bike, has the same trail impact as a bike, and is as free of smoke and noise as a bike, then maybe I need to just accept them as a part of my bicycle riding experience, like Strava, headphones, selfie-sticks, mid-ride cellphone calls, and other benignly irksome technological advancements that have become de rigueur on the trails. Have these trifles made riding bikes in the woods any less alluring? Not really.
As soon as I read that there was to be an e-bike race at Sea Otter this year, I knew that I wanted to race it, and race it Unplugged — acoustic, if you will — on a normal Giant Anthem XC bike. Not having ridden e-bikes, but for a couple miles around town, I was excited to see what the dynamic would be. Where would they be faster? Where would I find an advantage? Could I possibly be competitive? Anytime that I ride a bike that doesn't fit in amongst the other racers (road bike in a short track XC, singlespeed in a pro MTB race, etc.) the racing gets more interesting. Instead of riding around in your rightful place most of the day, you're constantly passing and being passed because of the costs/benefits of your setup relative to the status quo. I figured the e-MTB race would make for a hilarious give-and-take. I also secretly feared it would be a rout. The race was to be an hour and most of the e-MTBs make 300-500 watt/hours — in addition to what the rider adds. So, barring an electromagnetic pulse or an additional two hours of racing, I'd have my work cut out for me, but I tend to like this kind of work.
The race was divided into age groups and an "Industry Challenge" catchall group that started first among the many heats. Despite being registered in the industry race, at the starting line I hid among the age groupers so that the race organizers wouldn't see that I didn't have a motor on my bike. Yes. The irony was rich. But they did not see the Salad Shooter plug that was hanging out of my RS1 and when the second wave of racers was released, I was amongst it.
I rode as hard as I could — as hard as I have all year — and certainly harder than in any of the other professional races I did this year at Sea Otter. For once, I wasn't racing to show what I was capable of. I was racing to show what mountain bikes are capable of. For an afternoon, I fancied myself a modern John Henry. So I went out proud and fast. And I eventually blew up a little, trying to keep up with the masses of slow-looking and fast-riding e-bikers. But then I settled in and began racing people. Making passes on the flat and downhill sections where my competitors' bikes were powerless and leaden because of the industry standard 20mph shutoff for electric assist. And attacking into the bottoms of hills where I could maintain momentum, only to be left for dead at the crests of the climbs — the other riders breezing away with indifference at my gasping and wheezing.
By the finish line, I had no idea where I'd placed. I'd diced pretty good with some random people I'd never met and will likely never race again. And I was spent. Christophe Sauser, the former world XC champ had lapped me on the seven-minute course, but he'd gotten a small head start. And at his best, he could have lapped me without a motor in his bike on this track.
It turns out, I beat a fair few people to come in 17th of 30 riders in the industry challenge. Granted, most of these people were not great bike racers. But a few of them were. And all of them were on the juice. So I was pretty satisfied with that result.
And I was pretty satisfied with the whole experience in general. By dint of this being the first race of it's kind in North America, people didn't have much in the way of expectations. They didn't have goals or pressures to perform. They just rode hard and had a good time, much like the racers in some of the MTB races I did in the early 1980s. I doubt that e-bike racing will really gain traction anywhere, at least not here in the USA any time soon. But maybe e-bikes themselves will gain momentum. Maybe the bike companies are right and there are legions of people who feel electric motors add more to the cycling experience than they take away.