Chad Haga Vuelta Journal: Secret coffee and a birthday flat
After 10 days of racing in Spain, Chad Haga gets a break. But this race is made better by his secret coffee routine, special team mattresses, and chocolate.
Heading out the door? Read this article on the new Outside+ app available now on iOS devices for members! Download the app.
A 10-stage block of racing before the first rest day in the Vuelta a España is a tough way to kick things off, but having survived it, the feeling of being nearly halfway done and still have two rest days is very nice, indeed. My legs were getting a bit tired there for awhile!
But grand tours are a test of mental as well as physical stamina, and I thought the Vuelta had broken my mind a few days ago when the sense of deja-vu came over me. "We were just here," I assured myself, worried that I was losing it. I pulled out my race book and looked at the map. Relief came when I saw that after a week of touring Spain, we were indeed right back where we started.
[related title="More on Chad Haga" align="right" tag="Chad-Haga"]
So there's your rest-day update: I'm not physically or mentally cracked. Don't get me wrong, I'm slowly losing my mind to the grand tour vortex, but that's more to do with the race's theme song than anything else. The Vuelta organizers have forced us to choose between a good start position or our sanity: The song is about two minutes in length and plays on an endless loop at the start line. I'm going to hear that synthesizer flute in my dreams for weeks!
It's not my first grand tour, though, and I've finally gotten smart. In anticipation of the mental fatigue, I brought along my secret weapons: Enough dark chocolate for a few nibbles per day and my mobile coffee kit. As an early riser and a lover of fine coffee, nothing cracks me faster than long mornings (our races usually start at 1 p.m.) with terrible coffee, so I made an investment in my mental health.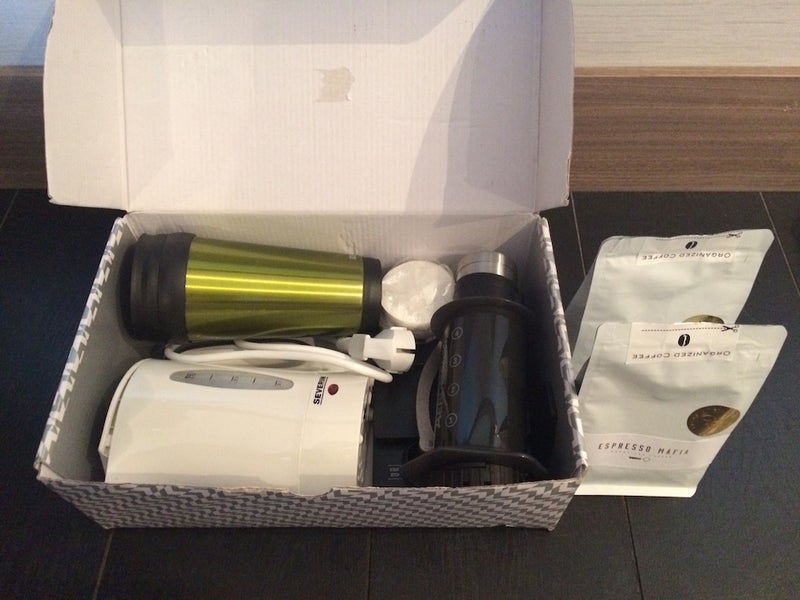 Some riders take the highly sought-after single room in grand tours (nine riders instead of the usual eight) by brute force in the form of snoring, or through the unfortunate case of sickness. I played the long game, showing my directors in three grand tours that not even a month of late starts can alter my up-with-the-sun schedule. It finally paid off when I landed the single room here, so that my odd schedule wouldn't disturb my teammates. Then Warren [Barguil] got sick and abandoned, we downsized, and I'm back to my morning ninja routine as I escape from the room in semi-darkness. Oh well, it was nice while it lasted.
The racing, I can assure you, has been hard. WorldTour racing is always hard. Combine it with unrelenting terrain and oppressive heat, and you've got a recipe for a very tired peloton. I enjoyed a day in the breakaway on stage 4, managing eighth place with a strong ride, somehow fighting off cramps in the final kilometers. It was refreshing and motivating to finally be fighting for the win again, just making me that much hungrier. I'll keep trying, but first I needed a few days to recover from the effort.
I celebrated my 28th birthday on stage 7, but a poorly timed flat ended my chances of contributing to the team's sprint goals on one of the few stages that even slightly resembled a normal sprint opportunity. To cap off a disappointing day, that night's hotel was a 2-star truck stop — the kind of place that made me very glad for our new mattress and pillow sponsor and mobile AC units, and the soigneur who hauled it all up two flights of twisting stairs. We were all on the bus early the next morning, hastily exiting through the lobby-slash-convenience store. It's not always a glamorous life, but thankfully that was our only 2-star hotel for the Vuelta and we get three nights at a 4-star resort over the rest day to help us forget.
My belated birthday present came the next day, when the Vuelta served up a gentle all-day tailwind on flat, wide roads. Even including the 20-minute "spin" up the 20-percent grade of La Camperona with my 32-tooth cassette, I averaged 160 watts for the day. The easiest grand tour stage I've ever had, by a long shot!
Then there are stages like yesterday's, where it looked for awhile like we would keep attacking until the feed zone. It seems that with a rest day within reach, we're all willing to light every match in the book. The rampant success of breakaways only makes the fight harder!
The best rest days are the ones that come before you need them, and I've made the most of mine. Now the race really gets down to business as we start working our way around the country, and I'll fend off the grand tour stupor with great coffee, some chocolate, and, if things get really desperate, a map. If only I could persuade the sound tech to change the track …