Colby Pearce Breck Epic Diary, Day 6: Last Chance for a Fantasy
This rider chose to carry a mascot for the final stage ...I went into stage 6 of the Breck Epic optimistic. Because I had some serious mechanical issues on stage 4, I was completely out of GC contention, which allowed me to chill a bit on stage…
Heading out the door? Read this article on the new Outside+ app available now on iOS devices for members! Download the app.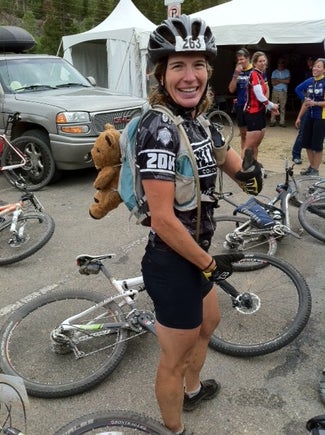 I went into stage 6 of the Breck Epic optimistic. Because I had some serious mechanical issues on stage 4, I was completely out of GC contention, which allowed me to chill a bit on stage 5 and save some energy. It made for a nice chance to enjoy the view on Wheeler Pass, but now it was time to race.
The final stage is a bit of a parade lap in comparison to what we have done the previous five days: it is only about 2 hours 15 minutes, and has a mere 4,000 feet of climbing. The course is shaped like a dog bone: it has a single track loop on either end, with the middle section of the course being the climb over Boreas Pass.
I know this stage well because last year, I won it. I got away on a little roller on the way back towards town, as we began to climb up the pass. I obliterated my self over the top and was able to hang on my 45 seconds for the victory. It was both painful and cool. Today, however, was a different day, and this was a different field than last year.
Collin Cares (Kenda) started out the stage riding super strong. He had won the day before on the Wheeler stage and began to force the pace as soon as we hit the first section of singletrack. By the time we hit the dirt road up Boreas Pass, the field was like a yard sale: little groups of two and three. I felt strong and had switched bikes to a 29'er hardtail, which is more suited to this stage. When we came out of the singletrack, I felt strong but had some ground to make up. I picked off riders over the top of the pass and began the descent on the far side with Chris Battick (Epic Endurance) for company. He beat me to the singletrack descent. At one point I was not sure he knew I was turning off the road and onto the trail, and a brief moment of panic appeared at the idea that he might T-bone me at 35mph. Fortunately, it all worked out. He led and etched out a small gap; I remembered what it was like to ride a hardtail after being on a dual suspension bike all week. I felt like a batch of fresh cookie dough in my wife's industrial Kitchen Aid mixer. When we got to the bottom, Chris and I both made a wrong turn. Fortunately for me, Blake Harlan had ridden up to me on the descent and yelled, so I flipped it. Unfortunately for Chris, even though I screamed my head off, he did not hear me. It was the last time I saw him until the finish.
Climbing the pass, at first there were five, then three: myself, Ben Aufderheide (Hammer) and Taylor Sheldon (Tokyo Joes). I could see the gap to the leaders, who at that point were Colin Cares and race leader Lico Ramirez. It was a big gap. Colin was stomping and Ramirez was the strongest guy in the race by a good margin. It did not look like we would catch those guys given how little racing we had left on the stage, but we pressed on.
The descent involved a near-death experience (I had been up Indiana Gulch, but never down it, and severely overcooked one corner) and a flat tire. I managed to distance my two companions on the downhill portion of the course, but began to lose air in the rear end with about a mile to go. I gently nursed the bike into the last section of singletrack, stepping on the gas whenever possible but floating over every rock and root to the line like a downy feathered pillow.
My final thought with about 75 meters to go in the race was "I am done!" I was disappointed to not repeat my stage victory, but this is life and bike racing. I gave it a hard shot and left it on the trails. It was a hard week of racing and while I enjoyed it, I was looking forward to some serious R & R.
Colin and Lico battled all the way down the final descent, trading places many times, but ultimately Colin held on for the win. Lico locked up the GC with a huge margin over Cameron Chambers in second and Breck local Josh Tostado in third.