iamTedKing: Mind-reading in wine country
Mind-reading in wine country
Heading out the door? Read this article on the new Outside+ app available now on iOS devices for members! Download the app.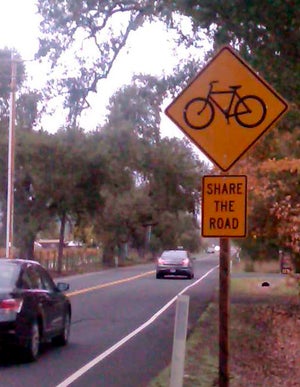 Cycling has been extremely kind to me since I pedaled into two-wheeled transport nearly a decade ago. This oft'-blissful sport has provided me gainful employment, enough wild anecdotes to fill a book (that's called foreshadowing) and taken me across the globe to places I certainly never would have seen were it not for the bicycle.
I've ridden the majority of states from the Atlantic to the Pacific, pedaled in most countries in Europe and raced the world's best in Australia. I've seen the good and the bad as it pertains to weather, roads and motorists, and by and large I've come away with vastly pleasant experiences.
Unfortunately, however, my home for the month of November, the greater Napa Country, California, I've witnessed some of the most egregiously dangerous drivers yet.
On just my second day into the three-week eponymous Ted King November Napa Training Camp Spectacular presented by iamtedking.com, I underwent a particularly unpleasant exchange with a driver.
In the grand scheme of things I am a very levelheaded cyclist, but I have been known to whip out a zinger or two — or at least notify, in a tactful way, a driver that he or she nearly took my life.
However, what went down here was so appalling and rapid that I couldn't even manage a response, so "exchange" is a bit of an exaggeration. Let's just say that I was on the receiving end of this driver's diatribe, but have had plenty of time to mull over what exactly was going on in his head at the time.
Conveniently, not only do I know a thing or two about professional cycling, but I'm also an elite amateur mind reader. So what follows here is the thought process of one Mr. Turd Ferguson, my scold de jour, directed toward me immediately following this grotesque effrontery.
Hey Jerk-Store on two wheels,
Maybe you didn't notice me zip by you just a moment ago, I was the fellow with my entire upper torso awkwardly wedged out the window shouting flagrantly. Nearly foaming at the mouth, driving in the opposite direction at a mile a minute, I uttered a simple, "I hope you get hit by a car!"
Nope, compadre, we've never met. I've never seen you before in my life. In fact, we've never had any exchanges whatsoever, but you ride a bike and therefore represent something I do not like, so I had to give you a piece of my mind.
I've overheard your shorn-leg-type in the coffee shops 'round town and no, I'm not angry because I'm stuck in my car and you're out riding a bike. I drive a tricked-out 2001 Dodge Neon for goodness sakes! And yes, that color scheme is gold, which is unanimous for awesome. Anyway, in addition to wishing for your demise, here's another two cents in the form of my vexing questions to you and your bike-loving kind.
First off, you recognize that this is Napa County, correct? As in, home to the finest wine in all of America? As in, per square mile, there are more wineries and vineyards than you'll find anywhere else between here and Bordeaux? As in, we're all driving around drunk? Yeeap, I imagine that besides dealing with irate folk like myself, there is some pleasant pedaling to be had throughout Napa. But geezum-crow guy, we're driving winery-to-winery and drinking along our merry way. We are DRUNK!
Next, while you hardly warrant the mere foot-and-a-half wide space on the road in the first place, why do you insist on riding that close to the white line? To come even that near to my lane and to infringe upon my Neon is an audacious move like no other. There are freakin' two feet of perfectly fine pavement further to your right that I have artfully and generously arranged with shattered glass. If you can't deftly ride between those glass shards strewn around the roads, you don't deserve a spot on the tarmac in the first place. Fool.
Speaking of riding in the first place, what do you think you're doing, training for the Tour de France? There are perfectly fine gyms with them spinning bicycles that are perfect for providing your bike-riding fix. And why on earth do you insist on wearing that goofy unitard? Geeze, you must think you're professional or something. Right. Ha.
Oh, hey, I didn't tell you this, but I rode by one of your colorfully dressed bike buddies and hilariously hollered out Lance! Oh, man, it was awesome! That joke is like That's what she said — it only gets better with time and by repeating it entirely too often. Classic!
Anywho, I wish you the best and hope you follow through with that aforementioned being tagged by a vehicle. Beep beep.
Your sarcastic pal,
Turd F.
Look, in truth I don't mean to point fingers at anyone or any place in particular. Napa has some of the finest roads I've ever pedaled and the majority of the past two weeks have been nothing short of excellent. This was (hopefully) an isolated incident, albeit an atrocious one, and shouldn't mar your opinion of the riding here.
Never before, however, have I realized how important it is to maintain rapt attention to the roads and traffic. To anyone and everyone who rides a bike, I wish you safe and pleasant riding.
(Related: All Ted's columns)
Ted King rode the 2009 and 2010 seasons with Cervelo TestTeam and will join Liquigas-Cannondale for 2011. After getting a taste for the European peloton with the U.S. espoir national team in 2005, King returned to the United States for three successful years of domestic pro racing. The 27-year-old is a native of New Hampshire and despite his affinity for hearty servings of coffee, he is slowly adapting to the smaller European portions. Slowly. His diaries appear monthly on VeloNews.com; between the scanty portions we serve up, you can follow Ted at www.Cervelo.com/team and www.iamTedKing.MissingSaddle.com. Those of you content with 140 characters or less can track his activities at www.twitter.com/iamtedking.