Lauren De Crescenzo: 'Changing my line'
Why the never-ever mountain biker is going all in with the Life Time Grand Prix.
Photo: Courtesy Lauren De Crescenzo
Heading out the door? Read this article on the new Outside+ app available now on iOS devices for members! Download the app.
People often glorify the vision, discipline, and hard work it takes to achieve our dreams.
However, they fail to mention that the closer you get to your dreams, the closer you get to staring your fears in the face. For me, signing up for the Life Time Grand Prix this year is staring my fear directly in the face.
For the past two years, I have raced a hybrid gravel and road calendar. I've found success at races, winning Unbound Gravel, the Tour of the Gila, and The Mid South. For two years in a row, I won SBT GRVL and Gravel Worlds, and last year I took a silver medal at USPRO National Road Championships.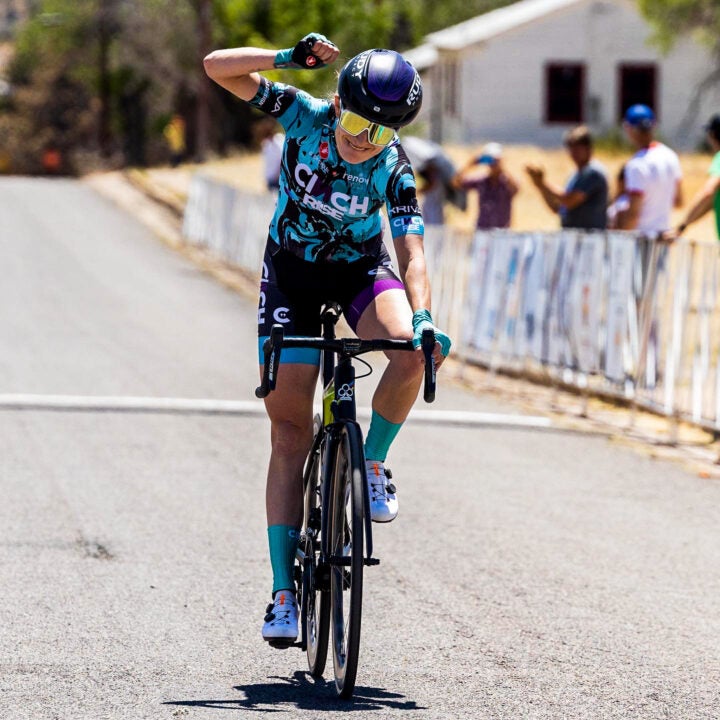 Looking back, I've discovered I learn more about myself from my failures than my triumphs.
A turning point for me last year was the UCI Gravel World Championships in Veneto, Italy. While I trained hard and felt prepared to contend for the win, I learned quickly on race day that I was not ready yet. I was used to the US style of racing and riding, on wide open gravel and dirt roads. The best riders in the world raced very differently.
The gun went off and I couldn't clip in. In a matter of seconds, the peloton was sprinting past me like in the start of a cyclocross race.
I eventually chased back to the breakaway of seven women with 20 racers on my wheel. That was a confidence booster, and I thought there was still a chance. But then, I faced another twisty Italian road that wasn't conducive to my straight-lining technical ways. Self-doubt ensued and eventually I would finish the race in 20th.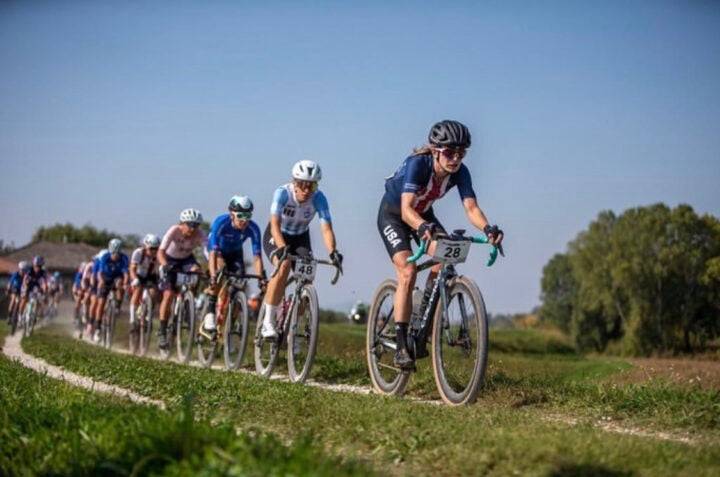 On the long flight back to the US, I made the conscious decision that I would do everything in my power to minimize the self-doubt and fear I often feel on the more technical courses. The whole flight back, my team and I brainstormed next steps on how we would address my weaknesses.
Why do I lack these skills in the first place? Well, it's a combination of coming from a non-athletic family with a propensity for hearty Italian food, my road cycling background, and a fear of crashing again.
A few weeks after UCI gravel worlds I raced Big Sugar, one of the more technical courses in gravel. There I continued to struggle with my bike handling, relying on my fitness to finish fifth. Not a bad result necessarily, but this experience only reinforced everything we discussed on the flight home from gravel worlds.
At both races, the self-doubt and fear brought me back to a time I don't like to revisit: getting back on my bike after my traumatic brain injury (TBI) in 2016.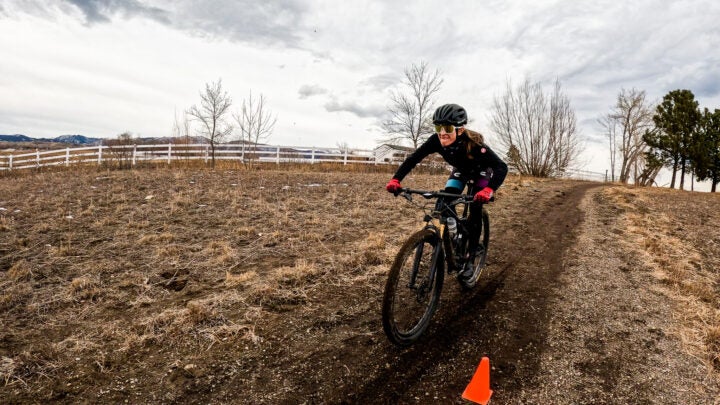 Following Big Sugar, we decided to tackle these weaknesses head-on, as the cyclocross season was already in full swing. I ate a big piece of humble pie and got beat in my first ever cyclocross race as a Cat 3. Weekend after weekend, I kept showing up.
And, I saw my skills improve — I upgraded to Cat 1. I became much more confident in a discipline I had sworn off for 10+ years.
With the momentum from the fall, my team and I decided to apply for the Life Time Grand Prix. This is the premiere off-road series in the country made up of both gravel and cross-country mountain bike racing. With three tough MTB races in the series, I will need to continue to improve my off-road handling skills.
I've never raced or even ridden a mountain bike before this year, but at the age of 32 I am willing to challenge myself to become a proficient mountain biker.
While chasing my dream of winning the UCI Gravel World Championships, I also want to prove that anyone at any age can learn something new if they're willing to do the work and go outside their comfort zone.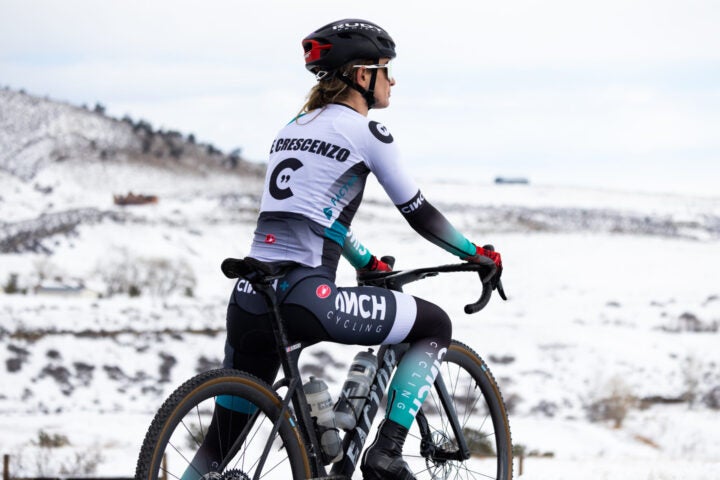 The podium from last year's Life Time Grand Prix was almost exclusively riders that have come from a MTB background. The winner of the UCI Gravel World Championships, Pauline Ferrand Prévot, is the only rider to ever win a world championships in cross-country, cyclocross, and road.
To be a gravel world champion and the winner of the Life Time Grand Prix, you need to be a rider like Pauline with the WorldTour road power and the mad MTB skills. That's a challenge I'm excited to take on in 2023.
Something my coach Tom and I like to focus on is to get 0.1 percent better everyday. For me, it makes the process more manageable and within reach. We lay out the specific 0.1 percent, whether that's in fitness, skills, mindset, execution, or nutrition.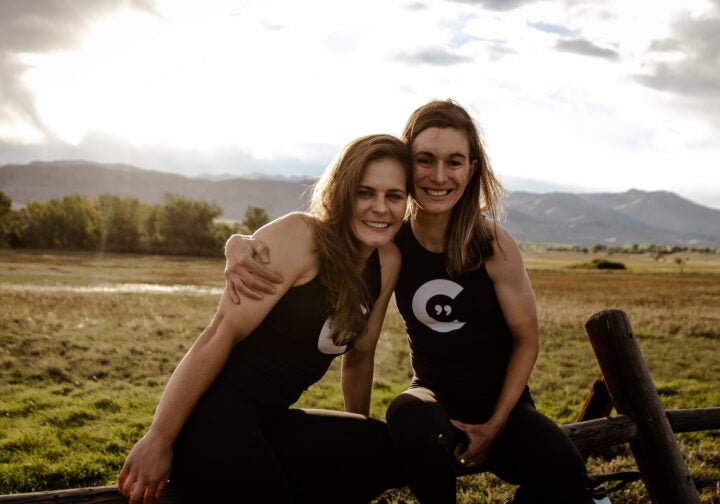 I'm currently well into winter training on my new Factor Ostro gravel bike and Factor Lando cross-country mountain bike. I just finished a rigorous three-week MTB boot camp in Colorado with my team, Cinch Cycling, and one of my closest friends and teammate Holly Mathews. Holly is also competing in the Grand Prix this year.
So how is my new journey, my "new line" if you will, going? I hope you follow along to find out. In this column, I look forward to documenting and sharing the ups and downs of this new challenge. I hope by sharing my journey, I can both inspire others to learn something new, overcome their fears, and enjoy a new aspect of our amazing sport.