Lauren De Crescenzo: 'Just the idea of mountain biking used to make me nervous, but it's now becoming exciting'
Takeaways from my first mountain bike race, The Gobbler 6/3, near Atlanta.
Heading out the door? Read this article on the new Outside+ app available now on iOS devices for members! Download the app.
In her second column for VeloNews, pro road and gravel cyclist Lauren De Crescenzo reflects on her journey to becoming a mountain biker ahead of the Life Time Grand Prix series. 
I've been putting significant work into my skills over the off-season, with a mountain bike camp in Colorado and dedicated skills work almost every day. I needed a checkpoint to measure my progress against my real deadline: The Sea Otter Classic, the first race in the Life Time Grand Prix.
For my first mountain bike race ever, I chose The Gobbler 6/3, hosted by Chainbuster Racing near my home in Atlanta, GA.
Related: Lauren De Crescenzo: 'Changing my line'
I chose the three hour option, where we raced to complete as many laps as we could in three hours on the approximately nine mile course with 800 feet of elevation gain. The course was majority singletrack, twisting through the woods along the Georgia International Horse Park, using many of the same trails as the first Olympic mountain bike race in 1996.
Being majority singletrack, we knew I wouldn't be able to disguise my lack of mountain bike skills with my legs, and the race would be a good indicator of my progress.
When I clicked "confirm" on my computer screen to register, my stomach dropped. These past couple of years of racing and winning in gravel have felt surreal in a lot of ways. I know and trust my capabilities on the bike, but some days doubt creeps in and I still feel a sense of imposter syndrome. Signing up for this race was my version of giving the middle finger to self-doubt.
Below are the biggest takeaways from my first mountain bike race and the latest installment of my journey of transforming from a pro roadie to a competitive mountain biker.
The start
The entire drive to the race, I could feel the nerves. But when the gun went off, something inside my brain flipped a switch and the bike racer in me kicked in.
My coach has been assigning me sprinting drills to prepare for mountain bike starts. In the drills, I'll go from an unclipped stop to a full sprint for 15-30 seconds, a certain number of times, depending on the day. As a road cyclist, I never practiced my race starts, as my competitors typically do not attack off the start line except in the rare criterium I enter.
So, at the start of the Gobbler, with my right foot at the 1:00 position, I lunged forward and clipped in as fast as I could. I sprinted and made it to the singletrack first, getting the "hole shot." The singletrack was narrow and tree-lined, with twisty downhills, all features that once scared the sh*t out of me!
Then, I went into my mental notebook, focusing on the skills we've been working on.
Cornering
In my previous life, we used to joke that I was allergic to corners. But you can't be a good mountain biker without being good at cornering. Now I'm embracing corners and starting to use them to my advantage. I've previously struggled with backing down going into a corner. At the race, however, I got in there first, held my own line, and then accelerated out of the next corner to get a gap and build speed.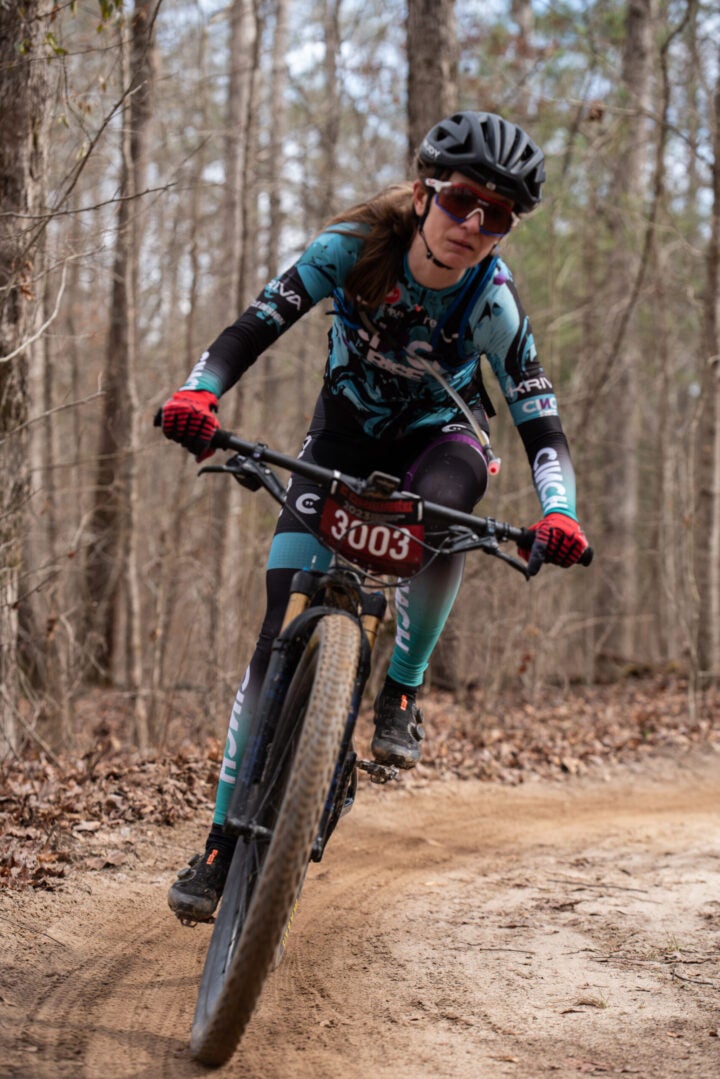 Line selection
Cornering on a road bike typically follows the same formula: go wide, hit the apex, and accelerate out. In mountain biking, the formula constantly changes.
You can never lose focus because you can never see more than 10-20 seconds up the trail. You always need to be planning the best line, well in advance. Unlike road, every corner is different with different obstacles from rocks to roots to mud. Mountain biking, I'm learning to be constantly adaptable and use the knobby tires to my advantage.
On the first lap, I picked the wrong line, ascending a rocky uphill. I fell forward on the bike, and hit my knee on a rock. In the past, I've had a massive complex with falling, but this time, I picked myself up and didn't lose more than two seconds.
Tactics
I like the simplicity of tactics in a mountain bike race. The general plan is to get to the front, get into the zone, and start your technical time trial.
In road and gravel, there is drafting, teams are working together, and the strongest rider doesn't always win. I've fallen victim to breakaway mates sitting on my wheel for miles and then outsprinting me at the line. You can't get away with that on the mountain bike. Drafting is minimal and you must match the technical skills of the racer in front of you.
The effort
In road/gravel races, it's generally more advantageous to be steady on the bike. In mountain biking, you're constantly changing your effort and taking every opportunity to pedal.
Towards the end of the lap, there was a long straightaway section where I averaged 20 mph and had the fastest time for both men and women for the day (according to Strava) In this section, I was able to solidify my lead, get into the zone, go into time trial mode and was able to complete four laps in 2:59:58!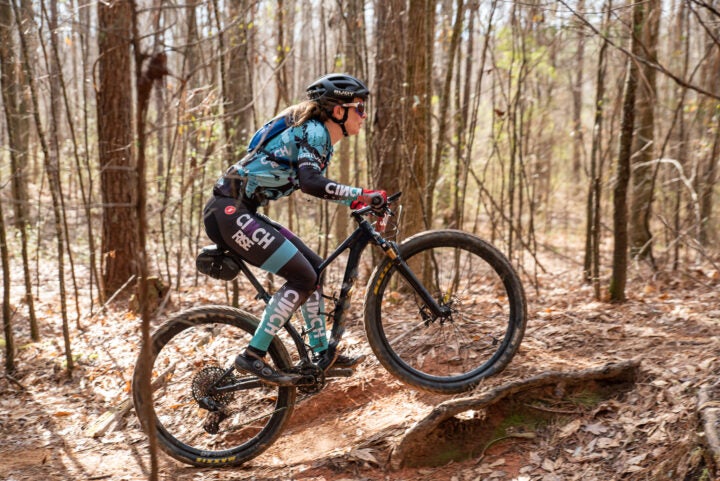 Mental focus
Ian Boswell (who also raced the Gobbler) and I talked a lot about how much intense mental focus mountain biking requires. He came to Georgia for the race after I mentioned it when we were hosting a virtual SBT GRVL training ride on Wahoo RGT. Ian said he would be at the Wahoo HQ in late January in Atlanta, so he signed up for the six hour solo option as preparation for the upcoming Cape Epic.
The two of us have a lot in common beyond our respective wins at Unbound 2021. We both suffered traumatic brain injuries (TBIs) in our professional road careers that eventually led us to switch to gravel. Ian is also taking on mountain biking as a new discipline.
After the race, we agreed that the mental focus required at these mountain bike races is very challenging, and even more so given our TBIs.
What I learned
My ride at the Gobbler was especially meaningful to me. It represents the hard work my team and I have put in over the last several months, as well as my overcoming fear and anxiety and learning something new at a later stage in my career. Just the idea of mountain biking is something that used to make me nervous, but it's now becoming exciting.
I am not under any illusions that a win in a local mountain bike race is an indication of a result at a big race like Sea Otter, but my performance at the Gobbler 6/3 is a positive reference point in my progression. Most importantly, we know the techniques and processes are working.
The mindset of improving 0.1 percent a day is working, and we'll continue down this road as far as it takes us. I hope my story inspires others to try something new and scary, embrace the fear, put in the work, and do something they never thought possible!