Life as a Bike Jockey: Racing the World
From the competition, to the course and even registration, Singletrack.com columnist Judy Freeman says what's different about racing a World Cup or the world championships versus a national event is, well, pretty much everything.
Heading out the door? Read this article on the new Outside+ app available now on iOS devices for members! Download the app.
"The great thing about Worlds is anyone can be exceptional on that given day. And if you are great, you have a chance to win that title." — Todd Wells

Waiting for the gun on the start line of the World Cup finals last weekend in Windham, New York it struck me just how different racing a World Cup event is from racing a national event in the U.S.
It wasn't just the starting protocol that had all the formality of a Scripps National Spelling Bee — the official-monitored starting corrals, the pre-race instructions in French and English, the sea of riders from around the world and the clearly absent cheer of the race announcer rousing the crowd to "C'mon and make some noise!"
International cycling rules give the microphone to the race official for the last three minutes before the gun. So between the utterance of "Trois minutes!" and the gun shot you are left with only silence and thoughts of the impending pain to keep you company.
From the competition, to the course and even registration what's different about racing a World Cup is, well, pretty much everything.
Best in the World
I asked the recently crowned U.S. 2010 XC national champion, Todd Wells, what he thinks about racing World Cups and nationals.
"World Cup racing is completely different from domestic," Wells says. "We have a strong domestic field but it's not as deep as the World Cup. The World Cup has all the best riders in the world, so instead of one or two-minute time gaps between riders, there are usually only a few seconds.
"Mess up a section in a domestic race and it's no problem," Wells says. "Mess up a section in a World Cup and you get passed by a handful of riders."
For two years running, Heather Irmiger has worn the MTB marathon national champion's jersey. She agrees with Wells' assessment on the deep international fields.
"Because there is so much talent, there is always someone very close to you waiting to pass you," she says. "For this reason, I think a racer will push him or herself harder than they knew they could to fight for a position. I'd say international racing is the best way to be your best and maximize your talent and potential."
In addition to the depth of talent, there's the breadth of attendance. Olympic Cross Country (XCO) World Cup races, especially in Europe, draw larger fields; averaging close to 200 for the men and more than 100 for the elite women. That's compared with national fields that typically see half of that. The numbers alone make riders have to scrap for room on a crowded singletrack.
Elite XC rider, Erin Huck of Boulder, Colorado got her first crack at the world at the recent Windham race. New to World Cup racing, her call up put her in the back row of 67 women. Huck's first lap was "was a mix of riding furiously, running furiously, and waiting furiously due to the bottle-necks."
High-Caliber Course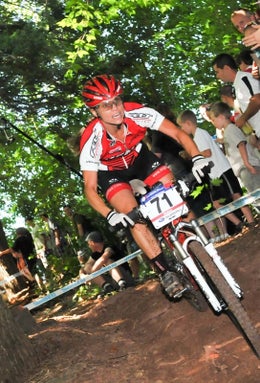 While international rules make XCO circuits between 5 to 9 km/lap (3 to 5.5 miles per lap), perhaps it's tradition that seems to make them more technical. And more technical means more planning.
"The WC courses vary quite a bit, but usually all have at least one or two crazy 'Euro Shoots' you either ride, crash trying or ride around," says Wells. "You don't make up much time because the riders either make it or they don't."
In the U.S. the descents tend to be longer and not as tricky, Wells explains.
"You don't lose any sleep over them the night before the race and they are often places where you can make up or lose time because they are rideable at different speeds," he says.
PEDALING TILL PULLED
Though more national races are adopting a "World Cup style" course format, the XCO courses still tend to be shorter with more laps. This is where the "80 percent rule" sees more use. To keep the course clear for the leaders, officials pull riders running 80 percent behind the lead pace.
At Windham, where the top elite men were riding close to 17-minute laps and the women roughly 20-minute laps, the fast pace and tire-flatting rocks saw 25 percent of the women's field and 37 percent of the men's pulled out of the race.
Navigating the New
Even registering for the event is different, which sounds ludicrous to note, but given you have two opportunities to miss registration you find it notable. An elite racer must register with the UCI, cycling's international governing body, or USA Cycling almost two weeks in advance of the race. Several riders (author included) found this out the hard way.
Huck admits that as a first timer navigating the "whole World Cup procedure was intimidating," but she'll be back when Windham hosts another World Cup in 2011. Won over by the energy of the event, she says she enjoyed "being surrounded by athletes from all over the world speaking a variety of different languages and riding on equipment I'd never seen before."
Venue and Vibe
Not to be underappreciated is the World Cup atmosphere — and this is not by accident. Windham Race Director Nick Bove says that the standards to host a World Cup event "are just higher."
World Cup races are expected to provide off-hour entertainment and a committed marketing budget to pull larger crowds. Non-race attractions like Windham's block party that closed a stretch of state highway for thousands of people, a two story fall into a stunt bag, helicopter rides, a free concert and fireworks display added to the vibe and attendance.
And the race committee — compiled of Windham residents, not professional race promoters — indeed pulled it off; exceeding the estimated attendance of 10,000 with 16,000 people to race, cheer on the racers and peruse the largely filled expo area.
Bring it on Home
To have had a World Cup on American soil was  "special treat," as Irmiger puts it. A homegrown World Cup race comes with benefits.
Wells, who grew up just an hour from Windham in Kingston, New York points out, "World Cup races are so hard that it's nice to have the location familiar and comfortable instead of doing one of the hardest races we do all year in a place that is foreign."
Overcoming a time zone challenge of maybe one to three hours compared to 10-plus hours is also a boon for most North American riders.
"The difference between being on the podium and off it is only a few parts of a percent — and the fatigue of travel and jet lag can be that difference," explains Irmiger.
If European racers had to contend with as much extensive travel, Irmiger speculates, "the results for the North Americans would be more consistently high."
Waiting for Worlds
This weekend brings the mountain bike world championships — and the best of the best — to Quebec, Canada.
In addition to Wells and Irmiger, Americans Georgia Gould, who earned bronze in Windham, and Willow Koerber, who placed second overall in the World Cup series, will also race in Quebec.
The vibe of the event is motivating for Irmiger, who says she feels a bit worn from a packed 2010 schedule.
"The World's venue is one of the best in the world: music, activities for spectators, cool course…they're expecting 100,000 people this weekend!"
Her 11th place finish at Windham will also fuel the fire.
Despite some flat tire issues in New York, Wells also has a positive look towards Worlds.
"The great thing about Worlds is anyone can be exceptional on that given day," he says. "And if you are great, you have a chance to win that title."
Judy Freeman is a pro mountain biker out of Boulder, Colorado. In 2009 she represented the U.S. at the World Championships in Canberra, Australia. For 2010, she'll be racing for Kenda/Felt Mountain Bike Team. Other sponsors for 2010 include TrailMaster Coaching, Hayes, Manitou, Voler Apparel, Pearl Izumi, WickWerks, KMC, SDG, Crank Brothers, Uvex, Pika Packworks, Smith Optics and Mighty Good Coffee.