'Men in tights:' Showing the next generation of women that they belong at gravel events
Guest columnist Helena Gilbert-Snyder takes us inside a new initiative at the Grasshopper Adventure Series.
Heading out the door? Read this article on the new Outside+ app available now on iOS devices for members! Download the app.
"Men in tights."
That's how one of the U19 mountain bikers who competed at the Low Gap Hopper last weekend described what she thought of when she heard the word 'gravel.'
Then she giggled and threw out "long fire road climbing" and "threshold efforts" — none of those descriptions that far off from what gravel and adventure riding looks like to many people.
Read also: Kate Courtney, Christopher Blevins, cool initiatives, and good causes
However, after Low Gap, the season-opener of the Northern California Grasshopper Adventure Series, she was singing a different tune.
That's because, among the start line at Low Gap this year, there were about a dozen individuals taking part in a new initiative pulled together by me, Helena Gilbert-Snyder. I've been racing and coaching juniors through NICA for years now, and it's apparent that high school girls are not entering the endurance off-road scene the same way that high school boys are.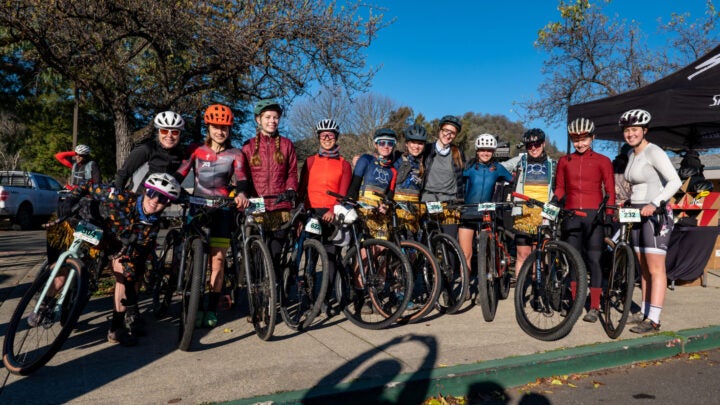 I see plenty of ambition in the young women and their appetite for the challenges that off-road racing provides, but they have hesitations and have had bad experiences, bringing up concerns such as "What if people make fun of me for being slow," "What if I get a mechanical and don't know what to do," "What if I'm alone and get lost," or "I'm just scared."
Unfortunately, these are valid concerns and many of these young women have already experienced social stigma and negative interactions that discourage them from trying new and challenging athletic endeavors, even if they want the opportunity. By age 14, many girls are dropping out of sports at two times the rate of boys.
The initiative at the Low Gap Hopper was aimed directly at introducing gravel and adventure racing to young women who wouldn't see themselves joining the community otherwise.
As one rider put it, "seeing other girls my age and teenagers here makes me feel really good. If they can do it, I can do it, too. It's important to see other people like me out there."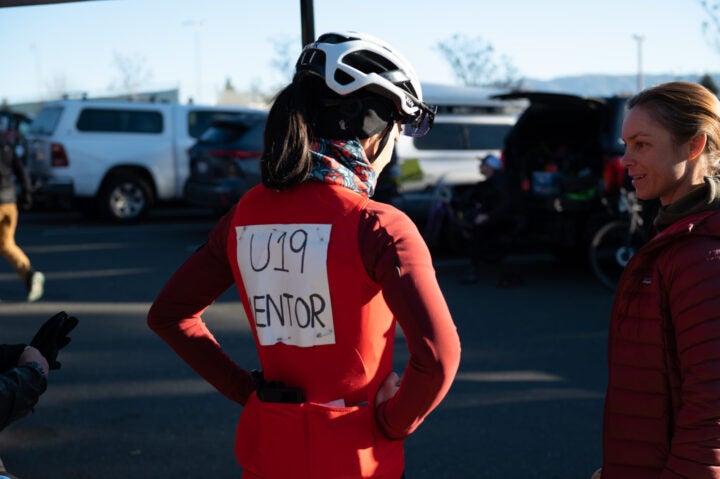 Last Saturday, seven U19 women took part in their first Grasshopper event (and for many, their longest race and first non-NICA event) with the 1:1 support of five pro women mentors and several NICA coaches.
Unlike other racing initiatives that get riders to the start line with free or discounted entries, or perhaps a pre-ride, we didn't want to leave the riders on their own until the finish. So, we paired up mentors in advance, and mentor and mentee rode together the entire race. With Zoom meetings and email communications in the weeks prior, riders were as prepared and confident as possible going into the race.
Specialized provided equipment and gear for riders and mentors, while Rebecca Rusch's Be Good Foundation covered entry fees.
This 1:1 opportunity with an elite cyclist gives these young women the confidence to face their concerns and gives them the best chance at a positive experience that will see them attending a similar event in the future.
As confirmed by Caroline Dezendorf, one of the pro mentors who has also done her own mentoring initiatives in the past, "it is such a good thing to show girls that they have these possibilities and experiences and that there are people out there that want to support them."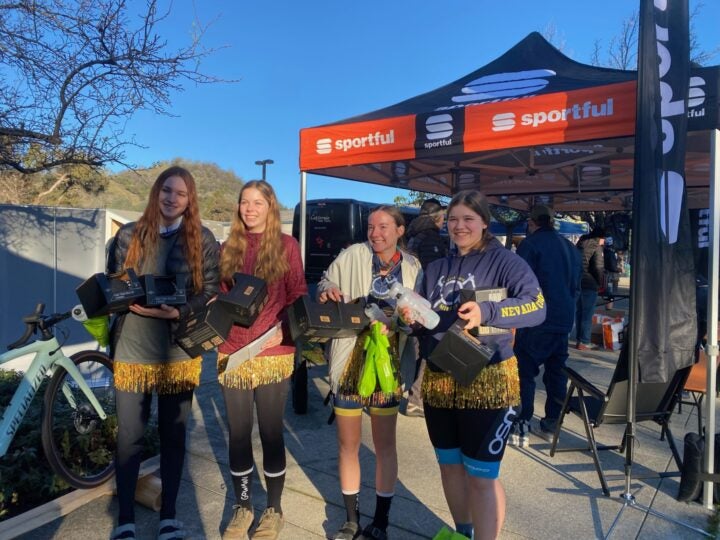 It worked for this group. One rider, who at the start said she was worried about not finishing the race, came across the finish line smiling and offered advice for other girls in her position: "know that you're strong enough to actually do something like this."
Another rider said, "it helped a lot to have a pro mentor. Someone to be by your side, to teach you, and I didn't have to worry about whether I would finish or not with them there."
Race promoters and sponsors often find themselves asking whether they are appealing to new riders, and if not, how they can. My advice is: invest in mentorship programs, where you can hear it from the young women themselves — one of whom told me after Low Gap "I would never have done this event without the mentoring initiative, or thought I'd be able to do it, and now that I've done it I would do it again."
She's now signed up for the Huffmaster Hopper, the next event in the Grasshopper series.
It's also important to recognize that ambition and dreams can be taught and shown to be possible just as they can be discouraged. Not all young riders think they can race 45 miles or climb 6,000ft (the profile of the Low Gap Hopper), or that they ever would want to.
One of our U19 riders said "looking at myself two years ago when I first started, I never would have seen myself doing this event. I'm proud that I did this."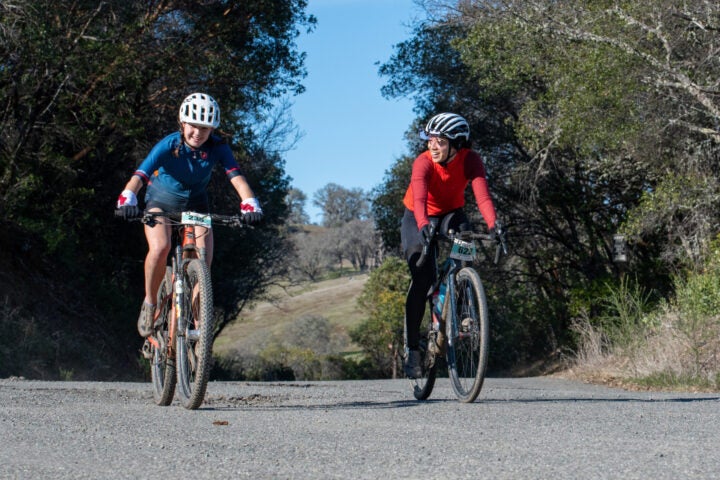 By showing them that there are other young riders just like them — who may not be on track to be a professional athlete, or who have other sports or hobbies that interest them — we can break down social barriers and increase participation.
"Cycling is a lifetime sport and our hope is that riding the Hoppers gives the kids a chance to dream of bigger things and seek adventure, challenge, and exploration whenever possible," said Miguel Crawford, the founder of the Grasshopper Adventure Series.
"This initiative empowered young women to undertake their longest and most challenging bike ride – not only did the students benefit, but the initiative also provided an opportunity for adult women to put their knowledge and experience to great use," added Austin McInerny, former NICA president and board member of the Be Good Foundation.
On Saturday, all seven U19 riders and their mentors completed the event, and all seven confirmed that they could see themselves doing a similar event in the future.
My mentee, a 14-year-old freshman from Berkeley High School, finished first in the U19 division, with a blistering time under 3:30 – within arm's reach of the top pro women.