Remembrances of Gwen Inglis: 1974-2021
Inglis was killed on her bike by a driver arrested on suspicion of driving under the influence.
Photo: Doug Pensinger/Getty Images
Heading out the door? Read this article on the new Outside+ app available now on iOS devices for members! Download the app.
Gwen Inglis, the current 45-49 road national champion, was hit and killed on her bike Sunday by a driver who was arrested for suspicion of driving under the influence of drugs. She was riding in a bike lane in Lakewood, Colorado, just ahead of her husband, Mike Inglis.
Inglis died later at a local hospital. She was 47.
"Gwen loved cycling, loved to compete, and was always ready to wait for you before a turn or at the top of a climb to make sure you found your way," said Greg Casals, the c0-sponsor of the Black Swift-Cycleton Cycling Team.
Inglis was building a Black Swift women's team after racing for Stages Cycling, Kenda, Colorado Women's Cycling Project (shown above at the USA Pro Challenge), and other teams over the years.
VeloNews is compiling remembrances below of Inglis, a multi-time national champion and leader in the Colorado cycling community.
If you would like to add to this, please email ben@velonews.com.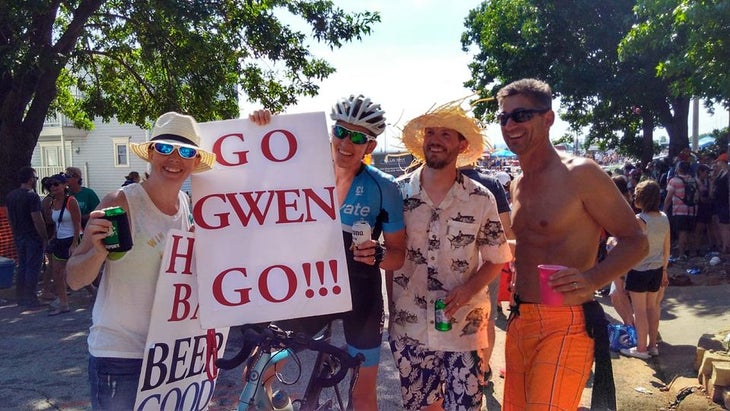 Becky Furuta – friend, competitor
So many silly memories of a lovely, talented woman and a generous competitor. She was fun and funny and delightful and open to everyone. Gwen was quick to give words of encouragement to all, and had a smile that wouldn't quit (a lot like her, actually).
Once, when leading however briefly in a race, I made a wrong turn. Gwen Erffmeyer Inglis commandingly called to me to get back on course and slowed the field behind us even though she knew that lead would quickly dwindle. She believed in integrity and fair competition, and people paid attention to her because she was so deeply respected.
It was only yesterday at the Lookout Mountain HC that I turned to friends and said, "It will be good when all the usual suspects are back. I haven't even seen Gwen yet." And today, I never will.
Barry Lee – race promoter, friend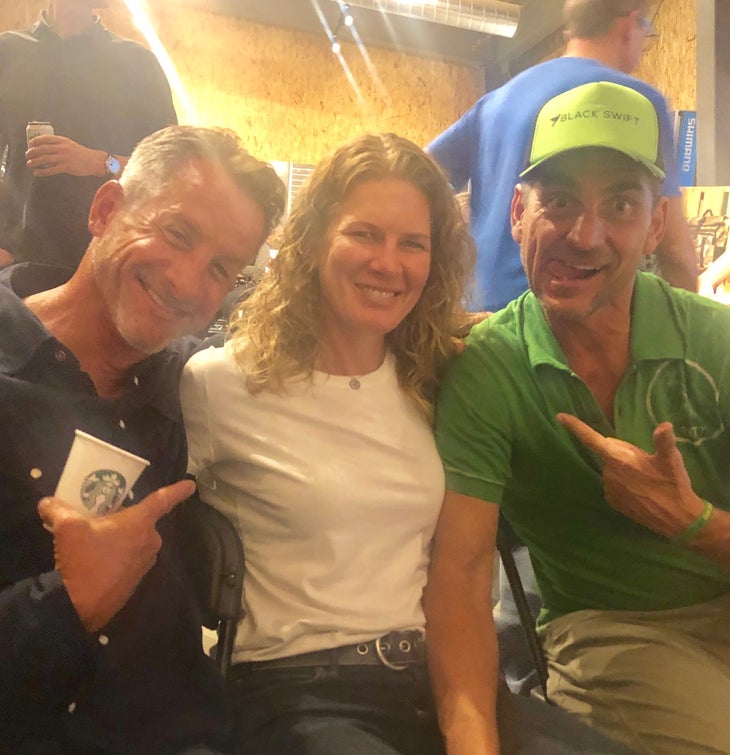 I struggle to write and put into words what she means as I still cry. Life is precious and beautiful and so was Gwen. She was my friend since I moved from Austin to Boulder and her husband Mike has been my fearless and passionate teammate this entire time.
Gwen traveled, trained, and raced with the team and was one of us well before she created the Black Swift-Cycleton elite women's team. She was the most humble, gracious, and sweetest soul and magical spirit in this elitist and ego-dominated sport.
She represented the pure joy and love of the bike and the sport that I so dearly cherish and appreciate. She was the calm and gentle champion with the inner strength grace and beauty I so respected and was always inspired by. My lifelong friends and family in Austin all loved her kindness and engaging personal interaction.
I was always so proud and honored to host house her with my closest friends, then to see how fierce of a competitor she was on race day.
She trained and many times raced with us in the men's races. She was always positive, supportive, kind, and loved life. I will love and appreciate so many inspiring moments over the years that will shape and better me as a person and a racer on and off the bike. I will continue to carry the love and kindness in my heart that she gave me and so many others around the country in this cycling and racing community and family.
I will always try to share this with everyone around me and be a better person because of Gwen.
Jen Sharp – friend, teammate, competitor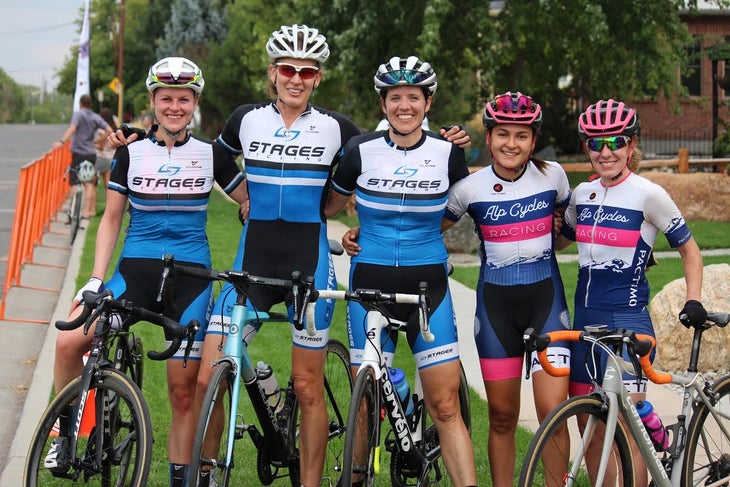 I met Gwen after I moved to Colorado in 2011. At six feet tall, she's hard to miss.  In races, she was always super strong, tactically savvy, and had a sixth sense for when to attack in races.
As competitors, I quickly learned to account for the Gwen factor and I knew, without fail, when I was suffering and the race was at its hardest point, she would launch herself into the race-winning move. And yet, despite ripping the peloton's legs off, she always had a smile and graciousness we all admired. I remember one poignant attack she launched at Deer Trail going up the final hill.
I could do nothing but watch her disappear into the distance. Noting that neither of us was racing with teammates, on the cool down back to our cars, I asked her if she'd like to join me on the Stages Cycling Team. Lucky me, she agreed.
We sprinted for cash primes, sunglasses, potato heads, bricks at Snake Alley, trophies in Kansas, as well as state and national championships. Gwen's excitement for sport and passion to move her body were infectious. We attracted a strong group of women to join us on the team and had fun playing with and teaching each other.
We spent a lot of time together traveling to out-of-state races.  Often, the highlight of the trip would be the deep, meaningful conversations on the drive.  Those are moments that I will always cherish. She loved her husband Mike with all her heart and held her family and friends in such high regard and was always supportive, encouraging, and loving. I will miss her so, so, SO much, and (racing) life won't be the same without her. Thank you, Gwen, for your kind and loving soul, and sharing many of life's lessons through our mutual pursuit of sport.
Benjamin Sharp – friend, teammate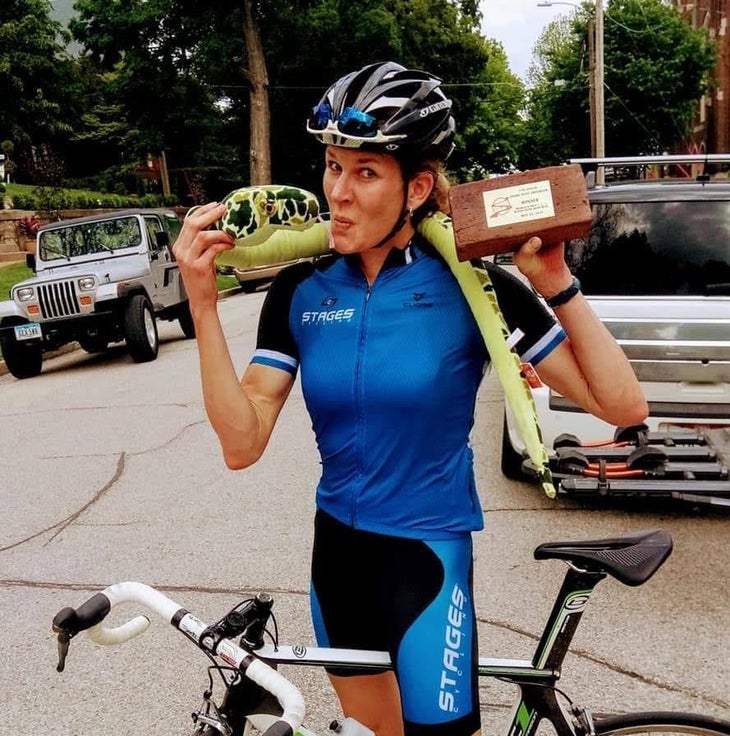 Gwen Inglis is someone who was always "there" — at the head of the race and on the podium after. Her distinct physical presence, rail thin with broad shoulders and imposing at 6 feet tall, were unmistakable. Everyone knew who Gwen was. More memorable than her physical prowess though was her infectious smile and pleasant, soothing, and encouraging demeanor.
On rare occasion do we come across someone in our lives that embodies "goodness." There are plenty of people that are "good" but Gwen was more than that. Not only was her outlook positive but her positivity was infectious. She cultivated that positivity in others and created an ever-growing bubble of good vibes.
I am proud to have been a teammate of Gwen's for five years. I cherish having been able to observe, first-hand, the effect she had on my wife, Jennifer, both as a competitor and as a teammate. Initially, Gwen and Jen would spar week after week in local races, battling for the top of the podium. Then, after joining forces as teammates, they would prop each other up to aim for the best results but the arena expanded and they were winning and placing in races around the country. Neither Gwen nor Jen is keen to take risks but, knowing that the other had her back gave each of them the freedom to spread their wings and compete to the best of their abilities.
2019 was a very successful racing year for Gwen. Among other victories, she won the Women's 45-59 National Road Race Championship and the Women's P/1/2 races at Snake Alley (photo above) and Davenport over Memorial Day Weekend. All three races were won in a solo breakaway. After Davenport she was giddy with excitement and not only did she exude her goodness and graciousness in victory but she demonstrated a level of self-belief in the race that I had not previously personally observed in this non-risk-taker.
Thank you, Gwen, for being a reliable friend, a wonderful teammate and a top-notch competitor. Most of all, thank you for leaving the world just that much better than you found it and for encouraging every one of us, through your actions and words, to do the same. You will be tremendously missed.
Kristen Legan – teammate, competitor, friend
There was no better wheel than Gwen's to sit on mid-race when your lungs were bursting from the effort or when the group turned straight into a monster headwind. The tall, lanky figure ahead would smile big and then gently push the pace forward with a smooth, calm persistence.
She was a fierce but friendly competitor who didn't shy from throwing vicious attacks on the road, but who would also be the first to congratulate another team for their hard work or result.
While I spent many years racing against Gwen on different teams, I was lucky to have one opportunity to race as a teammate with her at the Colorado Classic in 2015. Training with Gwen in the weeks before the race and pinning numbers on together throughout the weekend offered a glimpse into Gwen's full heart and calm demeanor. She had a love for cycling I've rarely witnessed and dedication to the sport, unlike any others.
We will all miss Gwen's welcoming, open spirit and her steady wheel to follow. For me, she'll always be that powerful competitor, looking over her shoulder to smile at you one more time before ripping your legs off in the final sprint to the finish.
Julie Emmerman – friend, competitor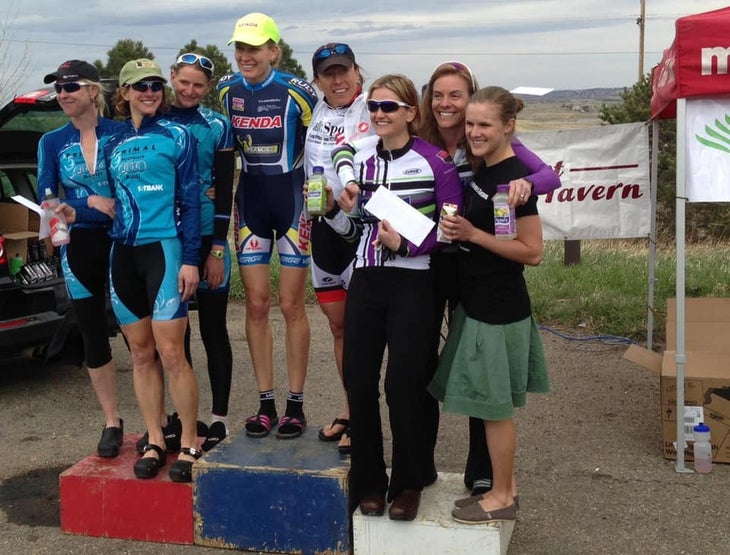 You accompanied and "led" me in more ways than you knew, and I think I did the same for you in complementary ways. I loved the experience of being able to trust you, to trust my friend so deeply.
Bike racing was just a joyful expression and medium through which we always had one another's back. We would get through things together, most often with a lot of silly or nervous laughter, and support one another in various life pursuits, challenges, and interests. There are too many things… words just aren't enough.
I'll always have your back, Gwen, and I'm going to try to feel you always having mine.
Jaime Cohen – friend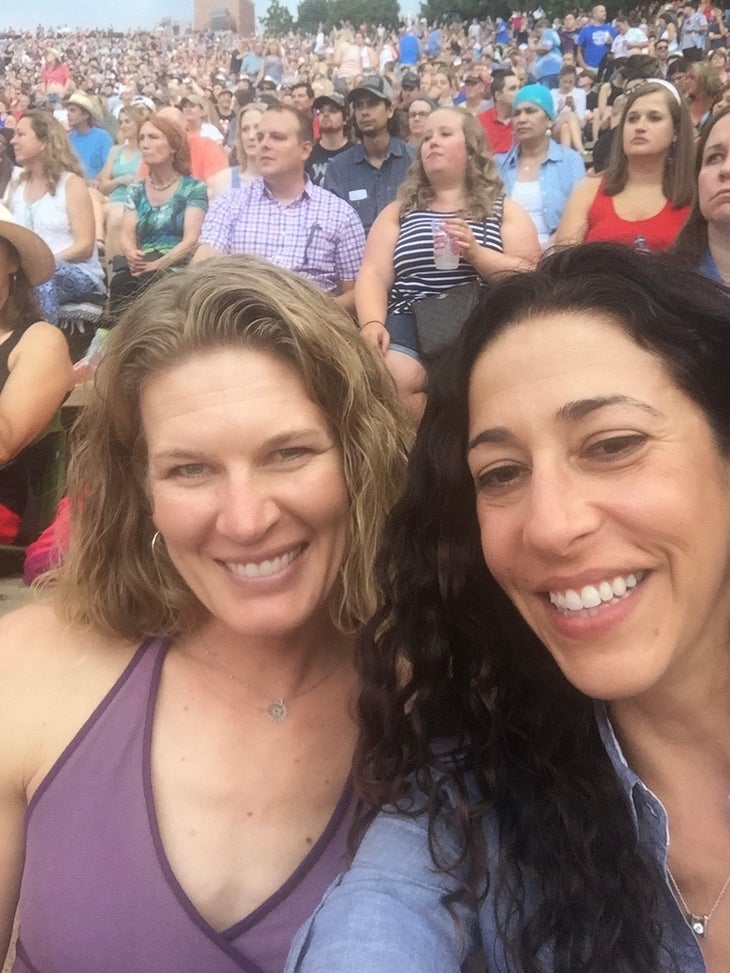 What an amazing woman and [a tragic] loss. After meeting Gwen in Saint Louis, for the Gateway Cup, she was a big part of how I was able to pick up and move to Colorado by myself.
She has touched so many lives and it is so hard to believe this tragedy has happened. Mike and Gwen were a huge force on that tandem and in life. I got to ride from Lakewood to Lyons and back one day on the back of the tandem when Gwen was not able to but Mike needed miles on the bike and of course, I could not come close to filling those powerful shoes.
Megan Hottman, friend, teammate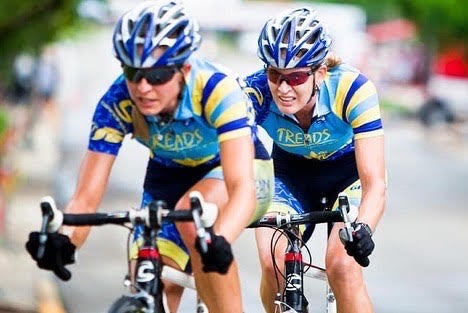 She was the consummate teammate and friend, devoted wife, kind human. She was a bright light to everyone who knew her or met her. You couldn't be in her presence and not be a better person. She elevated our sport. She's elevated those of us in her life. She loved her husband Mike fiercely and devotedly and she loved her family so much too. She could kick your ass in a race but make you feel like a million bucks. Or as your teammate she could set you up for the win and acted like you'd done it all by yourself. She was a faith-filled woman who made us all want to be better. That's why the mantra be like Gwen has stuck out for me. Let us all be more like Gwen. Ride hard. Smile. Hug lots. Laugh. Arms around one another. Arms up in the air victorious. #belikeGwen ️
Greg Casals – friend, team colleague
Gwen Inglis joined the team that Russ Griffin and I sponsor, Black Swift-Cycleton, in 2019 and was in the process of forming a women's racing team last year before COVID hit. Her husband, Mike Inglis, has been a long-time team member and Gwen and Mike have been close friends of my family.
As the director of our women's cycling team, and as an important mentor to so many other women in the sport, cycling lost a very dear person much too soon. Gwen loved cycling, loved to compete, and was always ready to wait for you before a turn or at the top of a climb to make sure you found your way.
More importantly, however, the world lost a wife to a special person, a daughter and sister to a wonderful family, and a friend to many. I will miss Gwen greatly.
Britta Siegel – friend, competitor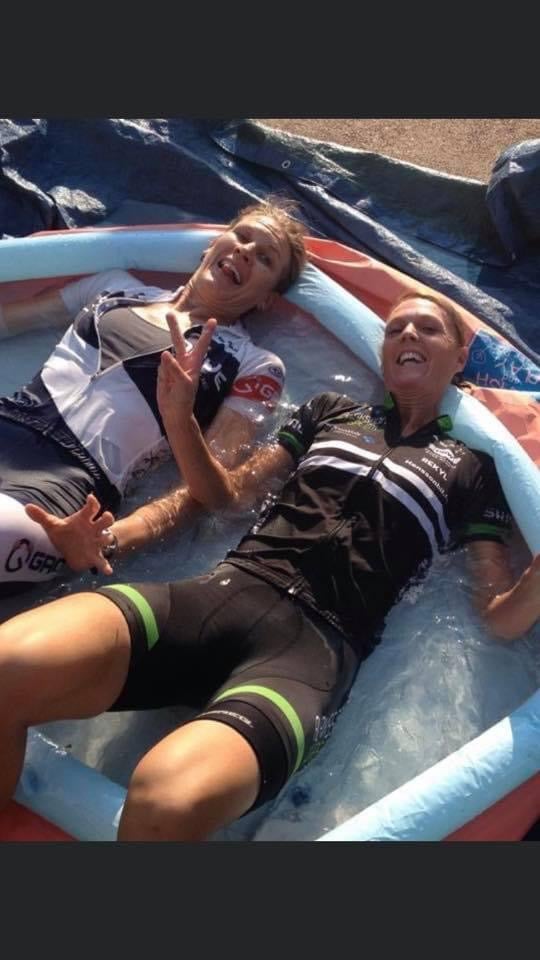 I have so many fond memories of Gwen. A favorite racing memory is of the Gateway Cup in 2014. A sweltering Summer in St.Louis at the Giro on The Hill ended with a cool off in a baby pool. A friendship that will never be forgotten, she was truly one of a kind. RIP my beautiful friend.
Ali Artzberger – teammate
I first met Gwen in August of 2019 on a community gravel ride. I noticed Gwen early on as she and her husband, Mike, towed the entire group around from the get-go aboard their tandem. They worked together seamlessly, exhibiting more confidence around gravel-strewn corners than many do on pristine pavement, each perfectly in-tune to what the other was doing and anticipating what was to come. Following that ride, Gwen and Mike introduced themselves and invited me to join their racing team, Black Swift-Cycleton. Gwen was all wisdom, highlighting the opportunities for me to be mentored by her, a national champion with racing experience in spades, and to contribute to the growth of the women's side of the sport. Mike was all excitement, promising that, sure, other teams will come around and try to snatch me up, but this team — their team — knew how to have fun! They were a family, and they did wild things, and maybe sometimes it wasn't glamorous, but it was for the love of being on two wheels and pushing yourself to new limits. Again, I could tell that these two struck an amazing balance: Gwen's practicality and Mike's exuberance converging over two wheels (and in all other facets of their lives together) to create a partnership that was and will continue to be a net positive addition to the cycling community.
Following our introduction, Gwen contributed enormously to my development as a cyclist and as a person. On team rides and during races she took every opportunity to highlight what I was doing well and where I could make improvements. She listened patiently when I asked questions and talked me down when I was tightrope-walking the fine line between fatigued panic and full-blown bonk. And I was perpetually inspired by the example she and Mikes set for what being a teammate, in cycling and in life, truly meant.
When I returned from my own day on the bike on May 16 to see the emails and messages alerting me to the fact that Gwen had been fatally struck by a driver, it took me time to process this terrible loss. It did not take time for me to be sickened by the idea of Mike, 100 yards behind Gwen at the time, having to watch as his wife, adventure partner, best friend, was so carelessly taken from him. How many times have I been out riding with my dad and been buzzed by a driver who feels inconvenienced by our presence? How could I ever possibly rebound from an event in which my dad and I take the positions of Gwen and Mike? The idea is unbearable.
While the immediacy of Gwen's passing is itself immeasurable, that is not where this tragedy ends. The wound left in her place will perpetuate. I know enough about my teammates and the cycling community to know that we will do our utmost to honor Gwen's memory and move toward healing. We will turn her passing into something beautiful. But Mike, especially, will always bear the scar. He will bear it proudly, and with as much gumption as he does everything else in his life, but that does not mean it is a scar he should be forced to bear. A driver's disregard for a cyclist's humanity is not contained to that single individual. It matriculates, dismissing the humanity of all those who love them and the devastation that will be spread if they are taken.
That tandem bike which Gwen and Mike piloted so well the first time I met them is still rideable with Mike as sole captain. But that is not the way it is meant to be ridden. In support of Mike and in Gwen's memory we will offer ourselves to metaphorically fill that second saddle. We will do what we can to restore it to full-power, towing the bunch at the next group ride, where it should be. And where Gwen should be.
Paisley Sheehan – teammate
Gwen was an awesome cyclist and an incredible person. I knew of her first as an incredibly strong and powerful cyclist who would win the women's P-1-2 races and then go race in the men's race right after and hang with the best of them. In early 2020 she reached out to me to see if I wanted to be on her team. She was starting the Black Swift-Cycleton women's team and when she shared her vision for the team with me I knew I wanted in. Her vision was to bring together a strong group of women who loved to ride, to compete, and wanted a team to grow in.
She was the perfect team leader and person to look up to. Even though 2020 was the worst year to join a cycling team, Gwen created a culture of passion and teamwork. The two races we were able to do last summer were great. As a relatively inexperienced racer, I looked up to her experience and insight which so readily shared in those races. There was no ego or need to prove anything. Gwen just wanted to ride her bike, go hard, and elevate her teammates up alongside her.
This past winter I was fortunate again to be able to race on the Stages team with Gwen in Zwift's WTRL Racing League. Virtual teams are hard, especially when the team was spread out all over the country but Gwen was always showing up, communicating, and working hard.
It was clear Gwen cared about her teammates. She made sure to initiate communication with the women's Black Swift-Cycleton team when races started getting canceled last year. And she continued to reach out to me and include me even after I moved to Montana in the fall and would be doing different races.
I feel incredibly lucky to have been able to call Gwen a teammate and friend even though we didn't know each other that long. She so clearly made a great impact on the cycling community and will be greatly missed.
Tim McAndrew – friend
I met Gwen nearly 10 years ago in a season of spin classes led by our mutual friend, Megan Hottman. Of course I had no idea who Gwen was at first but anyone who knows Gwen knows that's exactly how she rolls – quiet, humble, incredibly kind. She showed up, always said hi, offered a kind word and smile, and then lit that bike up like the true badass she was. And although Mike wasn't there as often he too always had a smile and whole can of whoop-ass to share. Man, was it fun watching them show the rest of us how to train like pros.
I don't know Gwen and Mike well but over the years I've run into them out on the road and occasionally share a ride together. I was just relaying the tale of one of those rides to friends on the way back from Moab Sunday afternoon (uncanny). It was during the Golden Gran Fondo some years back. Gwen and Mike as usual were crushing it on their rocket-fueled tandem and encouraged me (as if I had any say in the matter) to ride their slipstream for a good part of the day. I had a smile my face a mile wide the whole day and it was that same smile I wore yesterday retelling the story.
Even though I'm just a recreational rider Gwen and Mike never made me feel like one. In fact, just the opposite – treating me as I've always been on Team Inglis.
Thanks for touching my life Gwen. You will be deeply and profoundly missed.
Bart Sheldrake and Whitney Painter, fellow cyclists
Like many in the cycling community, we recall back to when cycling brought Gwen and Mike together. As enthusiastic tandem cyclists, we've seen plenty of couples attempt tandem riding without the graceful and admirable outcomes we had the privilege to witness when Gwen and Mike rode together. We raced together a bit over the years, and always enjoyed Gwen's consistently magnificent smile regardless of the day or the outcome. Just a few months ago, we were descending on the tandem and another bike came past us with two riders on single bikes–an uncommon experience. We knew right away who it must be! The four of us had a quick visit at the bottom of the hill, and we'll never forget the joyful exchange that can only be shared between cyclists out on the road on a sunny Colorado day. Gwen and Mike left us in the dust with big smiles on their faces as always. The world has lost an adventurous soul and we are holding Mike in our hearts.
Jenner Yaseo – teammate, friend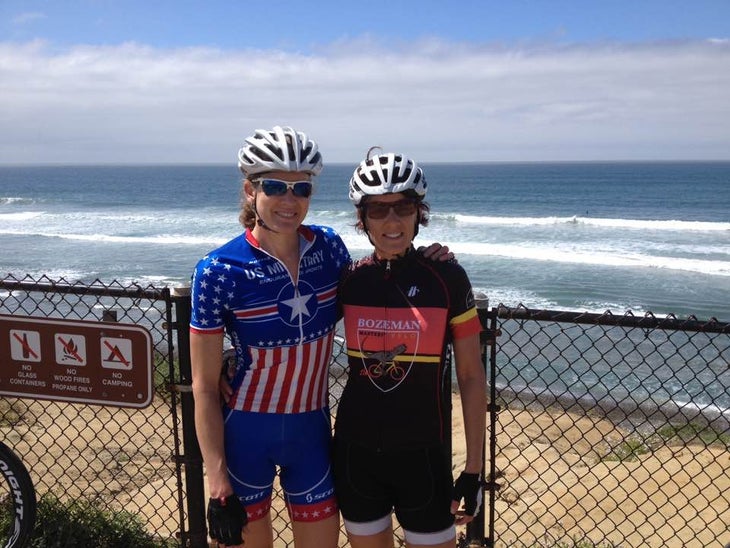 Gwen Inglis: Devoted friend, spouse, daughter, Aunt, Dog Mom, and athlete. She enriched everyone around her with her warm smile and heart. She always made you feel special and strong. We enjoyed so many miles, laughs and life adventures together, traveling to races all over Colorado and the US. My heart aches at the tragic loss of Gwen.   Gwen, Mike, and family you will forever be in my heart. I will miss you, your thoughtful texts, calls, laughs and kind heart.