Back from injuries, Hyde looks poised to repeat at U.S. nationals
A massive crash at Pan-American Championships kept Hyde out of the races for a month, but he is happy, fresh, and on track for nationals.
Heading out the door? Read this article on the new Outside+ app available now on iOS devices for members! Download the app.
Stephen Hyde pulled his badly sprained ankle out of a medical boot, snugged up his cycling shoes, and started down another road to recovery. It was just five days after Hyde, the two-time defending U.S. cyclocross champion, had slammed into a concrete staircase during the November 4 Pan-American championships in Ontario.
"I was on the bike pedaling before I could walk," Hyde (Cannondale-Cyclocrossworld.com) told VeloNews. "I would pull my foot out of the boot, put it in a cycling shoe."
The crash at the Pan-Am Championships left Hyde with dislocated rib cartilage and a mild concussion to go along with the sprained ankle. The painful batch of injuries kept Hyde from racing for four agonizing weeks. During that period he rode mostly indoors as New England's weather became cold and snowy. Yet as Hyde has always done, he took the setback as a way to reaffirm his commitment and motivation. This was more fuel for the fire.
The injuries marked the second major setback for Hyde this season. At the end of September, he broke his sternum in a crash at the World Cup in Waterloo, Wisconsin. After grinding through rehabilitation, the Canadian event was only his second weekend back after the injury.
"It was pretty devastating," Hyde said. "I had to be very honest with myself. I had to look at my season as a whole and look at how much was left, and really evaluate my motivations, be very honest. What can I get out of the rest of the season?"
In 2017, Hyde had won the Pan-Am Championships on the heels of four consecutive UCI wins. The victory marked his 13th race of the season at that point. In 2018, by contrast, Hyde had only eight races under his belt by the season's midpoint, three of which were DNFs.
Hyde looked at the chalkboard he uses to chart out his major goals and reassessed his season.
"It's always a good reminder for me of, 'Hey you set these goals when you were ambitious and you knew yourself, and do you still think you know yourself like you did then?'" Hyde said. "And I certainly did, and I looked at them and said, 'OK these goals still stand.'"
So Hyde set up his trainer in the basement of the house he and his fiancée Hayley recently bought in Easthampton, Massachusetts. With snow, ice, and cold weather making outdoor riding impractical, Hyde logged hours indoors.
Ordinarily, he would be traveling to races, fitting in training rides where he could. Hyde had to be pragmatic with the unfamiliar routine of indoor riding.
"I had to be very realistic of how much I can do on a trainer," he said. "Can I do two weeks of normal 25-hour weeks indoors? But two days in, that motivation starts to wane. Once you've gone through your first Netflix series in two days you're like OK!"
Apart from binge-watching TV shows, he also had Hayley for company. She joined him to ride an hour indoors every day, giving him something to look forward to.
After a few weeks, Hyde felt his body heal. He went running and did a few rides outdoors in the snow. He planned his return for the NBX Gran Prix in Rhode Island, December 2-3.
The comeback couldn't have gone much better.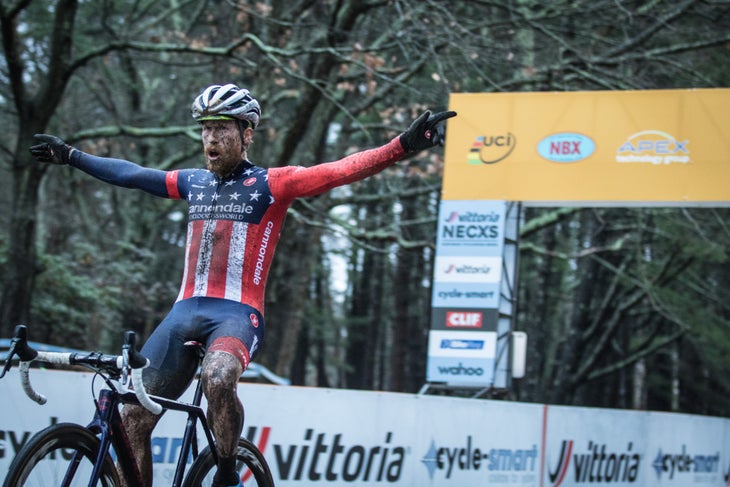 Hyde won both days, beating his Cannondale teammate Curtis White on Saturday and taking a decisive victory over Kerry Werner (Kona-Shimano) in a muddy race to close out the weekend.
The wins were a huge relief for Hyde.
"I couldn't help but get a little emotional after that first day," he said. "That felt good but I think I'm crying right now."
He attributes the barnstorming return to a rehabilitation that encompassed not only his body but also his internal fire to be at the front of the race.
"I pushed hard to be fresh and to be happy and to be good for this last weekend," Hyde said. "For me, it was a really big accomplishment to show up happy and ready to race. I knew that really only good things come out of that. Feeling good, feeling excited to be there, and that's going to drive me way more than seeing any big [power] numbers or anything like that."
Hyde plans to race one more event, the North Carolina Grand Prix, December 8-9, before competing for a third Stars and Stripes jersey in Louisville, Kentucky, December 16. He's wary of Jeremy Powers's experience, his ability to handle changing conditions that might occur in Louisville, with its unpredictable rainy conditions. Hyde also points to Werner as one of the best riders in muddy conditions. And another challenge could come from his own teammate, White, who has blossomed into one of the country's best this fall.
Hyde wants a thrilling battle, though, more so than a guaranteed third title.
"I'm excited for the competition, I never want to go out and just win, I want to go out and fight," Hyde said. "I'm not here to roll away from things. I like the fight. I hope it's exciting again, win or lose."