Compton's 'cross nationals streak might end in Louisville
With fourteen national titles to her credit, Katie Compton admits a 15th one might be hard to come by, as she is recovering from illness.
Photo: Luc Claessen/Getty Images
Heading out the door? Read this article on the new Outside+ app available now on iOS devices for members! Download the app.
Fourteen-time U.S. national cyclocross champion Katie Compton (KFC Racing-Trek-Knight Composites) has been around long enough that she isn't afraid to sugarcoat things. Her bid to win a 15th consecutive Stars and Stripes jersey is going to be harder than any previous championship.
"This year is my worst season yet," she told VeloNews after returning home to Colorado Springs from a stint of racing in Europe.
The first three months of her cyclocross season were derailed by allergies, asthma, and illness. Her best result up to this point was third place at the World Cup in Bern in mid-October. She hasn't won a single race this fall. One year ago, at the start of December, she had won six races, including the Pan-American Championships, and made the podium in four other UCI races.
Compton's trouble began early in September, when bad allergies at the World Cup opener in Waterloo, Wisconsin forced her to abandon the race. The next weekend's World Cup in Iowa City wasn't much better — she finished 15th.
Back in Europe, she seemed to be recovering in mid-October, riding to third at Ardooie and third at Bern. The rebound was short-lived, though.
"As soon as I was starting to recover from that feeling good," she said, "I got sick with a stomach flu right after Bern and before Koppenberg, and that virus is still in my system. It's frustrating because I've been trying to rest and train and it hasn't been going so great."
A few weeks later, blood testing showed that she still had a virus in her system, but she raced the Koksijde World Cup anyway, finishing 13th.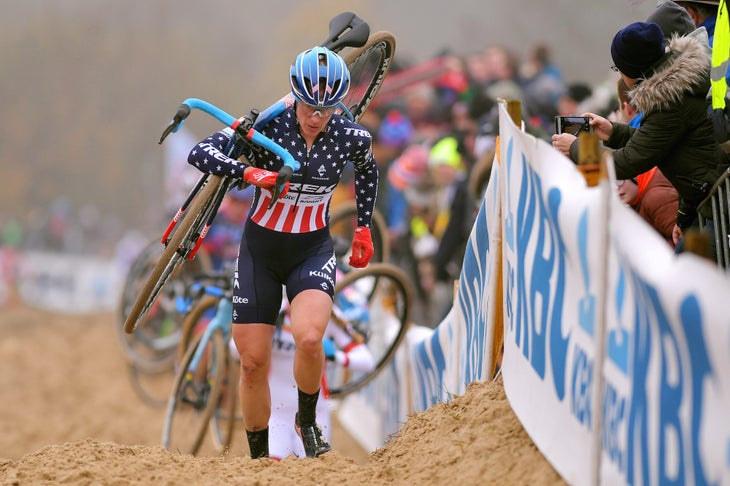 "There's always hope that it'll be better — maybe this race will be better," she said. "I've had some decent ones. There were a couple races where I didn't have bad breathing issues and I was able to finish OK."
However, "OK" isn't good enough for the 24-time World Cup winner, especially because on December 16, at national championships, she will face two young challengers that keep improving: Kaitie Keough and Ellen Noble.
"It's a little bit hard to keep confident," she said. "It's tough because Kaitie [Keough] and Ellen [Noble] are riding well too. I think Ellen's had her best season yet. Kaitie came on super-strong and won the Iowa World Cup. They're both really good riders."
Compton says Keough (Cannondale-Cyclocrossworld.com) will be a threat if the national championship race in Louisville, Kentucky, turns into a sloppy mud-fest. The defending champ says Keough is a better runner with great technical skills.
Plus, Keough has already proven herself against the world's best in the season's heaviest, muddiest World Cup to date in Iowa City.
"That was amazing. I was so happy for her," Compton says remembering the late-September race. She and Keough are friends and riding partners, both living in Colorado Springs. Compton even went so far as to slow down on the final lap so she could see Keough cross the line for her first World Cup win.
"It felt amazing to see it, to hear it, to know Kaitie won her first World Cup, especially in the U.S., not too far from where she grew up," Compton said. "It's like seeing your little sister win, it's pretty great."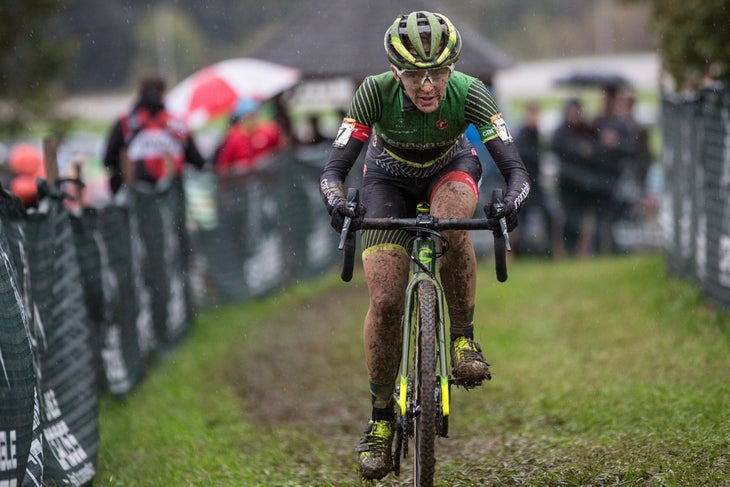 At 39, Compton is 13 years older than Keough, but there is another nationals challenger that is an even fresher face, Ellen Noble, 22 (Trek Factory Racing).
Compton is wary of Noble's sprint, her knack for high-speed races.
"Muddy but not super heavy muddy because she's got a good turn of speed and good sprint," Compton said, describing a course that would suit Noble. "Something where it's mud — but not like running mud — where she can still use her speedy power."
Although her two challengers have been on a North American-centric race program, racing sparingly in Europe, Compton knows their strengths well enough. And she knows foul weather could be to her advantage.
"I personally like it to be a heavier course because I just enjoy heavier courses, but it just depends on the weather," she said. "I just go back to that what I can do and what suits my strength and my power. I just pretend they're going to come in feeling really good."
Over the course of her pro cyclocross career, which dates back to her first elite national cyclocross championships in 2000 where she was seventh, Compton has faced numerous setbacks. From asthma to mysterious leg pains to allergies, her sterling record on the international circuit has been punctuated by low points. Through it all, she's always won nationals. This year could be different, but Compton is circumspect about it all.
"This is the first year where it could go either way," she said. "I've had a really good run and I'm really proud of what I've accomplished. I knew at some point I'd get to this point where the luck would run out and either I'd struggle fitness-wise or sickness-wise, or just my stupid leg pains would come back, something where I wouldn't have a good day for nationals.
"But I also know that when I'm on, I'm on; it just depends on what my body wants to do that day."