Johnson and Gould leave the competition in the dust at Louisville USGP
National champ Tim Johnson says a water bottle saved the day in Louisville, while Georgia Gould leaves the competition in the dust.
Heading out the door? Read this article on the new Outside+ app available now on iOS devices for members! Download the app.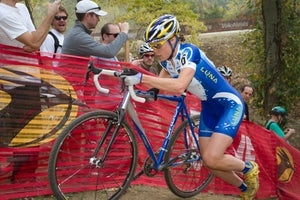 A bottle and a bobble made all the difference in the men's and women's races at the Derby City Cup in Louisville, Kentucky, Saturday.
For the men, Tim Johnson said his last-minute decision to run a bottle cage and bottle in the dusty, 80-degree conditions may have given him the strength to hold off an on-form Ryan Trebon in the final third of the race.
And for the women, a first-lap bobble by Natasha Elliott in a sand pit gave a charging Georgia Gould a gap that grew to nearly two minutes at the finish.
Johnson's and Gould's hard-fought wins came at the edge of the Ohio River, at the city park that will welcome the cyclocross world championships in 2013.
Organizers were eager to test some routes and features ahead of the worlds (the venue also will host the 2012 masters world championships).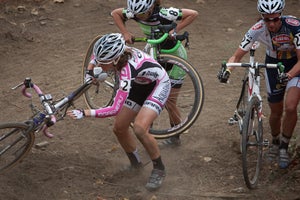 The course used for Saturday's U.S. Gran Prix of Cyclocross got positive reviews from the top racers, who called it difficult but not gimmicky, relying mostly on natural features — including a natural dune that produced a rare downhill sand section. The course's several short, steep climbs, long sand pits, the heat and the dust weighed heavily on racers in all categories. Most pros dismounted four times a lap (many non-pros dismounted much more) and few finished looking eager for more.
Gould of old
Georgia Gould's ride Saturday was reminiscent of her dominating ways in 2007 (when she won four USGPs and the overall) and 2008 (when she won three USGPs).
The Luna Chix stalwart came into the weekend as one of three or four favorites. National champ Katie Compton is resting in Colorado while Amy Dombroski and Gould's teammate Katerina Nash are racing in Europe. That put the pressure on Gould, Meredith Miller (Cal Giant-Specialized), Laura Van Gilder (C3-Athletes Serving Athletes) and Elliott (Garneau-Club Chaussures-Ogilvy).
Van Gilder got the holeshot, but Elliott took over early in the first lap, opening a huge gap.
Gould, who started conservatively, worked her way up to Elliott, with Meredith Miller in tow. They made contact just as they hit the course's first sandpit. Elliott dropped into the pit too fast and flipped, while Gould chugged by. Miller was, by her own post-race concession, too close to Gould's wheel, and when Gould jumped off her bike to run the second half of the sandpit, Miller bumped into her and fell. Others plowed into her.
"I got someone's brake lever attached to my seatpost, and I couldn't untangle that, and then my wheel wouldn't turn because the brake cable had come off … " Miller recounted. Concerned about the wheel and the brake, Miller lost more time when she took a fresh bike in the pit, and found herself back in 20th place or worse while still on the first lap.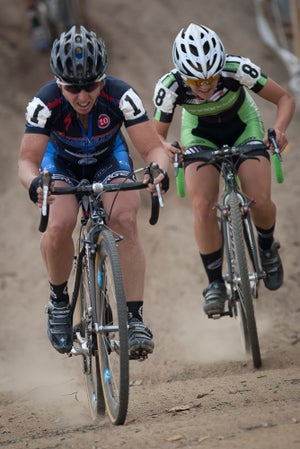 Van Gilder also went down in the sandpit and when she realized she couldn't shift to the small chainring, made the difficult decision to switch bikes a lap and a half later.
"That was a gamble, because the course was so fast through there that you lose a lot of time if you go into the pit. But I thought I needed the small ring to stay fresh," she said.
Up front, Gould took the gap out of the sandpit and set off to make the best of it. She had a 17-second lead at the end of the first lap and her gap just kept growing as the national mountain bike champion negotiated the loose, dusty corners and steep climbs and drops with aplomb.
Elliott, Van Gilder and Kaitlin Antonneau (Cannondale-cyclocrossworld.com) chased desperately, and while Elliott was able to get a gap on the others and a clear shot at second, no one could make up any ground on Gould.
"It was little mistakes that caused the gaps that we had to close to Georgia," Van Gilder said. "When you have someone who can ride really smoothly at the front — and we were pushing it so much that we were all making mistakes at the back — it's hard. I think all of us made at least a couple mistakes … but that's because we were all racing hard to get her. It wasn't that we didn't have the skill, we were just pushing it to the hilt."
If Gould made any mistakes or bobbles on the tricky course, she couldn't recall them afterward, and no one claimed to have seen them.
"I think I had a good race!" Gould told VeloNews afterward, then laughed at her own understatement. "I mean, yeah, I had a good race, I won, but I mean I rode cleanly, I didn't have any problems."
Besides the day's win, Gould takes over the series lead from Compton.
Johnson accessorizes
A new UCI rule for this season allows water hand-ups at 'cross races when the temperature is above 68 degrees, at the race officials' discretion. The feeds are not allowed in the first two or the last two laps, however.
Johnson was unsure if the feeds would be allowed Saturday, and after seeing the red and dusty faces of the women finishers, he decided about ten minutes before the start to mount a bottle cage. He was the only rider in the men's race with a bottle.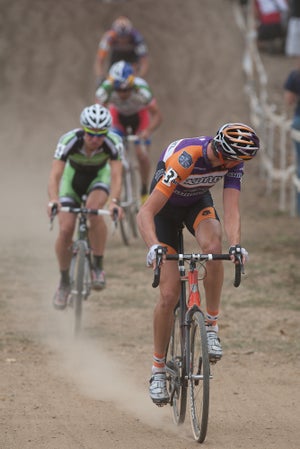 Officials did allow hand-ups, and many riders made use of the rule. Powers said he took a bottle almost every lap they were allowed.
Trebon did not and later told VeloNews he thinks feeding is a bad idea for cyclocross because the hand-ups are dangerous.
"I don't think it's needed, it's only an hour-long race," he said.
In any case, Powers started strong and was soon joined at the front by Trebon, Johnson and Trebon's teammate Barry Wicks. For a lap or so it looked like 2007 and 2008 again, with Kona's Twin Towers battling the Cyclocrossworld.com team once again.
Wicks — one of the very few riders who could ride the dusty run-up, even on the hectic opening lap — faded in the third lap. Two laps later Powers fell off the pace, too, leaving Johnson and Trebon to trade blows as they have so many times in recent years.
Several times, each rider came through a technical section or turn with a small advantage, but neither could make it stick. Over the 'Green Monster' fly-over, Trebon pounded up the tall steps with his long legs, while Johnson took rapid-fire double steps as his mother and family friends cheered him on.
Johnson had noticed on the start line that Trebon started with file-tread tires, while almost everyone else in the pro field had regular knobbies (the other exception was Johnson's teammate Jamey Driscoll). Johnson thought Trebon's tires might give him trouble in the loose, rooty turns on the course's lower section.
With five laps to go, Johnson attacked on a fast section past the pits, carried a tiny gap over the Green Monster and pushed it hard into the lower corners, where he thought Trebon might have a hard time.
But the effort gained only a few feet on Trebon, who felt his tire choice was no disadvantage. The next obstacle was the sand pit, where Trebon jumped off and started running while Johnson tried to ride the whole way. Johnson almost made it and those few feet he gained in the sand finally broke the elastic and gave Johnson his first real gap of the day.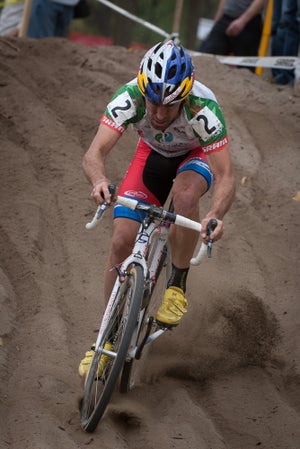 "It was not looking very promising for the first five laps," Johnson said later. "Ryan went really fast, then he slowed down and then he went really fast again. And when he was going fast I didn't think I was going to be able to hold it. And that's the kind of doubt you want to try and avoid. It's the self talk thing you have in a race, you're like, 'I don't know if I can handle this, I don't know if I can keep going.' I just had to kind of get through it.
"The water bottle thing helped a lot, it really did. So when I did attack I felt like I had something and in a race like this when it's so dry and so fast and so dusty, when you have a little bit extra it does pay off. "
From there the two time trialed to the finish. Johnson's gap was never more than about 20 seconds, but he held it confidently. With his win he retained his USGP leader's jersey and garnered a few more valuable UCI points that will improve his starting position the next time he races in Europe.
Behind the lead pair, Powers suffered through the middle part of the race and it looked like his podium spot was in jeopardy when he was caught by Todd Wells and Jesse Anthony. He rallied in the last couple laps, however, and managed to get away from Wells on the last lap to take third by a few seconds.
Powers has had a great start to his season, including a 20th place at the Aigle World Cup and wins at Gloucester, Cincinnati, and the first USGP race in Wisconsin. But the travel is starting to wear him down.
"It's like every week I have 72 hours at home and then I get back on a plane. No excuses, I didn't have very good legs today, it's just starting to catch up. I really need to reset and then take a break and get back to some good four- or five-hour rides and some good intervals and take it from there," he said.
The USGP will continue Sunday at the same venue but with a different course.



2010 Derby City Cup USGP, day 1

2010 Derby City Cup USGP, day 1

2010 Derby City Cup USGP, day 1

2010 Derby City Cup USGP, day 1

2010 Derby City Cup USGP, day 1

2010 Derby City Cup USGP, day 1

Men

1. Timothy Johnson, (USA) Cannondale P/b Cyclocrossworld.
2. Ryan Trebon, (USA) Kona
3. Jeremy Powers, (USA) Cannondale P/b Cyclocrossworld.
4. Todd Wells, (USA) Specialized
5. Tristan Schouten, (USA) Iscorp Cycling Team
6. Jesse Anthony, (USA) California Giant / Specialized
7. James Driscoll, (USA) Cannondale P/b Cyclocrossworld.
8. Christopher Jones, (USA) Rapha / Focus
9. Derrick St John, (CAN) Garneau Club Chaussure-Olgivy
10. Barry Wicks, (USA) Kona
11. Davide Frattini, (ITA) Team Type 1
12. Brian Matter, (USA) Gear Grinder
13. Geoff Kabush, (CAN) Team Maxxis / Rocky Mount
14. Matthew Pacocha, (USA) Hudz-Subaru
15. Adam Mcgrath, (USA) Feedback Sports/van Dessel
16. Daniel Summerhill, (USA) Team Holowesko Partners
17. Luke Keough, (USA) Champion System P/b Keough Cycl
18. Mark Lalonde, (USA)
19. Cody Kaiser, (USA) California Giant Berry Farms/sp
20. Justin Robinson, (USA) California Giant Berry Farms/sp
21. Troy Wells, (USA) Team Clif Bar
22. Braden Kappius, (USA) Team Clif Bar
23. Frank Spiteri, (USA) Peninsula Velo/pomodoro
24. Tom Burke, (USA) Lathrup Industries/giant Bicycl
25. Greg Wittwer, (USA) Alan North America Cycling
26. Mike Sherer, (USA) The Pony Shop
27. Joachim Parbo, (DEN) Kch Leopard Cycles
28. Ryan Iddings, (USA) Team Redline
29. Mitchell Hoke, (USA) Clif Bar Development Cyclo-Cros
30. Jeremy Ferguson, (USA) California Giant/specialized
31. Brad Cole, (USA) Kccx/verge Presented By Challen
32. Joseph Schmalz, (USA) Kccx/verge Presented By Challen
33. Troy Heithecker, (USA) Echelon Energy
34. Dave Hackworthy, (USA) Bianchi/grand Performance
35. Andrew Reardon, (USA) Van Dessel / Real Design
36. Robin Eckmann, (USA) Hot Tubes Development Cycling T
37. Matt Shriver, (USA) Rocky Mountain Chocolate Factor
38. Eric Wondergem, (USA) Hup United
39. Clayton Omer, (USA) Papa John's
40. Steve Fisher, (USA) Rad Racing Nw / Hagens Berman
41. Noah Metzler, (USA) Team Globalbike
42. William Fyfe, (USA) Birmingham Bicycle Company P/b
43. Bryan Fawley, (USA) Park Place Dealerships
44. Scott Mclaughlin, (USA) Sram Factory
45. Robert Kendall, (USA) Bob's Red Mill
46. Kevin Mcconnell, (USA) Mercy-Specialized
47. Skyler Trujillo, (USA) Black Sheep Jr. Cycling
48. Joshua Johnson, (USA) Drt Racing
49. Christopher Bogedin, (USA) Ccsh – Rgf Pb Felt Bicycles Eli
50. Cary Fridrich, (USA) Embrocation Cycling Journal
51. David Mcneal, (USA) Bbc P/b Wheelworx
52. Erik Hamilton, (USA) Nuvo Cultural Trail
53. Sean Babcock, (USA) Kona
54. Kip Spaude, (USA)
55. Zachary Edwards, (USA) Drt Racing
56. Matthew Allen, (USA) Behind Bars/ Little Guy Racing
57. Jason Karew, (USA) Bishops Bicycles
58. Joshua Whitmore, (USA) Team Globalbike
59. Matthew Spohn, (USA) Cyfac-Champion System Racing Te
60. Daniel Gerow, (USA) Wolverines/acfstores.com
61. Dustin Greer, (USA) Maxxis
62. Gregg Shanefelt, (USA) Zws/cyclesport
DNF Valentin Scherz, (SUI) Cyfac-Champion System P/b Revol
DNF Anthony Grand, (SUI) Cyfac-Champion System P/b Revol
DNF Ryan Knapp, (USA) Bikereg.com
DNF Nicholas Weighall, (USA) California Giant Berry Farms/sp
DNF Andrew Wulfkuhle, (USA) C3-Athletes Serving Athletes
DNF Zach Mcdonald, (USA) Rapha / Focus
DNF Andrew Llewellyn, (USA) Texas Roadhouse Cycling Team P/
DNF Matthew Weeks, (USA) Team Lake Effect
DNF Anthony Slowinski, (USA) Backwoods Racing
DNF Ezra Taylor, (USA) Peacock Groove
DNF Isaac Neff, (USA) Alderfer Bergen

Women


1. Georgia Gould, (USA) Luna Pro Team
2. Natasha Elliott, (CAN) Garneau Club Chaussure-Olgivy
3. Laura Van Gilder, (USA) Mellow Mushroom
4. Kaitlin Antonneau, (USA) Team Kenda
5. Meredith Miller, (USA) California Giant Berry Farms/sp
6. Katherine Sherwin, (USA) Hudz-Subaru
7. Nicole Duke, (USA) The Gear Movement
8. Teal Stetson-lee, (USA) California Giant Berry Farms/sp
9. Pepper Harlton, (CAN) Juventus Cycling Club
10. Amanda Carey, (USA) Kenda/felt
11. Linda Sone, (USA) Minneapolis Bicycle Racing Club
12. Ashley James, (USA) Team Kenda
13. Jennifer Maxwell, (USA) Van Dessel Factory Team P/b Ste
14. Maureen Bruno Roy, (USA) Mm Racing P/b Seven Cycles
15. Marne Smiley, (USA) Scott/ Ollett Coaching
16. Lisa Strong, (USA) Natural Grocers P/b Xp Companie
17. Kimberly Flynn, (USA) Grace Law-Trek P/b Vantaggio
18. Robin Williams, (USA) Mercy-Specialized
19. Nicole Borem, (USA) Drt Racing
20. Lisa Hudson, (USA) Feedback Sports
21. Erin Silliman, (USA) Fruit 66/artemis
22. Holly Klug, (USA) The Pony Shop
23. Carrie Cash Wootten, (USA) Team Vera Bradley Foundation
24. Anne Schwartz, (USA) Flying Rhino Cycling Club
25. Lauri Webber, (USA) Secret Henrys Team
26. Jeanne Fleck, (USA) Velo Duluth/twin Ports Cyclery
27. Nina Elliott, (USA) Greenville Women's Cycling
28. Sweeney Whitmore Deb, (USA) Performance Bicycle Racing Team
29. Geraldine Schulze, (USA) Bio Wheels Racing
30. Amanda Mckay, (USA) Shamrock Cycles
31. Meghan Korol, (USA) Mafia Racing
32. Shannon Gibson, (USA) Velo Bella
33. Bridget Donovan, (USA) Trek Store Cincinnati/ Seven Cy
34. Lynn Bush, (USA) Tough Girl / Scott
35. Tammy Wallace, (USA) Thinkcash Racing
36. Melissa Corliss, (USA) Michelob Ultra Cycling
37. Kiersta31 Tucker, (USA) Wood – N – Wave
DNF Lenore Pipes, (USA) Fruit 66/artemis
DNF Annajean Dallaire, (USA) Alderfer Bergen