Mathieu van der Poel and the weight of world championship expectation
Van der Poel hunts first cyclocross world title on Dutch soil as father and course-designer Adrie insists he's not rebuilt the circuit for his son.
Photo: Jasper Jacobs/Belga Mag/AFP via Getty Images
Heading out the door? Read this article on the new Outside+ app available now on iOS devices for members! Download the app.
Mathieu van der Poel won cyclocross rainbows in the Czech Republic, Denmark, Switzerland, and Belgium.
But never on home Dutch soil.
The four-time elite champion is on a mission to make up lost time Sunday in the closest place to "home" possible when he bumps bars with archrival Wout van Aert at the 2022-23 cyclocross world championships
It's a race loaded with plotlines as a decade-long duel resumes in the veritable Van der Poel family fortress of Hoogerheide.
"Without a victory, I will not have a good feeling about this winter. The Christmas period was good in terms of results, but even there I expected a little more," Van der Poel told Het Nieuwsblad.
"I didn't reach the level I had in mind this season. But if you win the world championships, none of that matters anymore."
Also read:
The Hoogerheide circuit carries expectations, history, and some hard memories for Van der Poel.
The track is co-designed by father Adrie, is known as the "GP Adrie Van der Poel," and saw Mathieu amass five elite victories on its mostly flat and fast surface.
Some of the Van der Poel family even called it "home" when they settled in the small Dutch village.
"There are some nerves, but not like before. It's still a world championships," Van der Poel said of Sunday's race, his first worlds since he won on Oostende's beach in 2021. "It will be special – even more so because it is in Hoogerheide."
The heat is on Van der Poel in his return to well-known territory.
Van der Poel twice came up short in the hunt for rainbows on Dutch soil. He lost out to Van Aert in Hoogerheide in the 2014 U23 race, and again to his lifelong foe on a slippery showdown in Valkenberg in 2018.
The 28-year-old Van der Poel isn't spooked.
"Valkenburg was a very atypical course, and that is now four years ago," he said.
"I am not the same rider as I was then. And after that, it always went well. I don't think I've lost a world championships since – Indeed: Bogense, Dübendorf, Oostend, three wins. And last year I was not there because of my back problems.
"It is not the case that I start with fear in my body because it went wrong the last two times in the Netherlands."
Adrie: 'I build a course with the resources I have, I don't look at the riders'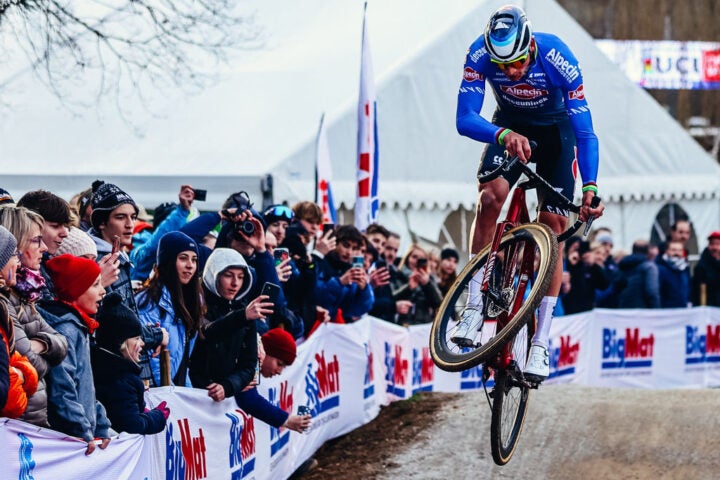 Alarm bells rang loud through Begium when the 63-year-old Adrie tweaked the historic Hooherheide circuit this week.
Some potentially soggy sections were cut in the hunt for fast and furious racing, and a crucial set of barriers was pushed closer to the finish line in a  move some said favored Van der Poel Jr.
Adrie insisted the redesign was to maximize spectator stoke, nothing more.
"I build a course with the resources I have and I don't look at riders. I look at the finish line, VIP tents, pit stations, and parking lots, without thinking that a corner is in favor of Mathieu or anyone else," he told Sporza.
"I build the way I think it should be, that it's exciting and fun. I never walk around thinking it's for X or Y."
Here comes the big red highlight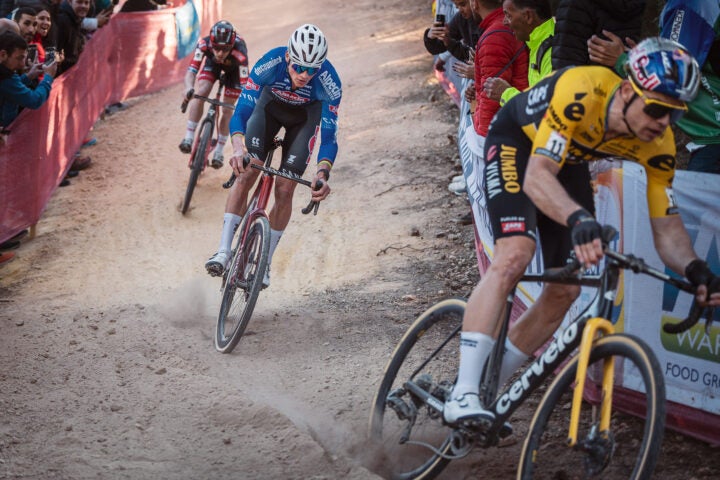 Van der Poel would have been the wonder of winter if it wasn't for Van Aert. The Dutch ace won six times, including five at the prestigious World Cup.
But the Belgian barnstormed the winter, amassing victories on all terrain, and against all opposition.
Van Aert won six of the 10 head-to-heads with Van der Poel this season while Van der Poel was haunted by long-lingering back problems.
Van der Poel last weekend rated the odds "50-50" between himself and Van Aert, and carries confidence in a program that un-kinked his back.
A week of easy training since his bullish victory in Besançon last weekend sees Van der Poel buoyant as he heads to his date with Dutch destiny.
"I hope [I will have top form], that's what I worked toward. From the beginning of winter, the world championships has been highlighted in red," he said. "I tried to organize my winter a little differently. I no longer want to be top all year round, but want to work more in periods."
That big red highlight in the Van der Poel family calendar arrives Sunday.
Van der Poel has history to rectify and tens of thousands of Dutch fans to please. No pressure.