North American women discuss 2010-11 cyclocross season
Katie Compton hopes her leg cramps are behind her, Georgia Gould targets the USGP, and Meredith Miller wants to go one better at nationals
Heading out the door? Read this article on the new Outside+ app available now on iOS devices for members! Download the app.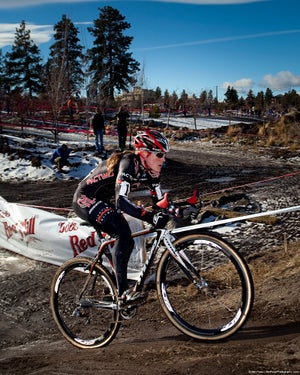 With the 2010-11 cyclocross season upon us, VeloNews.com contacted several top elite riders to find out their race schedules and goals. Look for interviews with other top riders in the coming week from CrossVegas and the USGP Planet Bike Cup in Madison, Wisconsin.
Katie Compton, Planet Bike
Since taking her first national 'cross title in 2004, Compton has been the most dominant American cyclocross racer, man or woman, ever. In 2007 she took silver at the world championship, and last year she finished on the podium at five World Cup events, with two wins, and led the series until a recurring leg-cramp issue resurfaced. She's since been diagnosed with hypothyroidism, a condition in which the thyroid gland does not make enough thyroid hormone; symptoms include fatigue and joint or muscle pain. That she has never won a USGP title is only due to her time split between Europe and the U.S., a trend that will repeat in 2010. Compton will race the USGPs in Wisconsin and Colorado before focusing on her European campaign. When she's racing in the U.S., expect her to be at the front.
• On the leg-cramp issues that derailed the second half of her 2009-10 cyclocross season: "I've been taking medication for hypothyroidism. I had no energy, I was feeling so bad, for so long, and it came to a head at cyclocross worlds last year. I had the worst spring I've ever had, health-wise, and I finally figured out what was wrong with me. It's taken a long time to figure out. If your thyroid gland is functioning well, it's stimulating more hormones. If it's not functioning well, it works hard but it's not producing hormones. I'm taking thyroid replacement medicine, which regulates my metabolism and hormone levels. I'm feeling much better. I think I have been dealing with it for a long time, I've never felt so good. It's like, 'So this is what it feels like to feel good.' I think the hypothyroidism had something to do with my leg cramps, because when I started taking the medicine, the leg pain went away. I'm not sure if it's the solution, but it helps me from getting tired, and it's keeping my energy levels steady."
• On her race schedule: "Last year chasing the cyclocross World Cup kind of cracked me. I want to have a better worlds. I'll do five of the eight World Cups plus worlds. I'll race the USGPs that are in Madison and Colorado, as well as local Colorado races like the Boulder Cup. I'll start with CrossVegas. I'll take a trip to Europe for the first World Cup in Aigle, Switzerland. I'll head back in November for round 3 (Koksijde, Belgium), and after nationals I'll head to the Christmas World Cups (Kalmthout and Zolder.) I'm skipping round 2 (October 24, Plzen, Czech Republic) and round 7 (January 16, Pont-Château, France). My fourth trip to Europe will be for the final World Cup (January 23, Hoogerheide, The Netherlands) and worlds.
• On racing against Luna's Katerina Nash, Georgia Gould and Amy Dombroski: "It's tough, but it's fair. They have a team, and they'll attack me and use the team card when they can. But as strong as a team as they are, when they race, they all want to win the race. The way Katerina is riding, I'm counting on her to rise be the strongest Luna rider. It will be a fun battle between her and me. I like the fact that racing in the U.S., you go to the line against five girls that want to win the race, and they'll do anything they can to win."
Katerina Nash, Luna
This former Olympic cross-country skier and world-class mountain bike racer has come into her own on the cyclocross circuit over the past few seasons. She's won the USGP overall the past two years, and abroad took a World Cup win in Roubaix and a fourth place at the 2010 world championship in her home country of the Czech Republic — despite several crashes on the icy course. At the 2009 USGP Nash finished second twice to Compton at the opening weekend and went on to win the next six events. She'll be a force again at the USGP, but won't likely contend for the series overall, as she'll miss the Louisville weekend to compete at European World Cup events.
• On her race schedule: "I'm starting my season off at Starcrossed and the Rad Racing GP, then heading to CrossVegas. I won't be racing the Madison USGP. That would be five days of racing in nine days, and I won't be contesting the USGP overall since I'm going to Europe to race the World Cup in the Czech Republic (on October 24) and will miss the Louisville weekend. I'm sorry I won't contest the USGP overall, but I've won it the last two years, so it's time for (Luna teammate Georgia Gould) to step in."
• On cyclocross taking on more importance for her over the past three seasons: "Last year I backed off mountain biking and wanted to do a full cyclocross season. I wasn't at every World Cup, but I did enough to get UCI points for worlds. This year I raced a full mountain bike schedule; Luna is still a mountain bike team, that's the priority for the team. But I'm starting to think about going to the world championships one more time, so I'll go to Europe and try to get a few good results and UCI points for good start positions."
• On becoming one of the best cyclocross racers in the world last year: "Over the years I've kept saying, 'This is new to me, I haven't done much racing.' But I know I've done well in Europe, and now I do have expectations when I go over there, to be on the podium, or to win. I'm not going to Europe for a top-10 finish."
• On her season goals: "I haven't really picked a goal, especially with taking the USGP overall out of it, that was always a big focus. I'll do two USGP weekends, and the focus will be making the podium and winning. I'm doing a few World Cups, I can't do the whole series, so the World Cup overall is not a focus. I'll just be picking up some good races along the way, and focus on going back to the world championships and getting a medal this time."
• On just missing the podium at last year's worlds in front of her family and friends: "I was very disappointed at the finish. Fourth and off the podium is always hard, especially because at one point I was very close to third and then I tumbled again. That race was very eventful for me, and I came to the finish line disappointed. But two days later, I realized that I'd put up a good fight. Things didn't work out, but for having a crappy day, I was fourth, and that's not too bad. I was racing at home, with my whole family cheering for me, and they didn't care if I had a medal, they were happy just yelling and screaming for me. It was definitely the most memorable race I've ever had; it was something you don't get to do but once in your career. It would have been great if it turned out better, in terms of results, but that race gave me positive energy, moving forward, to redeem myself this year. I'll be at the World Cup in Plzen, and last year's race is one of the reasons I'll be going back.
Georgia Gould, Luna
Though she hasn't landed that elusive national cyclocross title, racing on the fat-tire circuit Gould won the 2010 national cross-country and short-track titles and took second at a World Cup event. The USGP overall winner in 2007, Gould struggled with fatigue last year, but an extensive rest over the winter served her well and she recovered well, evidenced by her strong mountain bike season.
• On her 2010 mountain-bike racing season: "I've been really pleased. I was a little bit fresher this season, and I had my best season in a few years. I took a lot of time off this winter, more than I ever had in the past. It made the start of the season slower, but it paid off. The highlight was finishing second at the World Cup in Offenburg.
• On her race schedule: "I'm focusing on the USGP series and nationals, and have no plans to race European World Cups. My days of trying to everything 100 percent are done. I could probably do all the U.S. races and also try to fit in a European trip or two, but I don't think I'd be maximizing my time. I might throw in a few other races here and there, some local stuff, but I'm not crisscrossing the country chasing UCI points."
• On her season goals: "To win nationals and all the USGPs. I figure, why not?"
• On battling teammate Katerina Nash for USGP wins: "Having teammates in a race changes things, especially a teammate that's similar in fitness. We've been riding together for a while, we know each other well, and we work well together. I want to beat everyone in the race, but if I can't, I'd rather Katerina win than anyone else. I think Katerina and I have a really good relationship in that we are able to work together. We both want to win the race, and when it comes down to the end of the race, we both expect the other racer to go for the win. On any given day it could be Katerina or me, no one is giving anything away, but no one holds grudges. We're not taking each other out, there's no inside move on your teammate. I feel lucky to have a teammate where I can race my hardest and after the race, it's like, 'What do you want to make for dinner?'"
Meredith Miller, Cal Giant-Specialized
The top American finisher at the 2010 world 'cross championship, in 12th, this 2009 national road champion burst onto the national 'cross circuit last year, finishing second at the series finale in Portland en route to a silver medal at the national cyclocross championship. Entering only her third season of 'cross racing, Miller should give the Luna riders a fight from start to finish.
• On her race schedule: "I'll kick the season off in Vegas, I'll race all the USGPs, and beyond that I'll try to find fun and exciting races I've never done. Racing in Providence last year was my only experience in the New England area, and I'd like to go back for Gloucester. Hopefully there will be a World Cup or two sprinkled in. I hope to make the worlds team again, and go back a few weeks before and prepare for worlds. I'd like to get more World Cup experience, the courses are so different, and if I want to do well at worlds, I need that experience, and to get a feel for the competition. I'm excited about the USGP series and to have one of the venues in my hometown of Fort Collins. I'd love to finish well in the USGP overall.
• On racing against Luna: "It's tough, you don't think of that many tactics in 'cross, but when you have Georgia, Katerina and Amy able to gang up on you, it makes it more difficult. I have a new teammate in Teal Stetson-Lee, who won collegiate nationals. She comes with high regard from Ned Overend and Mike Engleman, and I'm excited to see what she can do. Maybe the two of us can give them a run for their money, instead of the other way around. It's going to be a battle out there. There are a lot of women amped up for this 'cross season."
• On her goal for nationals: "Let's just say I don't want to go backwards from that second-place finish."
• On racing in Madison, Wisconsin: "That's where I went to college, and where I started cycling. I didn't get to go to the Madison USGP last year, I was at road worlds, so I'm really excited to go back and race there."
• On her goals for racing in Europe: "I'd like to go back and finish in the top 10 at worlds. Finishing 12th I was close to the top 10. It's all a build up for 2013 worlds in Louisville; I'm really focused excited to do the first-ever 'cross worlds in the U.S. To be part of the team going to worlds in the U.S. would be an honor. So my goal is to keep improving every year, and by 2013 worlds to try to get into the top five."
Amy Dombroski, Luna
A breakthrough 2009 'cross season earned this 23-year old a spot on the Luna squad. Though she didn't win any USGP events, last year her consistent results, including three second-place finishes, landed her second in the series battle. Like Nash, Dombroski will skip the Louisville weekend to race in Europe.
• On her 2010 mountain-bike racing season: "I had a frustrating season. By nationals I was burned out and needing a break. I decided to skip the Windham World Cup and worlds. I just never got into the swing of things. I had some random health issues and was playing catch-up with my physical ability. I was never feeling good, and just had one frustrating race after another. It got hard to motivate for training hard when nothing was going right."
• On racing on a strong cyclocross team like Luna for the first time: "I'm excited to have teammates at the races this year. It will be interesting to see how it all plays out. There are some strong riders out there; every year someone comes up, riders like Meredith Miller, Mo Bruno-Roy, or Sue Butler. There's always someone in the mix. It's not like Luna is guaranteed to sweep the podium."
• On her 2009 cyclocross season highlight: "I hadn't planned on going to worlds. I was going to end the season right after nationals, but my season went well, I had more fun than ever, and the night before nationals I booked my flight to Europe, leaving the day after nationals. It was very last minute. My best race was the Hoogerheide World Cup, where I finished in ninth place. It was one of my better races. It was exciting to do well in Europe, and it put a nice end to the season."
• On her season goals: "I'm heading to Europe for the first World Cups, and I'm excited about those, but I won't be at the Louisville USGP. I really like racing in Europe. I had a great time, it was a great learning experience. If you can go over for the first two World Cups, it helps with your start position the rest of season. So I'll do those World Cups, then race in the U.S. through nationals, then go back to Europe for more UCI races, then race the final two World Cups, all trying to set myself up for a better start position and more experience before worlds."