Old rivalries heat up at USGP as Jonathan Page and Cannondale riders exchange words
New Englanders Jon Page, Tim Johnson and Jeremy Powers clash — on the race course and after — at the Planet Bike Cup on Sunday.
Heading out the door? Read this article on the new Outside+ app available now on iOS devices for members! Download the app.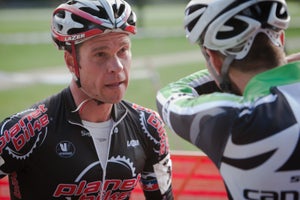 New Englanders Jonathan Page, Tim Johnson and Jeremy Powers were engaged in a war of words of sorts following The Planet Bike Cup Sunday, with Page interrupting a live post-race interview on Cyclingdirt.org to demand an apology from Johnson.
Unhappy about a perceived chop by Johnson through a turn, Page, who is sponsored by the race's title sponsor, Planet Bike, later said, "I'm sick of their tactics. It's bullshit bike racing," adding that he was thankful it would be his last race in North America for the 2010-11 season.
Page, who hails from New Hampshire, and Johnson, who hails from neighboring Massachusetts, have competed against each other in cyclocross for 15 years.
Both men have been national elite cyclocross champion on three occasions, and the two have had their share of run-ins, most notably at the October 2009 Gloucester Grand Prix, where Johnson attacked up the right side, taking out Page as the lead group entered a sandpit.
That incident was caught on video complete with Page yelling obscenities at Johnson and spectators yelling "lame" at Johnson. At the time Johnson, while stopping short of saying he took Page out on purpose, noted that Page had bumped into Cannondale's Jamey Driscoll earlier in the race.
"It's not the way I would like to race," Page said in Gloucester. "(Johnson) said, 'you did it to my teammate,' prior. It's unfortunate, he just has no respect."
At Sunday's Planet Bike Cup, Page had run-ins with both Johnson and Powers.
Johnson said early in the race Page attempted to take him inside on one of the course's many tight turns but the Planet Bike rider was thrown from his line in the process.
"It was a fast, technical course, and the corners come in groups. It was the first lap of the race, and everyone is gunning for it," Johnson said.
Page said that was true, but said there was more to the story.
"Powers was on the attack right away, within the first two minutes, and I could see what was going on — Powers was on the front, and Tim was blocking," Page said. "I went around Tim clean, but I overcooked the corner and came in wide, near the fencing. And all of a sudden Tim came flying over and decked me into the stake. He could tell I was there and gave me a flick. I went into the stake, got course tape caught in my brakes, and had to switch bikes. I thought he had outgrown that. I'm sorry he decided to race like that — again."
After Page interrupted his post-race interview, Johnson was asked about what had happened. Without referring to the 2009 incident — or even Page by name — Johnson said simply, "To get respect, you have to give respect. It's as simple as that."
Canadian national champion Geoff Kabush was riding immediately behind Page and Johnson when the incident took place, and shared his vantage point.
"To me it was a bit of suicide attempt, it almost looked like Page was trying to take Tim out, he had no chance of holding the line," Kabush said. "Tim just kind of went wide and switched it inside and had the line again. Page tried to force it again and keep coming on the outside once Tim had position. Page went into the tape and started cussing and got really angry. I was scared, looking over my shoulder and wondering when he was going to come flying up the next corner. Tim was probably scared too, and he came off the front for a while after that. I have no problem with aggressive passing, that's racing, but Page's moves were over the top — dangerous, aggressive moves. No one wants to see that."
Once Johnson had opened his winning gap, Powers said Page needlessly bumped him while passing on one of the course's few wide-open straight-aways. Page didn't deny it, but said that wasn't the end of the matter.
"I took him in a corner, probably a little aggressively, and two seconds later he hit me, with his seat on my bars," Page said. "I've had enough of the baloney. I like to race hard, but more fair, and I wish everyone did the same. I know 'rubbing's racing,' but there's rubbing and there's blatant disregard."
Like Johnson, Powers was reluctant to get into specifics about what had happened on the course Sunday, saying, "I always show respect when I'm racing. I try to show love to all the riders on the course, even if they don't show love back. I'm a peacemaker on the course, I really am. I believe, the way I race, I don't deserve negativity on the race course."
Page, who heads back to Europe later this week and will not return to the U.S. this season, said he was sorry to end his domestic 'cross campaign on this note.
"I like to race in America normally, but I like the race to be aggressive and hard, and let the course dictate the winner," Page said. "None of these extracurricular activities singling me out, or playing pinball with me. I much prefer leaving America feeling like, no matter what place I got, that I raced well and raced hard. But I just feel crappy about the way today went down."