One last dance but no final face-off for Van Aert, Van der Poel before cyclocross worlds
None of Van Aert, Van der Poel, Van Empel, Pieterse share startines this weekend in anticipation-building final round of racing.
Heading out the door? Read this article on the new Outside+ app available now on iOS devices for members! Download the app.
Don't go hoping for any elbows or argy-bargy between the cyclocross world title favorites in the final round of pre-worlds action this weekend.
Titans of male 'cross Wout van Aert and Mathieu van der Poel and women's dominators Puck Pieterse and Fem van Empel all compete in the coming days, but all in different races.
Saturday will see Van Aert and Van Empel board their cross-busting Jumbo-Visma team bus for a trip to the X20 Trofee, Hamme.
Van der Poel and Pieterse represent the Alpecin-Deceuninck franchise in Besançon the day after, where the French 'cross draws a curtain on the World Cup calendar.
Who's racing where this weekend? 
Saturday – X20 Hamme: Fem van Empel, Shirin van Anrooij, Wout van Aert, Michael Vanthourenhout, Ceylin del Carmen Alvarado
Sunday – World Cup Besançon: Mathieu van der Poel, Puck Pieterse, Silvia Persico, Laurens Sweeck, Eli Iserbyt
And what of reigning champions Tom Pidcock and Marianne Vos?
Sad to say it, but both have now officially pulled the plug on their 'cross calendars and worn their 2022-23 rainbow jerseys one last time. Pidcock is now booted into road mode, and Vos is sidelined with arterial issues.
No clues before 'cross worlds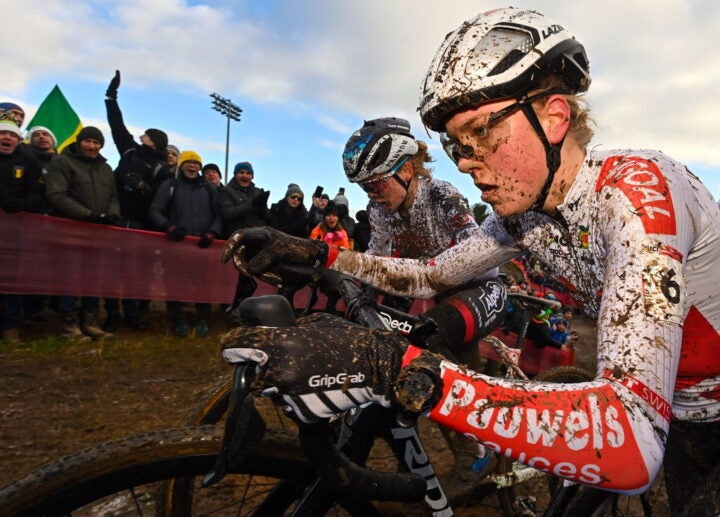 Not seeing Van Aert and Van der Poel, or Van Empel and Pieterse, face-off this weekend adds a deliciously intriguing run-up to the Hoogerheide worlds.
While there's no final opportunity for fireworks, there will also be no preview of how the pairs might shape up when the rainbow jerseys are at stake.
What's not in doubt is that the awesome foursome are far beyond favorites status for the February races after a winter of wrecking the chances of the specialists.
This cyclocross season has seen Van der Poel win five in 13, and Van Aert eight in 12. The two multiple 'cross champions only failed to go one-two once in a rout that raised them far beyond the bunch and put even rainbow-wearing Pidcock in the rearview.
It's the continuation of a multi-discipline rivalry seen nowhere else in the modern peloton, and one that will take center stage in Van der Poel's "home" Hoogerheide circuit – a grassy, stairs-stacked race where the Dutchman already scored five elite wins.
And the 2022-23 story's the same for the 20-year-old phenoms Van Empel and Pieterse.
The former won 12 in 19, the latter eight in 17. Only their fellow wunderkind of the winter Shirin Van Anrooij, who is chasing U23 glory next weekend, came close.
Pieterse and Van Empel both regularly called each other out in post-race interviews in what was the birth of a barnstormer elite rivalry. The Dutchwomen have divebombed, shouldered, and shadowed each other through 11 races this winter and are best of "frienemies" after their tight to-and-fro.
Meanwhile, Van Aert and Van der Poel have shared so many races in the past decade they probably know more about each other than they would wish for.
Van Aert, Van der Poel, Van Empel, and Pieterse won't be getting to see any more of each other until Hoogerheide, February 4 and 5.