The Kings of 'Cross: A preview of this weekend's men's cyclocross national championships
Brian Holcombe handicaps the favorites and the longshots.
Heading out the door? Read this article on the new Outside+ app available now on iOS devices for members! Download the app.
Editors' note: Stay tuned to VeloNews.com Friday for a preview of the elite women's national cyclocross championship race.

BEND, Ore. (VN) _ The kings of 'cross are in Bend, Oregon, this weekend and Tim Johnson and Jeremy Powers are holding court. The Cannondale-Cyclocrossworld.com teammates have been tops in the patriarchy of U.S. cyclocross in 2010 and will look to cap their domestic seasons with another crown for the team's chest.
The U.S. national cyclocross championships are underway and the elite men's race closes four days of racing in the mountains of central Oregon.
The kingdom
The Bend course is partially redesigned for 2010 and features a mix of power and technical sections, as well as a stair run-up and a pair of steep, off-camber, traversing 180s. New for 2010 are a number of weaving, off-camber sections, three new straightaways and a ridable flyover. With such variety, the course isn't suited to one particular riding style over any other and each of the top favorites should enter the race on equal footing when it comes to the course design.
Previous national champions
2009 Tim Johnson
2008 Ryan Trebon
2007 Tim Johnson
2006 Ryan Trebon
2005 Todd Wells
2004 Jonathan Page
2003 Jonathan Page
2002 Jonathan Page
2001 Todd Wells
2000 Tim Johnson
Course conditions may be another story. Elite and amateur riders took to the track Wednesday for pre-rides and non-championship events. As the thermometer tipped upward, the snow covering the grounds at the Old Mill District melted into giant pools of water. It will be interesting to see how conditions develop into the weekend. With overnight freezes, high temperatures in the upper 30s and low 40s and rain/snow mix in the forecast, the puddles could stick around and turn into cold mush by race time Sunday.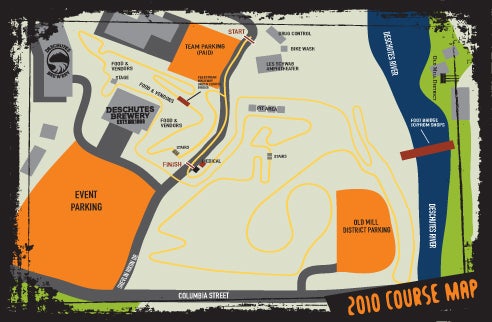 The kings
Between Johnson and Powers, they've won five of seven UCI C1 events and traded the U.S. Gran Prix and North American Cyclocross Trophy leader's jerseys at every stop. Johnson had a tough go in Belgium in late November and was slow out of the gates on the first day of the Portland Cup before riding to third- and second-place finishes in the USGP's final weekend. Powers never skipped a beat, however, securing the NACT and USGP titles with double wins at Bay State Cyclocross (while runner-up Johnson was in Europe) and Portland.
Hard as it is to believe, even after a dominant junior and U23 career, Powers has never won a national championship. Johnson is a six-time champ (including one junior and two U23 titles) and has taken the stars and stripes jersey two of the last three years, including 2009 when an in-form Powers crashed out of the lead on a treacherously icy course in Bend.
"It's incredible how well those guys have ridden domestically, beating Francis Mourey and Page early in the season, some of the best guys in the world," said Specialized's contender Todd Wells. "And they've kept it rolling."
Based on the last month, Powers is (narrowly) the top favorite to pull the jersey. But Johnson is a classy rider, one of the best bike handlers in the business and knows how to deliver when the top prize is on the line. Sunday could very well come down to a battle between the green and black at the front of the race.
The court
This is cyclocross and one of the (many) great things about the discipline is that anything can happen at any moment. Powers saw that in Bend in 2009 and a number of top contenders are champing at the bit to unseat the Cannondale duo. The men's elite field in the States is deeper now more than ever and the racing this season has shown that.
"It's cool. It used to be a lot easier than it is now," Wells told VeloNews. "Trebon is always a threat. Jones has been coming on strong. There are a lot of guys that can win."
Local favorite Ryan Trebon (Kona-FSA) has been the most persistent antagonist for Johnson and Powers this season, but a run of crashes, injuries and mechanicals — and a two-week battle with a bad cold in November — have kept him off the top step of the USGP and NACT podiums.
Trebon looked primed for a last lap showdown with Powers on Saturday in Portland when his rear derailleur found its way into his spokes leading onto the finish straight. The mishap ended Trebon's race and he walked away from the course much the way he did a month earlier at the New Belgium Cup, his head hung in frustration.
Johnson and Trebon have faced off for much of the latter's career and the defending champion knows how dangerous the Kona man is. "He's got a lot of power and a lot of talent," said Johnson. "He has a skill that I definitely don't have. He can stand up and drill it and all of a sudden you're going 5 mph faster than you thought you could."
The tough conditions and the addition of three power sections to the Bend course will suit Trebon well. Even so, he knows that topping Johnson and Powers will be an uphill battle. "They've been doing good. They've won seven of the eight (USGP events), which is pretty good," Trebon told VeloNews. "I've had a lackluster, forgettable season this year. Sometimes you're good and other people are really good and you're just constantly battling, wanting to be a little bit better, and you can't. I've just constantly been on my back foot."
Johnson and Powers aren't the only Cannondale threats for the title. The team's young guy, Jamey Driscoll, has come a long way since his silver medal at elite nationals in 2008. Driscoll won the second C1 of his career on the final day of Jingle Cross, finished second to an unbeatable Geoff Kabush (Maxxis-Rocky Mountain) in Fort Collins and rode well in Portland despite a tough travel schedule.
"I think it goes to show — (Jingle Cross) and at Fort Collins — that I race a lot better when I'm well rested," Driscoll told VeloNews. "Hopefully I'm going to take that lesson as seriously as I can."
Driscoll has ridden his best this season when conditions were at their worst. If he continues that trend Sunday, the University of Vermont student has a real chance of earning his first elite stars and stripes jersey.
"He's kind of an unknown," said Powers of his teammate, who this year juggled a full pro road season and school. "To see him beat those guys in Iowa, it shows he can ride with anyone. On a course like this that suits him, on one day there's no reason he can't win."
Todd Wells (Specialized) hasn't won a national-level cyclocross race this season, but that's okay with the current U.S. cross-country and short-track mountain bike champ. "This 'cross season has been rough for me, but there's only one race I really want to win," said Wells. "It hasn't happened yet and I'm really optimistic."
Wells has shown fits of decent form this fall. He battled with Johnson at the Boulder Cup and wound up second and was on a good ride on the second day of the New Belgium Cup before a bad crash at the barriers took him off the bike for a week. Since then Wells has struggled with uncertainty over his fitness.
Front row starters
Tim Johnson (Cannondale-Cyclocrossworld.com)
Jeremy Powers (Cannondale-Cyclocrossworld.com)
Jamey Driscoll (Cannondale-Cyclocrossworld.com)
Ryan Trebon (Kona-FSA)
Todd Wells (Specialized)
Chris Jones (Rapha-Focus)
Adam Myerson (Cycle-smart)
Justine Lindine (Bikereg.com-Joe's Garage)
Riders are seeded based on UCI points as of December 7. Johnson receives the first call-up as defending champion.
A year ago, Wells won day one in Portland, but was a self-described non-factor at nationals. Perhaps 2010 will see a reversal of that. "It's been a tough season, but it's a lot of fun," said Wells. "I feel like (the weather and course in Bend) cater to the strongest guy, not just the strongest team. Whoever's strongest that day will win."
A Wells win may surprise some after a relatively down season for the former national 'cross champ. But the sloppy conditions will favor Wells, and Powers knows that the VeloNews North American Mountain Biker of the Year needs just one good day to close the three-month domestic season. "He knows how to train for it and he's confident in what he brings to the table," said Powers. "If he's 90 percent it's good enough. I'm not going to count Todd out."
Chris Jones (Rapha-Focus) is on the rise and at just the right time. Jones is somewhat new to the national cyclocross scene, but the top road pro has taken quickly to the discipline. Jones' first season with Rapha started slowly, due in part to equipment issues and his plan to peak late in the season. Last year's 10th place nationals finisher has been building since early November. Slow starts followed by some of the fastest lap times of the weekend put Jones on the podium everyday at Jingle Cross two weeks ago and he rode to a career-best USGP second-place on Saturday in Portland.
Jones will enter the race looking for a top-five result, but the addition of the power sections should fit the roadie well. Add in mixed conditions and anything could happen. "You're one mistake away from winning the race or being on the podium. It just shows that on any given day any of us are capable of winning," Jones told VeloNews. "It's not the ideal course I'd build for myself. It's something I can still do well on."
A number of other riders should contend for the podium and in 'cross, if you're contending for the podium, a slight turn in look can put you onto the top step.
A resurgent Jesse Anthony (Cal Giant-Specialized) showed in Portland that a two-week break in late November was enough to freshen his burnt out road legs. Tristan Schouten (Cyclocrossracing.com) and Brian Matter (Geargrinder) have been knocking on the door all season and are real threats for the top five.
Troy Wells (Clif Bar) had a tough weekend in Portland, but excels in the slop and showed good form at Jingle Cross. Adam Myerson (Cycle-smart) and Justin Lindine (Bikereg.com-Joe's Garage) will take their East Coast points across the country to the front row.
And last but not least, Wednesday's top qualifier in the men's open singlespeed time trial, Adam Craig (Rabobank-Giant), has had a quiet 'cross season but can never be overlooked.
Regardless of who stands atop the U.S. cyclocross throne Sunday evening, the battle in mud and snow in Bend will no doubt be one for the ages.
The men's elite race will roll out at 2:30 p.m. Pacific.
---

Editor's Note: Brian Holcombe is a reporter with VeloNews. He covers all things racing in the U.S. and has been accused of attacking too much on the VN lunch ride.