Top male North American 'crossers outline plans for 2010-11 season
Tim Johnson talks about coming back from a broken ankle, rival Ryan Trebon eyes a nationals win in his hometown and Todd Wells hopes to find allies to combat the Cannondale-Cyclocrossworld.com juggernaut.
Heading out the door? Read this article on the new Outside+ app available now on iOS devices for members! Download the app.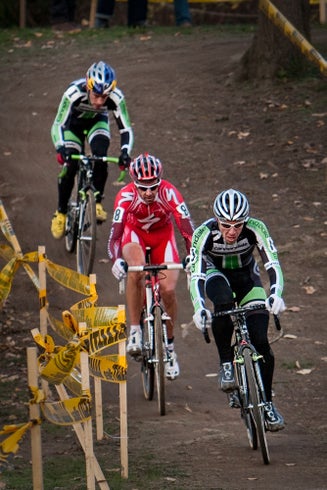 With the 2010-11 cyclocross season upon us, VeloNews.com contacted several top elite riders to find out their race schedules and goals. Look for interviews with other top riders in the coming week from CrossVegas and the USGP Planet Bike Cup in Madison, Wisconsin.
Tim Johnson, Cannondale-Cyclocrossworld.com
Having broken his ankle during his road season with UnitedHealthcare-Maxxis, the national champion knows he has his work cut out for him if he's going to have another season at the top of the domestic 'cross heap. He'll start off his season with the Green Mountain Cyclocross Weekend in Vermont this weekend, and then head to CrossVegas and the USGP season opener in Madison, Wisconsin.
• On his ankle: "I'm working hard to make sure it's not a problem. It's not going to affect my race schedule, but I am expecting it to affect my racing. When I got hurt it was a big deal, and it was a big deal throughout summer, because I couldn't train."
• On his rivalry with Ryan Trebon: "I don't think Ryan will be the one guy to beat in North America. Jonathan Page will be here more than in the past, and I think Todd Wells will do more than he has in the past, and Jesse is having a good road season
• On his powerhouse Cannondale-Cyclocrossworld.com team: "I think if people just race against our team, that opens them up to losing even more. To only race against the team that's dominant doesn't work well. And of course all that (tactical advantage} goes out the window when it's a hard race or with difficult conditions."
• On racing in the stars-and-stripes jersey: "I am 100 percent totally pumped to be the national champion. I was so happy winning last year, and that feeling hasn't changed at all. I look at my jersey and it brings me back to that feeling every time. It feels like it just happened yesterday, especially since I didn't have much of a road season."
• On his race schedule: "I'm planning on doing trips to Europe. I'll go over for the first World Cup (October 17 in Aigle, Switzerland) and then go again during Thanksgiving before the Portland USGP and nationals, and then again for worlds. It's all in preparation for the 2013 worlds (in Louisville, Kentucky.) I think I can keep progressing and can compete internationally. Every time I go over to Europe I have a few good rides and a few terrible rides. I want to get into a rhythm over there where I'm not struggling with the trip details."
• On his goals: "In previous years I've had a good start to the season, a good heart of the season, and last year was the first time I've had a good worlds. It went well, but not perfectly. I know the start of the season is going to be impacted because of my ankle, so my goal this year is to get to worlds and be perfect; finishing 14th is good, but not that good."
Ryan Trebon, Kona-FSA
A four-time USGP overall winner and two-time national champion, Trebon has been the most dominant 'cross racer in North America over the past six years. However, he didn't overwhelm in 2009, winning the USGP title but only taking two wins in eight races, while Johnson and Jeremy Powers shared four USGP wins between them. And Johnson went on to out-ride Trebon for the national championship. But Trebon, who has struggled with injuries over the past seasons, claims to be recovered and recharged to once again rule the North American 'cross scene.
• On his preparation: "I feel slightly unprepared, but I'm ready to start racing and get on with it. You never know how you feel and how prepared you are until you start racing. The power meter is a good gauge, but you never know how you will respond to a race effort. I'm trying not to go into September as fast as possible and then two months later be dragging; it's a long season."
• On his race schedule: "We'll do the same as the last few years; focus on the USGP and racing in North America through nationals, and then head to Europe in December and January. It's difficult to do it all. It's unrealistic to race all the USGPs and go to Europe twice during the North American season and then head over for the World Cup, Superprestige and GVAs during the holidays. I don't think you can handle all that travel without getting sick, and it's tough to put in the proper training."
• On battling Cannondale-Cyclocrossworld.com: "I expect it to come down to the Cannondale guys and myself. I think Tim and Powers are at about the same level; Jamey (Driscoll) may not be quite at the same level but he's still young and he's getting faster. There's not one plan to contend with the numbers, you just have to read the race as it comes. At Louisville last year, I knew Jamey wasn't the strongest, so I let him go off front, then attacked and bridged, and then outsprinted him. You don't want to tow people around, so sometimes you have to let 'em go hope you can bring 'em back. It's not the easiest thing to do, but you have to consider your options."
• On his rivalry with Tim Johnson: "People think I don't ride well in the mud. I have beaten Tim in more muddy races than he's beaten me."
• On his goals: "I'd like to win nationals since it's in my hometown (Bend, Oregon). A fifth USGP overall win would also be nice."
• On the rivalry between Katie Compton and Luna's Katerina Nash and Georgia Gould: "I think Katerina is going to kill 'em all. She doesn't get as much notoriety as she should for her cyclocross racing. She won a World Cup (Roubaix, France), and was fourth at worlds. In the U.S. it's always about Katie Compton, but I guarantee Katerina is just as strong. Katie is really good, but I wouldn't discount those two Luna women. Georgia had the Epstein-Barr virus all last fall. But this year she's been been rocking it on the mountain bike — she won nationals, and she won Sea Otter. I think she has a harder time at the World Cups. It's a different style, more tactical racing, because the group is more evenly matched, fitness-wise. It's not just riding flat out, you can't just drop people at will, you have to be patient. In the U.S. so often Georgia can ride away from everyone, but at the World Cup it's more of having to read the race, and conserve energy."
Jeremy Powers, Cannondale-Cyclocrossworld.com
A 27-year old New Englander known for bunny-hopping barriers, Powers stepped up in 2009, winning the first and last USGP events and finishing fourth on the series though he was unable to finish three races.
• On his teammates: "Tim has an injury he's coming back from. I think we'll see him strong in November and December. Jamey will be extremely strong. I think he will be a regular podium guy. He's young, but not he's got another year and another hard road season under his belt. We're a tight unit. If you have one guy going well, it's hard to beat that guy. We have three guys. We're the juggernaut."
• On other North American riders to watch: "Ryan Trebon looks more motivated than in years past. His mountain bike results look decent, I've heard more from him, in terms of his training and goals, than in years past. I think he will be really strong. I think he's going to be a big rival this year. I know Troy Wells has been putting in the big hours. I think Danny Summerhill will step up to the next level this year, and the same for (collegiate national champion) Zach Macdonald. Another guy to watch is Chris Jones (Rapha-Focus)."
• On his race schedule: "I'll be doing all of the USGPs, and most of the NACT series, although I'm missing the first two rounds because I'll be at road nationals. So CrossVegas will be my first race, and I'm taking that seriously. The entire Cannondale-Cyclocrossworld.com team is going to the first World Cup in Aigle, Switzerland, and there's potential to go to the second, in the Czech Republic, on October 24, although that conflicts with the Louisville USGP. Tim might also race on the Koksijde course (November 27) to prepare for the 2012 worlds course. We're all going back to the last two, in late January (in Pont-Château, France and Hoogerheide, The Netherlands) and then worlds. We're not going to do the Christmas blitz; we'll just try to do well at important events. I don't want to fly all over the country, racing Ryan and the Wells brothers, on top of running clinics and dealing with sponsorship stuff, and then I get to worlds and I'm cooked. Instead I'll take a break after nationals and train for worlds."
• On his new video project for 2010: "I'm working with Sam Smith, who created the Cyclofile videos. He's going to come with me to seven or eight races this year, and we're going to post race-day videos on YouTube that will be available immediately after the races. It will sort of be a 'day in the life.' We're going to have a good time with it."
Todd Wells, Specialized
Wells took his first national cyclocross title in 2001 and his second in 2005, and it's his priority every season. A mountain bike racer in the summer, Wells traditionally takes a short break during the cyclocross season, aiming to peak in December. Last year that paid off, with a USGP win in Portland and a second-place finish on the series finale. This year the Durango, Colorado, resident's strategy is similar — he'll race in Madison, take a break, and return in time to be competitive at high altitude in Fort Collins before a major push in Portland en route to Bend for nationals.
• On his race schedule: "I'll race CrossVegas, all the USGPs, the Boulder Cup weekend, Jingle Cross Rock and nationals. Usually I take a few weeks off after the mountain-bike season ends and ease into it. I plan on coming into Vegas fresher than in years past, go to Madison, shut it down a few weeks, and then ramp it up for nationals."
• On his goals: "Nationals is always a big goal. The USGPs are important, and I'd like to have a good one at Madison and at Portland, which is important because it's the week before nationals. Fort Collins is at altitude, which is good for me. Louisville will be the worst for me. You can place well in the USGP series if you can be consistent and have one or two good weekends."
• On battling Cannondale-Cyclocrossworld.com: "If Trebon, Jon Page, and other guys are up there, it's different, and the team will be less of a factor. If it's just them and me, I'll be at a huge disadvantage, because they'll be attacking and sitting on. When there are more of us, it won't be just them attacking; the next attack might come from someone else. In that scenario the pace stays higher, and it's more of a fitness contest than a tactical one."
• On having his own "teammates": "I'll be riding with Jesse Anthony (Cal Giant-Specialized) since they ride Specialized. I'll have Cal Giant logos on my Specialized kit, and they will be more Cal Giant with Specialized logos. That will be like having a teammate, and I always have Rude (younger brother Troy Wells) as a teammate. Those guys just need to have good seasons, and we can work together."
Geoff Kabush (Can), Maxxis-Rocky Mountain
Like Wells, this three-time Canadian national champion makes his living racing a mountain bike, and uses 'cross to stay fit and have fun during the fall months. When he's at the top of his game Kabush is capable of riding with the best in North America, but his commitment to cyclocross has been fleeting, and for 2010 he knows he'll have to contend with the Canndondale team.
• On his schedule: After the mountain bike world championships, I head back to the West Coast, to my home town on Vancouver Island, to take a mental break. I'll hit Starcrossed and Rad Racing on the way to Vegas. It will be nice this year to have a few weeks to regroup. Last year it was mountain bike worlds in Australia, then European (mountain bike) World Cups, then straight to Vegas. I'll focus on the USGPs and the Boulder Cup weekend. I'm not going to race every weekend. I do need some time off."
• On whether he'll race Canadian cyclocross nationals: "I may not race nationals this year. They are out in Toronto, and that's a big trip. I've won it three times, so that's not a big motivation. Last year part of the motivation was for UCI points, but the UCI made rule that no nationals points can be awarded until January."
• On battling Cannondale-Cyclocrossworld.com: "With that team you have to be aggressive. You can't sit back or they will start using their numbers. A few times last year I was able to get out front with one of them and slim down the numbers. It's tough when there are three guys that strong. It's a difficult situation. Guys like myself and Ryan are hoping to come in with more firepower, that's about all you can do."
• On eventually racing cyclocross in Europe: "I really want to get over to Europe some time to race cyclocross, but I can't afford to stretch the cyclocross season into January. Of course with anything I do, I want to be competitive. I use cyclocross as a way to have fun and stay in shape in the fall, but by the end I'm ready for a break and to do some skiing. But when worlds are in Louisville, I'm sure I'll go to Belgium and do some racing beforehand to get ready."
• Editor's note: Look for a chat with some top North American women later today.