Van der Poel relishes titan victory over Van Aert: 'When we look back, we'll appreciate these duels'
Mathieu van der Poel brings brains and brawn to score fifth rainbow jersey in Hoogerheide world championship prizefight.
Photo: ANP via Getty Images
Heading out the door? Read this article on the new Outside+ app available now on iOS devices for members! Download the app.
A fifth cyclocross world title. At the age of 28, Mathieu van der Poel added yet another big win to his impressive palmarès at the Hoogerheide world championships Sunday.
The highly anticipated duel with Wout van Aert in Hoogerheide became a reality and culminated into a sprint for the 2023 world title between the two giants of cyclocross. Van der Poel had his Belgian rival where he wanted him to be and crushed him in that sprint, grabbing that fifth rainbow jersey.
"I'm really happy with it. Also with how it went. Wout is always really hard to beat, also in the sprint. Luckily I felt strong enough today," Van der Poel said.
Also read:
More than 40,000 fans were on site during their race, creating an incredible atmosphere in Hoogerheide, home soil to the Van der Poel family.
The race was first organized as the farewell race of Adrie van der Poel back in 2000 and has then been contested as "GP Adrie van der Poel" and often featured as the World Cup finale.
A journalist asked if Mathieu felt the race should be renamed to "GP Mathieu van der Poel."
"No, not really. It was quite cool to see the crowds today. It's also nice to see that cyclocross is so popular. Also in the Christmas period some crowd records were broken. This race is so special because it's close to my home. It was a special atmosphere but I was relaxed," Van der Poel said.
Tactical brains and sprint brawn bring world title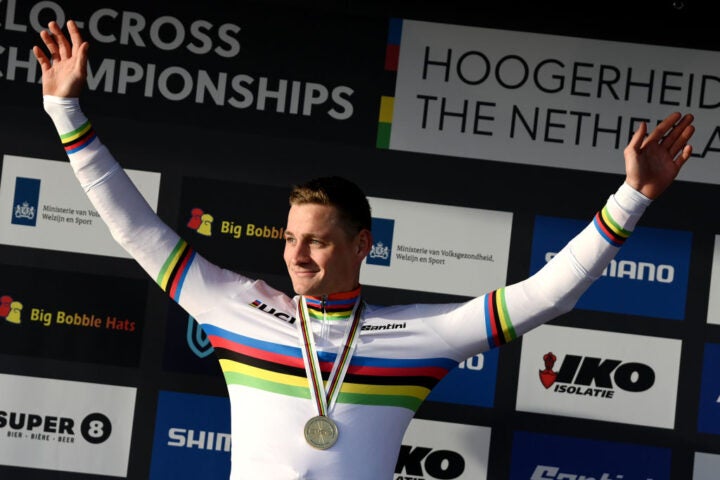 Mathieu van der Poel did everything to be relaxed. He didn't give a pre-race press conference on Friday and didn't do a recon of the course on the days before the race.
"I didn't really make a race plan in advance. Lars [compatriot, van der Haar] made a fast opening lap. I felt good immediately and decided to attack straight away. I didn't want to fight for position all the time," Van der Poel explained.
Van Aert expected Van der Poel to go early and it happened. Van Aert followed his move but explained he was on the limit and unable to try something himself.
The strong wind in Hoogerheide made it difficult for an attacker to ride away, and as a result the duo marked each other and focused on the sprint.
"It was clear pretty soon that I wouldn't drop him. Then in the final lap it's hard to predict what would happen," Van der Poel said.
The Belgian rider was leading out Van der Poel at the much-discussed barriers but much to his surprise there came no acceleration. The Belgian rider ended up leading out the sprint at slow speed.
Van der Poel talked the media through his tactics in the final lap.
"In the end, I didn't use the barriers to my advantage. If he would have to get off the bike it would mean an advantage but that wasn't the case. The other part of the course was more important today. My intention was to get on the road in second position," he said.
"Trying something at the barriers wasn't an option. I don't think the gap I would take at the barriers would be enough to win the sprint. It would conclude in a long sprint which I didn't want."
'When we retire and look back, we'll appreciate these duels'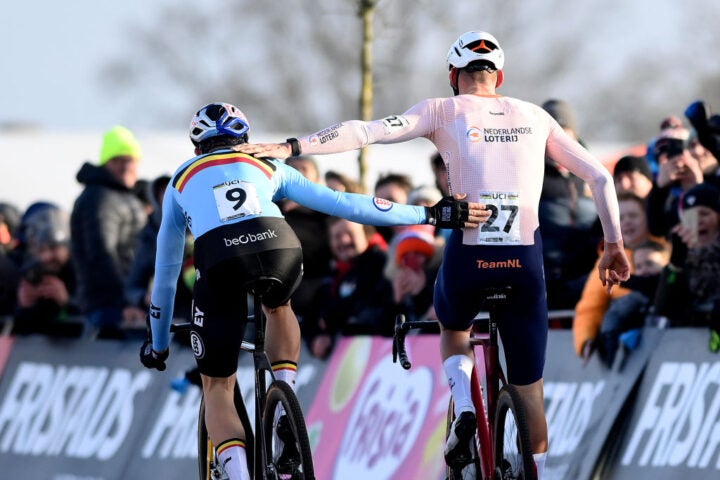 Both riders have a great sprint record. Van Aert wins sprints in the Tour de France while Van der Poel focuses less on bunch sprints.
The legendary two-man sprint in the 2020 edition of the Tour of Flanders was for Van der Poel. On this cyclocross heyday, Van Aert was simply beaten by Van der Poel.
Van Aert explained he was surprised that Van der Poel didn't do anything at the barriers, got confused and forgot to ride his own sprint.
"Once on the road Wout probably expected me to launch my sprint closer to the finish. I was able to surprise him there," Van der Poel added. During the 2020 Tour of Flanders the Dutch ace also surprised Van Aert after a slow build-up to the sprint.
"Comparable to Flanders? It's hard to compare this with a long road race. Obviously it's really nice to become world champion but it has nothing to do with the road season where you start from zero. I'll try to do nice things on the road."
And that's it for the cyclocross season. The duo was asked at the post-race press conference whether they liked the countless duels they're fighting out with each other in cyclocross.
"For me, yes. If you take one of the two of us away, it gets less interesting. There's always respect between us. Maybe you're not going to appreciate it when you get beaten but when we retire and glance back, we'll appreciate these duels."
Van Aert, next to him, nodded. "For me that's the same."