USCX returns! Everything you need to know about Virginia's Blue Ridge Go Cross cyclocross race
The third annual USCX Series opens this weekend. Here's the race times, streaming information, start lists, and more you need to watch the first U.S. pro cyclocross race of the season.
Heading out the door? Read this article on the new Outside+ app available now on iOS devices for members! Download the app.
The days are getting shorter and cooler, and summer is rapidly fading into fall. That can mean only one thing: cross is coming!
Professional cyclocross returns to North America this weekend with Virginia's Blue Ridge Go Cross in Roanoke, Virginia, a two-day UCI level C1 and C2 event.
Also read: The caterpillar: How organizers keep the peloton safe on closed roads in a race
The C1 race is Saturday, followed by the C2 race Sunday. The event also marks the start of the 2023 USCX season, the only UCI C1-level cyclocross series in North America.
Here's everything you need to know to get ready for the weekend's races and the third annual USCX series, including how to watch, start times, and racers to look out for:
What is the USCX Series?
USCX is the only UCI C1-level cyclocross series in North America. 
Professional cyclocross races are categorized beginning with the lowest rank of C2, then C1, with World Cups, national championships, and world championship races offering more UCI ranking points. Points determine start order to the race.
USCX features four events through October: 
Virginia's Blue Ridge Go Cross September 16-17 — Roanoke, VA
Rochester Cyclocross September 23-24 — Rochester, NY
Charm City Cross September 30-October 1 — Falmouth, MA
Really Rad Festival of Cyclocross October 28-29 — Baltimore, MD
How to watch USCX races
All four USCX events will be streamed on GCN+, including both the C1 and C2 races each weekend.
Virginia's Blue Ridge Go Cross start times
C1 race: Saturday, September 16, 2023
The elite women begin at 2:45 p.m. EDT and the elite men follow at 3:55 p.m. Live coverage begins at 2:30 p.m. and includes an additional 15-minute preview show before the men's race at 3:40 p.m. 
C2 race: Sunday, September 17, 2023
Same schedule as above.
The USCX intends to run all races in the series by this schedule.
Course preview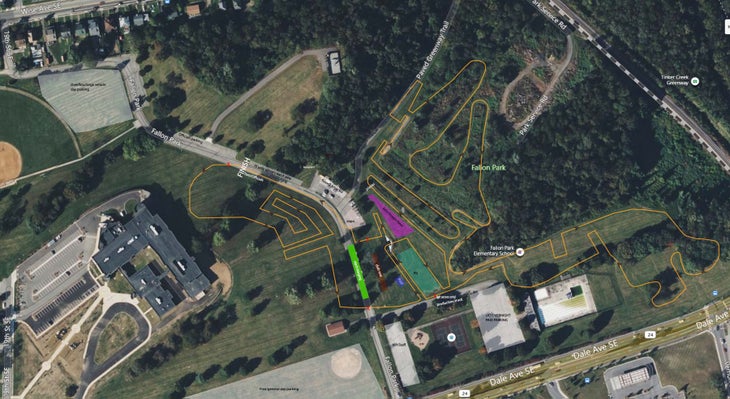 Like any proper cyclocross race, the Go Cross course features a number of obstacles to keep racers on their toes.
The PROthirteen Sand Pit will be tilled before each race to make its consistency "nice and fluffy," according to race organizers. "It's not playground sand or beach sand."
New for 2023 is the The Fat Tire Full Send which replaces the Fallon Park "Horseshoe." It sends riders down a steep drop into an off-camber radiused turn, then a switchback, before ascending towards the stairs. This feature will be reversed for the C2 race on Sunday.

 

Go Cross has a unique feature of an elementary school in the middle of the course atop a hill. Racers will ascend it to the course's high point at the start and end of each lap.
Avis Construction Flyover: No course would be complete without a classic wooden flyover.
The city of Roanoke is fully behind cyclocross, having installed ten railroad ties acting as stairs in the side of a hill on the course specifically for cross. An off-camber downhill hillside traverse where riders will have to choose their own line leads to the stairs.

 
Start list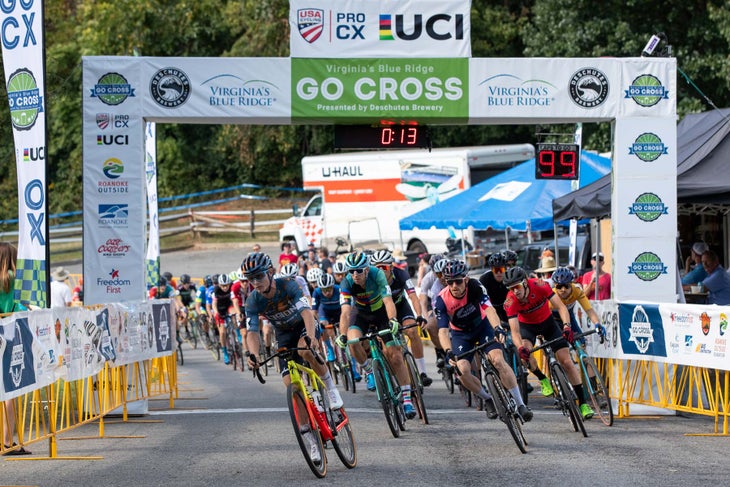 The first race of the series has elite male and female racers from Competitive Edge Racing, Steve Tilford Foundation, Groove Off Road Racing, CXD-Trek Bikes Racing confirmed.
The men's field has 44 racers signed up, 21 of whom are UCI ranked. Last year's series champion and current U.S. national champion Curtis White (Steve Tilford Foundation), 22nd in the world, returns to defend his title. Last year's third place series finisher Vincent Baestaens (Spits CX team) returns as the highest ranked rider, 12th in the world. Loris Rouiller (Heizomat – Kloster Kitchen) is the next highest ranked at 47th in the world. 
Other top-100 riders include Anton Ferdinande (DHM), 52nd; Michael van den Ham (Giant x Easton), 53rd; Caleb Swartz (ENVE Composites/ Industry Nine), 56th; Andrew Dillman (Ignition p/b Rigd-Leitner), 58th; Andrew Strohmeyer (CXD – Trek Bikes), 70th; and Jack Spranger (bear CX), 89th.
The 24-rider women's field is highlighted by last year's series winner Caroline Mani (Groove Off Road racing), ranked 26th in the world, and second place finisher Raylyn Nuss (Steve Tilford Foundation), 25th in the world.
Other top-100 riders include Sidney McGill (Cervélo/Orange Living), 28th; Maghalie Rochette (Canyon Collective), 31st; Emily Shields (Ken's Bike Shop), 67th; Lauren Zoerner (Groove Off-road Racing), 76th; and Kaya Musgrave (Cervélo/Orange Living), 77th.
For more information on the USCX Series, visit uscx.us.