Bookwalter journal: Inside transfer season
It may seem dysfunctional to have "transfer season" hit while such a huge chunk of racing remains. The August 1 date feels ambiguous.
Heading out the door? Read this article on the new Outside+ app available now on iOS devices for members! Download the app.
Editor's note: Brent Bookwalter (BMC Racing) will be contributing rider journals to VeloNews. He's currently racing the Presidential Cycling Tour of Turkey. Read more from Bookwalter >>
My emotions were on a rollercoaster this season. For what may have been the first time, I was confronted by my age: 34 years … old? Teams began to view me as one of the "experienced" or "veteran" riders, which was a nice way of saying "he's older." There were benefits from this reputation: maturity, experience, and depth. But there were drawbacks too. For the first time, I had reservations regarding my age. Am I too old for pro cycling? Personally, I believe I have many good years left in me and am excited to apply all the learnings and growth that I've accumulated over the years.
The season's most emotional moment came when Andy Rihs, owner and founder of Team BMC, passed away. Andy was an inspiring individual, in a social and charismatic, loving way, but also when it came to business confidence. We knew his passion and love for the project had helped it endure and I think we began to feel some uncertainty of what would happen without him around.
The other big emotional moment came when I signed on to race with Mitchelton-Scott next season. How does it feel? It's that same sad-to-go, excited-to-leave emotion that best describes the bouncing back and forth between my homes in Girona, Spain, and Asheville, North Carolina. I'm proud and thankful to have been part of so many awesome moments and accomplishments with BMC over the years. We grew together and pushed each other. I'm also excited for the new opportunity with Mitchelton-Scott.
With all of the twists and turns of 2018 behind me, I wanted to write about perhaps the most emotional and unpredictable time of the cycling season: Transfer season.
A strange time of year
It may seem dysfunctional to have "transfer season" hit while such a huge chunk of racing remains. The August 1 date feels ambiguous. Technically, riders aren't allowed to sign with other teams before this date, yet behind the scenes, riders, agents, and managers are already negotiating. Letters of intent and "pre-contracts" are often drafted and signed prior to this deadline.
This entire process is extremely distracting. It is also really hard on those riders who are lower on cycling's proverbial totem pole. Teams start negotiations with their highest-profile riders and then work their way down. Also, the timing rewards those riders who score results in the spring and punishes those who are on fire later in the season.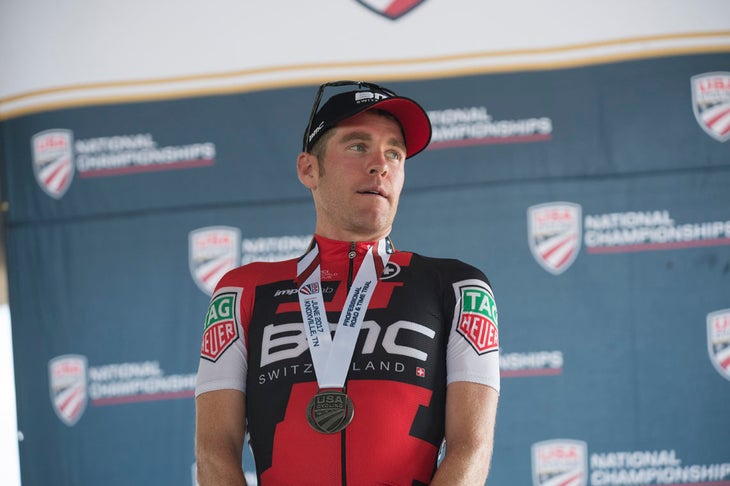 In my opinion, timing is key in deciding whether to stay with a team or move on. When a team renews your contract early in the process, it's a vote of confidence and a calming assurance in an otherwise turbulent period. Should the offer arrive later in the season, both rider and team often consider things like loyalty and personal value when making the final decision. There's human nature to contend with here: all of us want to be appreciated and valued.
When a rider inks a deal with a different team, a strange dynamic occurs. Your teammates and management know that you are headed somewhere else. In most cases, everyone acts professionally—bike racers are competitors and give full effort to the team. Seamless transfers occur when there is communication and transparency between all parties involved.
I've also seen this go badly, usually when the process gets started late in the season. When this happens, the rider must compete during the transfer negotiations. Things get messy when one party wants to maintain the relationship, and the other does not. There are some cases when a team blacklists a rider who is leaving and does not give them quality opportunities to race.
Perhaps the most ridiculous part of the transfer season is that contracts are determined by the calendar year: January 1-December 31. This timeline makes things complicated at pre-season training camps. Every year we see this in photos from camps: A rider transitioning onto his new team must wear the kit from his old squad.
Negotiating for success
Throughout my career, I've come to learn that there is no one rule when it comes to contract negotiation. Negotiations can happen at just about any point from January until the end of the season (sometimes even after). There are so many factors that impact a rider's decision to stay or go. We are under constant pressure (both internally and from our teams) to achieve our goals and fulfill ever-changing roles within a team. And, as a team grows and changes, the needs of the team change too, which means each rider's place on the roster is under constant consideration.
During my 11-year career at BMC, I had the job security that is tough to find in pro cycling. When the opportunity to renew presented itself, I always wanted to lock things in, rather than gamble to see if something better came along. With each season that I stayed at BMC, the roots grew deeper and deeper, and those ties made it appealing for me to stay.
I've seen guys who thought they were worth more fail to score a big result. In many cases, they ended up signing contracts that were worth less than their previous deal. It's a tough balance. As athletes, we all need that "swing for the fences" irrational confidence, but we must temper that with realistic feasibility to create a risk/reward ratio.
A rider can also be paid too much, and pushed too hard, in a contract. This can create a bad relationship with the team, and a poor working environment from the start. If expectations are too high, and a rider does not perform, the team feels like they didn't get what they paid for.
My internal process
When deciding whether to stay with a team or move on, I ask myself a series of questions: Why am I racing? Am I happy on this team? Am I growing here? Do my personal ambitions fit with the team's goals? Does the team appreciate me? Does the team give me the resources to accomplish my goals? Am I financially maximizing the limited time I have in the sport?
I need to be honest with myself when answering, and realize that the answers change frequently. I typically talk things over with my wife, Jamie, to find answers. I also speak to those longtime friends and family who have consulted me throughout my life.
It's easy to have a "grass is always greener" attitude during this process. Even at BMC, where the organization, resources, cultural fit, and sporting level were world-class, it was easy to think things were better elsewhere.
I live in Girona, which means I'm connected to riders on lots of different teams. Listening to these riders discuss their respective challenges always gave me perspective during this process. What did it tell me? Cycling is demanding and asks a lot from all riders. There is no silky-smooth, rainbow road to follow. Some of the challenges I face are simply part of the sport and likely exist on other teams.
Working with an agent
When I was 25 and going into my third season with BMC, I began officially working with my agent to help negotiate contracts. Teams are relatively large business organizations and operate accordingly. While I felt comfortable speaking with the team about my contract, I realized it was more appropriate to have an agent do this to let me focus on training and racing.
Many riders work with the same handful of agents, which I've always found interesting. The dynamic is advantageous to the agents, who always have the power of insider knowledge and connections in the sport. I believe there is a double-edged sword here. Most agents charge a percentage of each client's salary. Lower-paid riders, by that logic, receive less attention than a superstar. So what happens when the lower-paid rider needs the agent at a crucial moment?
My situation is different. My agent, Derek, and I have worked together since I was a young rider in Michigan. Derek has plenty of experience in the sport but doesn't rely on representing riders as his primary source of employment. Once again, this has pros and cons. Derek and I must work harder to create relationships within the teams. But I also know that I'm high on Derek's priority list. I can also trust him.
Why I chose Mitchelton-Scott
I'm sure that some readers are curious why I chose Mitchelton-Scott. When I began talking to them, team management was very clear on the role they wanted me to fill. Mitchelton-Scott is pretty stacked with promising young talent and wants me to give that part of the team some balance and experience. Additionally, they want me to provide climbing support in the mid-to-late stages to take the load off the final climber domestiques on mountain stages.
It is a role that I am confident that I'm capable of doing well.
Also, I saw the team become a GC squad for stage races, which culminated with a big win at the Vuelta a España. The result was impressive and made me even more excited to be part of their future pursuits and goals.
I've always respected and admired this team and its various accomplishments. I also respect the squad for the team culture they convey during a race and at the dinner table. From the outside, Mitchelton has always looked like a positive environment. It has an English-speaking core, which will make the transition easy.
That said, the team's Australian backbone is something I have never experienced. I'm looking forward to it! Many Mitchelton riders live in Girona and Andorra. It will be great to have likeminded teammates who have an appreciation for setting up a new life in Europe far away from home.