Chris Horner wins queen stage, takes lead in Tour of Utah
Horner and Danielson battle for the stage win and the yellow jersey, a fight the veteran RadioShack man won easily
Heading out the door? Read this article on the new Outside+ app available now on iOS devices for members! Download the app.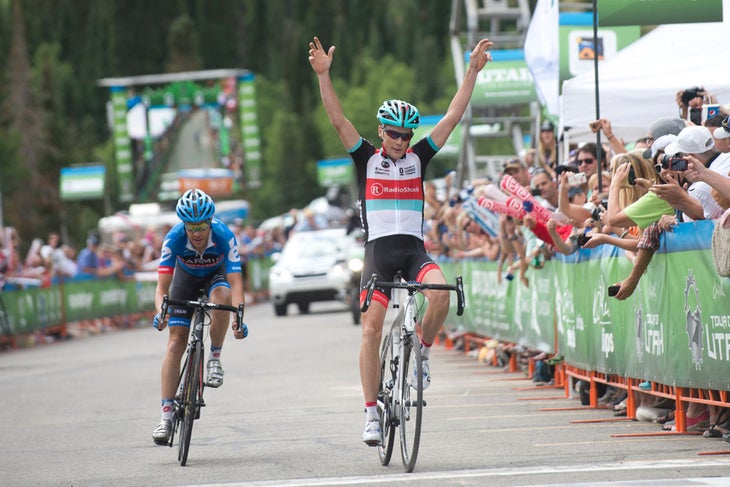 Chris Horner (RadioShack-Leopard) won the "queen stage" and took the leader's jersey in the Tour of Utah on Saturday.
After riding in the day's early breakaway, Yannick Eijssen (BMC Racing) was off the front in the final kilometers of the 182km fifth stage from Snowbasin to Snowbird, and race leader Lachlan Morton (Garmin-Sharp) was struggling on the last climb.
With Morton losing steam, Garmin's Tom Danielson attacked out of the chase, but George Bennett (RadioShack-Leopard) went with him, followed by Janier Acevedo (Jamis-Hagens Berman).
After some fencing Danielson managed to shed his companions, only to find Horner on his wheel, and the two closed to within 40 seconds of Eijssen with 4km left in the stage.
They caught him with 3km to go, climbing through a gantlet of exhilarated spectators. Eijssen fought to stay with them — even attacking briefly — then slipped backward as Danielson gave it the throttle, with Horner on his wheel.
"The hardest thing for me was George [Bennett] was riding really good, and Danielson attacked, Acevedo went and George went with it so we had those three up there," Horner said. "Behind I was just sitting on the UnitedHealthcare guys. And then Tommy D went, and he went hard, and he got rid of George and he got rid of Acevedo, and I'm sitting back there and I'm saying, 'Uh, this one is gonna hurt; I'm gonna have to do 450 watts at 9,000 feet. When I got to him I was a little bit cross-eyed and I knew I had to get through those first few Ks so you can recover."
Both Horner and Danielson were 44 seconds out of the lead, so the stage winner would take the lead from Morton. Behind, Bennett was on the prod again, jumping away from the bunch again and hoping to climb onto the overall podium.
With 1km to go Horner was glued to Danielson's wheel. He was still there with 500 meters to go. The Garmin man led it out, but the wily veteran Horner shot around to his right on the final climb to the finish and took the win.
"I've got three guys behind and I know they're sitting on, and so if they catch us they're going to counter," Horner said. "So tactically I'm in a good spot, I can sit on, it's my right to sit on. It feels bad to do it because Tommy's a friend of mine, but you gotta do what you gotta do sometimes. I'm sure the fans understood what they were seeing out there, and what they were seeing was an amazing Tommy D and two great, very strong teams going at it today, just throwing punches left and right."
Danielson held on for second, while Eijssen hung tough for third. The top two finishers remained tied on time — but Horner had the jersey.
"Even though I knew I felt really good at this race, I owed it to [Lachlan Morton] and the team owed it to him to give him a shot," Danielson said. "I really believed in him, so on Guardsman Pass I put it all out there for him, and I had a blast. It was really cool ripping the peloton apart, and great for [Morton] to be riding in the yellow jersey, next to guys he's looked up to all his life getting dropped while he was up in the front group. I really enjoyed that.
"After that he told me he wasn't feeling as strong as he wanted to, and he said, 'If I'm not there on Snowbird, do your own thing,'" Danielson continued. "And I thought, well, I've already put this much into it, so I'm still going to race for him. RadioShack kept putting it to us and that dang Jens Voigt, he's so freaking strong. He brought Tiago Machado… they got like a minute on us. So unfortunately I had to start riding at the base of the climb. So I had to bring him back, and he's no slouch. And then after I brought that back, I thought I'd make a hard pace for Lachlan, and I looked back and there were five guys there and not Lachlan and I thought, 'Uh oh, now I have to do the race now.
"It was a blast for me, and to race against Chris Horner, I've known Chris since we were on the Saturn team together [in 2003], we had a lot of good memories there, so today was a lot like the Sunset Loop in Redlands. I enjoyed that; I would have liked to have won the stage, but there's no way you're going to drop Chris on that percent grade with a headwind and as strong as he is. But I enjoyed trying; it was a really nice day."
Lucas Euser (UnitedHealthcare) sits third at 36 seconds. Horner's teammates Bennett, Busche and Machado hold places fourth, fifth, and seventh on the classification, making four RadioShack riders in the top seven overall.
Sunday brings the final stage of the 2013 Tour of Utah, a 125.5km jaunt around Park City with three climbs and two sprints.
• Jerseys: Michael Torckler (Bissell) retained the mountains jersey. Greg Van Avermaet (BMC) likewise retained the sprint jersey. Eijssen collected the most-aggressive jersey for his efforts on the day. And Morton may have lost yellow, but he held onto the best young rider's jersey.
Top 10 on General Classification, following Stage 5
1. HORNER Christopher (USA) RadioShack Leopard Trek 19:52:53
2. DANIELSON Thomas (USA)  Garmin Sharp 19:52:53 – – –
3. EUSER Lucas (USA) UnitedHealthcare 19:53:26 +0:00:33
4. BUSCHE Matthew (USA) RadioShack Leopard Trek 19:53:30 +0:00:37
5. BENNETT George (NZL) RadioShack Leopard Trek 19:53:30 – – –
6. DEIGNAN Philip (IRL) UnitedHealthcare 19:53:51 +0:00:58
7. MACHADO Tiago (POR) RadioShack Leopard Trek 19:54:34 +0:01:41
8. SCHAER Michael (SUI) BMC Racing  19:54:35 +0:01:42
9. ACEVEDO CALLE Janier Alexis (COL) Jamis-Hagens Berman 19:54:36 +0:01:43
10. BUTLER Chris (USA) Champion System 19:54:53 +0:02:00