Introducing Ben Healy: 'I made a statement that I can race with these guys'
Still just 22, he's rocking alongside Pogačar and Pidcock. Who is the breakthrough rider, and where is he heading?
Heading out the door? Read this article on the new Outside+ app available now on iOS devices for members! Download the app.
Ben Healy took the first two victories of his pro career in March and has collected a smattering of other placings this season, but it's fair to say that last Sunday will be one of the standout memories of the 2023 season for young Irishman.
He was one of three riders fighting it out for victory in the finale of the Amstel Gold Race, and came away from the event with a big jump in his self-confidence.
"It was surreal, being with Pidcock and Pogačar, a couple of the best riders in the world, really. For sure it was a bit of a pinch-me moment," the Irishman told VeloNews this week.
The trio was the best out of a breakaway group that moved clear earlier in the race and which was whittled down gradually to those three. Tadej Pogačar (UAE Team Emirates) then attacked on the Keutenberg with 28.7km to go and while Healy was distanced before Tom Pidcock, he clawed his way back to the Briton and ended up dropping him in turn later in the race.
Doing that to last year's Alpe d'Huez winner was impressive, and so too closing in on Pogačar as they got closer to the finish line.
That man-against-man pursuit became controversial when the race director's car overtook the double Tour de France winner and appeared to provide drafting opportunities to him. The gap between Healy and Pogačar increased after that; does he believe it was a factor?
"Yeah. For a certain amount, definitely it helps," he says. "But he was probably holding something in reserve as well. He'd been out there solo and he had put the time in myself and Tom before that, so why would he have needed to push full gas? As soon as you have on the radio there's a chaser behind, he probably had a bit more to give as well. So it is probably a factor of that, the fact that I was closing him down a bit, and then obviously the car as well gives him a little help.
"For sure he got a draft. But I don't think it would have changed the outcome of the race. Like, even if I'd had the legs to come back to Pogačar, it's hard to see a situation where I'd have dropped him or beat him in a sprint. Nevertheless, it would have been pretty cool to come back to him and have a race to the line."
Healy ultimately finished 38 seconds behind the world number one, who is in incredible form this spring. It is a reflection of how well the EF Education-EasyPost rider is performing that he was so close. So too is a statistic from his runner-up slot: his result was the joint-best performance by any Irishman, equalling Stephen Roche's second place in 1982, and actually beating Sean Kelly's best finish of third in 1980.
Similarly, Healy's runner-up slot in last Wednesday's Brabantse Pijl matched the previous best Irish performance, Kelly's second place in 1980. That's good company to keep, and so too fighting it out for a race win with Pogačar and Pidcock.
"It just really gives me confidence," he says. "I was out front with a couple of the best riders in the world and to be able to race against them, properly race against them, for sure I'll take that with me into the next few races I do. I think I made a statement that I can race with these guys."
Turning Irish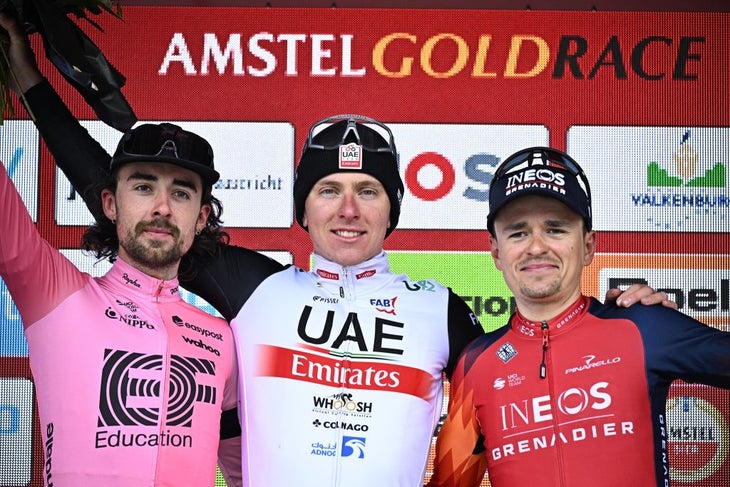 Healy grew up near Birmingham in England and began cycling when his father took him to a local track.
"I just loved it, I just kept going back. I was six or seven, maybe a little bit older, but for sure really young. I would be down at the track doing Sunday morning sessions with a few of my buddies there."
He continued in the sport and ended up declaring for Ireland as a teenager. His father's parents and older siblings had grown up in Ireland but moved to England before his father was born. That link was enough to take out an Irish license, something Healy admits was motivated by what he might gain.
"If I am completely honest, I did it as I saw it would bring more opportunities," he says. "It has got me to where I am as well. For sure it was the right decision."
Ben. Healy. Remember the name. 💚🤍🧡

An amazing ride by our Irishman who took second at the Amstel Gold Race and made it back to back podium finishes this week. He put on a show today with the greats in the sport. Watch out for our Irish powerhouse. 😤 pic.twitter.com/qN1ZW4NJjK

— EF Pro Cycling (@EFprocycling) April 16, 2023
Still, his feelings have deepened over time.
"I am super proud to represent that side of me," he says. "My identity with Ireland has really grown. For sure I was a bit of an outsider within the cycling community in Ireland at first, but after a while, I started to make a few friends. There is still occasionally a bit of a backlash, I guess, but I really do feel welcomed and accepted, which is super nice.
"Now some of my really good friends within the sport are Irish. We've got a bit of a routine of going to Belfast post-season and then getting together, which is great."
Britain's loss was definitely Ireland's gain. In 2019 he won a stage of the Tour de l'Avenir, beating Matteo Jorgenson and Pidcock into third and fourth. He was just 18 at the time and became the youngest-ever stage winner in the history of the race.
Healy then won the Irish road race championship the following year and also took a stage in the Ronde de l'Isoard. 2021 continued his evolution, with placings of first, second, and third on stages of the Baby Giro, or Giro Ciclistico d'Italia. EF Education First signed him up, and he made his professional debut for the 2022 season.
Healy has been coached by Jacob Tipper since June 2016. He is impressed by how he has evolved.
"Ben was under 16 at the time, racing Crits and MTB," Tipper said. "He was a good rider but unlike Pidcock, [Lewis] Askey, etc, he hadn't been especially successful up to this point. He was just a good young rider enjoying the sport.
"Since then his progression has just been amazing, and constantly had me wondering if had set him too much winter training as he would just seem to take enormous steps up every year. But thankfully he would still continue to progress through the season, and not just leave all his form at the local [early season] reliability trials."
In Healy's own words, when he puts his mind to something he really engages.
"If I'm going to commit to something, then I commit to it fully," he says. "Like with school … I was always determined to finish school, but definitely coming to the end of school I had to make a decision for myself. Did I want to do two things not so great, or pick the one thing and do it really well? Obviously, I chose the bike, which was definitely the right decision in hindsight. I finished school, but didn't do that great … I could definitely have done better, but I wanted to focus on the one thing and do it right."
He's continued to work hard and, as Tipper states, has made big progress year-on-year. His coach believes more is to come, pointing out that unlike some of his younger rivals, Healy didn't do 'crazy hours' of training at 18.
"Ben just got a podium at one of the hardest races in the world after six hours of racing, yet I don't think I've ever actually set him a six-hour ride yet, although he has done a few on team camps."
The point is clear: There is still plenty of room for improvement.
Stepping up a level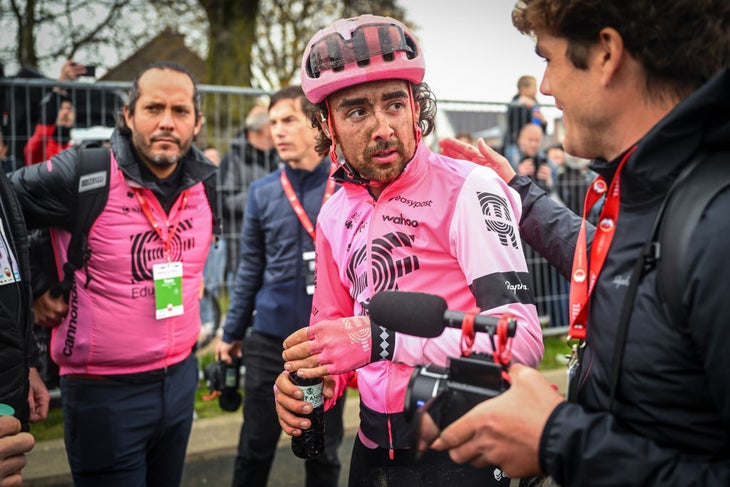 In Healy's first season as a pro in 2022, he launched countless long-range attacks and impressed greatly with his aggression and will to win. He was however caught close to the line on many occasions, leaving him with several good placings but not the reward for his efforts he was searching for.
Things are different this year. What has changed?
"There's a few things really," he says. "For one I had a really solid winter. I know what I need to do to be the best bike rider I can be, just being consistent and on top of all of that. Plus I've lost quite a bit of weight this year, six kilos. I've been constantly tracking what I've been eating and putting myself in a small deficit every day. It's just slowly fallen off me.
"I also know how to prepare better heading into events as well. Just like trial and error, and practice. I feel as though I've found a sweet spot and all these little things just stack up."
This legend showed up to Paris-Roubaix to 'see a monument from the other side of the fences.' Ben Healy wanted to get a sense of the crowds and the landscapes that are all just a blur to the racers, so he signed up for bidon duty. We spent the day driving from sector to sect… pic.twitter.com/O0GJLTmtOx

— Keir Plaice (@keirp) April 12, 2023
Healy's become a better climber as a result of those changes, while also maintaining his strengths on the flat. He was ahead of the curve as a young rider, using narrow bars and rotating his hoods inwards, and has a very aerodynamic profile as a result.
He's long been a good time trialist and is now gaining strength on the climbs.
Another plus is his willingness to slog it out. "I just like really hard days out that take a toll on everyone from the start," he says. "That seems to be where I excel. Like, going back to that l'Avenir stage, it was just a really wet, miserable, long, hard day, that just seem to grind everyone down and left me the last one standing. That feels like especially these last two races [Brabantse Pijl and Flèche Wallonne] as well."
Where does that toughness come from? "I don't know," he answers. "Maybe just the Irish side in me, I guess, vis-à-vis the past of Sean Kelly and Stephen Roche. They were pretty similar."
'He's got the killer instinct to win'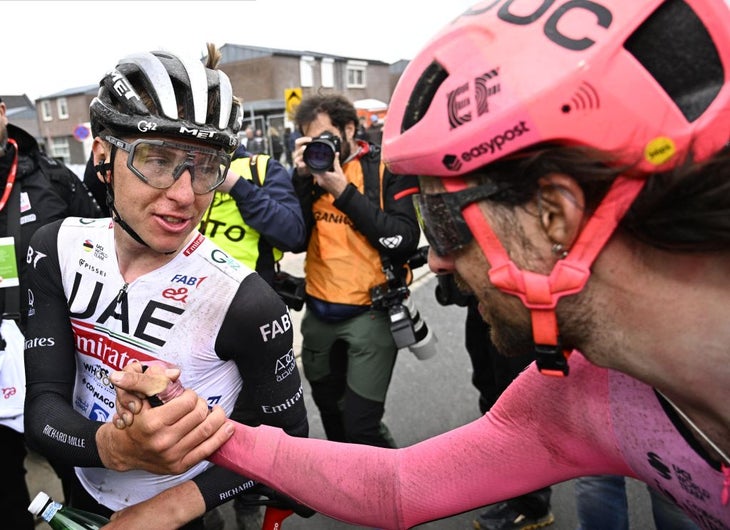 So what's next for Healy?
He was prominent in Wednesday's Flèche Wallonne right up until the penultimate climb but appeared to fade inside the final two or three kilometers and finished 32nd.
He told VeloNews beforehand that the race profile didn't suit him, though.
"I like repeated efforts. I don't like Flèche so much as traditionally it's like a 30-man group will go to the Mur de Huy and race for three minutes in a watt per kilo test to the top. That is something that maybe doesn't suit me so well. But if it was like multiple Mur de Huys, back to back to back all day, then that would be a lot better for me.
"I am going into these races with an open mind and a lot of confidence now, so who knows what will happen? For sure Liège could be a nice race for me."
After that, the Giro d'Italia will be a big target. He's never ridden a grand tour before but will line out at the start on May 6th with a very specific target.
"A stage win would be great," he said. "That's the goal heading into it. I haven't set too big a mark on my back so I am allowed to still get in a breakaway [without being too closely marked – ed.]. A stage win would be super."
As for GC, he'll wait to see how things play out in his first grand tour. He says he needs to take things step by step, something EF Education-EasyPost sport director Tom Southam echoes.
"I don't think we'll be able to nail down 100 percent exactly who he is until perhaps he's done his second grand tour," Southam says. "He's going to try to win a stage in his first. If he goes for that, obviously we're not going to see how far he can go in the classification yet. We'll see how he goes with that goal first.
"He can definitely be a GC rider in hilly races. I think three-week riders are something [special]. It is a huge question mark at the moment because Ben's never done one. So we'll have to see how that goes. But definitely, I think he can emerge into a GC rider, but he's also got the killer instinct to win one-day races as well."