De Panne: Gilbert wins overall; Kittel and Durbridge victorious on final day
With a strong performance in the final TT, Gilbert wins De Panne overall. Kittel wins stage 3a, and Durbridge wins stage 3b.
Heading out the door? Read this article on the new Outside+ app available now on iOS devices for members! Download the app.
After 16 years in the pro peloton, Philippe Gilbert collected his first overall victory in Driedaagse De Panne-Koksijde Thursday, which featured two stages around De Panne, Belgium. Gilbert's Quick-Step teammate Marcel Kittel won stage 3a in the morning, and Orca-Scott's Luke Durbridge won the stage 3b time trial by a fraction of a second later in the day.
Top-10 overall
1. Philippe GILBERT, QUICK – STEP FLOORS, in 12:08:57
2. Matthias BRÄNDLE, TREK – SEGAFREDO, at :38
3. Alexander KRISTOFF, TEAM KATUSHA ALPECIN, at :43
4. Sylvain CHAVANEL, DIRECT ENERGIE, at :58
5. PIERRE LUC PERICHON, FORTUNEO – VITAL CONCEPT, at 1:39
6. Maxime VANTOMME, WB VERANCLASSIC AQUALITY PROTECT, at 1:50
7. Edward THEUNS, TREK – SEGAFREDO, at 1:54
8. Pim LIGTHART, ROOMPOT – NEDERLANDSE LOTERIJ, at 2:10
9. Boy VAN POPPEL, TREK – SEGAFREDO, at 2:24
10. Jasper DE BUYST, LOTTO SOUDAL, at 2:46
"I'm happy it was a mistake," the Australian Durbridge said with a laugh after the 14.2km time trial, referring to a timing gaffe that initially gave Sylvain Chavanel the victory. "I'm really happy; it's been awhile since I had a victory, actually. It's always really special."
Kittel's sprint win came despite a late crash in the 118.5km road stage that morning. "The moment I crashed, I said to myself, 'It's not the perfect situation, but it's not impossible to make it back to the bunch,' he said. "Even before going on the circuit we did a great job as a team, and after crashing, Jack [Bauer], Tim [Declerq], Davide [Martinelli], and Fabio [Sabatini] waited and helped me return to the peloton with five kilometers to go, where Max [Richese] and Saba [Sabatini] played an important role in bringing me in the best possible position."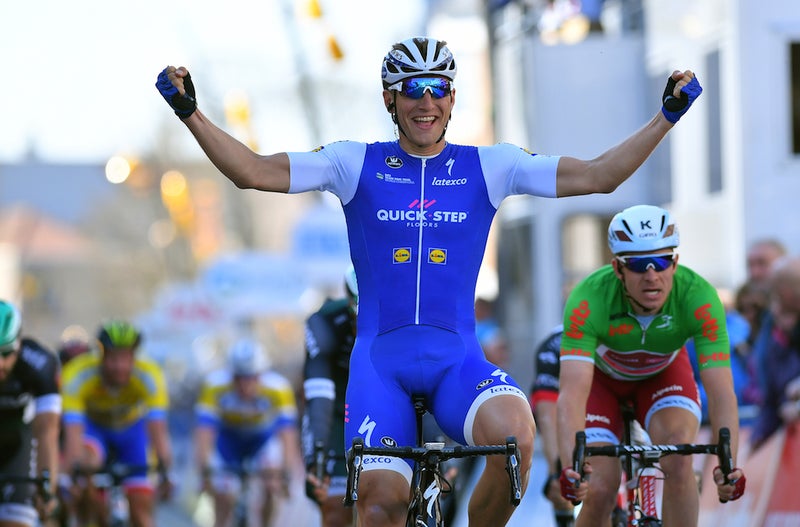 Alexander Kristoff (Katusha-Alpecin) was second in the stage 3a sprint, ahead of UAE-Abu Dhabi's Sacha Modolo.
Gilbert finished safely in the bunch and then rode to seventh place in the short afternoon time trial, enough to claim the overall win by 38 seconds ahead of Austrian TT specialist Mathias Brandle (Trek-Segafredo) who was fifth in stage 3b. Kristoff rode a strong time trial to finish third in the overall.
"I think it's one of the hardest ones I've done," Durbridge added about the individual time trial. "This one was a slog. I died a thousand deaths on the way home."
Like most of his fellow racers, Durbridge will head to Tour of Flanders Sunday, and for him, it will be a special day as his parents will travel from Australia to watch him race in Europe for their first time.
"There is no better preparation for the Tour of Flanders," added the Belgian champion Gilbert, who returns to De Ronde after five years of focus on the Ardennes classics later in April.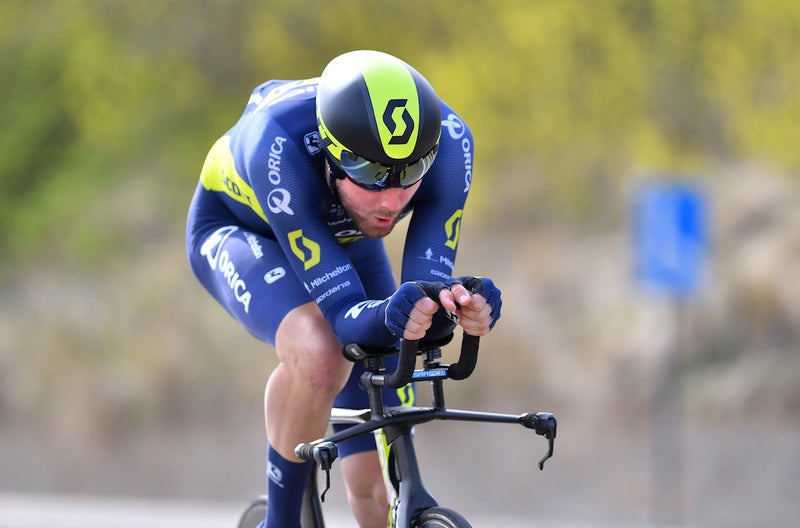 Stage 3a results
1. Marcel KITTEL, QUICK – STEP FLOORS, in 2:37:29
2. Alexander KRISTOFF, TEAM KATUSHA ALPECIN, at :00
3. Sacha MODOLO, UAE ABU DHABI, at :00
4. Rüdiger SELIG, BORA – HANSGROHE, at :00
5. Edward THEUNS, TREK – SEGAFREDO, at :00
6. Matteo PELUCCHI, BORA – HANSGROHE, at :00
7. Jens DEBUSSCHERE, LOTTO SOUDAL, at :00
8. Luka MEZGEC, ORICA – SCOTT, at :00
9. Jelle MANNAERTS, TARTELETTO – ISOREX, at :00
10. Jonas RICKAERT, SPORT VLAANDEREN – BALOISE, at :00
11. Raymond KREDER, ROOMPOT – NEDERLANDSE LOTERIJ, at :00
12. Kenny DEHAES, WANTY – GROUPE GOBERT, at :00
13. Joeri STALLAERT, CIBEL – CEBON, at :00
14. Timothy STEVENS, PAUWELS SAUZEN – VASTGOEDSERVICE CONTINENTAL TEAM, at :00
15. Christophe Noppe, SPORT VLAANDEREN – BALOISE, at :00
16. Piet ALLEGAERT, SPORT VLAANDEREN – BALOISE, at :00
17. Eduard Michael GROSU, NIPPO – VINI FANTINI, at :00
18. Nicolas MARINI, NIPPO – VINI FANTINI, at :00
19. Erwann CORBEL, FORTUNEO – VITAL CONCEPT, at :00
20. Kevin ISTA, WB VERANCLASSIC AQUALITY PROTECT, at :00
21. Paolo SIMION, BRD, at :00
22. Jasper DE BUYST, LOTTO SOUDAL, at :00
23. Rob LEEMANS, PAUWELS SAUZEN – VASTGOEDSERVICE CONTINENTAL TEAM, at :05
24. Nikolay TRUSOV, GAZPROM – RUSVELO, at :05
25. Aaron GATE, AQUA BLUE SPORT, at :05
26. Coen VERMELTFOORT, ROOMPOT – NEDERLANDSE LOTERIJ, at :05
27. Liam BERTAZZO, WILIER TRIESTINA, at :05
28. Mirco MAESTRI, BRD, at :05
29. Ole FORFANG, JOKER ICOPAL, at :05
30. Brecht DHAENE, PAUWELS SAUZEN – VASTGOEDSERVICE CONTINENTAL TEAM, at :05
31. Andrew FENN, AQUA BLUE SPORT, at :05
32. Michael COOLS, TARTELETTO – ISOREX, at :05
33. Ivan SAVITSKIY, GAZPROM – RUSVELO, at :05
34. Hamish SCHREURS, ISRAEL CYCLING ACADEMY, at :05
35. Philippe GILBERT, QUICK – STEP FLOORS, at :05
36. Eugert ZHUPA, WILIER TRIESTINA, at :05
37. Sylvain CHAVANEL, DIRECT ENERGIE, at :05
38. Boy VAN POPPEL, TREK – SEGAFREDO, at :05
39. Arnaud GERARD, FORTUNEO – VITAL CONCEPT, at :05
40. Rafael ANDRIATO, WILIER TRIESTINA, at :05
41. Benjamin DECLERCQ, SPORT VLAANDEREN – BALOISE, at :05
42. Maxime VANTOMME, WB VERANCLASSIC AQUALITY PROTECT, at :05
43. Pim LIGTHART, ROOMPOT – NEDERLANDSE LOTERIJ, at :05
44. Bjorn Tore HOEM, JOKER ICOPAL, at :05
45. Kristoffer SKJERPING, JOKER ICOPAL, at :05
46. Igor BOEV, GAZPROM – RUSVELO, at :05
47. Gianni MARCHAND, CIBEL – CEBON, at :05
48. Pavel BRUTT, GAZPROM – RUSVELO, at :05
49. Guillaume VAN KEIRSBULCK, WANTY – GROUPE GOBERT, at :05
50. Danilo NAPOLITANO, WANTY – GROUPE GOBERT, at :05
51. Marco CANOLA, NIPPO – VINI FANTINI, at :05
52. Simone CONSONNI, UAE ABU DHABI, at :05
53. Anders SKAARSETH, JOKER ICOPAL, at :05
54. Aleksei TCATEVICH, GAZPROM – RUSVELO, at :05
55. Rob RUIJGH, TARTELETTO – ISOREX, at :05
56. David BOUCHER, PAUWELS SAUZEN – VASTGOEDSERVICE CONTINENTAL TEAM, at :05
57. Christoph PFINGSTEN, BORA – HANSGROHE, at :05
58. Andrei SOLOMENNIKOV, GAZPROM – RUSVELO, at :05
59. Matthias BRÄNDLE, TREK – SEGAFREDO, at :05
60. Kevin DELTOMBE, SPORT VLAANDEREN – BALOISE, at :05
61. PIERRE LUC PERICHON, FORTUNEO – VITAL CONCEPT, at :05
62. Marco MARCATO, UAE ABU DHABI, at :05
63. Evgeny SHALUNOV, GAZPROM – RUSVELO, at :05
64. Riccardo STACCHIOTTI, NIPPO – VINI FANTINI, at :05
65. Matteo DRAPERI, WILIER TRIESTINA, at :05
66. Brian VAN GOETHEM, ROOMPOT – NEDERLANDSE LOTERIJ, at :05
67. Barry MARKUS, PAUWELS SAUZEN – VASTGOEDSERVICE CONTINENTAL TEAM, at :05
68. Andrea GUARDINI, UAE ABU DHABI, at :05
69. Daniel TUREK, ISRAEL CYCLING ACADEMY, at :05
70. Dieter BOUVRY, PAUWELS SAUZEN – VASTGOEDSERVICE CONTINENTAL TEAM, at :05
71. Roger KLUGE, ORICA – SCOTT, at :05
72. Marco HALLER, TEAM KATUSHA ALPECIN, at :05
73. Alexander EDMONSON, ORICA – SCOTT, at :05
74. Remy MERTZ, LOTTO SOUDAL, at :05
75. Marcel SIEBERG, LOTTO SOUDAL, at :05
76. Nils POLITT, TEAM KATUSHA ALPECIN, at :05
77. Reto HOLLENSTEIN, TEAM KATUSHA ALPECIN, at :05
78. Olivier PARDINI, WB VERANCLASSIC AQUALITY PROTECT, at :05
79. Alex TURRIN, WILIER TRIESTINA, at :05
80. Rick ZABEL, TEAM KATUSHA ALPECIN, at :05
81. Benjamin PERRY, ISRAEL CYCLING ACADEMY, at :05
82. Boris VALLEE, FORTUNEO – VITAL CONCEPT, at :05
83. Nicola BAGIOLI, NIPPO – VINI FANTINI, at :05
84. Federico ZURLO, UAE ABU DHABI, at :05
85. Alexandre PICHOT, DIRECT ENERGIE, at :05
86. Luke DURBRIDGE, ORICA – SCOTT, at :05
87. Alex KIRSCH, WB VERANCLASSIC AQUALITY PROTECT, at :05
88. Andrea PASQUALON, WANTY – GROUPE GOBERT, at :05
89. Filippo POZZATO, WILIER TRIESTINA, at :05
90. Dries DEVENYNS, QUICK – STEP FLOORS, at :05
91. Michael GOOLAERTS, VERANDA'S WILLEMS – CRELAN, at :05
92. Alexander MAES, CIBEL – CEBON, at :05
93. Vegard BREEN, JOKER ICOPAL, at :05
94. Franck BONNAMOUR, FORTUNEO – VITAL CONCEPT, at :05
95. Lawrence NAESEN, WB VERANCLASSIC AQUALITY PROTECT, at :05
96. Stijn DEVOLDER, VERANDA'S WILLEMS – CRELAN, at :05
97. Elmar REINDERS, ROOMPOT – NEDERLANDSE LOTERIJ, at :05
98. Vincenzo ALBANESE, BRD, at :05
99. Lorenzo BLOMME, TARTELETTO – ISOREX, at :05
100. Erik BASKA, BORA – HANSGROHE, at :05
101. Iuri FILOSI, NIPPO – VINI FANTINI, at :05
102. Kevin VERWAEST, TARTELETTO – ISOREX, at :05
103. Andre LOOIJ, ROOMPOT – NEDERLANDSE LOTERIJ, at :05
104. Markus HOELGAARD, JOKER ICOPAL, at :05
105. Yuma KOISHI, NIPPO – VINI FANTINI, at :05
106. Niels DE ROOZE, TARTELETTO – ISOREX, at :05
107. Yohann GENE, DIRECT ENERGIE, at :20
108. Marko KUMP, UAE ABU DHABI, at :20
109. Peter KONING, AQUA BLUE SPORT, at :20
110. Ruben POLS, SPORT VLAANDEREN – BALOISE, at :20
111. Alexander COOLS, CIBEL – CEBON, at :20
112. Seppe VERSCHUERE, CIBEL – CEBON, at :20
113. Gaetan BILLE, VERANDA'S WILLEMS – CRELAN, at :20
114. Krists NEILANDS, ISRAEL CYCLING ACADEMY, at :20
115. Kiel REIJNEN, TREK – SEGAFREDO, at :20
116. Matthew BRAMMEIER, AQUA BLUE SPORT, at :20
117. Pascal ACKERMANN, BORA – HANSGROHE, at :20
118. Alessandro TONELLI, BRD, at :20
119. Romain CARDIS, DIRECT ENERGIE, at :20
120. Mark CHRISTIAN, AQUA BLUE SPORT, at :27
121. Maximiliano Ariel RICHEZE, QUICK – STEP FLOORS, at :27
122. Fabio SABATINI, QUICK – STEP FLOORS, at :31
123. Jack BAUER, QUICK – STEP FLOORS, at :31
124. Frederik FRISON, LOTTO SOUDAL, at :35
125. Arjen LIVYNS, PAUWELS SAUZEN – VASTGOEDSERVICE CONTINENTAL TEAM, at :35
126. Jimmy DUQUENNOY, WB VERANCLASSIC AQUALITY PROTECT, at :35
127. Robby COBBAERT, CIBEL – CEBON, at :35
128. Adrien PETIT, DIRECT ENERGIE, at :35
129. Laurent DIDIER, TREK – SEGAFREDO, at :38
130. Enrico BARBIN, BRD, at :38
131. Jonathan BREYNE, TARTELETTO – ISOREX, at :38
132. Moreno HOFLAND, LOTTO SOUDAL, at :42
133. Tony HUREL, DIRECT ENERGIE, at :48
134. Zakkari DEMPSTER, ISRAEL CYCLING ACADEMY, at :58
135. Julien STASSEN, WB VERANCLASSIC AQUALITY PROTECT, at :58
136. Adam BLYTHE, AQUA BLUE SPORT, at 1:01
137. Baptiste PLANCKAERT, TEAM KATUSHA ALPECIN, at 1:20
138. Elias VAN BREUSSEGEM, VERANDA'S WILLEMS – CRELAN, at 1:20
139. Tim DECLERCQ, QUICK – STEP FLOORS, at 2:23
140. Mathias DE WITTE, CIBEL – CEBON, at :05
141. Davide MARTINELLI, QUICK – STEP FLOORS, at 4:17
142. Kenny DE KETELE, SPORT VLAANDEREN – BALOISE, at 4:48
143. Pier Paolo DE NEGRI, NIPPO – VINI FANTINI, at 4:48
144. Julien MORICE, DIRECT ENERGIE, at 4:59
145. Oliviero TROIA, UAE ABU DHABI, at 5:51
146. Andreas SCHILLINGER, BORA – HANSGROHE, at 5:51
147. Brice FEILLU, FORTUNEO – VITAL CONCEPT, at 6:18
148. Gerry DRUYTS, PAUWELS SAUZEN – VASTGOEDSERVICE CONTINENTAL TEAM, at 6:18
149. Mads Würtz SCHMIDT, TEAM KATUSHA ALPECIN, at 9:16
150. Conor DUNNE, AQUA BLUE SPORT, at 11:07
151. Adriaan Aas STIEN, JOKER ICOPAL, at 11:07
DNF Fumiyuki BEPPU, TREK – SEGAFREDO
DNF Ryan ANDERSON, DIRECT ENERGIE
DNF Daniel MCLAY, FORTUNEO – VITAL CONCEPT
DNF Alexander PORSEV, GAZPROM – RUSVELO
DNF Dennis VAN WINDEN, ISRAEL CYCLING ACADEMY
DNF Guy SAGIV, ISRAEL CYCLING ACADEMY
DNF Aidis KRUOPIS, VERANDA'S WILLEMS – CRELAN
DNF Robin STENUIT, WANTY – GROUPE GOBERT
DNF Jérôme BAUGNIES, WANTY – GROUPE GOBERT
DNF Roy JANS, WB VERANCLASSIC AQUALITY PROTECT
DNF Jakub MARECZKO, WILIER TRIESTINA
DNS Tony GALLOPIN, LOTTO SOUDAL
DNS Lars Ytting BAK, LOTTO SOUDAL
DNS Lukas PÖSTLBERGER, BORA – HANSGROHE
DNS Lasse Norman HANSEN, AQUA BLUE SPORT
DNS Stef VAN ZUMMEREN, VERANDA'S WILLEMS – CRELAN
DNS Mark MCNALLY, WANTY – GROUPE GOBERT
DNS Frederik BACKAERT, WANTY – GROUPE GOBERT
Stage 3b results
1. Luke DURBRIDGE, ORICA – SCOTT, in 17:38:14
2. Sylvain CHAVANEL, DIRECT ENERGIE, at 1:17
3. Alexander KRISTOFF, TEAM KATUSHA ALPECIN, at 2:02
4. Marcel KITTEL, QUICK – STEP FLOORS, at 3:56
5. Matthias BRÄNDLE, TREK – SEGAFREDO, at 5:16
6. Alexander EDMONSON, ORICA – SCOTT, at 10:16
7. Philippe GILBERT, QUICK – STEP FLOORS, at 18:04
8. Nils POLITT, TEAM KATUSHA ALPECIN, at 31:06
9. Peter KONING, AQUA BLUE SPORT, at 35:52
10. Olivier PARDINI, WB VERANCLASSIC AQUALITY PROTECT, at 38:49
11. PIERRE LUC PERICHON, FORTUNEO – VITAL CONCEPT, at 40:24
12. Jasper DE BUYST, LOTTO SOUDAL, at 42:59
13. Reto HOLLENSTEIN, TEAM KATUSHA ALPECIN, at 46:43
14. Maxime VANTOMME, WB VERANCLASSIC AQUALITY PROTECT, at 51:16
15. Kevin ISTA, WB VERANCLASSIC AQUALITY PROTECT, at 52:58
16. Gaetan BILLE, VERANDA'S WILLEMS – CRELAN, at 54:31
17. David BOUCHER, PAUWELS SAUZEN – VASTGOEDSERVICE CONTINENTAL TEAM, at 55:30
18. Alex KIRSCH, WB VERANCLASSIC AQUALITY PROTECT, at 1:00:16
19. Guillaume VAN KEIRSBULCK, WANTY – GROUPE GOBERT, at 59:48
20. Aaron GATE, AQUA BLUE SPORT, at 1:01:18
21. Frederik FRISON, LOTTO SOUDAL, at 1:03:06
22. Simone CONSONNI, UAE ABU DHABI, at 1:04:27
23. Edward THEUNS, TREK – SEGAFREDO, at 1:04:58
24. Jack BAUER, QUICK – STEP FLOORS, at 1:05:27
25. Marco CANOLA, NIPPO – VINI FANTINI, at 1:05:41
26. Arnaud GERARD, FORTUNEO – VITAL CONCEPT, at 1:06:52
27. Brian VAN GOETHEM, ROOMPOT – NEDERLANDSE LOTERIJ, at 1:07:14
28. Jonas RICKAERT, SPORT VLAANDEREN – BALOISE, at 1:10:59
29. Pim LIGTHART, ROOMPOT – NEDERLANDSE LOTERIJ, at 1:12:15
30. Bjorn Tore HOEM, JOKER ICOPAL, at 1:13:08
31. Remy MERTZ, LOTTO SOUDAL, at 1:14:11
32. Marco MARCATO, UAE ABU DHABI, at 1:14:32
33. Stijn DEVOLDER, VERANDA'S WILLEMS – CRELAN, at 1:16:16
34. Pavel BRUTT, GAZPROM – RUSVELO, at 1:17:04
35. Eugert ZHUPA, WILIER TRIESTINA, at 1:18:56
36. Sacha MODOLO, UAE ABU DHABI, at 1:19:01
37. Boy VAN POPPEL, TREK – SEGAFREDO, at 1:19:34
38. Gianni MARCHAND, CIBEL – CEBON, at 1:19:40
39. Elmar REINDERS, ROOMPOT – NEDERLANDSE LOTERIJ, at 1:22:00
40. Federico ZURLO, UAE ABU DHABI, at 1:24:18
41. Christoph PFINGSTEN, BORA – HANSGROHE, at 1:25:55
42. Tony HUREL, DIRECT ENERGIE, at 1:26:34
43. Liam BERTAZZO, WILIER TRIESTINA, at 1:27:20
44. Alexandre PICHOT, DIRECT ENERGIE, at 1:27:22
45. Anders SKAARSETH, JOKER ICOPAL, at 1:27:28
46. Evgeny SHALUNOV, GAZPROM – RUSVELO, at 1:29:52
47. Coen VERMELTFOORT, ROOMPOT – NEDERLANDSE LOTERIJ, at 1:32:46
48. Brecht DHAENE, PAUWELS SAUZEN – VASTGOEDSERVICE CONTINENTAL TEAM, at 1:32:54
49. Rob LEEMANS, PAUWELS SAUZEN – VASTGOEDSERVICE CONTINENTAL TEAM, at 1:34:23
50. Jens DEBUSSCHERE, LOTTO SOUDAL, at 1:35:55
51. Moreno HOFLAND, LOTTO SOUDAL, at 1:37:09
52. Dries DEVENYNS, QUICK – STEP FLOORS, at 1:37:57
53. Lawrence NAESEN, WB VERANCLASSIC AQUALITY PROTECT, at 1:45:13
54. Laurent DIDIER, TREK – SEGAFREDO, at 1:46:24
55. Jelle MANNAERTS, TARTELETTO – ISOREX, at 1:47:02
56. Timothy STEVENS, PAUWELS SAUZEN – VASTGOEDSERVICE CONTINENTAL TEAM, at 1:47:33
57. Brice FEILLU, FORTUNEO – VITAL CONCEPT, at 1:48:24
58. Rüdiger SELIG, BORA – HANSGROHE, at 1:48:57
59. Benjamin DECLERCQ, SPORT VLAANDEREN – BALOISE, at 1:48:54
60. Ivan SAVITSKIY, GAZPROM – RUSVELO, at 1:49:55
61. Andrea PASQUALON, WANTY – GROUPE GOBERT, at 1:50:11
62. Rob RUIJGH, TARTELETTO – ISOREX, at 1:50:36
63. Fabio SABATINI, QUICK – STEP FLOORS, at 1:50:55
64. Nikolay TRUSOV, GAZPROM – RUSVELO, at 1:54:08
65. Mirco MAESTRI, BRD, at 1:54:57
66. Joeri STALLAERT, CIBEL – CEBON, at 1:55:06
67. Romain CARDIS, DIRECT ENERGIE, at 1:55:16
68. Christophe Noppe, SPORT VLAANDEREN – BALOISE, at 1:59:18
69. Mathias DE WITTE, CIBEL – CEBON, at 1:59:59
70. Kiel REIJNEN, TREK – SEGAFREDO, at 2:01:10
71. Igor BOEV, GAZPROM – RUSVELO, at 2:01:30
72. Markus HOELGAARD, JOKER ICOPAL, at 2:02:01
73. Yohann GENE, DIRECT ENERGIE, at 2:03:15
74. Adam BLYTHE, AQUA BLUE SPORT, at 2:05:54
75. Seppe VERSCHUERE, CIBEL – CEBON, at 2:06:35
76. Tim DECLERCQ, QUICK – STEP FLOORS, at 2:08:08
77. Alex TURRIN, WILIER TRIESTINA, at 2:08:41
78. Kevin DELTOMBE, SPORT VLAANDEREN – BALOISE, at 2:09:49
79. Erwann CORBEL, FORTUNEO – VITAL CONCEPT, at 2:10:57
80. Piet ALLEGAERT, SPORT VLAANDEREN – BALOISE, at 2:10:54
81. Adrien PETIT, DIRECT ENERGIE, at 2:11:35
82. Nicola BAGIOLI, NIPPO – VINI FANTINI, at 2:12:10
83. Riccardo STACCHIOTTI, NIPPO – VINI FANTINI, at 2:12:20
84. Nicolas MARINI, NIPPO – VINI FANTINI, at 2:13:38
85. Franck BONNAMOUR, FORTUNEO – VITAL CONCEPT, at 2:14:39
86. Pascal ACKERMANN, BORA – HANSGROHE, at 2:15:17
87. Matteo DRAPERI, WILIER TRIESTINA, at 2:16:57
88. Alessandro TONELLI, BRD, at 2:16:59
89. Julien STASSEN, WB VERANCLASSIC AQUALITY PROTECT, at 2:19:08
90. Jimmy DUQUENNOY, WB VERANCLASSIC AQUALITY PROTECT, at 2:26:43
91. Andreas SCHILLINGER, BORA – HANSGROHE, at 2:29:56
92. Vincenzo ALBANESE, BRD, at 2:30:10
93. Arjen LIVYNS, PAUWELS SAUZEN – VASTGOEDSERVICE CONTINENTAL TEAM, at 2:31:03
94. Aleksei TCATEVICH, GAZPROM – RUSVELO, at 2:32:17
95. Andrei SOLOMENNIKOV, GAZPROM – RUSVELO, at 2:37:54
96. Michael GOOLAERTS, VERANDA'S WILLEMS – CRELAN, at 2:39:13
97. Erik BASKA, BORA – HANSGROHE, at 2:40:27
98. Alexander COOLS, CIBEL – CEBON, at 2:47:12
99. Danilo NAPOLITANO, WANTY – GROUPE GOBERT, at 2:48:15
100. Dieter BOUVRY, PAUWELS SAUZEN – VASTGOEDSERVICE CONTINENTAL TEAM, at 2:52:36
101. Yuma KOISHI, NIPPO – VINI FANTINI, at 2:58:13
102. Marcel SIEBERG, LOTTO SOUDAL, at 3:08:43
103. Krists NEILANDS, ISRAEL CYCLING ACADEMY, at 3:09:54
104. Benjamin PERRY, ISRAEL CYCLING ACADEMY, at 3:10:15
105. Maximiliano Ariel RICHEZE, QUICK – STEP FLOORS, at 3:20:46
106. Enrico BARBIN, BRD, at 3:26:13
107. Iuri FILOSI, NIPPO – VINI FANTINI, at 3:27:46
108. Eduard Michael GROSU, NIPPO – VINI FANTINI, at 3:40:22
109. Rafael ANDRIATO, WILIER TRIESTINA, at 3:59:46
. Ole FORFANG, JOKER ICOPAL, at 5:14:53
DNS Marco HALLER, TEAM KATUSHA ALPECIN
DNS Baptiste PLANCKAERT, TEAM KATUSHA ALPECIN
DNS Mads Würtz SCHMIDT, TEAM KATUSHA ALPECIN
DNS Rick ZABEL, TEAM KATUSHA ALPECIN
DNS Davide MARTINELLI, QUICK – STEP FLOORS
DNS Roger KLUGE, ORICA – SCOTT
DNS Luka MEZGEC, ORICA – SCOTT
DNS Matteo PELUCCHI, BORA – HANSGROHE
DNS Andrea GUARDINI, UAE ABU DHABI
DNS Marko KUMP, UAE ABU DHABI
DNS Oliviero TROIA, UAE ABU DHABI
DNS Paolo SIMION, BRD
DNS Matthew BRAMMEIER, AQUA BLUE SPORT
DNS Mark CHRISTIAN, AQUA BLUE SPORT
DNS Conor DUNNE, AQUA BLUE SPORT
DNS Andrew FENN, AQUA BLUE SPORT
DNS Julien MORICE, DIRECT ENERGIE
DNS Boris VALLEE, FORTUNEO – VITAL CONCEPT
DNS Zakkari DEMPSTER, ISRAEL CYCLING ACADEMY
DNS Daniel TUREK, ISRAEL CYCLING ACADEMY
DNS Hamish SCHREURS, ISRAEL CYCLING ACADEMY
DNS Pier Paolo DE NEGRI, NIPPO – VINI FANTINI
DNS Raymond KREDER, ROOMPOT – NEDERLANDSE LOTERIJ
DNS Andre LOOIJ, ROOMPOT – NEDERLANDSE LOTERIJ
DNS Kenny DE KETELE, SPORT VLAANDEREN – BALOISE
DNS Ruben POLS, SPORT VLAANDEREN – BALOISE
DNS Elias VAN BREUSSEGEM, VERANDA'S WILLEMS – CRELAN
DNS Kenny DEHAES, WANTY – GROUPE GOBERT
DNS Filippo POZZATO, WILIER TRIESTINA
DNS Robby COBBAERT, CIBEL – CEBON
DNS Alexander MAES, CIBEL – CEBON
DNS Vegard BREEN, JOKER ICOPAL
DNS Kristoffer SKJERPING, JOKER ICOPAL
DNS Adriaan Aas STIEN, JOKER ICOPAL
DNS Gerry DRUYTS, PAUWELS SAUZEN – VASTGOEDSERVICE CONTINENTAL TEAM
DNS Barry MARKUS, PAUWELS SAUZEN – VASTGOEDSERVICE CONTINENTAL TEAM
DNS Jonathan BREYNE, TARTELETTO – ISOREX
DNS Michael COOLS, TARTELETTO – ISOREX
DNS Niels DE ROOZE, TARTELETTO – ISOREX
DNS Lorenzo BLOMME, TARTELETTO – ISOREX
DNS Kevin VERWAEST, TARTELETTO – ISOREX
General classification
1. Philippe GILBERT, QUICK – STEP FLOORS, in 12:08:57
2. Matthias BRÄNDLE, TREK – SEGAFREDO, at :38
3. Alexander KRISTOFF, TEAM KATUSHA ALPECIN, at :43
4. Sylvain CHAVANEL, DIRECT ENERGIE, at :58
5. PIERRE LUC PERICHON, FORTUNEO – VITAL CONCEPT, at 1:39
6. Maxime VANTOMME, WB VERANCLASSIC AQUALITY PROTECT, at 1:50
7. Edward THEUNS, TREK – SEGAFREDO, at 1:54
8. Pim LIGTHART, ROOMPOT – NEDERLANDSE LOTERIJ, at 2:10
9. Boy VAN POPPEL, TREK – SEGAFREDO, at 2:24
10. Jasper DE BUYST, LOTTO SOUDAL, at 2:46
11. Luke DURBRIDGE, ORICA – SCOTT, at 2:50
12. Guillaume VAN KEIRSBULCK, WANTY – GROUPE GOBERT, at 3:32
13. Simone CONSONNI, UAE ABU DHABI, at 4:15
14. Sacha MODOLO, UAE ABU DHABI, at 4:51
15. Marco MARCATO, UAE ABU DHABI, at 4:57
16. Rob RUIJGH, TARTELETTO – ISOREX, at 5:02
17. Alexandre PICHOT, DIRECT ENERGIE, at 5:10
18. Alexander EDMONSON, ORICA – SCOTT, at 6:35
19. Nils POLITT, TEAM KATUSHA ALPECIN, at 6:36
20. Jens DEBUSSCHERE, LOTTO SOUDAL, at 6:50
21. Reto HOLLENSTEIN, TEAM KATUSHA ALPECIN, at 6:51
22. Christoph PFINGSTEN, BORA – HANSGROHE, at 6:58
23. Andrea PASQUALON, WANTY – GROUPE GOBERT, at 7:09
24. Marcel KITTEL, QUICK – STEP FLOORS, at 7:32
25. Gaetan BILLE, VERANDA'S WILLEMS – CRELAN, at 7:35
26. Joeri STALLAERT, CIBEL – CEBON, at 8:15
27. Rüdiger SELIG, BORA – HANSGROHE, at 8:19
28. Mathias DE WITTE, CIBEL – CEBON, at 8:25
29. Marco CANOLA, NIPPO – VINI FANTINI, at 8:53
30. Adam BLYTHE, AQUA BLUE SPORT, at 9:06
31. Jonas RICKAERT, SPORT VLAANDEREN – BALOISE, at 10:38
32. Brian VAN GOETHEM, ROOMPOT – NEDERLANDSE LOTERIJ, at 10:38
33. Piet ALLEGAERT, SPORT VLAANDEREN – BALOISE, at 11:39
34. Fabio SABATINI, QUICK – STEP FLOORS, at 11:56
35. Peter KONING, AQUA BLUE SPORT, at 11:58
36. Pascal ACKERMANN, BORA – HANSGROHE, at 12:02
37. Iuri FILOSI, NIPPO – VINI FANTINI, at 12:08
38. Adrien PETIT, DIRECT ENERGIE, at 12:14
39. Dries DEVENYNS, QUICK – STEP FLOORS, at 12:31
40. Coen VERMELTFOORT, ROOMPOT – NEDERLANDSE LOTERIJ, at 12:46
41. Olivier PARDINI, WB VERANCLASSIC AQUALITY PROTECT, at 12:51
42. Kevin ISTA, WB VERANCLASSIC AQUALITY PROTECT, at 12:59
43. David BOUCHER, PAUWELS SAUZEN – VASTGOEDSERVICE CONTINENTAL TEAM, at 13:07
44. Alex KIRSCH, WB VERANCLASSIC AQUALITY PROTECT, at 13:11
45. Aaron GATE, AQUA BLUE SPORT, at 13:13
46. Eduard Michael GROSU, NIPPO – VINI FANTINI, at 13:17
47. Bjorn Tore HOEM, JOKER ICOPAL, at 13:22
48. Stijn DEVOLDER, VERANDA'S WILLEMS – CRELAN, at 13:28
49. Elmar REINDERS, ROOMPOT – NEDERLANDSE LOTERIJ, at 13:34
50. Federico ZURLO, UAE ABU DHABI, at 13:35
51. Anders SKAARSETH, JOKER ICOPAL, at 13:36
52. Liam BERTAZZO, WILIER TRIESTINA, at 13:39
53. Maximiliano Ariel RICHEZE, QUICK – STEP FLOORS, at 13:39
54. Evgeny SHALUNOV, GAZPROM – RUSVELO, at 13:42
55. Brecht DHAENE, PAUWELS SAUZEN – VASTGOEDSERVICE CONTINENTAL TEAM, at 13:44
56. Rob LEEMANS, PAUWELS SAUZEN – VASTGOEDSERVICE CONTINENTAL TEAM, at 13:46
57. Igor BOEV, GAZPROM – RUSVELO, at 13:47
58. Lawrence NAESEN, WB VERANCLASSIC AQUALITY PROTECT, at 13:53
59. Krists NEILANDS, ISRAEL CYCLING ACADEMY, at 13:59
60. Benjamin DECLERCQ, SPORT VLAANDEREN – BALOISE, at 14:01
61. Ivan SAVITSKIY, GAZPROM – RUSVELO, at 14:02
62. Christophe Noppe, SPORT VLAANDEREN – BALOISE, at 14:05
63. Alex TURRIN, WILIER TRIESTINA, at 14:20
64. Riccardo STACCHIOTTI, NIPPO – VINI FANTINI, at 14:24
65. Moreno HOFLAND, LOTTO SOUDAL, at 14:26
66. Kiel REIJNEN, TREK – SEGAFREDO, at 14:28
67. Matteo DRAPERI, WILIER TRIESTINA, at 14:28
68. Yohann GENE, DIRECT ENERGIE, at 14:29
69. Laurent DIDIER, TREK – SEGAFREDO, at 14:30
70. Aleksei TCATEVICH, GAZPROM – RUSVELO, at 14:43
71. Michael GOOLAERTS, VERANDA'S WILLEMS – CRELAN, at 14:51
72. Erik BASKA, BORA – HANSGROHE, at 14:52
73. Dieter BOUVRY, PAUWELS SAUZEN – VASTGOEDSERVICE CONTINENTAL TEAM, at 15:04
74. Jimmy DUQUENNOY, WB VERANCLASSIC AQUALITY PROTECT, at 15:08
75. Arjen LIVYNS, PAUWELS SAUZEN – VASTGOEDSERVICE CONTINENTAL TEAM, at 15:13
76. Julien STASSEN, WB VERANCLASSIC AQUALITY PROTECT, at 15:23
77. Marcel SIEBERG, LOTTO SOUDAL, at 15:51
78. Tim DECLERCQ, QUICK – STEP FLOORS, at 16:37
79. Arnaud GERARD, FORTUNEO – VITAL CONCEPT, at 17:27
80. Remy MERTZ, LOTTO SOUDAL, at 17:35
81. Pavel BRUTT, GAZPROM – RUSVELO, at 17:37
82. Eugert ZHUPA, WILIER TRIESTINA, at 17:40
83. Gianni MARCHAND, CIBEL – CEBON, at 17:40
84. Jack BAUER, QUICK – STEP FLOORS, at 17:52
85. Frederik FRISON, LOTTO SOUDAL, at 17:54
86. Timothy STEVENS, PAUWELS SAUZEN – VASTGOEDSERVICE CONTINENTAL TEAM, at 18:01
87. Jelle MANNAERTS, TARTELETTO – ISOREX, at 18:02
88. Nikolay TRUSOV, GAZPROM – RUSVELO, at 18:15
89. Mirco MAESTRI, BRD, at 18:15
90. Markus HOELGAARD, JOKER ICOPAL, at 18:22
91. Erwann CORBEL, FORTUNEO – VITAL CONCEPT, at 18:26
92. Nicolas MARINI, NIPPO – VINI FANTINI, at 18:29
93. Tony HUREL, DIRECT ENERGIE, at 18:30
94. Enrico BARBIN, BRD, at 18:30
95. Kevin DELTOMBE, SPORT VLAANDEREN – BALOISE, at 18:31
96. Romain CARDIS, DIRECT ENERGIE, at 18:31
97. Nicola BAGIOLI, NIPPO – VINI FANTINI, at 18:32
98. Franck BONNAMOUR, FORTUNEO – VITAL CONCEPT, at 18:35
99. Seppe VERSCHUERE, CIBEL – CEBON, at 18:42
100. Alexander COOLS, CIBEL – CEBON, at 18:48
101. Vincenzo ALBANESE, BRD, at 18:51
102. Alessandro TONELLI, BRD, at 18:53
103. Andrei SOLOMENNIKOV, GAZPROM – RUSVELO, at 18:59
104. Danilo NAPOLITANO, WANTY – GROUPE GOBERT, at 19:08
105. Yuma KOISHI, NIPPO – VINI FANTINI, at 19:18
106. Andreas SCHILLINGER, BORA – HANSGROHE, at 19:20
107. Benjamin PERRY, ISRAEL CYCLING ACADEMY, at 19:30
108. Rafael ANDRIATO, WILIER TRIESTINA, at 20:21
109. Brice FEILLU, FORTUNEO – VITAL CONCEPT, at 24:21