Jeremy Powers, Georgia Gould take day 2 at Derby City Cup
Georgia Gould takes back-to-back wins in the U.S. Gran Prix of Cyclocross as Jeremy Powers wins day 2 in Kentucky.
Heading out the door? Read this article on the new Outside+ app available now on iOS devices for members! Download the app.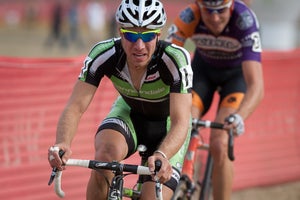 Cannondale-Cyclocrossworld.com did it to Ryan Trebon again on Sunday — but this time it was Jeremy Powers instead of Tim Johnson beating the big Kona rider into second place in Kentucky's Derby City Cup, the final day of the second stop on the U.S. Gran Prix of Cyclocross circuit.
Georgia Gould repeated and improved upon her win Saturday. This time, instead of taking the lead halfway through the first lap, she took it from the start line and went wire to wire.
The weekend served as a successful test of the venue that will host the world championships in 2013. Sunday's course was very similar to Saturday's feature-packed design, but was a bit more American in style, with the addition of about a half-dozen new tight turns on the grass and in the woods. The variation had fewer dismounts — just two per lap for those who could ride the sandpit, instead of four per lap on Saturday.
In other conditions, the course might have produced a punchier, more tactical race, but the day's record-tieing heat and gusty winds made for another brutal, dusty day of attrition.
Powers blows off the front
The wind had been strong all day in Louisville, but by the time the elite men took the course in Eva Bandman Park it had grown so powerful that it blew over the podium, and the racers left rooster tails of airborne dust in their wakes on the dry, serpentine course alongside the Ohio River.
Powers got clear early on, chased by Trebon, Johnson, Jesse Anthony (California Giant-Specialized), Danny Summerhill (Team Holowesko), Geoff Kabush (Maxxis-Rocky Mount) and Chris Jones (Rapha-Focus).
A determined Trebon dragged Jones and Johnson up to within four seconds of Powers going into the second lap. Powers bunny-hopped the barriers, but it gave him little advantage over the long-legged Kona rider, and soon it was a four-man group up front with Trebon driving the pace while Jones and Powers rode in his wake.
Still, the four steadily increased their lead ahead of a chase group formed containing Davide Frattini (Team Type 1), Todd Wells (Specialized), Valentin Scherz (Cyfac-Champion System), Tristan Schouten (Iscorp Cycling Team) and Summerhill.
Powers stayed glued to Trebon, with Jones on his wheel, but Johnson had slipped a few bike lengths back and was chewing on the stiff wind alone. Then Jones too lost contact as Trebon pushed the pace through the woods and up the climb, leaving the big Kona rider and Powers off the front alone.
Trebon did most of the work for several laps, saying later that he'd rather contend with one Cannondale-Cyclocrossworld.com rider than two. And each time through the pits in the middle laps Powers took a water bottle feed and choked down a few gulps while closing the gap back to Trebon.
"It was tough and sometimes I was wondering if it was the right decision (to take the feed)," Powers said.
With five to go, Powers attacked got a slight gap going into the flyover, but the lanky Trebon pulled him back on the stairs. Then Powers went again and charged through the sand pit, riding the whole way and coming away with a slim five-second lead starting the four-to-go lap.
It was about then that Trebon's day went sideways and Powers' decision to take the water feeds began to pay off.
"One lap I was OK and then the next lap I overheated," Trebon said. "It just came on all of a sudden and I was at my limit. I started getting feeds but I had nothing. I just started to fall apart the last three laps. The last lap I was just done, I had nothing left in the legs, I was just like 'please let's get to the finish.'"
Powers' decision to take the water hand-ups started to look better. "I guess the lesson is to stick with your plan," he said.
Trebon may have been suffering, but he did not surrender, keeping Powers within 10 seconds with two laps remaining, then ceding another four seconds into the final lap and finally finished 22 seconds back.
Johnson, meanwhile, flatted his front tire with 1 1/2 laps to go and rode gingerly to the pits, away that a charging Todd Wells ad Schouten were not far behind. "I proved you can ride the run-up even with a flat," he said with a wry grin.
Johnson finally rolled in 1:40 down on his teammate to claim the final spot on the podium.
"I went as hard as I could possibly go. I suffered," said Powers. "The heat was terrible and everything hurt. I just put my head down and kept going. It was one of the hardest efforts I've done all year."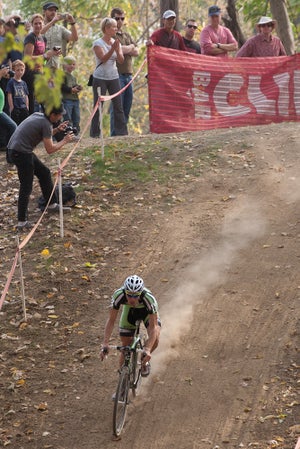 Powers and Johnson are tied on USGP points but, as the most recent winner, Powers will wear the leader's jersey at the next USGP, in Fort Collins, Colorado, in two weeks.
Johnson said he's be happy if he and Powers continued to swap the jersey back and forth for the rest of the season. And he'll be even happier if he is the last to pull it on, at the USGP finals in Portland in December.
"If we can keep in the family, then that's definitely a win," Johnson said. "But I'd like to win it, and so would he."
Gould goes back to back
Unlike Johnson, Georgia Gould (Luna) reprised her victory from day 1 of the Derby City Cup on Sunday, quickly riding away from the field on the dusty, blustery circuit to take back-to-back wins in Louisville.
"I just got the hole shot and tried to ride my own race," Gould said. "I got a better start today — I wanted to ride my own race. I saw the masters race where the guys all crashed on the first lap and I thought, 'I want to take my own self out, not have anyone take me out.' "
The leader of the USGP series once again made it look easy. A long stretch of deep sand claimed victims on every lap, but Gould was not among them. She also was one of the few women able to ride the steep, loose Clif Shot climb.
Natasha Elliott (Garneau Club Chaussure-Ogilvy) was chasing with Nicole Duke (The Gear Movement), but never gained any ground on Gould, who just kept taking time.
As Gould drove along alone, Meredith Miller and Teal Stetson-Lee (California Giant Berry Farms) plus Laura Van Gilder (Mellow Mushroom) bridged to Elliott and Duke. Miller and Van Gilder quickly became the riders to watch for second and third on the podium.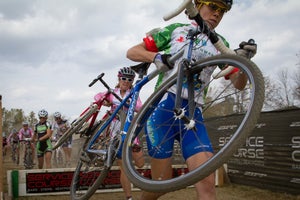 With two laps to go Gould had an astounding 1:20 over Miller, who had the sprinter Van Gilder parked on her wheel. But when Van Gilder bobbled on a slight rise preceding the sand pit and lost contact, Miller stepped up the pace and soon was alone in second.
"I knew I had to drop Laura because she was going to out-sprint me," Miller said.
Miller was 90 seconds behind going into the bell lap, with Van Gilder a further 15 seconds back. But the top step on the podium was spoken for — Gould took another dominating victory, raising both arms skyward.
Miller hung on for second with Van Gilder third — the 45 year old's best career USGP result.
Men

1. Jeremy Powers, (USA) Cannondale P/b Cyclocrossworld., in 1:03:20 11 laps
2. Ryan Trebon, (USA) Kona, in 1:03:44 11 laps
3. Timothy Johnson, (USA) Cannondale P/b Cyclocrossworld., in 1:05:02 11 laps
4. Todd Wells, (USA) Specialized, in 1:05:20 11 laps
5. Tristan Schouten, (USA) Iscorp Cycling Team, in 1:05:28 11 laps
6. Davide Frattini, (ITA) Team Type 1, in 1:05:37 11 laps
7. Geoff Kabush, (CAN) Team Maxxis / Rocky Mount, in 1:05:39 11 laps
8. James Driscoll, (USA) Cannondale P/b Cyclocrossworld., in 1:05:56 11 laps
9. Barry Wicks, (USA) Kona, in 1:06:11 11 laps
10. Christopher Jones, (USA) Rapha / Focus, in 1:06:28 11 laps
11. Brian Matter, (USA) Gear Grinder, in 1:06:38 11 laps
12. Derrick St John, (CAN) Garneau Club Chaussure-Olgivy, in 1:06:41 11 laps
13. Valentin Scherz, (SUI) Cyfac-Champion System P/b Revol, in 1:06:54 11 laps
14. Sean Babcock, (USA) Kona, in 1:07:06 11 laps
15. Mark Lalonde, (USA) , in 1:07:09 11 laps
16. Troy Wells, (USA) Team Clif Bar, in 1:07:16 11 laps
17. Daniel Summerhill, (USA) Team Holowesko Partners, in 1:07:42 11 laps
18. Luke Keough, (USA) Champion System P/b Keough Cycl, in 1:07:55 11 laps
19. Matthew Pacocha, (USA) Hudz-Subaru, in 1:08:21 11 laps
20. Zach Mcdonald, (USA) Rapha / Focus, in 1:09:37 11 laps
21. Nicholas Weighall, (USA) California Giant Berry Farms/sp, in @1Lp 10 laps
22. Brad Cole, (USA) Kccx/verge Presented By Challen, in @2Lp 9 laps
23. Cody Kaiser, (USA) California Giant Berry Farms/sp, in @2Lp 9 laps
24. Troy Heithecker, (USA) Echelon Energy, in @2Lp 9 laps
25. Joseph Schmalz, (USA) Kccx/verge Presented By Challen, in @2Lp 9 laps
26. Justin Robinson, (USA) California Giant Berry Farms/sp, in @2Lp 9 laps
27. Mitchell Hoke, (USA) Clif Bar Development Cyclo-Cros, in @2Lp 9 laps
28. Dave Hackworthy, (USA) Bianchi/grand Performance, in @2Lp 9 laps
29. Matt Shriver, (USA) Rocky Mountain Chocolate Factor, in @3Lp 8 laps
30. Joachim Parbo, (DEN) Kch Leopard Cycles, in @3Lp 8 laps
31. Robin Eckmann, (USA) Hot Tubes Development Cycling T, in @3Lp 8 laps
32. Frank Spiteri, (USA) Peninsula Velo/pomodoro, in @3Lp 8 laps
33. Mike Sherer, (USA) The Pony Shop, in @3Lp 8 laps
34. Tom Burke, (USA) Lathrup Industries/giant Bicycl, in @3Lp 8 laps
35. Steve Fisher, (USA) Rad Racing Nw / Hagens Berman, in @4Lp 7 laps
36. Ryan Iddings, (USA) Team Redline, in @4Lp 7 laps
37. Ryan Knapp, (USA) Bikereg.com, in @4Lp 7 laps
38. Greg Wittwer, (USA) Alan North America Cycling, in @4Lp 7 laps
39. William Fyfe, (USA) Birmingham Bicycle Company P/b, in @4Lp 7 laps
40. Joshua Johnson, (USA) Drt Racing, in @4Lp 7 laps
41. Isaac Neff, (USA) Alderfer Bergen, in @4Lp 7 laps
42. Jeremy Ferguson, (USA) California Giant/specialized, in @4Lp 7 laps
43. Kevin Mcconnell, (USA) Mercy-Specialized, in @5Lp 6 laps
44. Eric Wondergem, (USA) Hup United, in @5Lp 6 laps
45. Erik Hamilton, (USA) Nuvo Cultural Trail, in @5Lp 6 laps
46. Andrew Wulfkuhle, (USA) C3-Athletes Serving Athletes, in @5Lp 6 laps
47. Andrew Reardon, (USA) Van Dessel / Real Design, in @5Lp 6 laps
48. Scott Mclaughlin, (USA) Sram Factory, in @5Lp 6 laps
49. Clayton Omer, (USA) Papa Johns Racing, in @5Lp 6 laps
50. Matthew Allen, (USA) Behind Bars/ Little Guy Racing, in @5Lp 6 laps
51. Noah Metzler, (USA) Team Globalbike, in @5Lp 6 laps
52. Robert Kendall, (USA) Bob's Red Mill, in @5Lp 6 laps
53. Christopher Bogedin, (USA) Ccsh – Rgf Pb Felt Bicycles Eli, in @5Lp 6 laps
54. Skyler Trujillo, (USA) Black Sheep Jr. Cycling, in @5Lp 6 laps
55. Zachary Edwards, (USA) Drt Racing, in @6Lp 5 laps
56. Cary Fridrich, (USA) Embrocation Cycling Journal, in @6Lp 5 laps
57. Matthew Spohn, (USA) Cyfac-Champion System Racing Te, in @6Lp 5 laps
58. Kip Spaude, (USA) Nova Cycle Sports Foundation In, in @6Lp 5 laps
59. Ezra Taylor, (USA) Peacock Groove, in @6Lp 5 laps
60. Daniel Gerow, (USA) Wolverines/acfstores.com, in @6Lp 5 laps
61. Jason Karew, (USA) Bishops Bicycles, in @7Lp 4 laps
62. David Mcneal, (USA) Bbc P/b Wheelworx, in @7Lp 4 laps
63. Dustin Greer, (USA) Maxxis, in @7Lp 4 laps
64. Benjamin Salibra, (USA) Junior Development, in @7Lp 4 laps
65. Gregg Shanefelt, (USA) Zws/cyclesport, in @7Lp 4 laps
. Jesse Anthony, (USA) California Giant / Specialized laps
. Anthony Grand, (SUI) Cyfac-Champion System P/b Revol laps
. Adam Mcgrath, (USA) Feedback Sports/van Dessel laps
. Braden Kappius, (USA) Team Clif Bar laps
. Bryan Fawley, (USA) Park Place Dealerships laps

Women

1. Georgia Gould, (USA) Luna Pro Team, in 38:59 6 laps
2. Meredith Miller, (USA) California Giant Berry Farms/sp, in 40:52 6 laps
3. Laura Van Gilder, (USA) C3 Athletes Serving Athletes, in 41:07 6 laps
4. Natasha Elliott, (CAN) Garneau Club Chaussure-Olgivy, in 41:26 6 laps
5. Teal Stetson-lee, (USA) California Giant Berry Farms/sp, in 41:33 6 laps
6. Katherine Sherwin, (USA) Hudz-Subaru, in 41:34 6 laps
7. Nicole Duke, (USA) Hudz -Vista Subaru, in 41:51 6 laps
8. Pepper Harlton, (CAN) Juventus Cycling Club, in 41:58 6 laps
9. Kaitlin Antonneau, (USA) Team Kenda, in 42:26 6 laps
10. Maureen Bruno Roy, (USA) Mm Racing P/b Seven Cycles, in 42:47 6 laps
11. Amanda Carey, (USA) Kenda/felt, in 43:01 6 laps
12. Lisa Strong, (USA) Hudz -Vista Subaru, in 43:22 6 laps
13. Linda Sone, (USA) Minneapolis Bicycle Racing Club, in 43:28 6 laps
14. Kimberly Flynn, (USA) Grace Law-Trek P/b Vantaggio, in 44:14 6 laps
15. Jennifer Maxwell, (USA) Van Dessel Factory Team P/b Ste, in 44:43 6 laps laps
16. Nicole Borem, (USA) Drt Racing, in 45:01 6 laps
17. Robin Williams, (USA) Mercy-Specialized, in 45:03 6 laps
18. Lisa Hudson, (USA) Feedback Sports, in 45:15 6 laps
19. Carrie Cash Wootten, (USA) Team Vera Bradley Foundation, in 45:22 6 laps
20. Erin Silliman, (USA) Fruit 66/artemis, in 45:31 6 laps
21. Anne Schwartz, (USA) Flying Rhino Cycling Club, in 46:10 6 laps
22. Nina Elliott, (USA) Greenville Women's Cycling, in 46:12 6 laps
23. Sweeney Whitmore Deb, (USA) Performance Bicycle Racing Team, in 46:13 6 laps
24. Lauri Webber, (USA) Secret Henrys Team, in 46:22 6 laps
25. Jeanne Fleck, (USA) Velo Duluth/twin Ports Cyclery, in @1Lp 5 laps
26. Shannon Gibson, (USA) Velo Bella, in @1Lp 5 laps
27. Tammy Wallace, (USA) Thinkcash Racing, in @1Lp 5 laps
28. Bridget Donovan, (USA) Trek Store Cincinnati/ Seven Cy, in @1Lp 5 laps
29. Geraldine Schulze, (USA) Bio Wheels Racing, in @1Lp 5 laps
30. Lynn Bush, (USA) Tough Girl / Scott, in @2Lp 4 laps
31. Melissa Corliss, (USA) Michelob Ultra Cycling, in @2Lp 4 laps
32. Kiersta Tucker, (USA) Wood – N – Wave, in @2Lp 4 laps
. Ashley James, (USA) Team Kenda laps
. Lenore Pipes, (USA) Fruit 66/artemis laps
. Holly Klug, (USA) The Pony Shop laps